Club Monaco scarf and bracelet, Sam Edelman booties,
Badgley Mischka bag, belt from Mexico, dress c/o StylePiques,
blazer c/o Shoppalu, Birks bangle
I don't know if it's just the tweed, but this outfit screams "English countryside" to me. It kind of reminded me after the fact of how I used to dress when I was younger: instead of taking pieces and simply combining them into an outfit, I used to take very specific and at times obscure reference points (Lou Reed was a recurring one through first year) and use them to cultivate a look. Maybe I'll try it out a bit more in the future – any requests?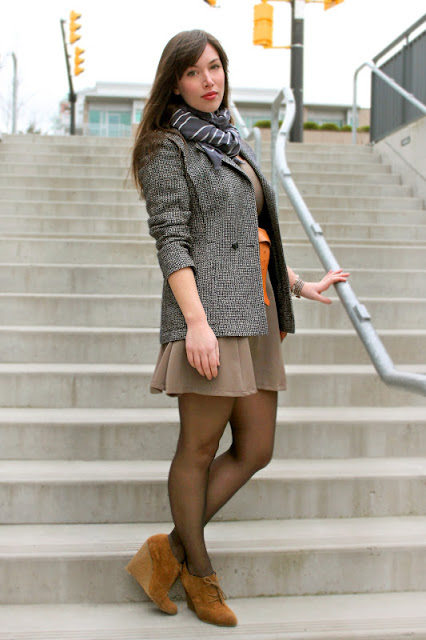 I'm currently at my cabin right now and it's been just what I needed. I love sitting here next to the fire and having absolutely nothing to do other than sip coffee and watch the ocean. Doctors should just prescribe cabin days from now on when people are feeling run down. Sometimes, even staying home with a cold isn't enough…you really need to just fully remove yourself from everything and plant yourself in the middle of nowhere.
Hoping your weeks are off to a good start!