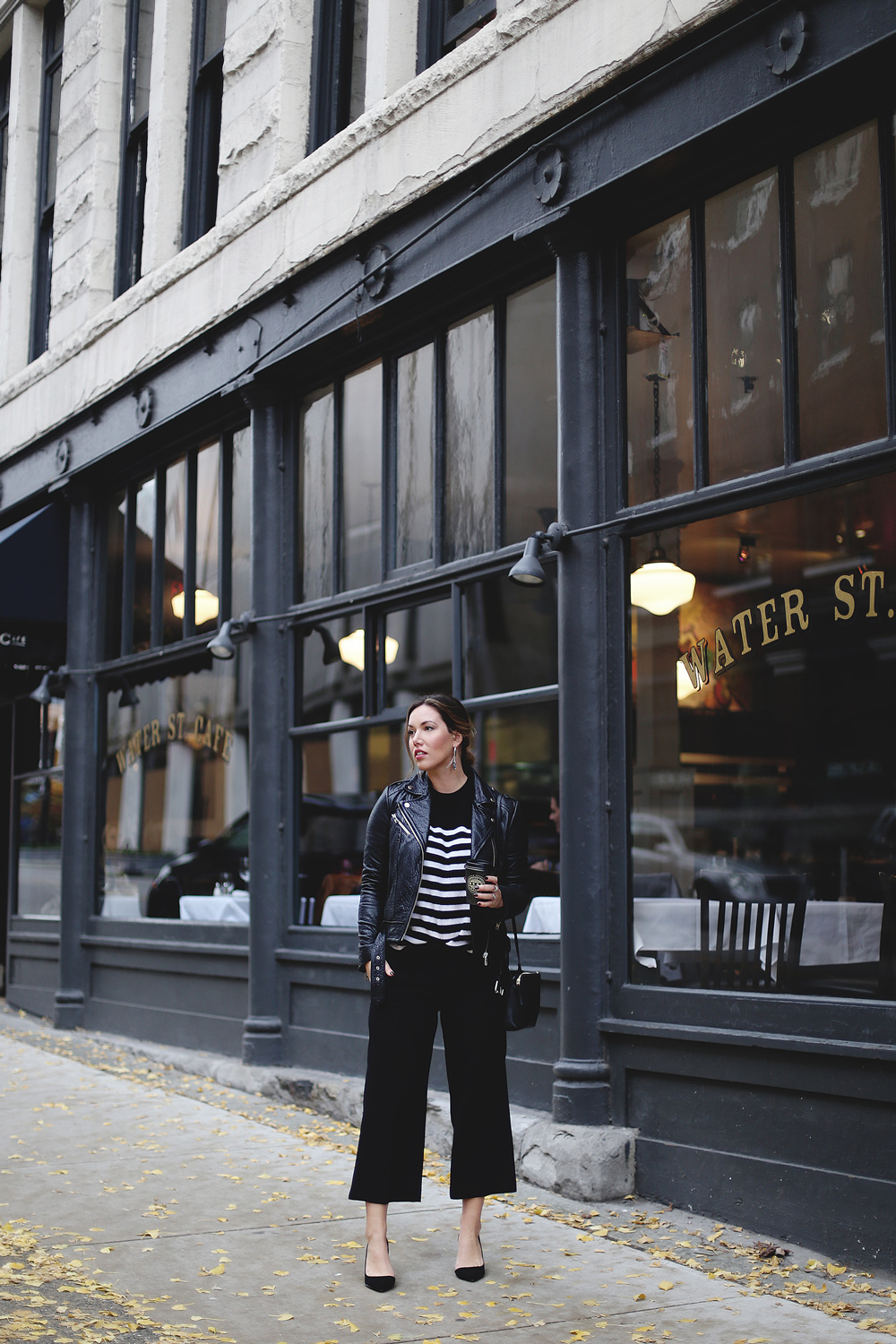 If my last few posts are any indication, I'm officially in the swing of things as far as the holidays are concerned. I've never been one of those people who are like "Christmas decorations in November, ridiculous!" In fact, I'm the person running around in Michael's like a lunatic sourcing said November decorations – it should come as no surprise that Matt (who's equally as obsessed) and I planned our Christmas party for this year in October. But the fact of the matter is, whether you're on the early celebration train or not, just about every event or get-together coming up is holiday-focused (I was at an amazing one last night that my girl Erin of The Sparkle hosted, you can still catch it on my Insta Story).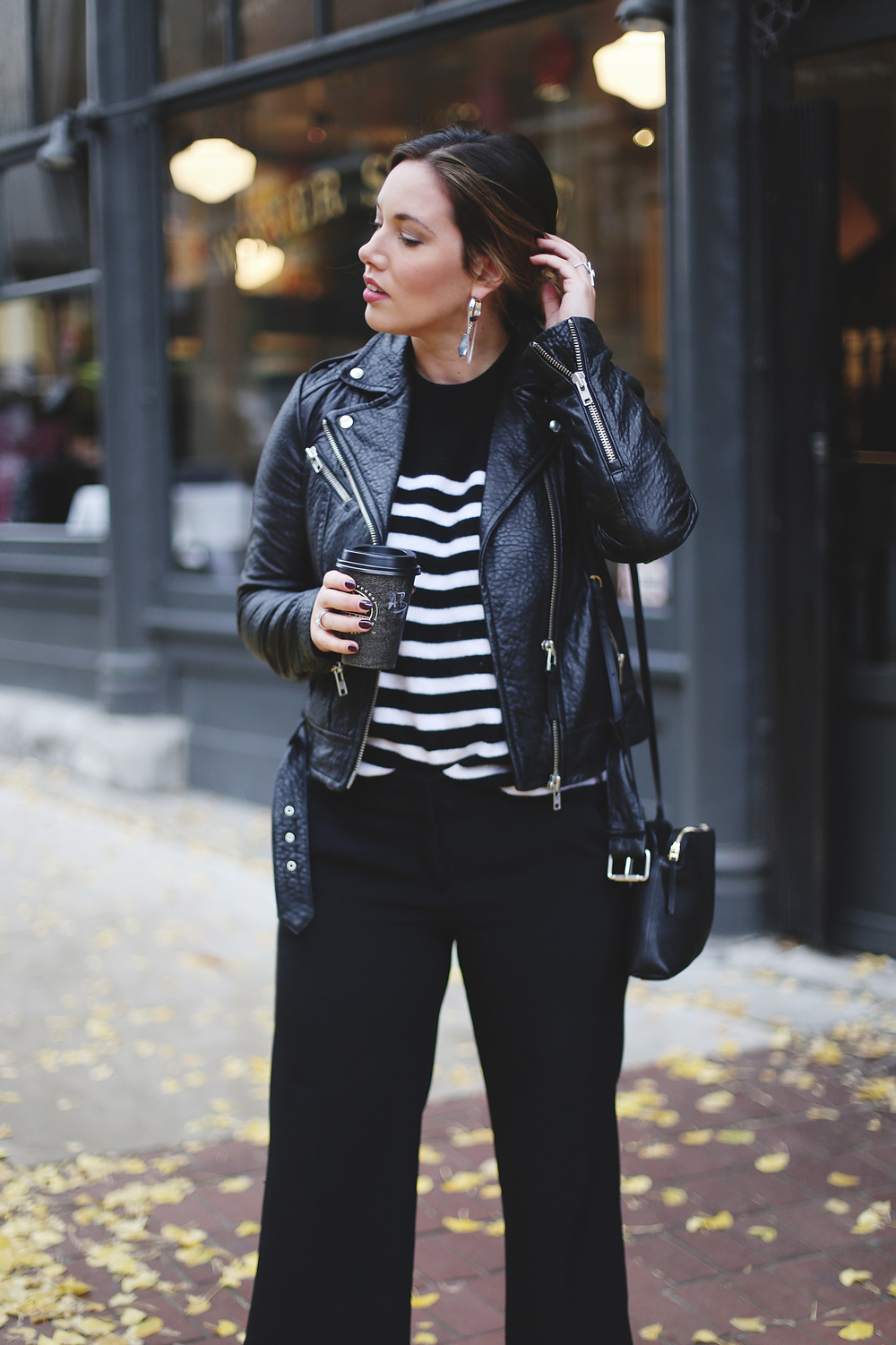 While this recent post and this post are more focused on the festive get-togethers, there's something about the season that just makes me want to sparkle a bit more (by that I mean more than my sparkling personality year-round, of course). And for those days when I just want a little sparkle & shine to an otherwise get-bizznizz-done look, I can rely on Swarovski.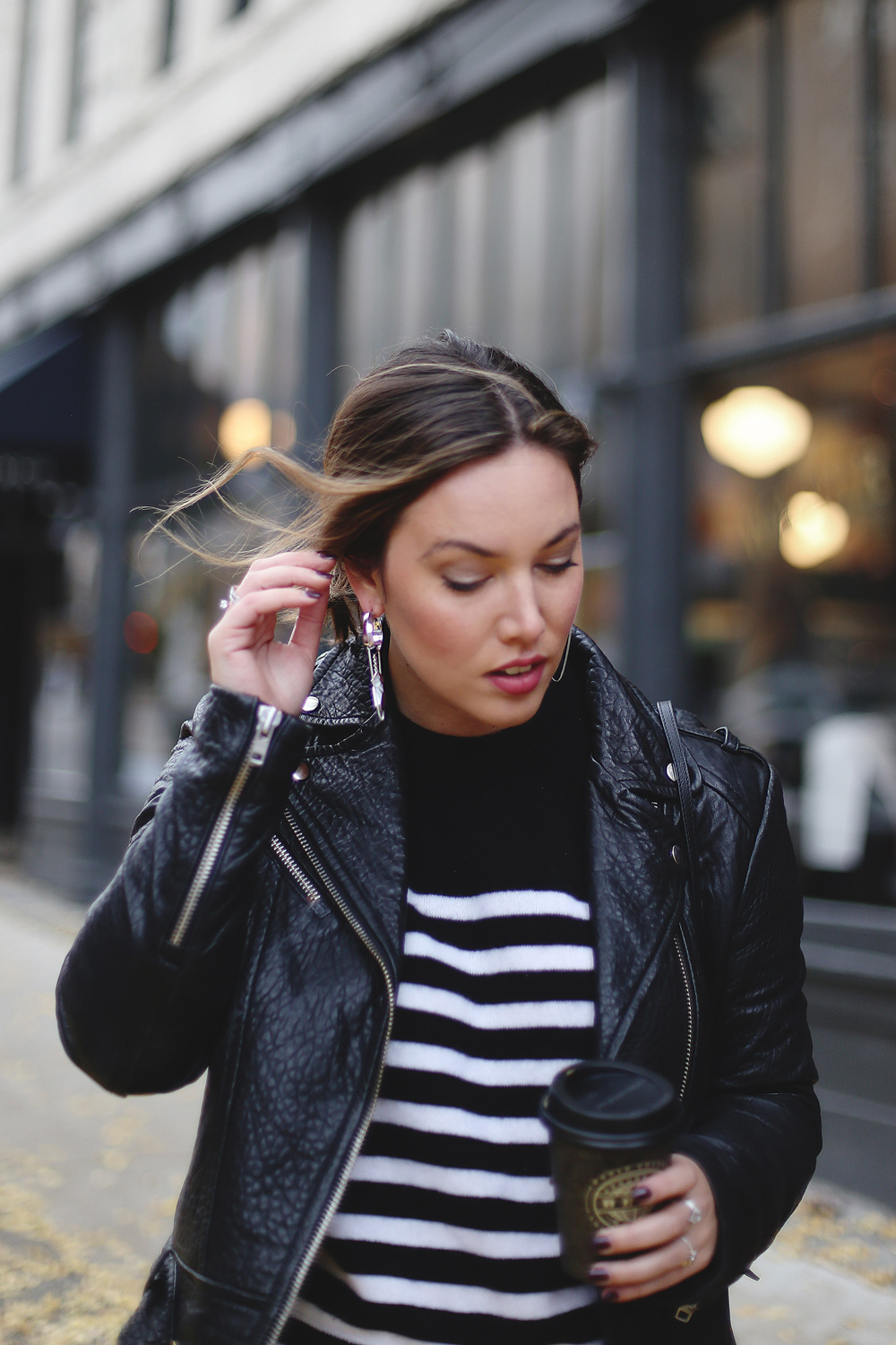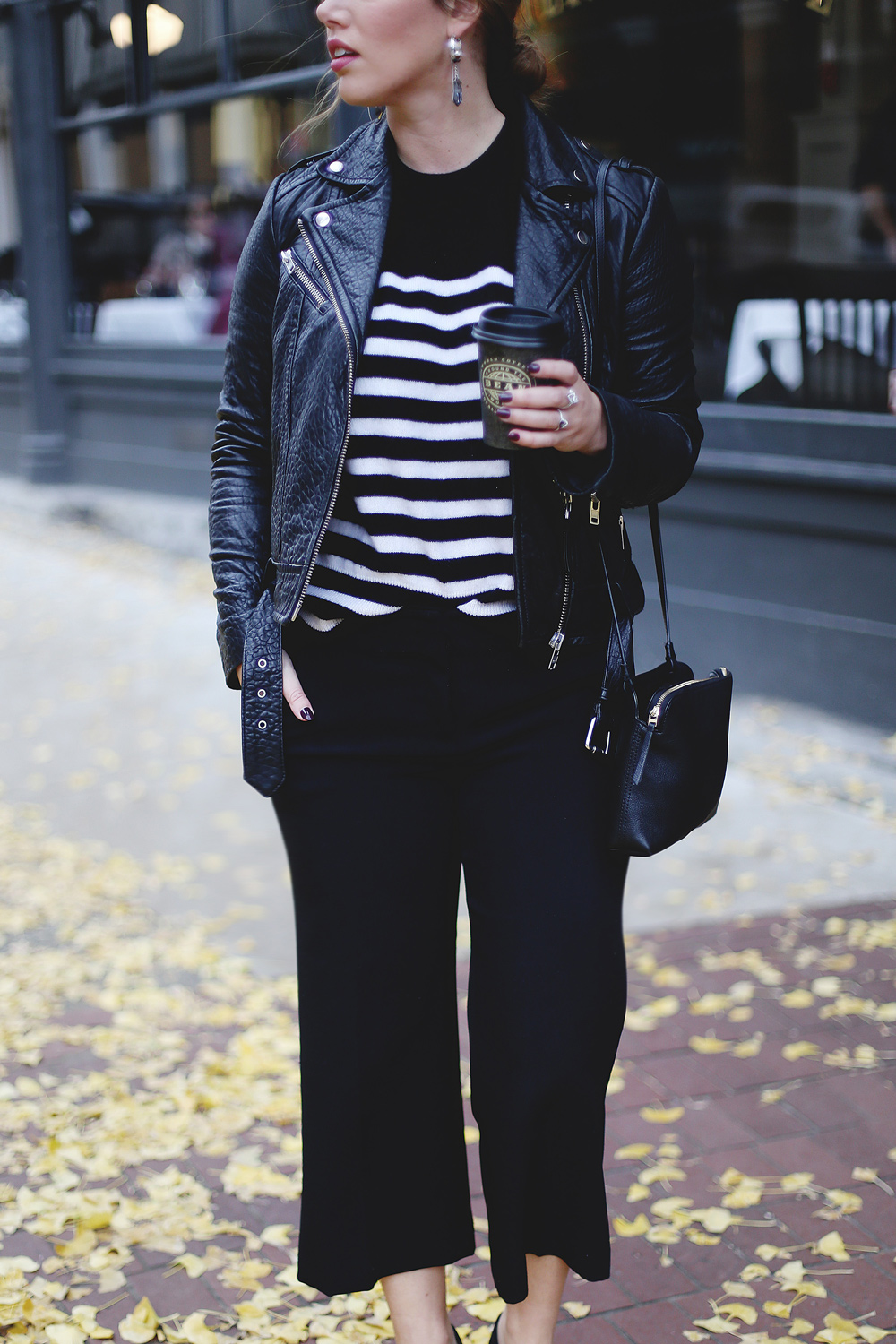 If you guys have been following along for some time, it might already be pretty clear that I tend to keep a pretty minimal baseline for my accessories on a day-to-day basis. Some delicate stacked rings, discrete necklace, watch and I'm usually done (and to that end, Swarovski has some seriously amazing pieces – just see my previous posts here, here and here!). But like I said, something about the holiday season always makes me want to break out the big guns, and so these earrings I've been holding on for months now have finally gotten their chance to shine.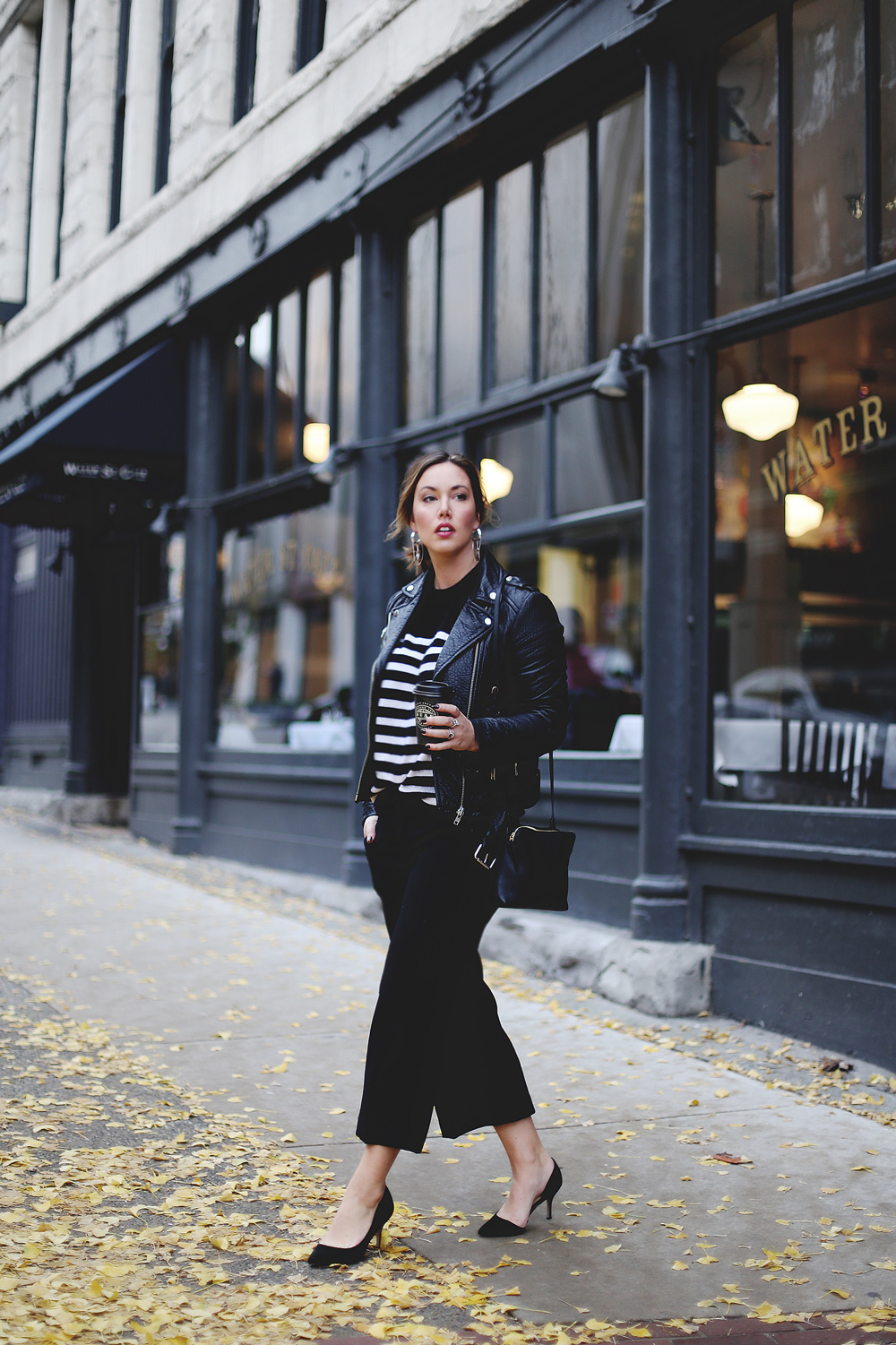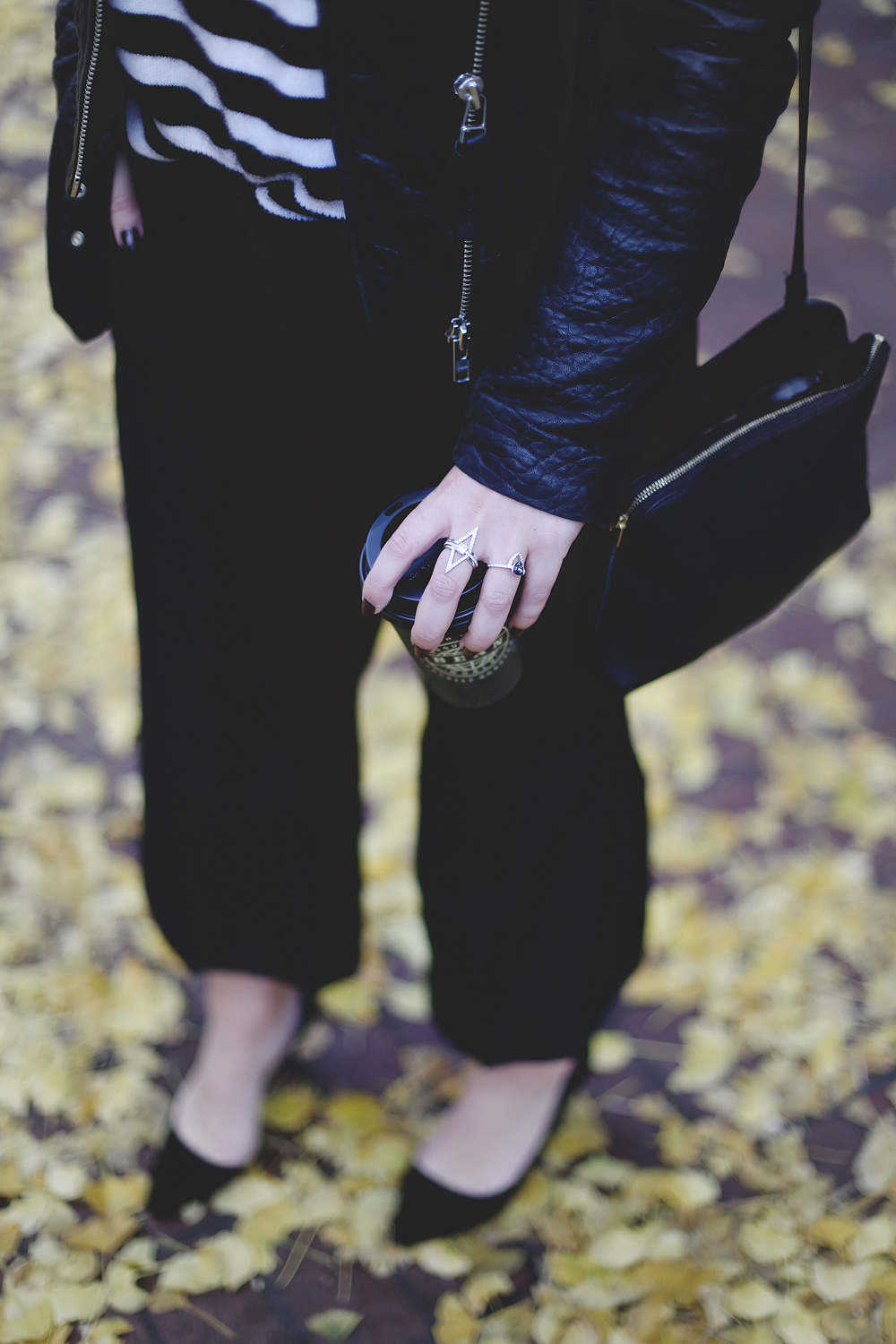 I'm such a fan of the slightly undone-yet-pulled-together look as it is so really, this outfit is a perfect fit for my tastes and for my daily goal of hitting that effortless cool balance. Cool culottes (surprisingly one of the most versatile pieces you can own cross-season, actually, and this pair's on sale!), a cozy cashmere sweater, the swagger of a leather moto jacket and simple, sleek black accessories is a cool look no matter how you accessorize it, but really, adding these statement earrings from the Jean Paul Gaultier for Atelier Swarovski is what gives the whole look edge and glam.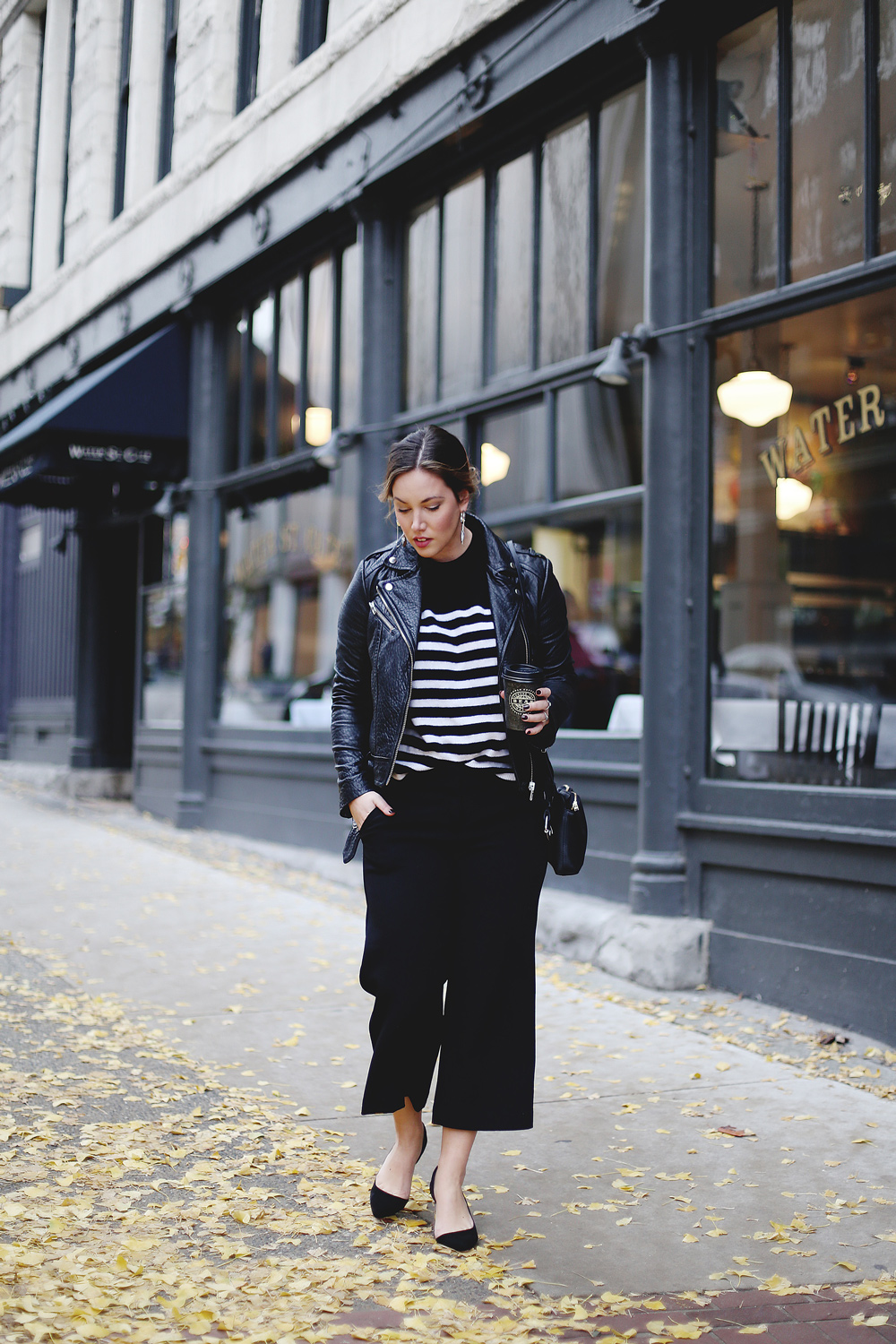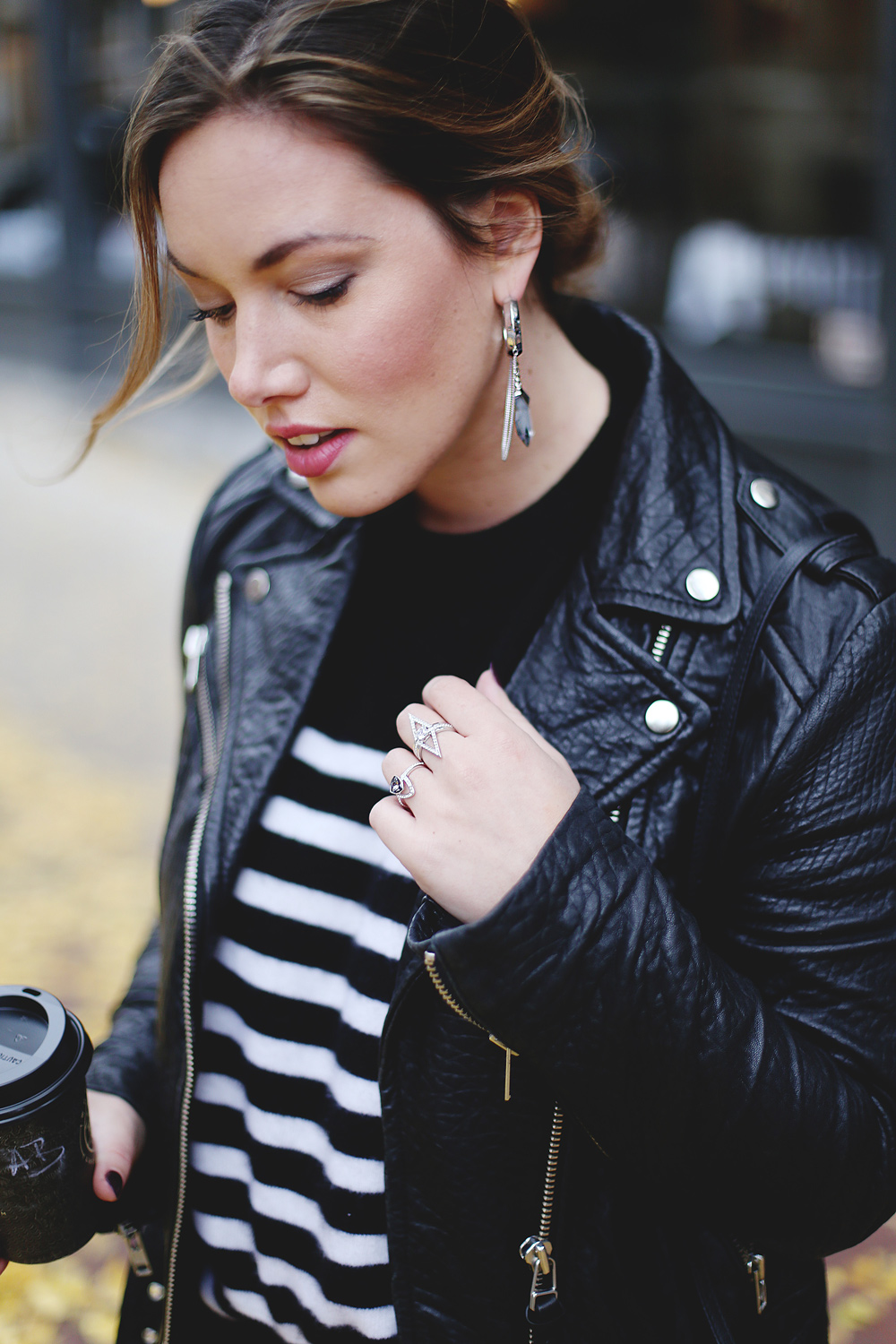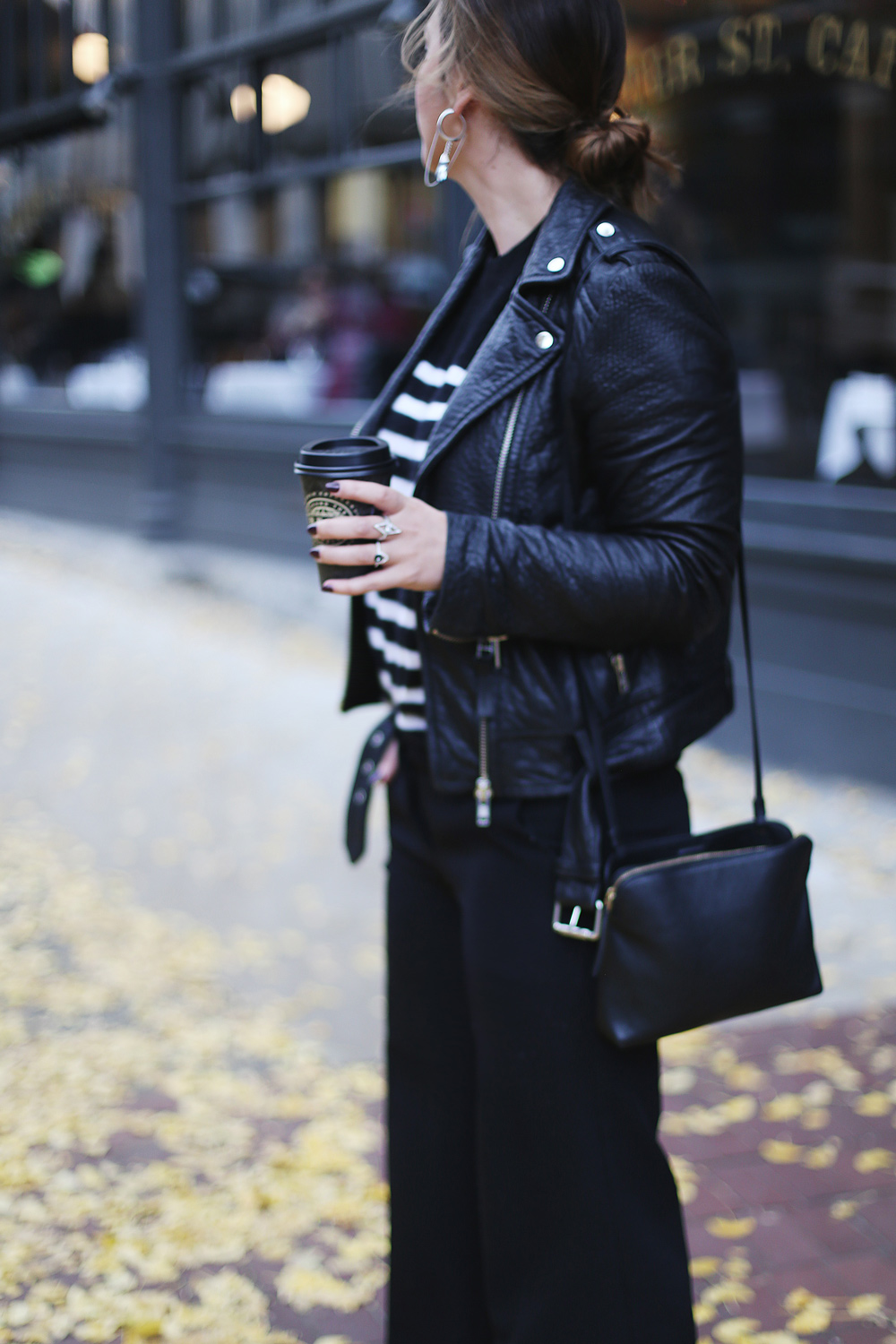 If you have a similar moto jacket with zipper detailing, really play off of that and keep stacking on that silver. It somehow simultaneously adds way more visual impact while also giving the look more cohesion. One thing I'm no stranger to no matter what the occasion is is ring stacking, so my beloved Funk ring set (which I love so much because you it's a set of 3 and so easy to wear in pieces or all together for major impact) and half of the Fantastic ring set (again, love that Swarovski's ring sets allow for so much versatility!) were no-brainers. Finally, my love & fascination to all things celestial gets a nod with the Fresh ring featuring a beautiful floating crystal.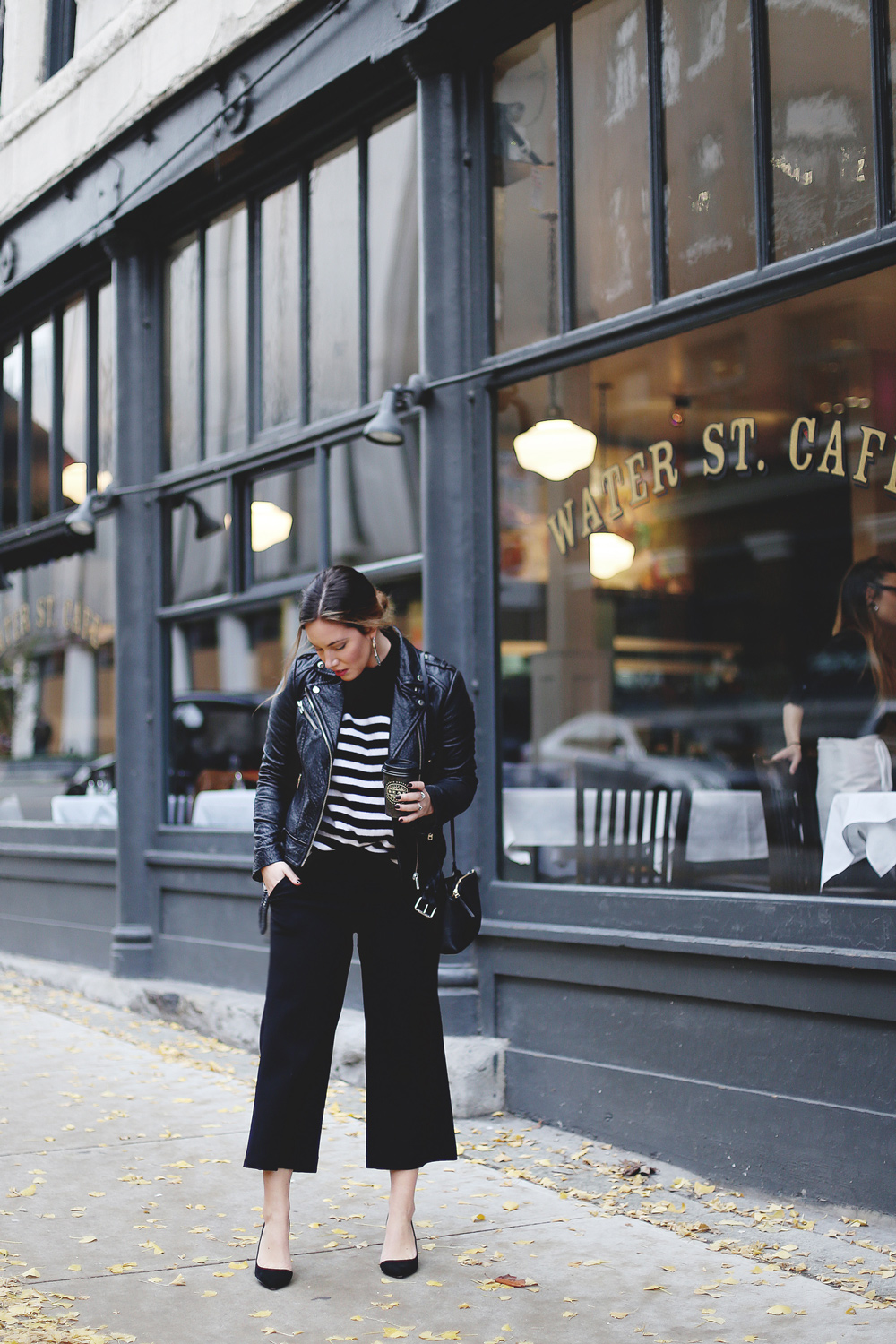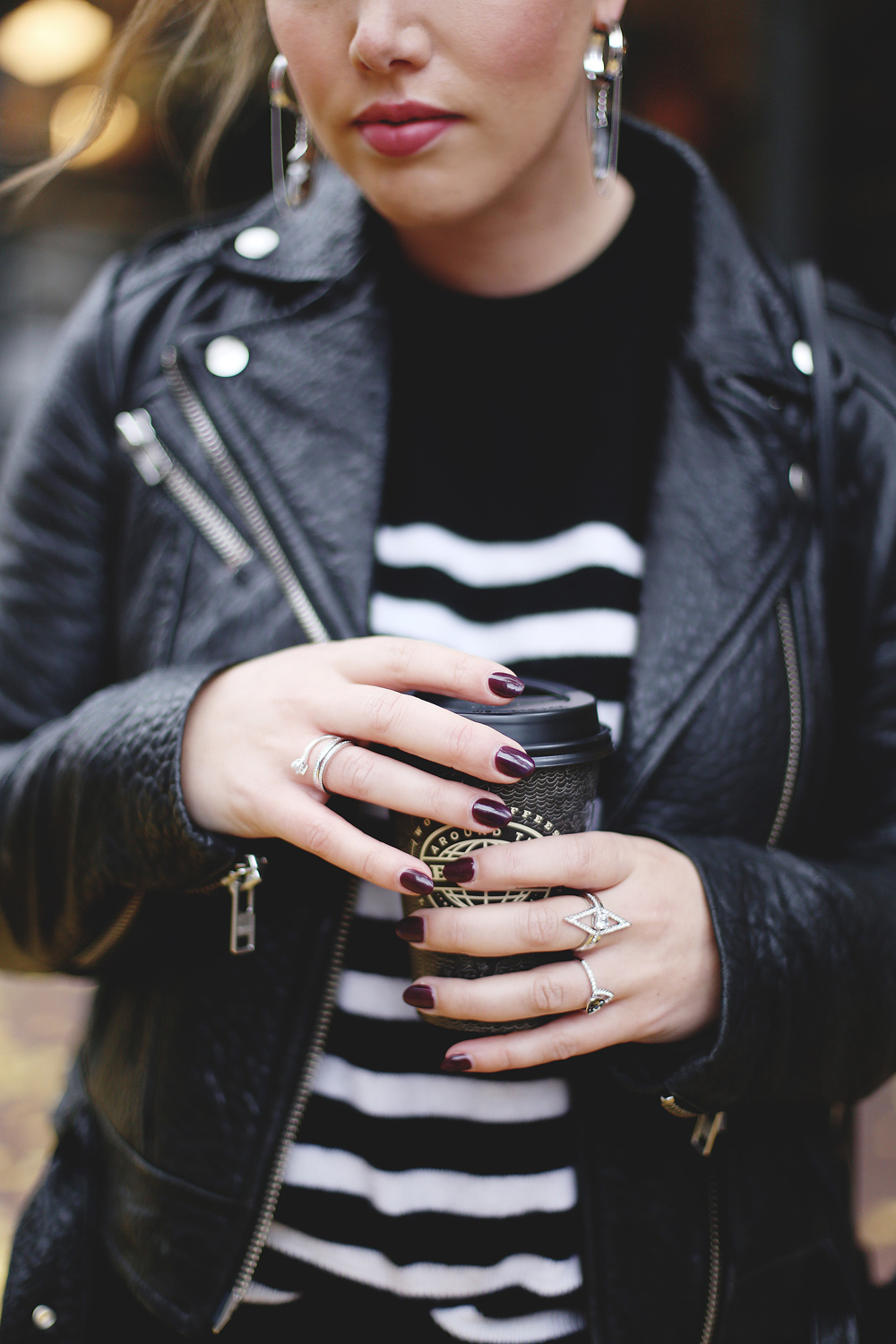 As for beauty, similarly to my accessories game, I like to mix things up and do a daytime smokey eye to add edge and depth to my everyday looks. I'm so natural for the most part across all the other seasons of the year that really tapping into that more glam side even in my everyday life makes the holidays that much more special and fun for me (though of course, always about the balance, hence the super low-key knot!).
Shop all of Swarovski's pieces here – you can literally do no wrong sourcing your holiday pieces from this iconic brand, they're such masters of the glam crystal game!
Photos by Alicia Fashionista
This post was created in collaboration with Swarovski but all opinions expressed are my own.