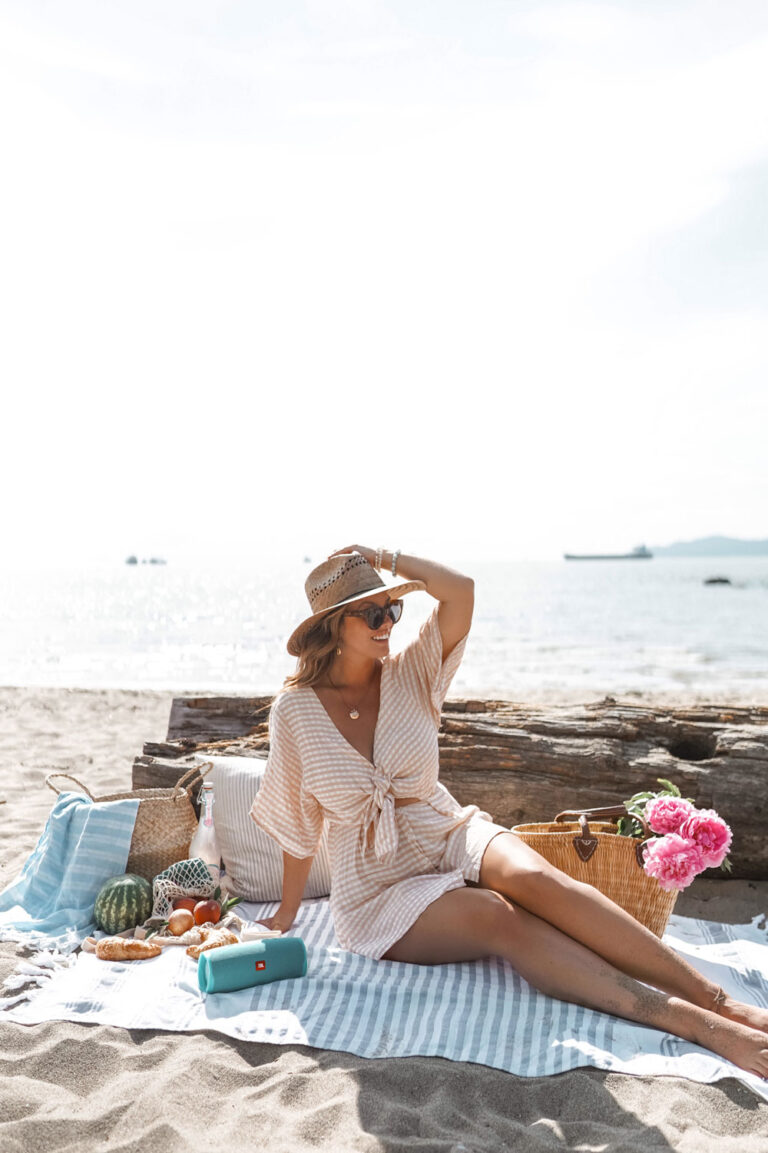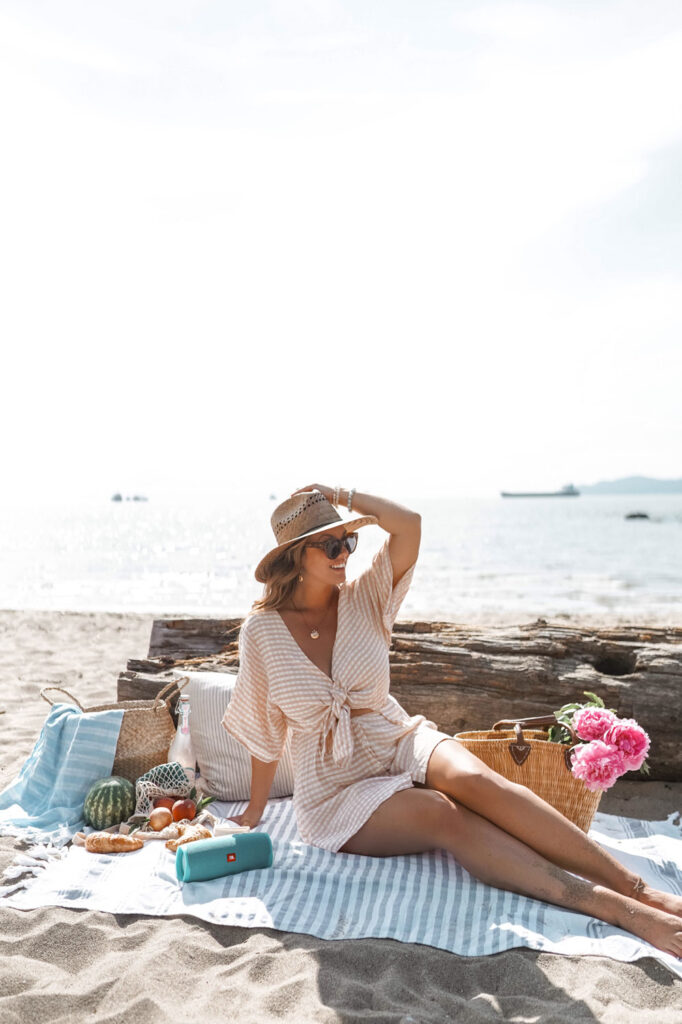 You guys probably know by now that I'm a beach baby, or more accurately, just a total summer baby. I live for this season all year long, and once it comes I take any excuse to be out in the sunshine with my friends and loved ones, whether that's upstairs on our patio hosting a little get-together, soaking in the sun at my cabin or at my go-to beaches here in the city. To that end, my absolute favourite beach is Third Beach—it's situated in Stanley Park so is a bit of a way away from the downtown or west side beaches, and in my opinion, has the best water, actual beach layout (surrounded by the Sea Wall and the park's gorgeous evergreen trees) and (very importantly) the best crowd.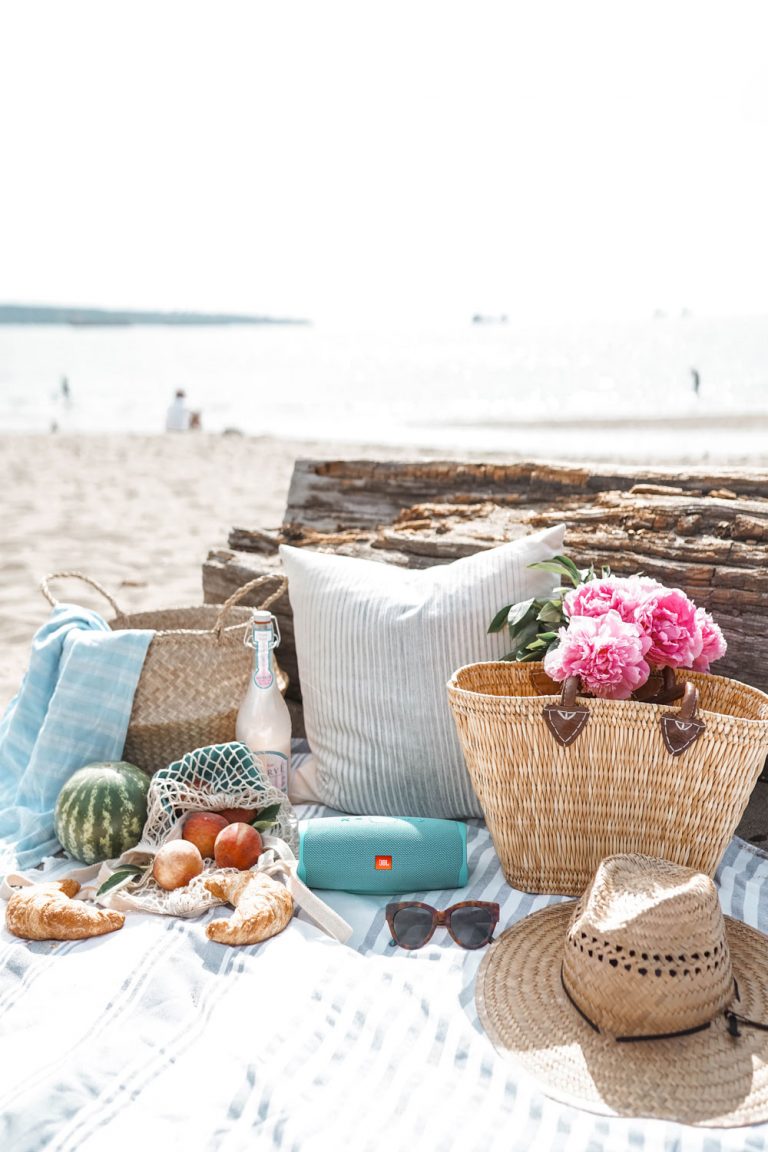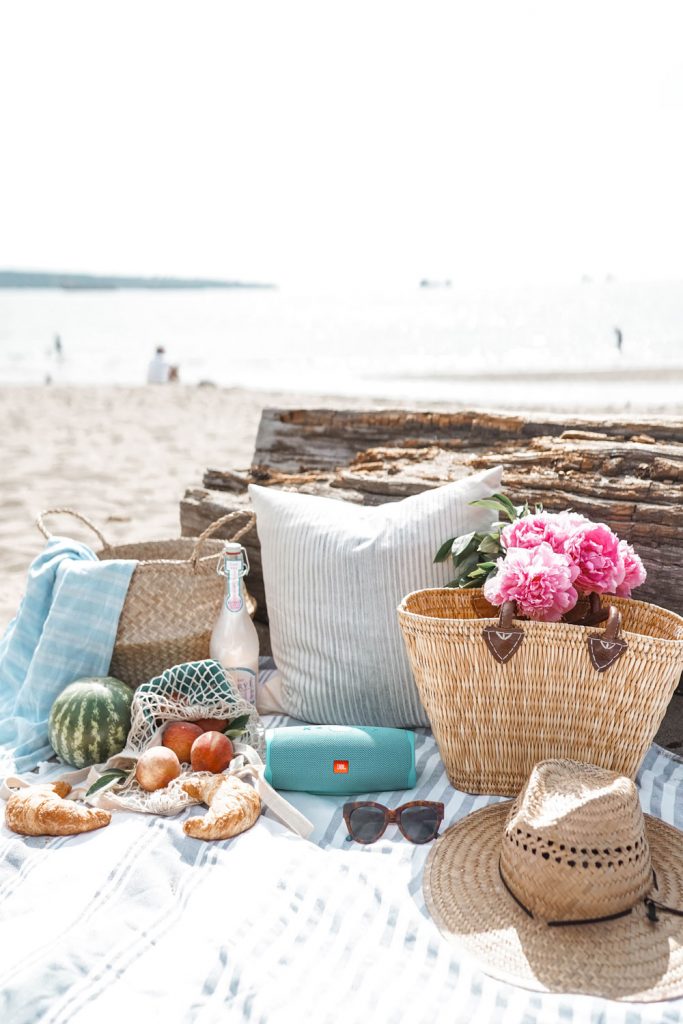 As a West Coaster, over the years I've learned how to pull together a quick little beach picnic in short order—I like to thank my parents for this because we spent our whole childhood on the beaches (where both my parents were lifeguards during their university days) so they taught us all well in the fine art of beach setups! Here are some of my top tips for the ultimate beach picnic (which also happens to be supremely easy).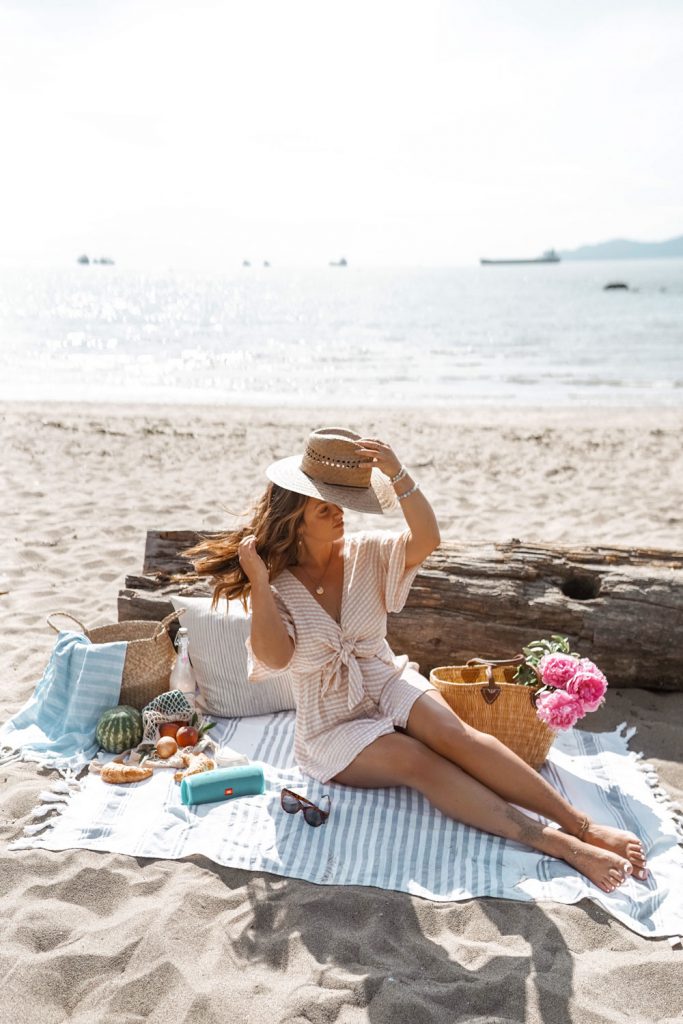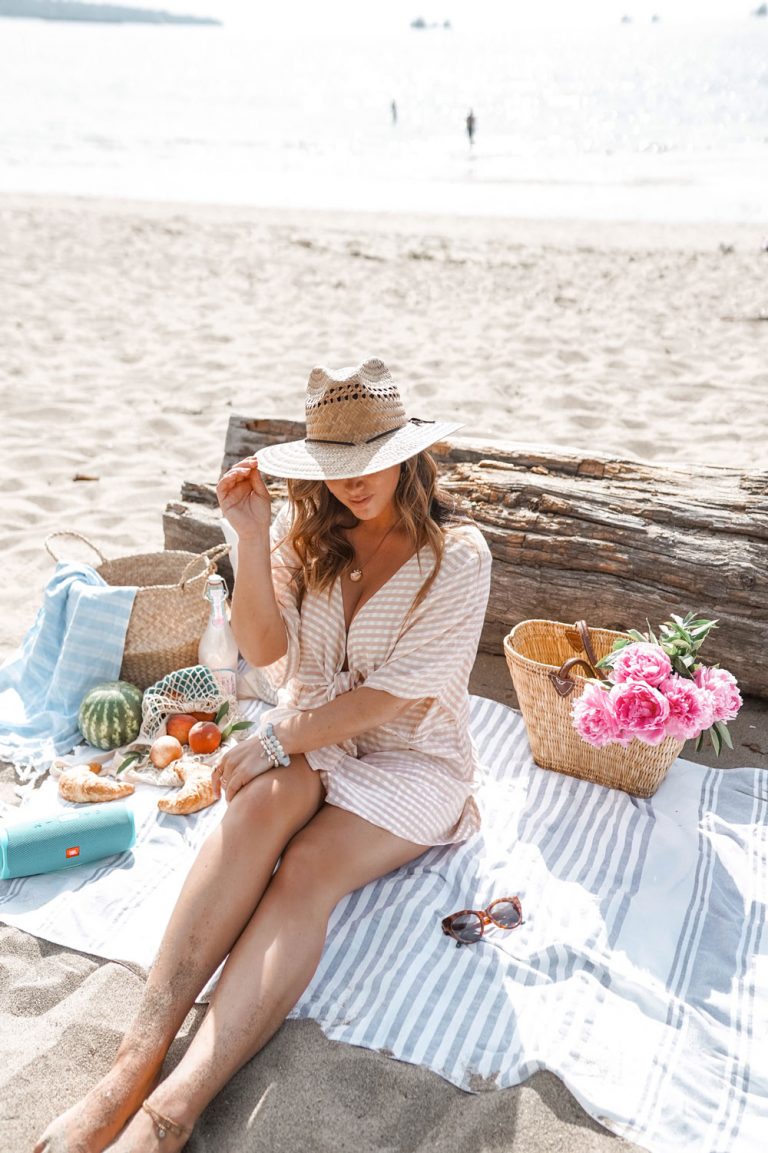 First of all, you need music—that's key. I'm so excited to be partnering with Best Buy this year to share some of the most exciting product releases available at your local Best Buy or on bestbuy.ca—as you guys know, I've worked with them in the past and they're a company I really love and believe in. Funnily enough, a lot of my birthday or Christmas gifts (for myself!) are usually from our local Best Buy on Cambie Street—one of my favourite additions ever was a Wonderboom speaker that has been relegated to our cabin for raft hang-outs, but it quickly got me hooked on high-performance speakers that also stand up to water (since so much of my summer hang-outs and relaxing is done near or on the water).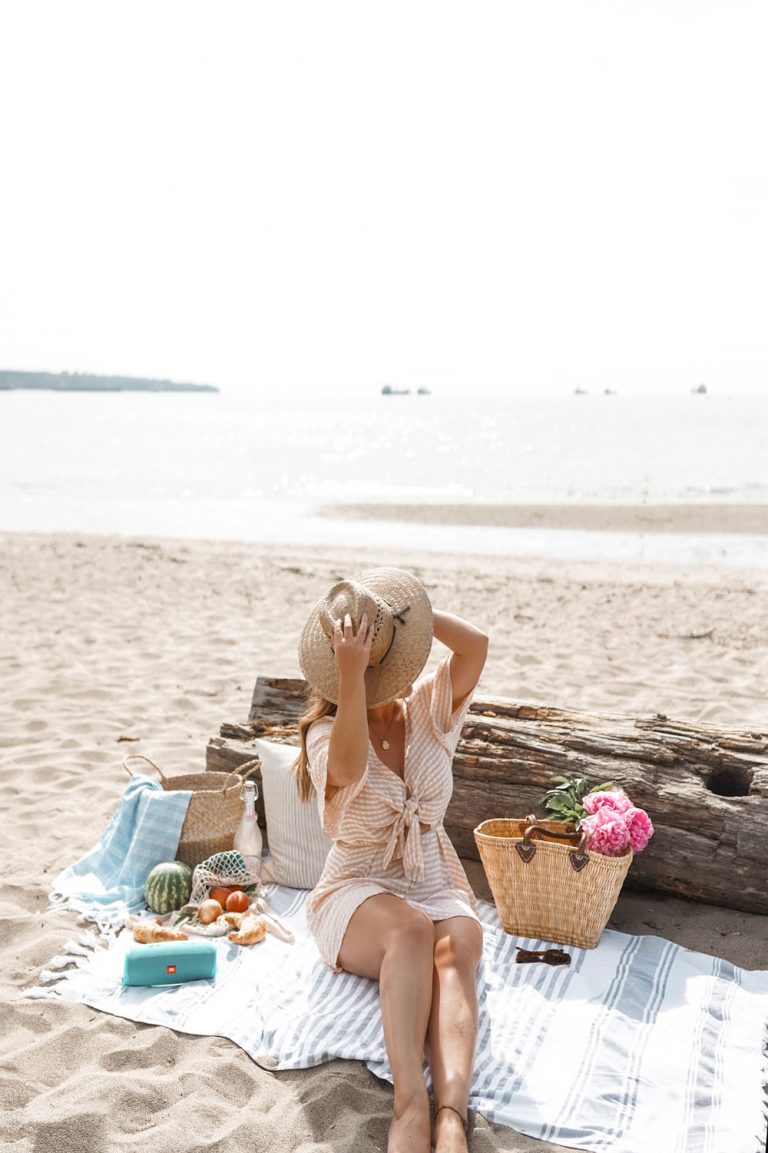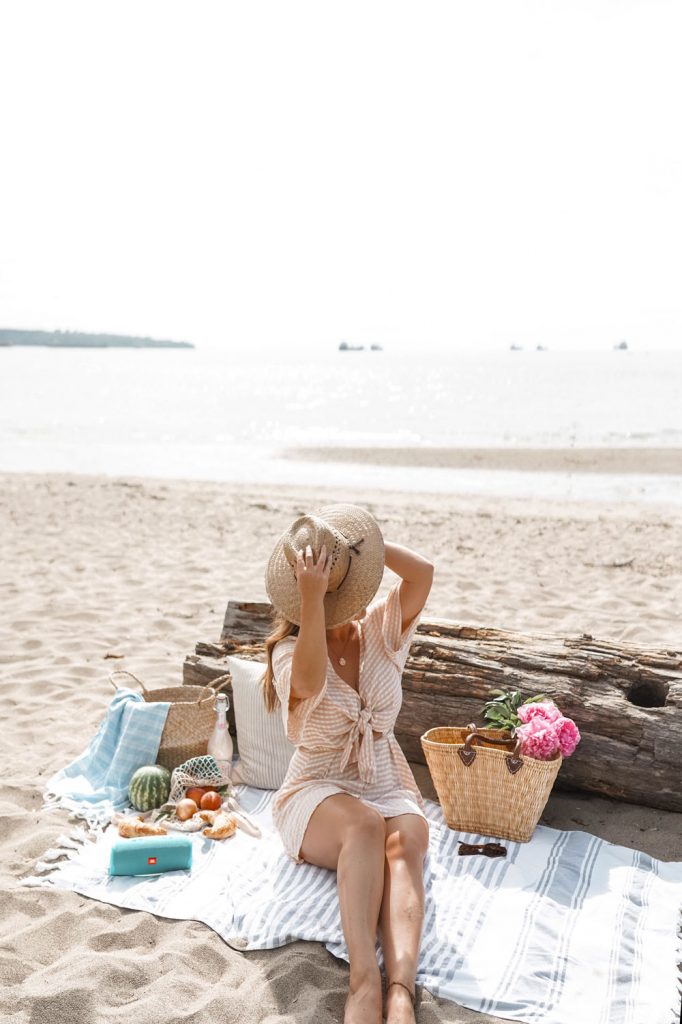 I was so excited to try out the JBL Charge 4 Waterproof Wireless Speaker, which you connect to via Bluetooth. In this gorgeous teal (it comes in a bunch of great colours!), I knew this would become an instant go-to all summer long. What I didn't expect was all the amazing perks that went along with the speaker, like its charging USB port that allows you to plug in your phone if it's running low on battery (ensuring your music never gets cut short) or its ability to let two devices connect, which means that you and a friend (or as is often the case for me, my partner who I'm always arguing with music picks over) can take turns playing DJ.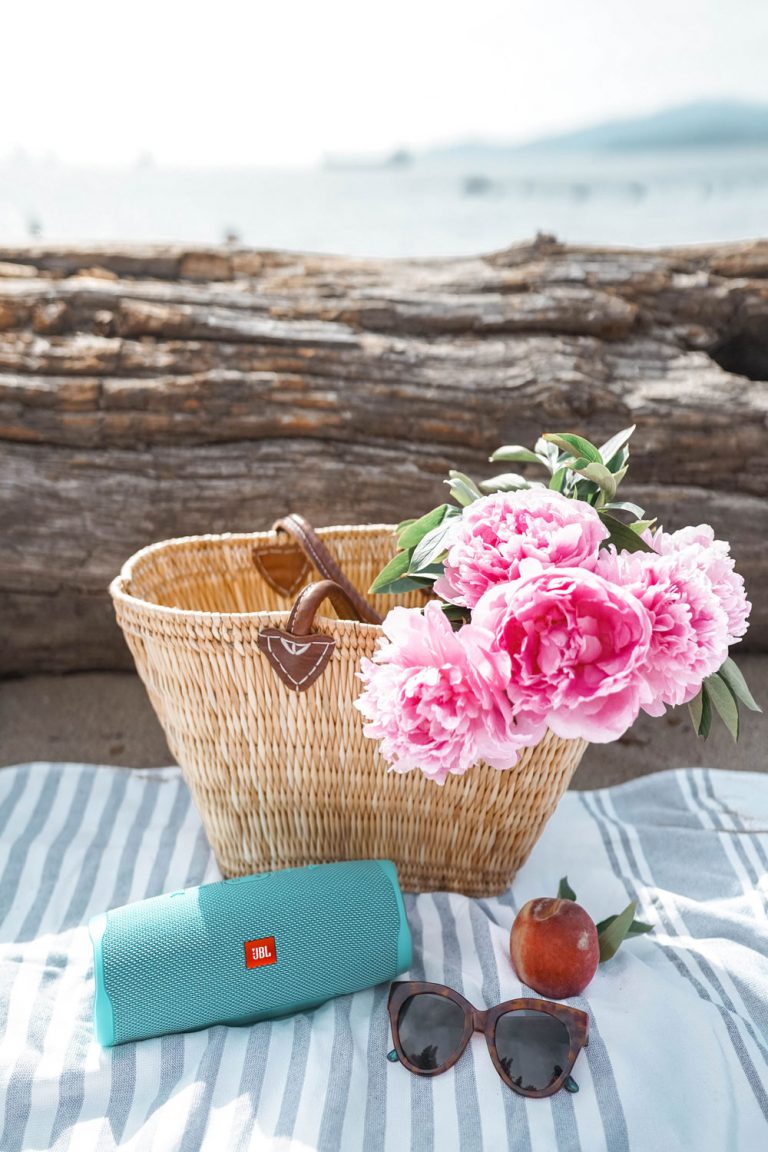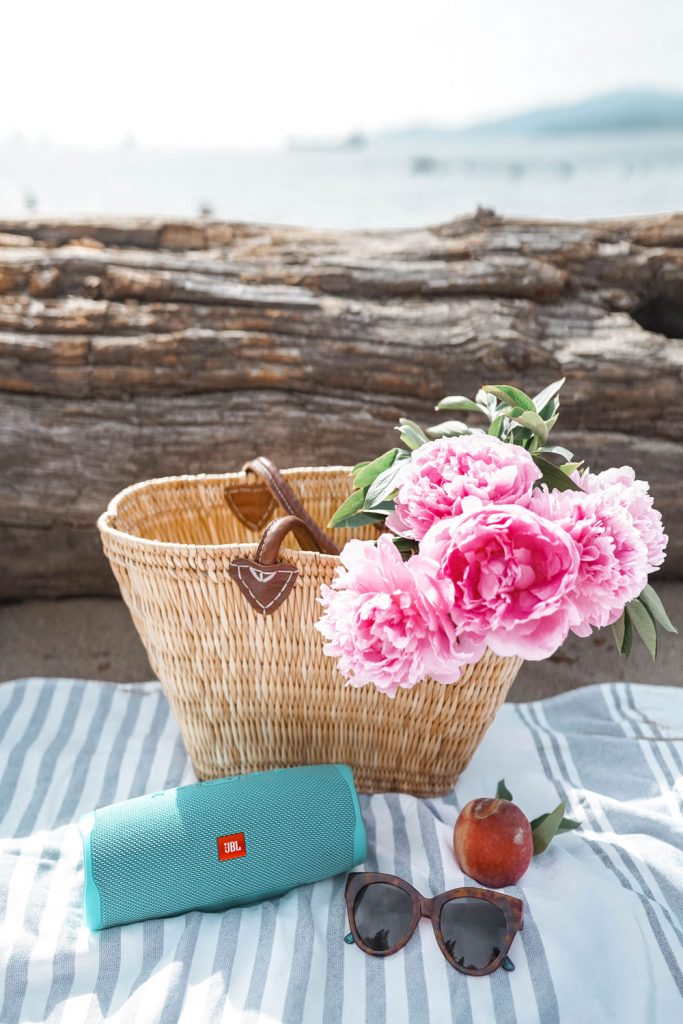 At full charge, this speaker will last you an insane 20 hours—there's nothing worse than a portable speaker fizzling out in the middle of a party or if you're out on the water and not near a charge station (which is something that actually happens to me a lot during the summer when I'm out on the raft or on a kayak) so it's amazing to know that if you charge it overnight it will be good to last you all day (and beyond).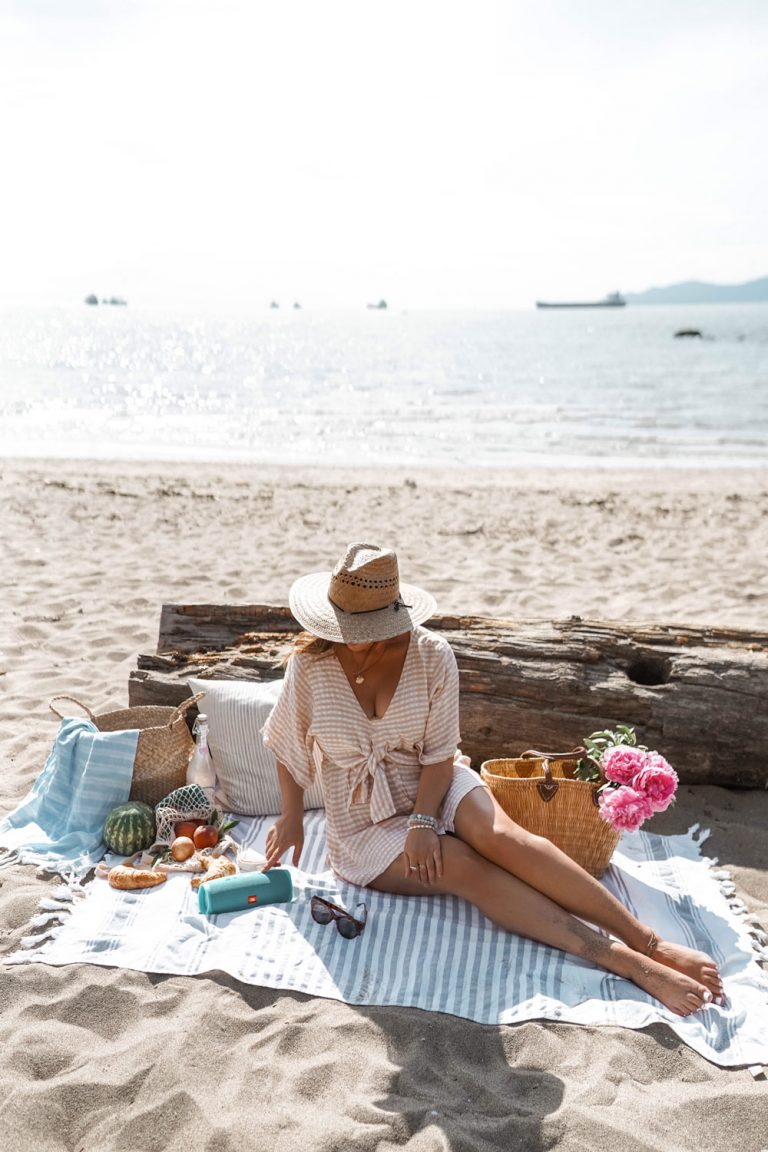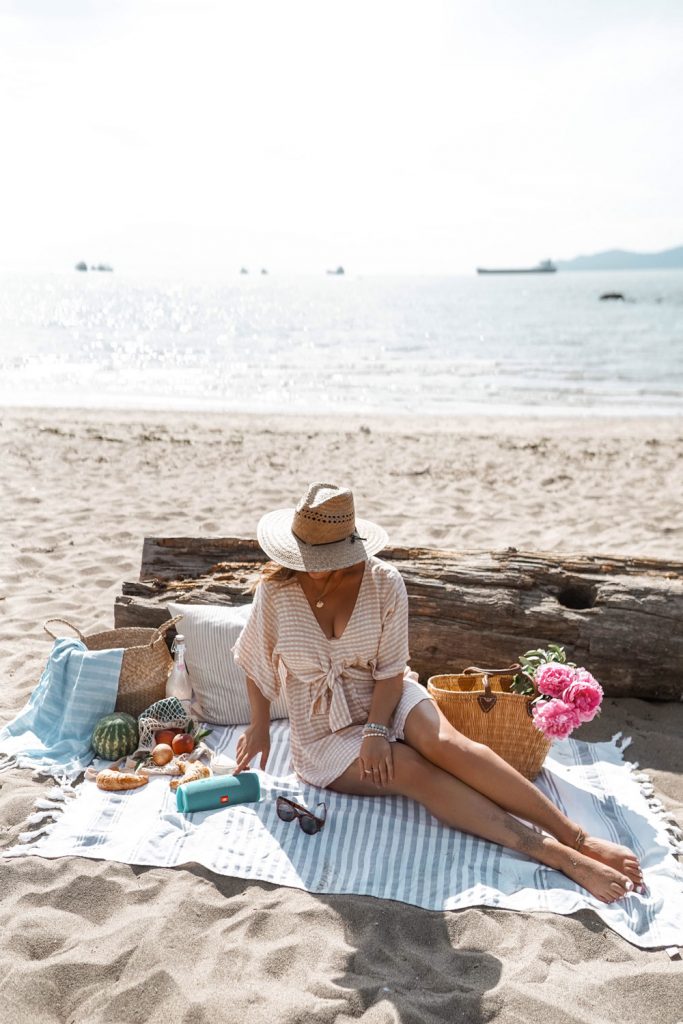 The waterproof design means that if your JBL Charge 4 accidentally takes a dip, you're safe—its secure housing means that it can handle a plunge in the water and not break on you! I love that even at a low volume (because Third Beach is pretty peaceful and while everyone plays their own music, you don't want to drown out anyone), the audio quality is so amazing—the speaker has a rich bass (you can actually see on either end the bass radiators do this cool reverberation effect in time with the bass, it's actually somewhat hypnotizing!). If you have other JBL speakers or have friends who have them, you can team up for even more sound! The speaker can connect to up to 100 other JBL speakers. Anyway, I am absolutely obsessed—it's the perfect sleek, light style to easily pack, but it really delivers on the sound. If you want to give my current beach playlist that I've been loving on my JBL Charge 4 a listen, I have it embedded at the bottom of this post!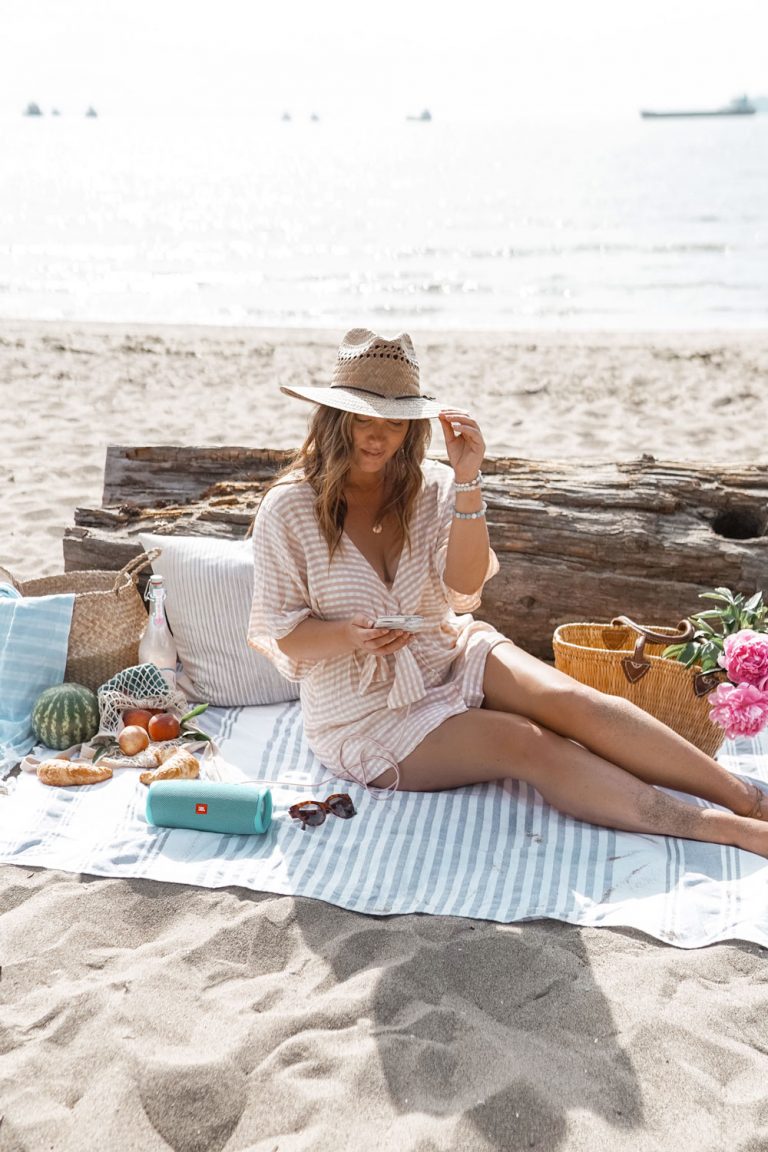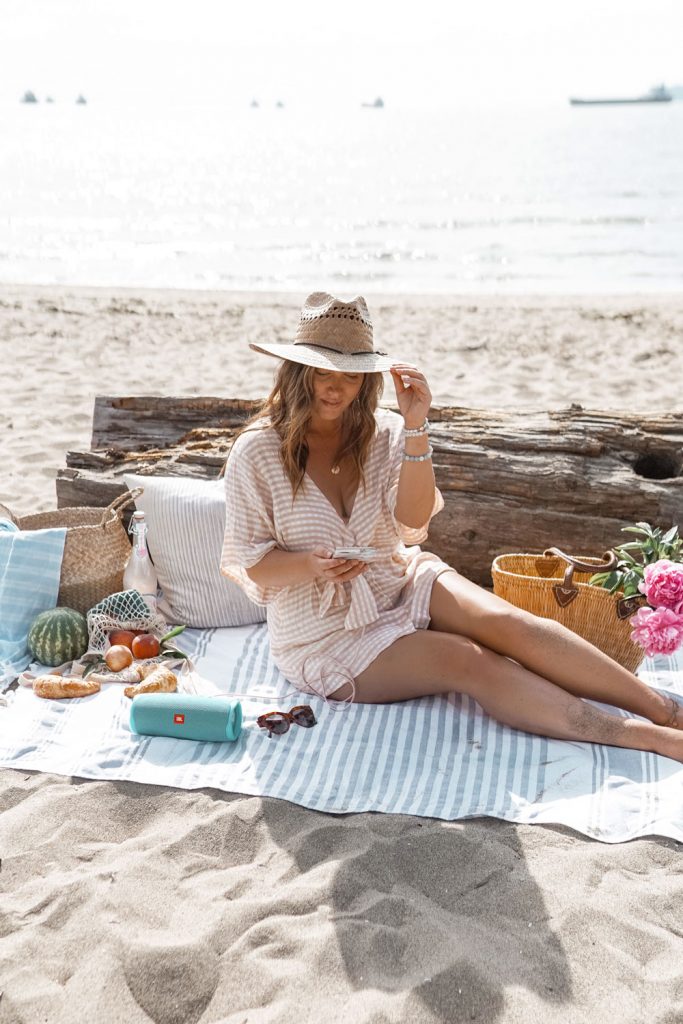 In addition to music, you need the perfect lounging area. I love Turkish towels because they're light and really easy to pack (meaning you can opt for multiples and create a big space for you and your friends), and they also get softer the more you use and wash them! This oversized one, in particular, is a favourite of mine—hilariously, I also got gifted a new one from Sicily by my parents that quite literally matches this one exactly, so I'll be using them in tandem to create a massive seating area!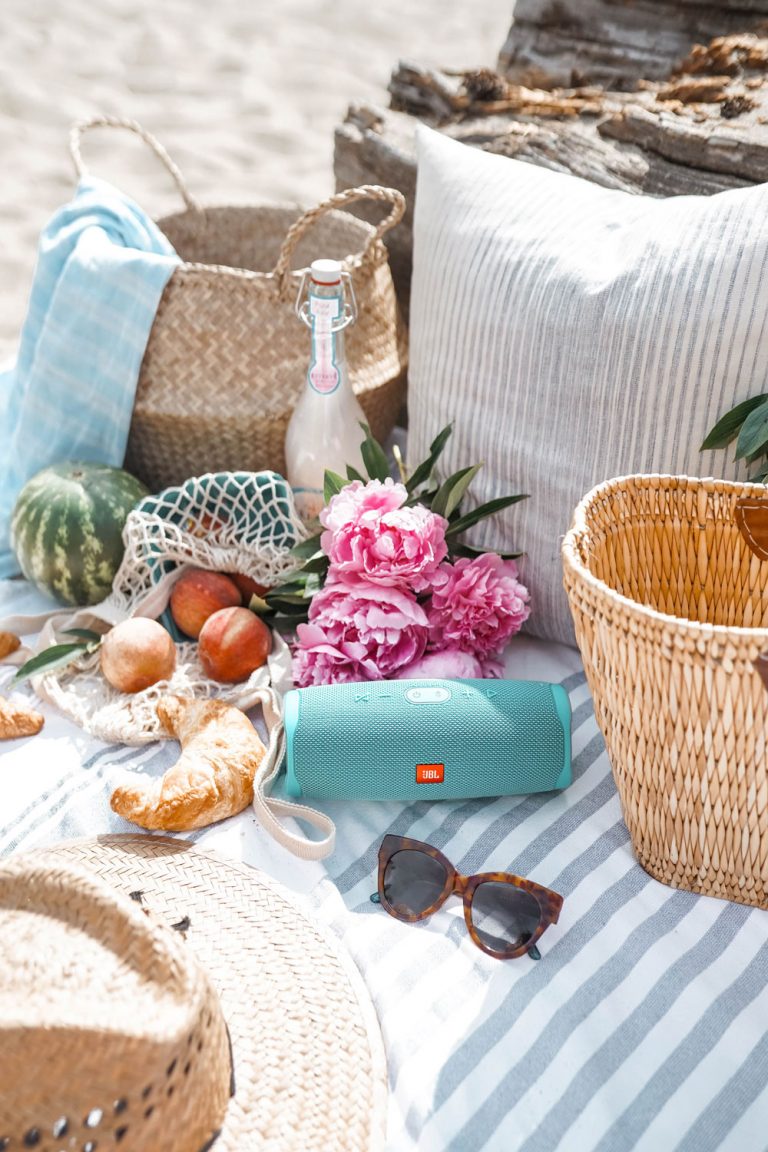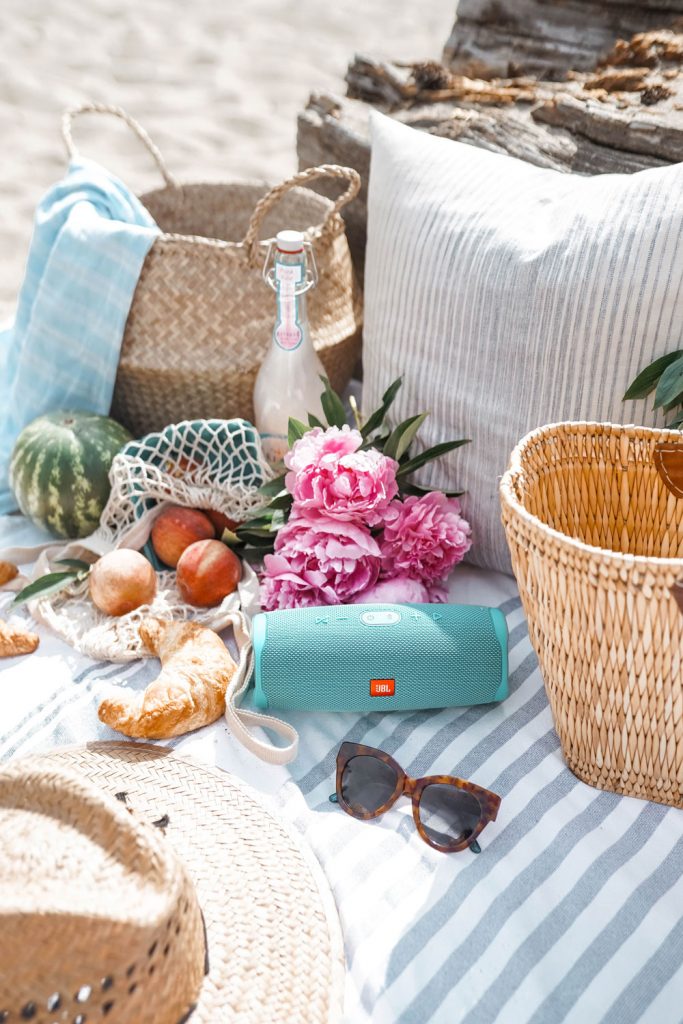 If you want to add in some pillows or other throws, I love loading up one of these seagrass baskets with anything else you might need as far as cozies—just load them up and then grab them by the handles to transport everything! Food is also absolutely key—I love fresh fruit at the beach always, so whether it's watermelon, cherries, peaches, strawberries or pineapple, there's always some sort of fruit on hand.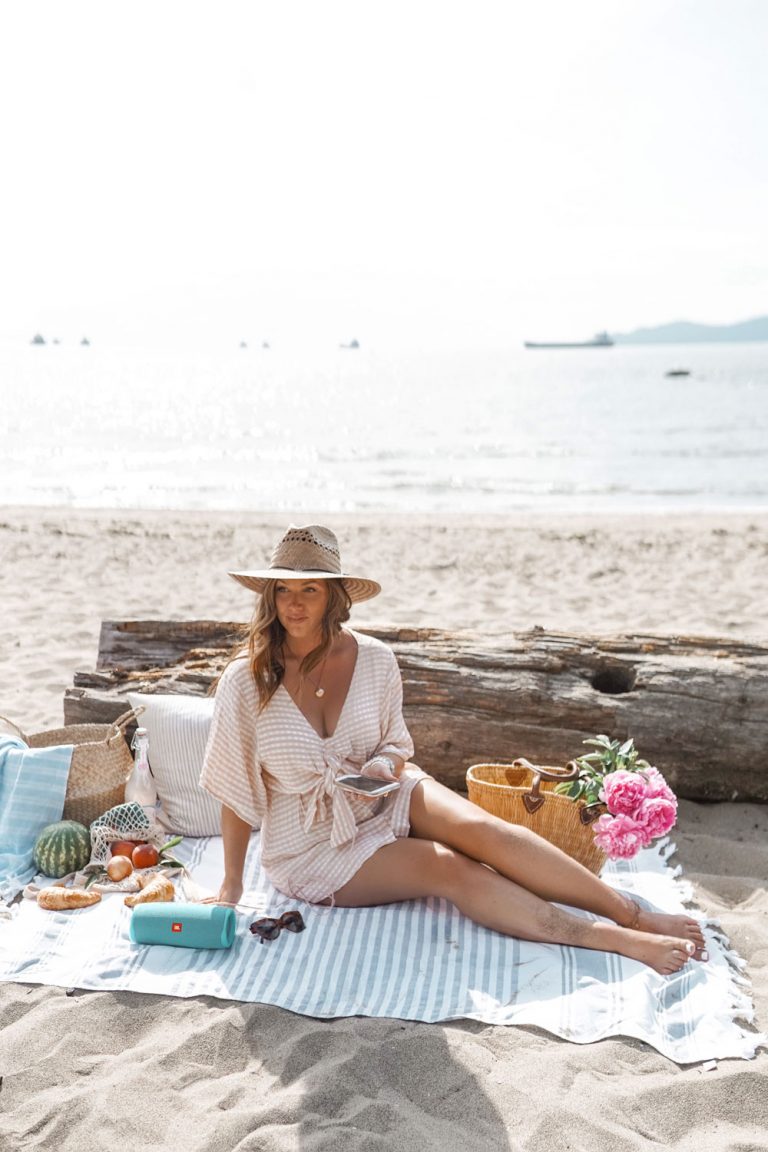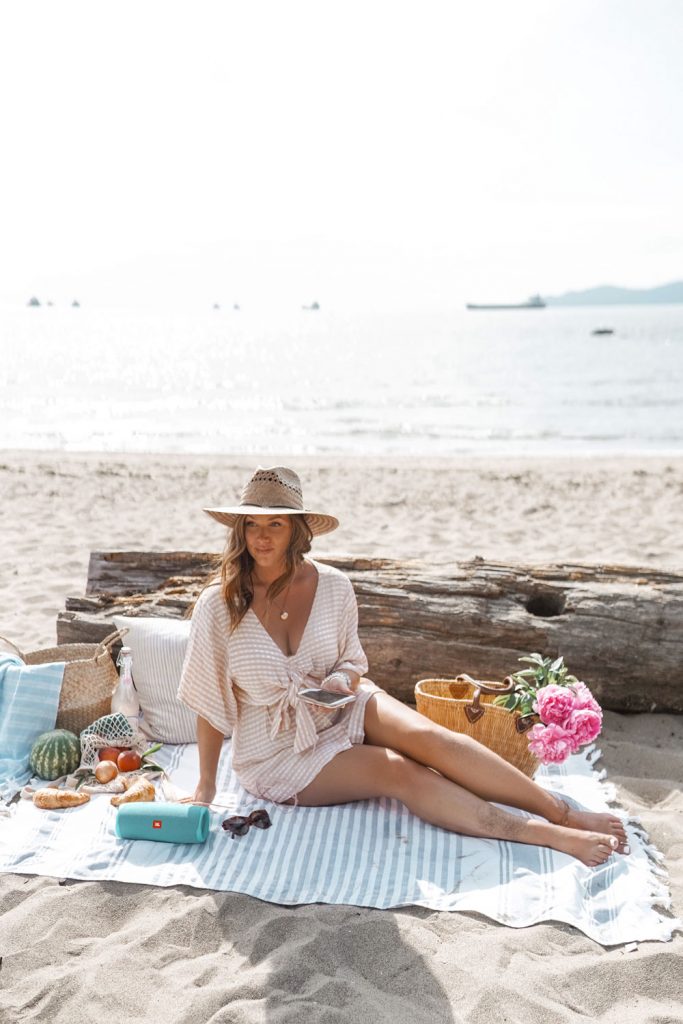 I'm not much of a sugar person, but in the heat, I crave a sweet drink, even better if it's fizzy. This effervescent pink lemonade is such a good beach treat and makes everything feel even more special since I don't usually have anything sweet drink-wise! A couple more snacks (gluten-free croissants for me, or a bunch of easy-to-snack-on veggies like snap peas or carrot stick), some good sun protection via a straw hat and SPF 60 and I'm set!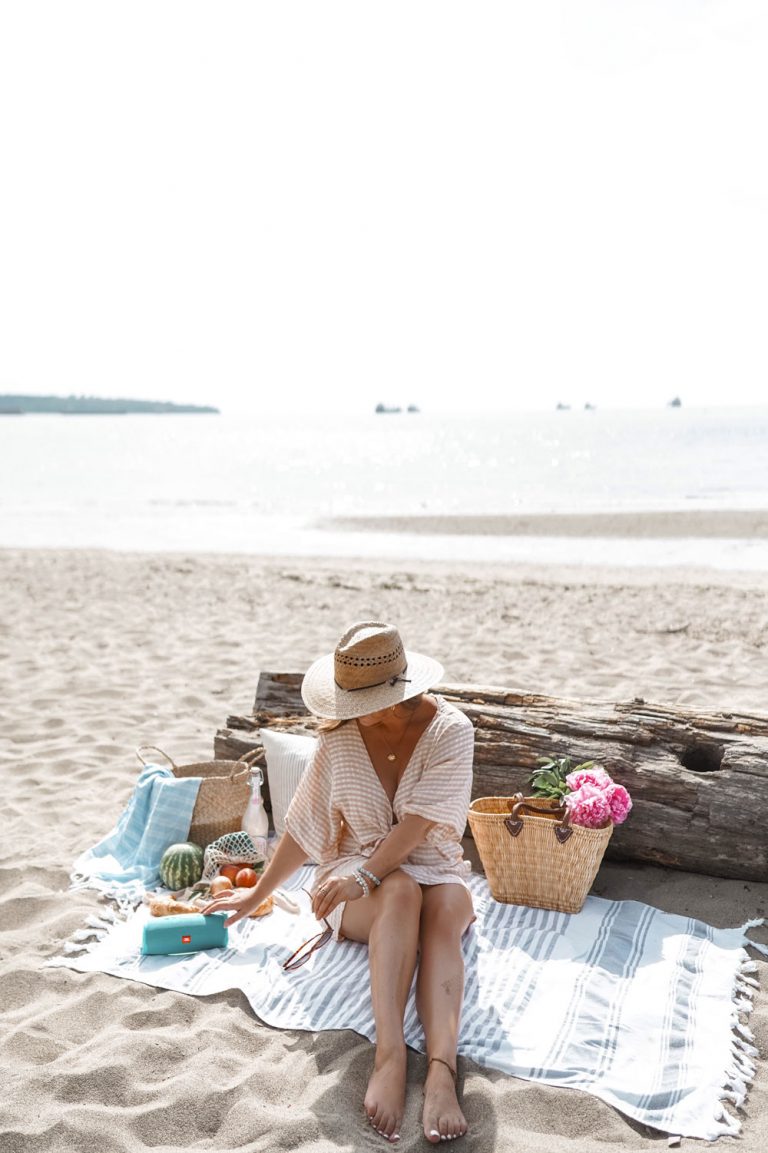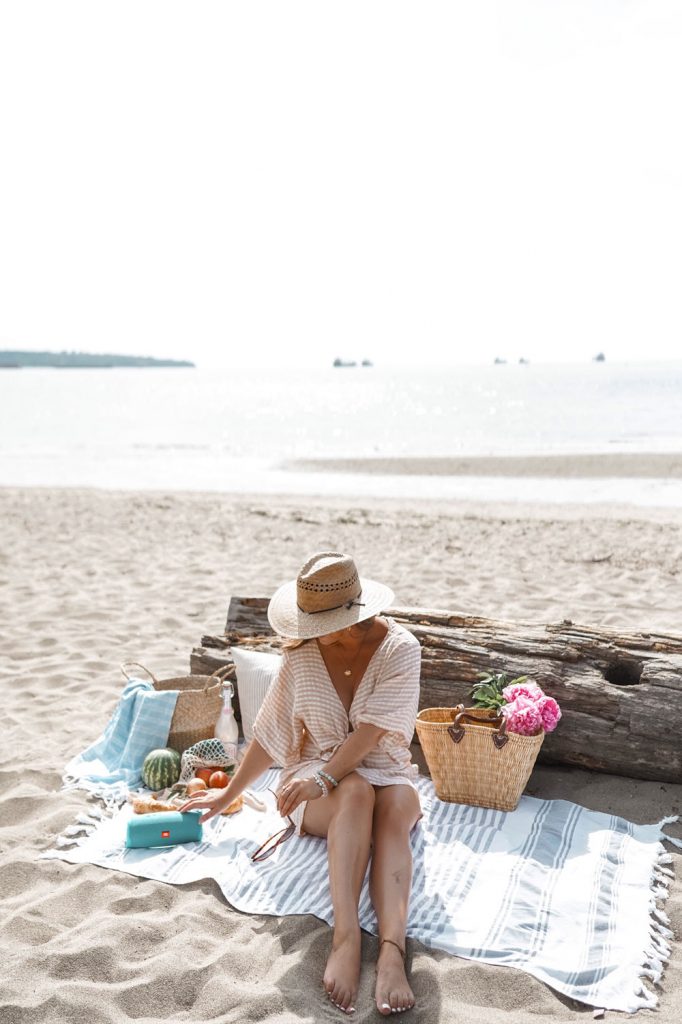 Learn more about the JBL Charge 4 Waterproof Speaker here and visit bestbuy.ca to discover even more of their current products and offers! Be sure to also check out @BestBuyCanada on Instagram & follow along with the hashtag #BestBuyCanada to discover how myself and other bloggers are bringing Best Buy's offerings into our homes, travels and beyond!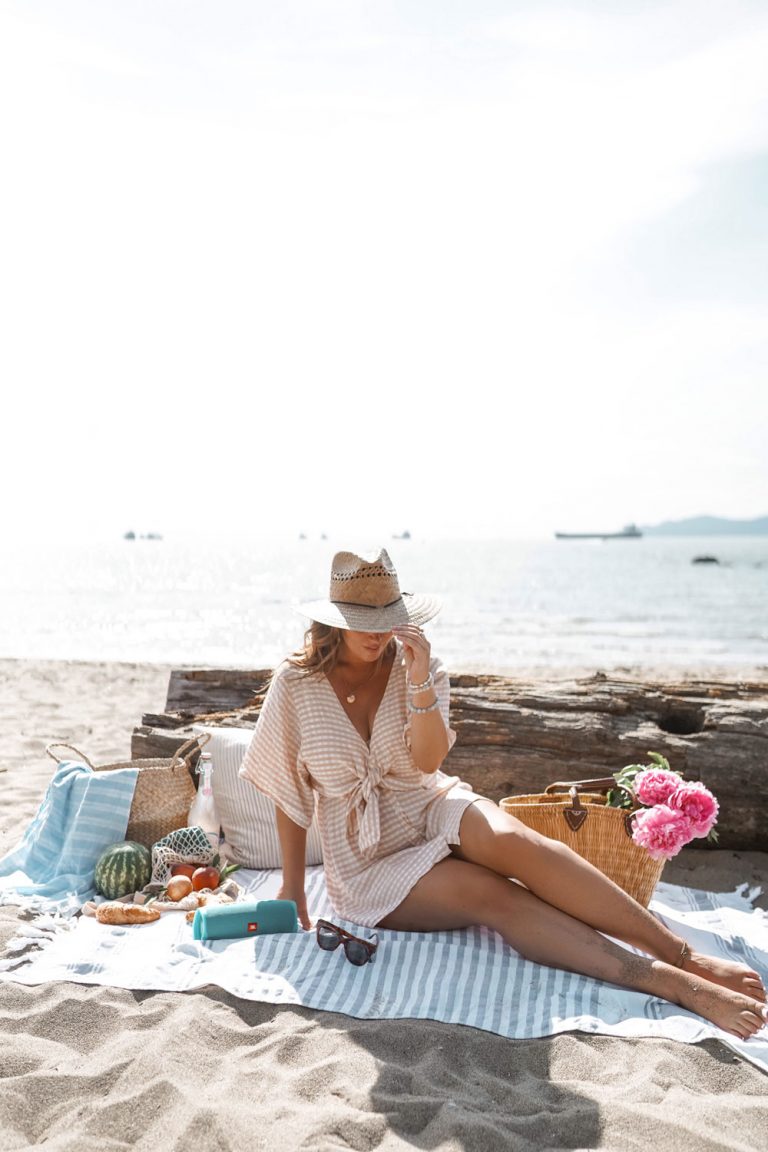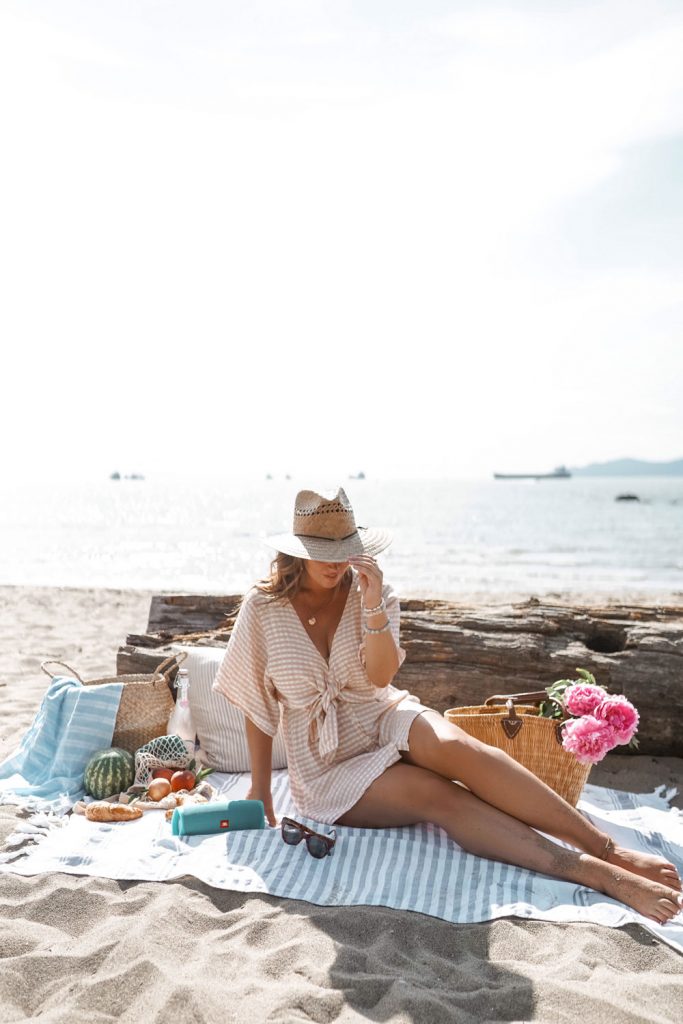 This post was created in partnership with Best Buy Canada but all opinions are my own.