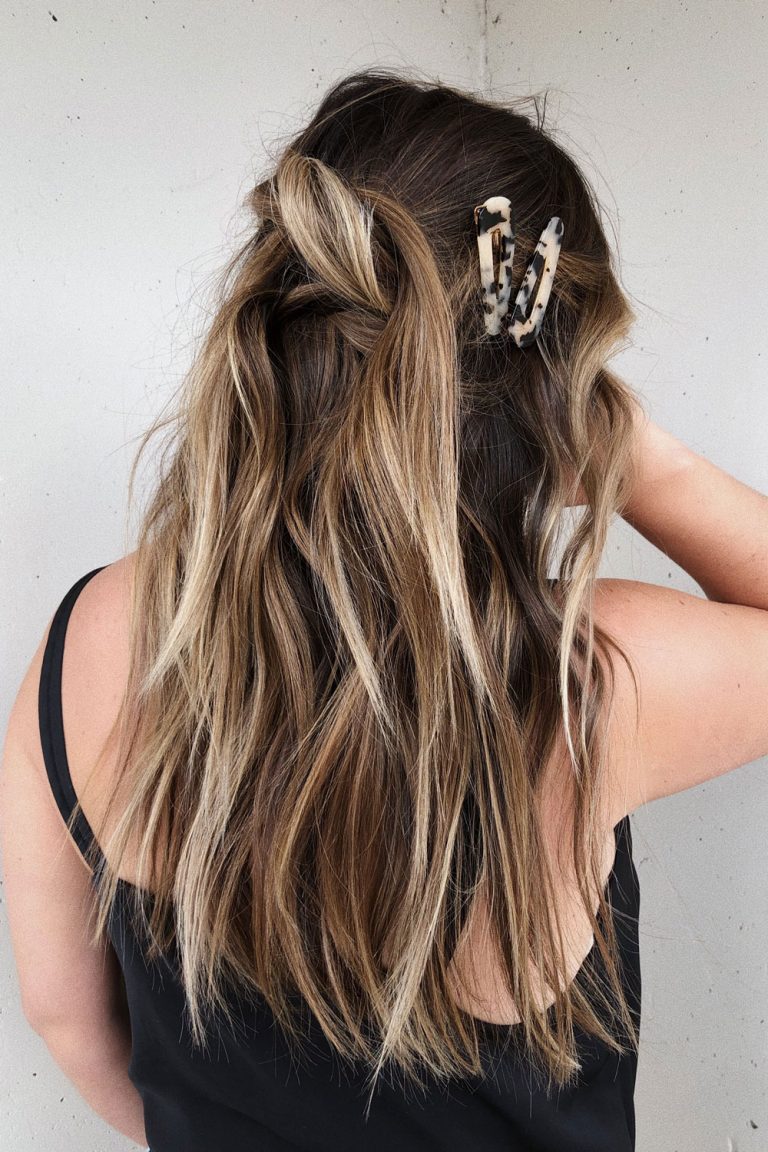 It's no secret I'm obsessed with Chris Weber Hair (who runs the beautiful Vanilla Loft in trendy LoLo)—I've been seeing him for the last few years and every time I see him, I leave with my "new favourite hair." Every time. A big part of that is that we've been building my colour and developing a style over the years, and that beachy brunette that I now consider my go-to (or dare I say, signature?) is totally his doing.
We recently did this gorgeous colour that was inspired by a recent Beyoncé snap at the NBA Finals where she has some beautiful highlights around her face and a really blended root—instead of her full honey blonde or a totally darker look, it's the perfect summery colour for something that is totally beachy but without going too light. Chris totally nailed it, and hilariously while he was drying my hair I also immediately thought of Jennifer Aniston (not that I look like her, but the hair!). It's just those perfect honeyed highlights around the face, the seamless blending of colour and that summery but polished vibe—think of it as beachy luxe!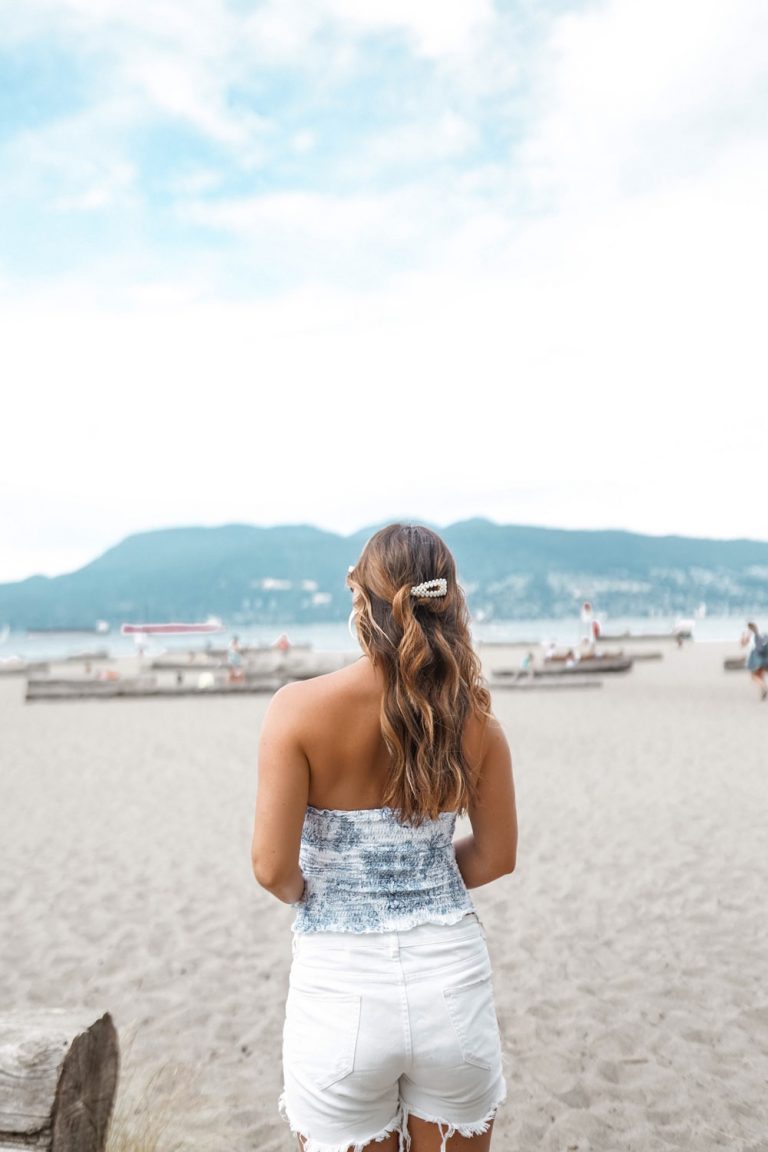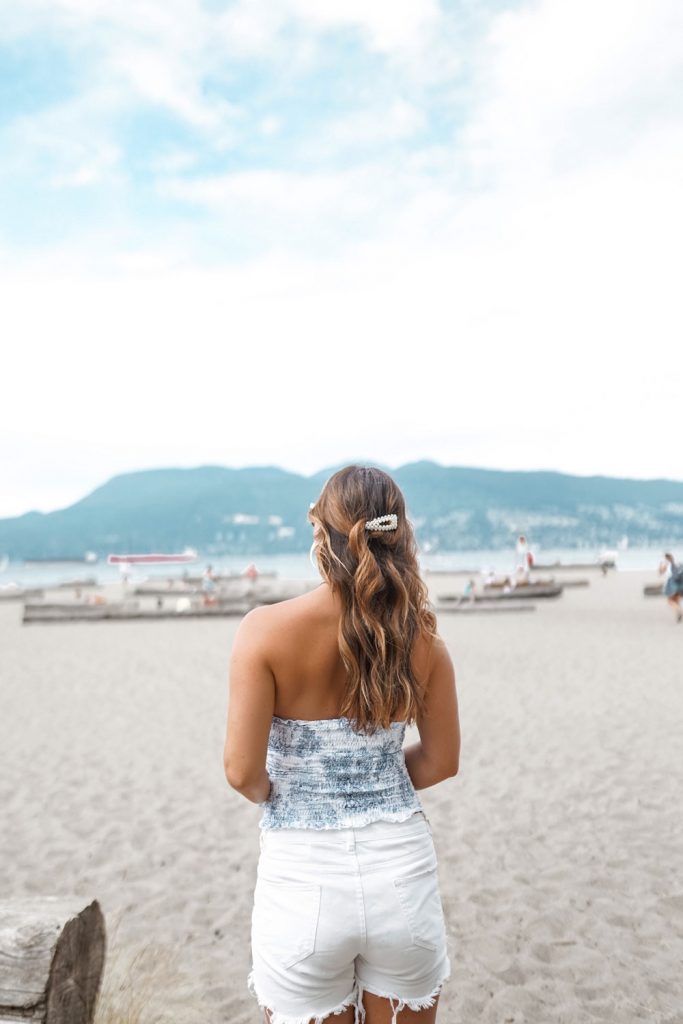 To play up this new colour, after Chris had styled my hair (doing tight curls and then really brushing them out with a flat iron to create some edge to it, followed by Oribe texture spray and texture paste) he created the most incredible hairstyle that once I posted to my stories, I had about a gazillion DM's about it. Best of all? It's super easy to recreate!
While I can never match Chris' skills, the real trick is just texture, clip placement and having some hold. Here are some super easy steps to achieving this gorgeous knotted + clipped half-up 'do for your next wedding or special event.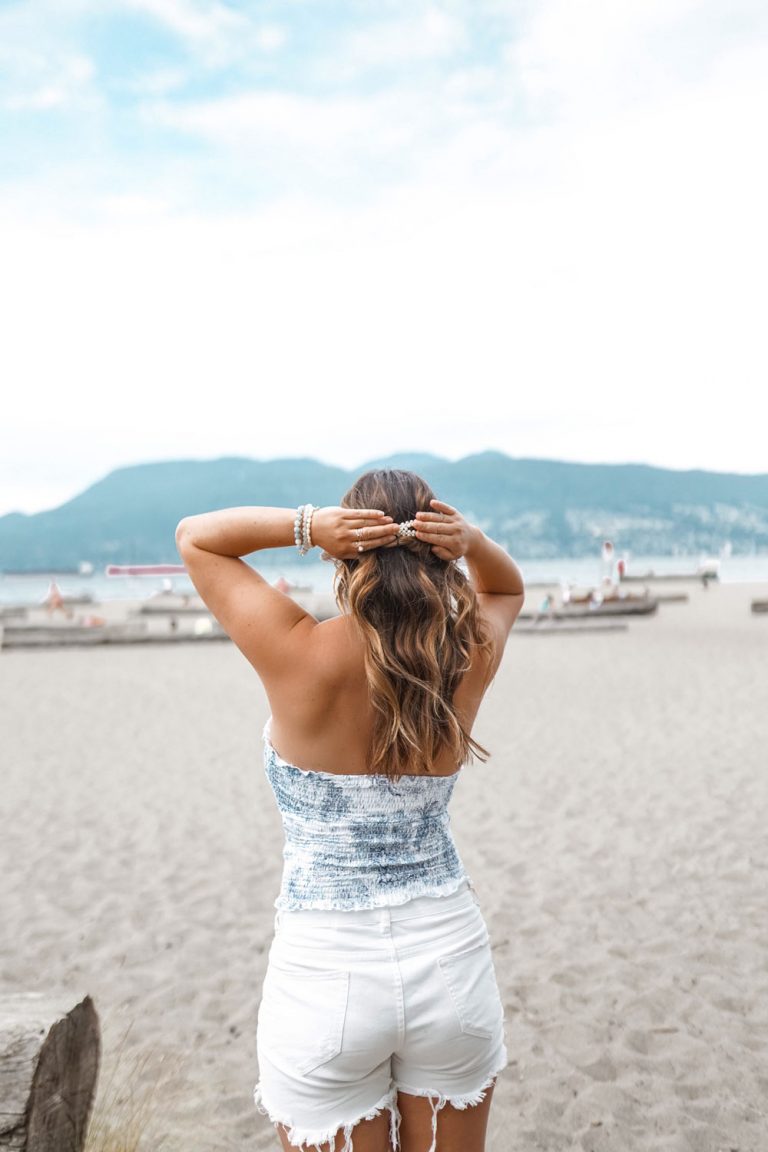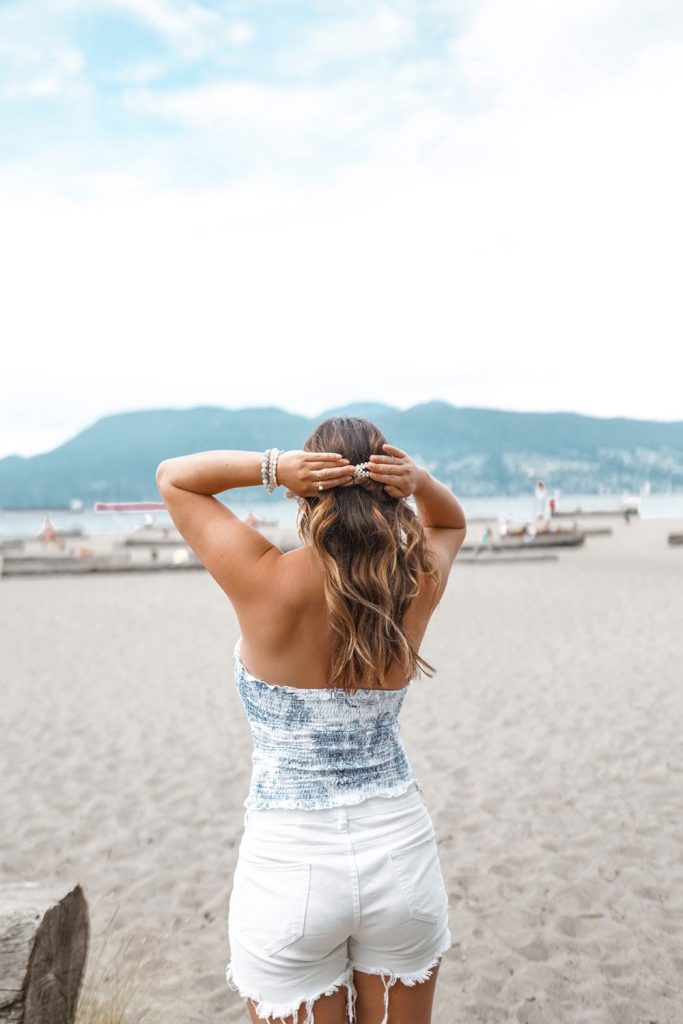 This really looks best with some texture so however you want to achieve it, get some curl or wave—I typically do my best to replicate what Chris does by doing tighter curls away from the face and then brushing out well once they've cooled, or using a cooled down flat iron to straighten out ends and brush out curls.

Texture! You've got to build up the grit, which allows you to get that hold and also if you have fine hair like me, ensures that the knot even shows up, to begin with! We're big fans of Oribe, which Chris' salon Vanilla Loft carries (one of the very few in Vancouver that does!). I pretty much never do a style without Oribe's texture spray, and if I want a bit more grit I use Oribe's texture paste as well to add some separation.

Now the fun part—you literally grab two pieces of hair as you ordinarily would for a little half-up action and then you knot them together! You can play around with however you think it looks best. Once they're put in place with clips, you can use your fingers to thicken them and muss them up a bit too.

Use clips of any size or type to hold it all in place (you could also use bobby pins if you have thicker/heavier hair and then clip over top). There are 3 different ways of clipping here—Chris used these gorgeous tortoiseshell clips from Nama, an accessories line created by Vancouver blogger Xander Vintage!

For extra hold, you can add a bit of hairspray (or I love something like the Beach Wave & Shine Spray) or some discrete bobby pins and then just comb everything in place.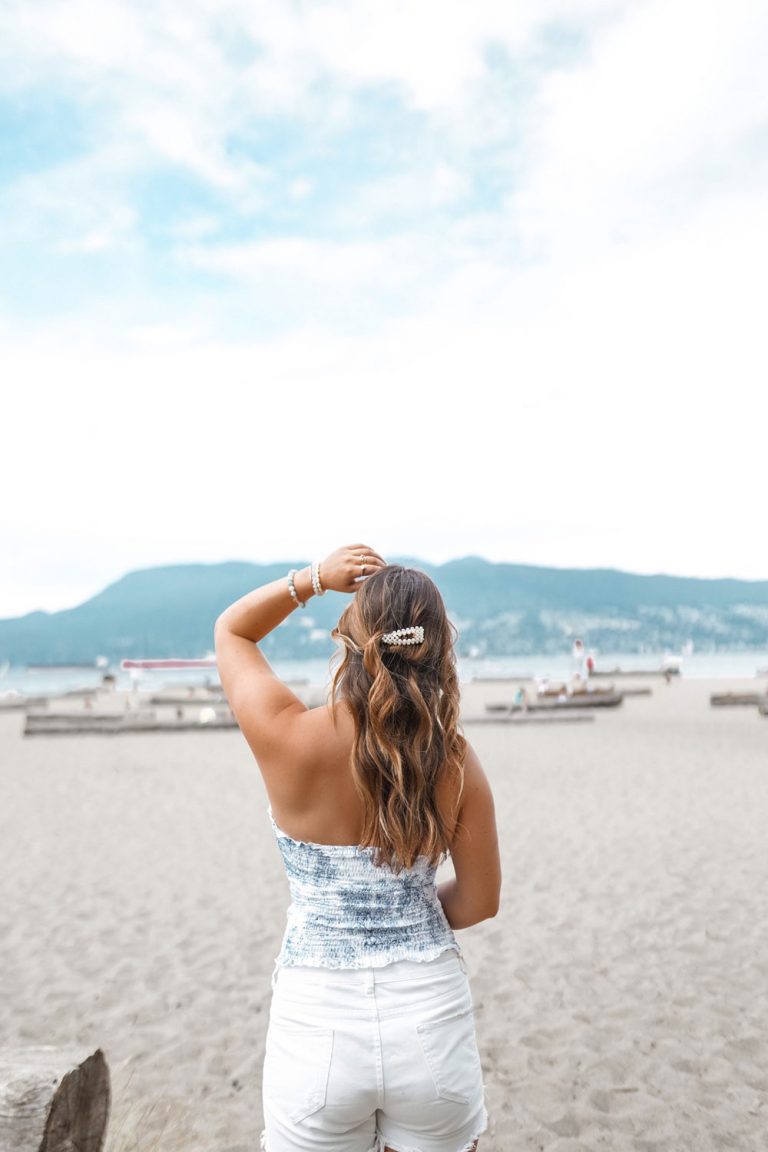 This style will really work best on highlighted hair since it's going to add that depth and texture to your hair thanks to strategic colour placement, though I'd imagine this looking beautiful on most any hair. If you're in need of a new colour though, I could not recommend Chris (or my "hair guru," as I like to call him) enough. His appointments calendar is proof enough that he's beyond amazing—he's consistently booked up (so enquire now if you're hoping for a colour soon, always good to be on a cancellation list!) though he has also assembled the most incredible team at his salon Vanilla Loft. When I'm sitting in his chair by the door, I seriously marvel at how every person leaving the salon regardless of who they've seen has the best.hair.ever. Seriously! He's so committed to his team that they're actually all headed down to California this weekend for a balayage master class (a technique many claim to do but that actually requires a tremendous amount of skill and artistry!). Chris is always ensuring that himself and his team are ahead of the curve and true experts—it's been so amazing watching him grow over my years of working to him! He's even officially a celeb fave now which is insane (just check out Lucy Hale's style that was trending everywhere after he did it, along with cast members of Riverdale like Tiera Skovbye).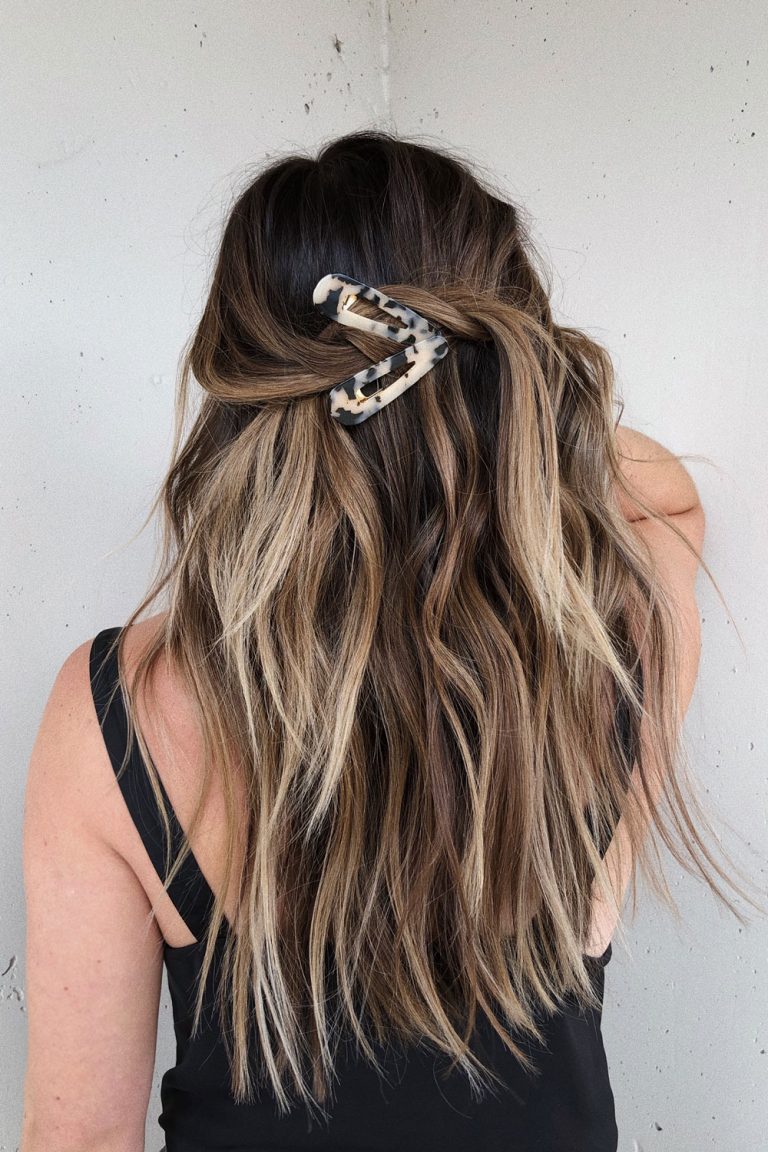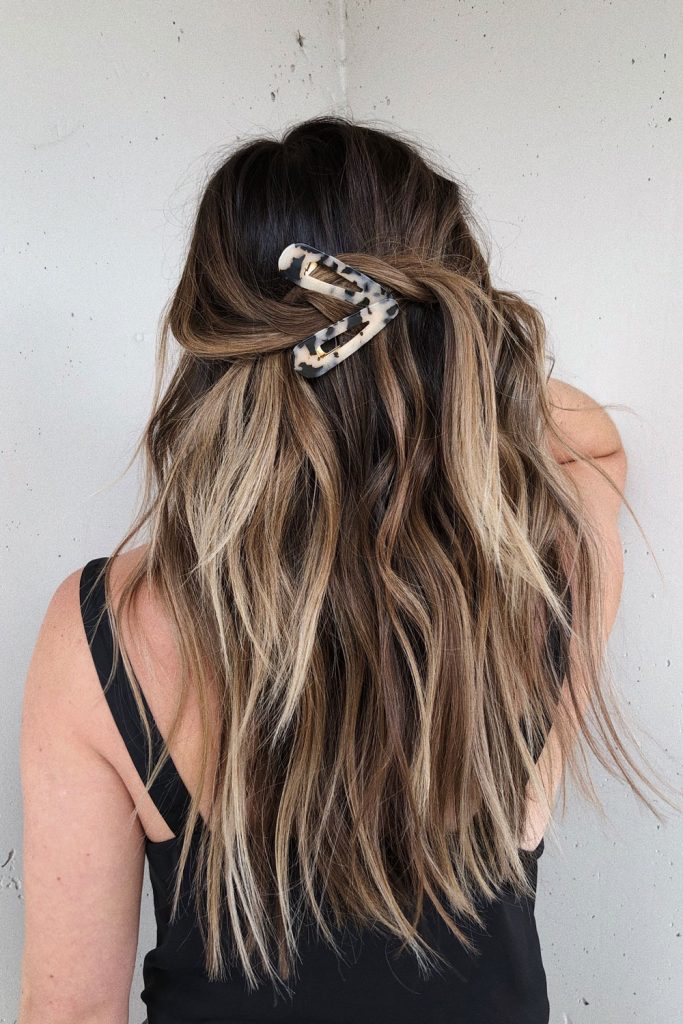 Book in with Chris or his team and discover their latest services (updated just last week!) here if you're in Vancouver (or visiting!) and prepare to fall in love with your new style! Do you guys have any go-to wedding or special event looks? Tell me in the comments below!
SHOP THE POST