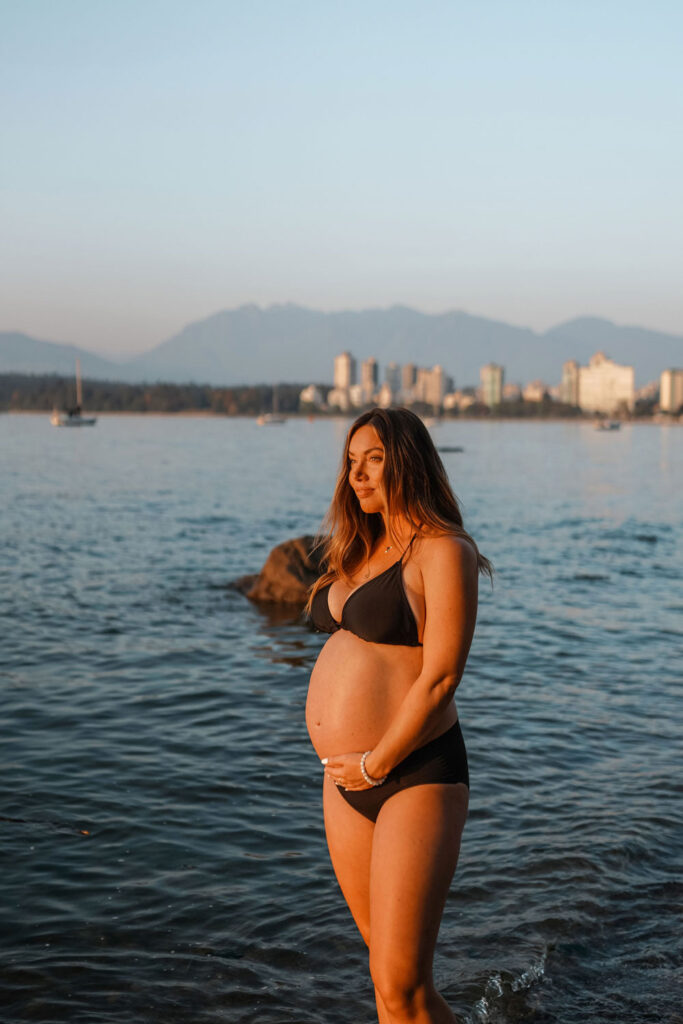 Ah the registry…my most epic pregnancy-related post probably so far, and one I've had to rewrite a couple times! I'd actually written out a couple drafts of this post and both were getting so long (like, pages & pages long) that I decided to scrap it all and go with a more minimalist version (a statement which might make you laugh by the time you get to the bottom of this post because it's still quite thorough, but just goes to show how much text I saved you from!). Just a note that we ended up going with Babylist for our registry (not affiliated with them in any way, PS) and we were really happy with it—it allows you to make price comparisons, to source from a huge range of online shops (you just add in the plug-in to your bookmark bar so it makes it super easy to add products as you find them), to have all pertinent details (your address [which came in handy after we had to cancel our shower] & due date) etc. Most importantly there was no exclusivity to one place! Anyway, here it is, our complete registry (well, not quite complete…have some decor & self-care, style & postpartum posts when the time comes coming your way too!)—hope you guys love it!
---
Travel Essentials
Stroller
We went with the Nuna Mixx Stroller in Granite after spending a lot of time looking at our options. The "Vancouver classic" seems to be either the Uppababy Vista or Cruz and both are so gorgeous and tried-and-true options, but what we loved about the Nuna Mixx is that a) it's newborn compatible from the get-go without the addition of a bassinet (we wanted to be as streamlined as possible with our purchases), b) it can take a bit more of a beating thanks to its shocks (from our stairs to just taking him around on trips & general travel, this was also a priority) & c) we actually both agreed it looks the most luxe and we love the thoughtful additions to it.
Car Seat
We got the Nuna Pipa also in Granite, which was a gift from Matt's amazing parents. It's awesome because it obviously works seamlessly with the Nuna Mixx, but it also is compatible with a ton of other brands of strollers with some adapters. The Pipa is consistently rated at the top of the market (if not the #1 option) so it was an easy choice, especially since we had the Mixx already (the stroller was actually the first thing we bought!).
Driver's Baby Mirror
Any of my friends who've gone through the newborn stage have all had the same general paranoia about their baby's safety at all times during those first weeks—we actually just got our new car (yay!) and one of the first things we added was this baby mirror so that we can keep an eye on him while cruising around.
Carrier(s)
We got the Ergobaby 360 OMNI for our everyday walks (which I detail a ton about in this post so I won't get too detailed here) but again, this was an easy choice because it goes from newborn to toddler and it comes so well-reviewed!
We also registered for the Beluga Baby Wrap, which I thought would be really handy for at home, especially if he's anything like what Matt was apparently like as a baby and doesn't like getting put down! Canadian brand, great for baby-wearing & apparently really breathable & comfy.
Rain Covers
You can't live in Vancouver and not have rain covers across the board. In-law's got us the Nuna Mixx rain cover, and we grabbed an all-season carrier cover as well since I have this thing where I hate umbrellas and would rather just suit up for the rain! Feel like hands-free is key with a baby anyway.
Car Seat/Stroller Bunting
Including this as part of the whole travel system because since he's going to be a fall baby, we'll likely have to start using it out the gate! We opted for the J.J. Cole Bundleme (given to us by a friend off our registry) and we're so excited to use it for both the car seat & the stroller come wintertime! It's super cozy & cute.
---
Bedtime Essentials
Bassinet
We got the Halo Bassinest Premiere and we're super excited about it. I feel like the Bassinest kind of bridges co-sleeping and a separate sleep space by allowing for lots of proximity (you can basically swivel the bassinet so that it's right on your bed), but the baby's always protected from mama/papa! Lots of amazing features, from white noise to vibration to a lowering arm (just have to unlock it) for easy bebe access.
White Noise Machine
We got the Yogasleep Hushh Portable Machine, which I think will be awesome because while the bassinet itself has white noise, the Yogasleep has a few more noise options and most importantly, it's portable! So if bebe seems to really love one setting in particular we can take it with us easily when we're driving, in the stroller, travelling, etc.
Nightlight
Gifted to us by some friends, this wasn't even on the registry but quickly realized how much of an essential it's going to be! I love this VAVA Nightlight because it's portable so can take it from the bedroom to our little nursery nook or even on the road!
Monitor
Eek, now this is one that I'm including here because it's actually one I totally spaced on (can I blame pregnancy brain?) and we're just picking it up this week so want this included so I remember to grab it! The Nanit was the top recommended one from you guys and the one we're likely going with. Thanks for saving my bacon (insert panicked sweating + laughing emoji).
---
Bathtime/Toiletry Essentials
Bath Support
We registered for the Angelcare Baby Bath Support and it seems awesome—comes super highly reviewed & is really lightweight so storage should be a breeze!
Baby Towel + Washcloths
We got a couple towel packs (like this one, a really good complete bath set with washcloths etc) but Pehr's Life Aquatic print is a big theme through our space so registered for the hooded towel as a special bath time treat as well—obsessed. We also picked up a set of soft washcloths.
Bath Rinser
Clearly the whale theme is going strong with this Skip Hop Moby Waterfall Bath Rinser! Has a directed waterfall spout for tear-free bath time and doubles as a bath time toy as they get bigger.
Bath Toys
We have a few of these Oli & Carol bath toys, from a little coconut wedge to an origami boat. So cute!
Nail Clippers
It's hard to believe because they're such teeny tiny little things but apparently newborn's nails can be insanely sharp and they accidentally scratch themselves all the time since they don't have control over their reflexes at first, so we just picked up a pair of little baby clippers (though you can chew them off or use an electric filer).
Diaper Cream
We got the Burt's Bees Diaper Ointment & Multipurpose Ointment for good measure! Supposed to be amazing.
Bath Products
Johnson & Johnson sent their Head-to-Toe wash & lotion so we're starting with that for him!
Nasal Aspirator
Picked up the go-to for this product: the Fridababy NoseFrida!
---
Around Home Essentials
Play Mat(s)
We have this Play With Pieces playmat that's massive and double-sided (and very chic on either side)—we're just keeping it at my parents for the time being because until he starts moving and grooving, we want to keep additions to our space pretty minimalist (but once he starts crawling, we'll get it set up so he has a big space to cruise around in). In the meantime and for travel, chilling on the floor, etc, we have this gorgeous Pehr Life Aquatic (yet again!) playmat gifted by my amazing sister-in-law.
Bouncer
Our friends got us the Babybjörn Bouncer Bliss—it's one of the last things we actually still have to set up! I've heard nothing but amazing things, including from one of my BFF's who got it for us (who has a very new bebe herself, future little best friends!). We were also gifted the Babybjörn wooden toy (in Flying Friends) that inserts right on top of the bouncer to keep him entertained!
Lounger
Gifted by another lovely friend, we got the Snuggle Me Organic Natural Lounger for just chilling at home & little rests during the day!
---
Apparel
Onesies
We got a ton of these—clearly apparel was going to be my fave category and I maaaaay have gone a bit crazy in this area. Our fave brands for onesies so far (most footed onesies since we're prepping for fall/winter) have been Kyte, Parade, Zippyjamz, Bonds, Pehr, Old Navy & Gap. There's so many amazing baby brands out there but those were just some of our faves in this category! I actually don't know how many of these we have—far too many. I know from friends though that you're constantly changing them in and out so I just tried to approach the first stage as being a 3-outfit-per-day situation.
Bodysuits
We got a ton of cute bodysuits as well—some of the same brands (Old Navy, Pehr, etc) but we also got some really great sets of these from H&M, Carter's & Burt's Bees Baby. We also got a few from local brand Loulou Lollipop (who make the cutest swaddles as well) which I'm obsessed with & are his slightly more "special" lewks. I feel like between the pandemic & just early newborn life we'll be at home so much that I might opt for the jumpsuits more so & keep the cute onesies (especially the footed ones) for sleep & errands, but I'm basing that on nothing because I literally know nothing (cue in the sweating panicked laughing emoji again).
Pants
We have little sets of pantaloons for him for both 0-3 and 3-6 months for now since we'll just be transitioning into later spring when he hits 6 months. Got some sets from Carter's, Old Navy & H&M just to have on hand, as well as Loulou Lollipop who makes the cutest baby clothes. We got a mix of more lightweight and thicker, sweatpant-y ones. Matt's mum also got him his first pair of jeans for this spring which are so cute—he'll be in the Matt uniform pretty much (henley bodysuit & jeans with brown leather shoes, been with the guy for 12.5+ years and it's been the same pretty much from the get-go).
Toques
Or beanies, or hats…whatever you want to call them, we have toques aplenty and made sure to get them over a range of sizes too but mostly 0-3 for now. The same usual suspects: Parade, Kyte & Old Navy were our go-to's in this section.
Cardigans/Jackets
We got this super cute two-piece set from Carter's which we thought we'd start with just to figure out sizing, and then we were surprised with our friend actually hand knitting the most beautiful cardigan and pants set (with little socks too!) which was incredibly touching. It's beyond beautiful.
Outerwear
Based off of the amazing advice I got from you guys actually, we're holding on a snowsuit until he's here & the snow/temps actually start falling—Vancouver is notoriously all over the map for snow (either we get absolutely none or randomly get like constant snow through February but none in December etc) so we'll assess when it starts to get properly wintery and see what size he's at (just hard to predict because I was a huge baby whereas Matt was tiny). We have gotten him two little fleece suits to wear outside though & they're so cute, both from Old Navy (a bear one here & another fleece one that's since sold out sadly!).
Footwear
We have a few little booties, either fleece or shearling to keep his feet warm. Also got the most gorgeous handmade leather shoes from Heyfolks which I'm obsessed with, and they come complete with a little sticker that you can put on the box to label baby's details & store away their first shoes. Sooooo cute. We also have a gazillion socks (because I heard they get lost like crazy) ranging from teeny tiny NB sizing to 3-6 since again, literally no idea what size he'll be!
Mittens
We just got a 9-pack of basic mittens to keep him from scratching his angel face & since he'll be in the bunting or in onesies or suits that have built-in mittens, I think we should be good in that area for the time being!
Bibs
We have lots of super cute bibs, from Loulou Lollipop to Little Unicorn to Pehr to Aden + Anais. One of my girlfriends said to stock up on these especially (and that people often space on them) because otherwise their drool & spit-up just destroys their outfits at a highly accelerated speed. I also was a crazy drooler as a baby (and frankly still am when I sleep, poor Matt but thank God for all my redeeming qualities right)—there's pics of me with a literal waterfall pouring out of my mouth so this kid might need the extra outfit insurance too.
Burp Cloths
One thing I found perplexing (and still kind of do) is the difference between and necessity of having all the different types of cloths—burp cloths vs bibs, swaddles vs receiving blankets, quilts vs blankets, etc. I just decided to go nuts and get a ton of all of them because again, paranoid about the drooling. We got a 4-pack of burp cloths from Gerber Baby along with some burp-bib hybrids from Aden + Anais and feel prepped for now (more are always an order away, anyway).
Swaddles
We got a huge array of swaddles, which proved to be my specific weakness (in addition to anything aquatic-themed or that has bear ears). Loulou Lollipop, Aden + Anais & Pehr were the top go-to's.
Blankets
Again, I'm not altogether sure I totally get the difference between just a thicker swaddle vs a receiving blanket vs a quilt, but we got a bunch just to have on hand. Pehr, Loulou Lollipop and Parade were yet again the go-to's!
Sleep Sacks
We've heard different reports on what to use for baby (during our baby prep course they told us that swaddling is no longer recommended, which we were both surprised by) so we just got a few different options and we'll see what he likes! We have the Halo SleepSack, as well as some sleep sacks from Aden and Anais and kimono gowns from Parade. When we see what kind of sleeper he is we'll grab some more (have heard good things about Love to Dream but again, totally depends on what kind of sleeper he is and how he progresses).
---
Toys + Books
Just a quick run-down on some of the toys we got & why: the Skip Hop Silver Lining Cloud for either the stroller or car seat because it comes so well-reviewed and apparently really helps promote tactile stimulation & sight/sound development, the Manhattan Toy Double-Sided Mirror which is amazing for newborns (as it's in black & white) and helps with self-discovery, Freddie the Firefly which is supposed to be great as they get a bit bigger & as mentioned before, the Babybjörn bouncer toy. We also have lots of cute plush teddies and the like. Lots of little toy-book hybrids too that we were gifted, with little tactile stimulation & visuals along with a little story.
We're holding on a play gym just until we get a sense of the little guy's likes/wants & what kind of space requirements we should be setting up for him (but know we'd want this one)! We'll have time since he's going to be in that sleeping 99% of the time newborn stage for awhile.
For books, we got Look, Look! which is a black & white book great for newborns, Goodnight Moon, Sweetest Kulu, Lost and Found, Dream Big, Little One and Dr. Seuss' Sleep Book for as he gets bigger!
---
Kitchen/Feeding Essentials
Pump
To preface this all, I'm actually very nervous for breastfeeding. I don't know if it's just what I've been reading or hearing, but it seems more harrowing than I'd initially anticipated and I'm just concerned about latching, supply, etc. So I'm going into nursing with actually a very minimalist approach and have done my research and know what I'll go for as supply comes in, but want to just start with the bare minimum until I figure out if I'm able to breastfeed as it is and also if baby can meet me halfway, because a lot of it has to do with his latch as well. I have the Haaka currently and that's it. I'm starting to self-express this week (I'm 37 now) just to save some colostrum for him and when my milk comes in and my supply is established (slash if, so just want to go into it without huge expectations of myself), I'll be going for the Medela Freestyle (we've got it sourced already locally so we know where to go ASAP for when I feel ready to start pumping). It's just my own weird anxiety & mental game around all of it but I've been encouraged by a lot of friends to really establish my own supply first and am already leaking colostrum so hoping that's all a good sign!
Nursing Pillow
I thought for sure I'd end up with the Brestfriend pillow but after doing more research, we decided to go for the Boppy (in a pretty leaf print) because it multitasks to help baby with developmental milestones too, from sitting to tummy time!
Bottle Set
As you guys know from this post we went with this bottle set that includes 4 bottles, different nipples, a sterilizer, a bottle warmer, an insulated bottle bag, a bib, pacifier + pacifier strap & formula dispensers! Nice to know we have everything we need in one go.
Drying Rack
We registered for this cute Boon Lawn Drying Rack in white and it blends in really seamlessly with our kitchen!
Soothers
Know soothers aren't necessarily feeding-specific but since we'll use them to soothe in place of more feeding or whatever (slash the more honest reason is that I don't know where else to categorize it), I'll include it here! We have the Philips Avent Ultra Soft Pacifiers as well as the Philips Soothie snuggle. We also have a really adorable Loulou Lollipop pacifier clip too.
---
Changing Musts
Changing Mat
We're still trying to figure out if we're going to add in an actual fixed changing pad or if we'll just make do with a mat—when I asked on stories about having bebe in a condo, overwhelmingly you guys said to just go with a mat so you can change wherever so for the time being we have the Skip Hop Changing Mat & we just have a little changing station set up in our behind-the-couch storage console that's really easily accessible. Again, still toying with this but we have our basics set up for now! We technically have room to set up a proper change table but we're trying to make things as multi-function as possible. I have heard amazing things about the Keekaroo Peanut Changer so if we decide to get an actual changer, that'll be the one most likely!
Diaper Pail
We went with the Playtex Elite Baby Diaper Genie—it's super sleek & blends in with decor easily so really happy with it!
Diaper Bag
We got the Herschel Settlement Sprout Backpack! We both use Herschel so much so it will blend in seamlessly with everything else we own, plus we know we can machine wash these bad boys easily as is and I imagine we'll be needing to clean this guy quite a bit.
Just a note that we opted not to get the wipe warmer because most of the feedback we got was that it wasn't a must, but if he hates the cold wipes we'll opt for this Munchkin Warm Glow Wipe Warmer which we have set aside in an Amazon cart (with other potential purchases in case we decide we need them so we can literally just fire off an order—a strategy I'd definitely recommend if you're on the fence about some products or unsure if your baby will like/benefit from it).
And I think that's it! This is a big, text-heavy post I know but so many of you have messaged saying the product recommendations are really helpful and I know for myself, having posts with everything in one place really, really helped a lot! This registry obviously isn't exhaustive (I haven't included postpartum or some decor changes [actually, a lot of decor changes] that I felt were less registry-specific and deserved their own posts) but this to me feels like most of the essentials along with some lovely niceties too!