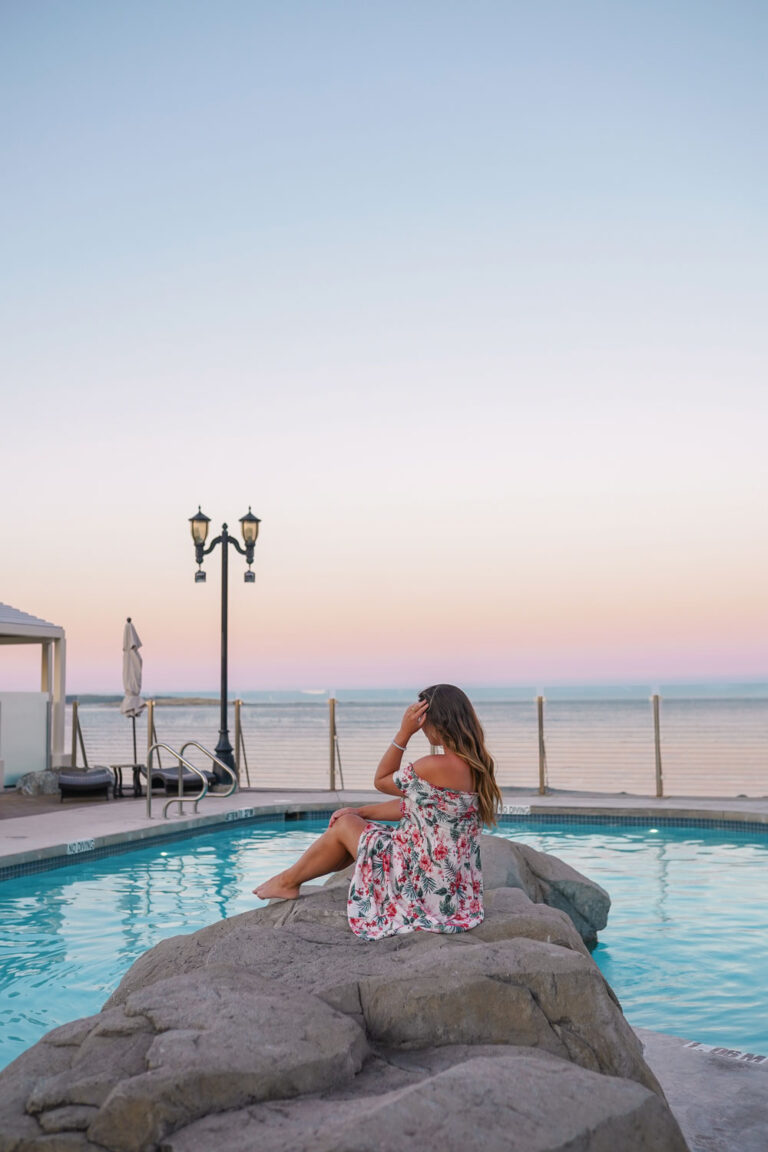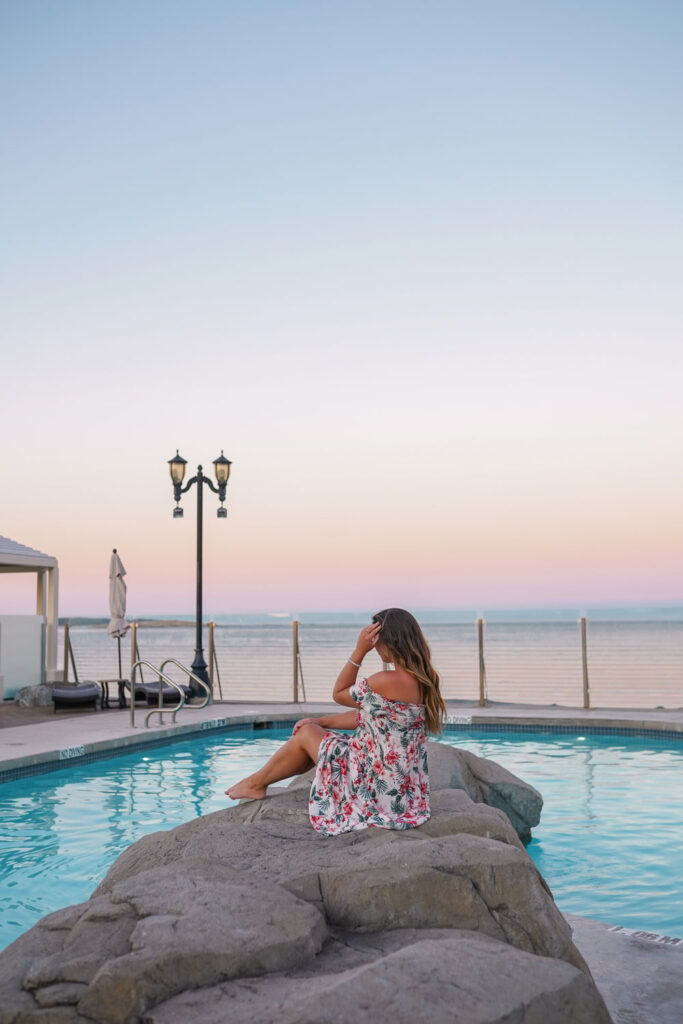 If you guys missed it on stories (though I have it all saved in a Victoria '20 highlight in my IG profile), we just returned this past weekend from the most magical little babymoon in Victoria, Canada, where Matt and I first met when we were two 19 year old kids playing on the same intramural soccer team during university (Pink Power Rangers, league champions obviously). We go back to Victoria at least once a year but this year was a very special trip since we were bringing our new little forever best bud with us (albeit in-utero) for the first time, and taking him to all of the places that we loved the most during our years at UVic.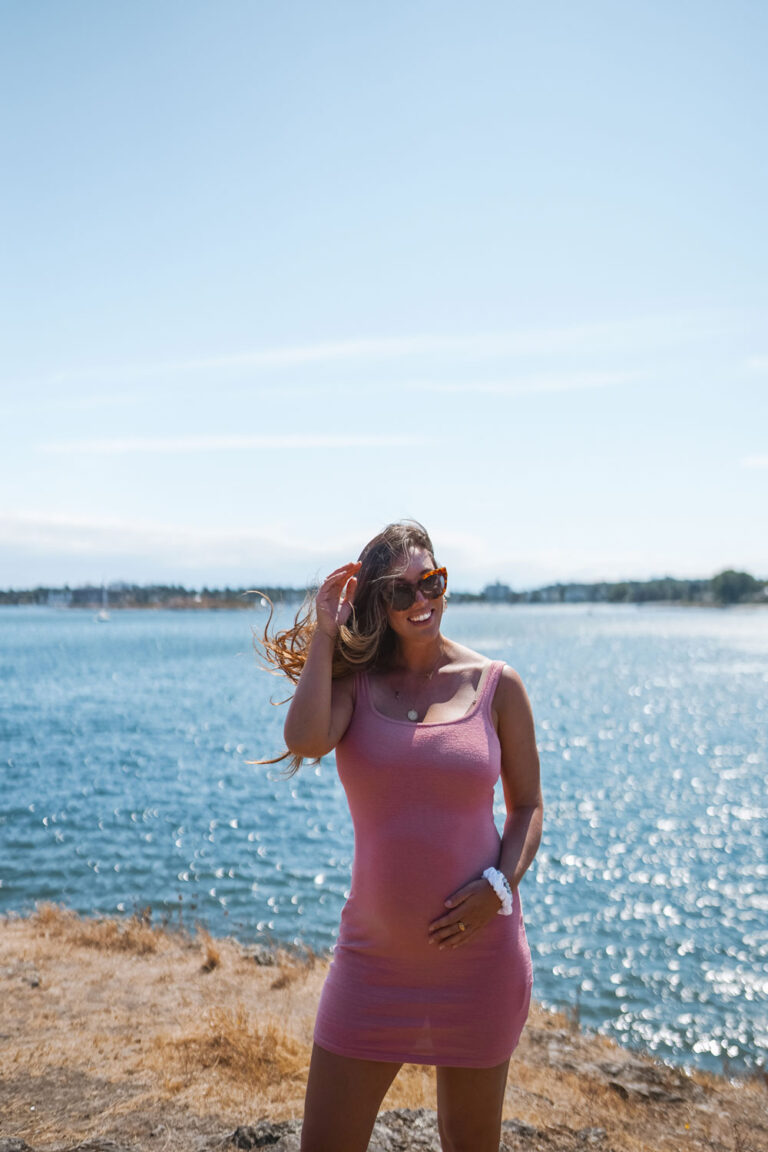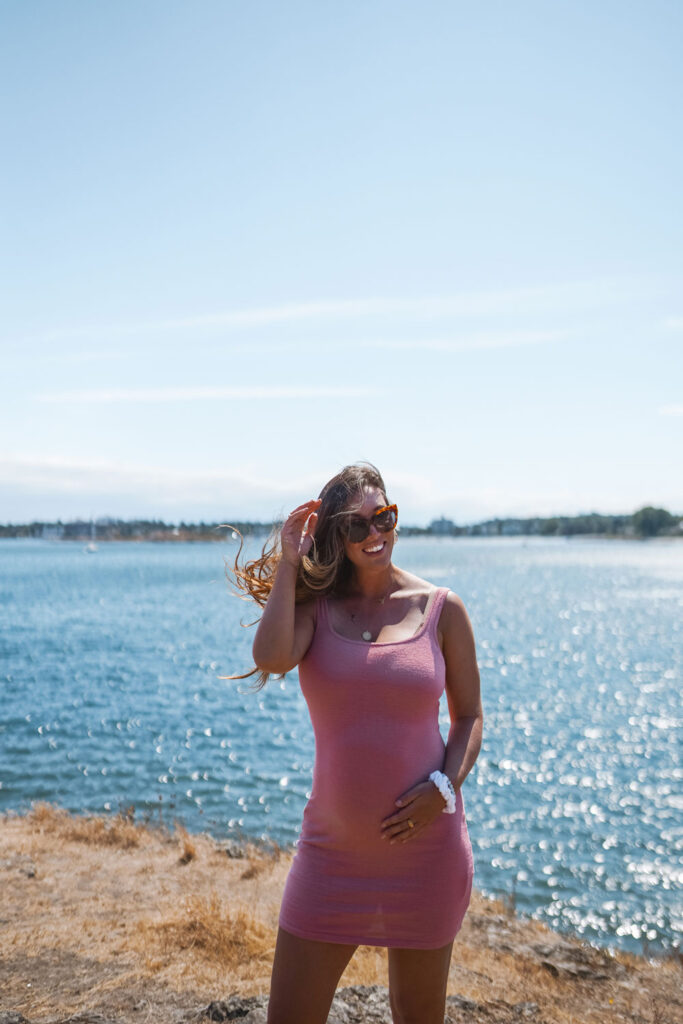 I've worked with Tourism Victoria quite a bit over the years and it's so meaningful to get to partner with a tourism board for a city I know and love so well, but this last trip has to go down as one of my absolute favourites (if not the favourite) because it was the one that most mirrored what we generally did when we lived in Victoria!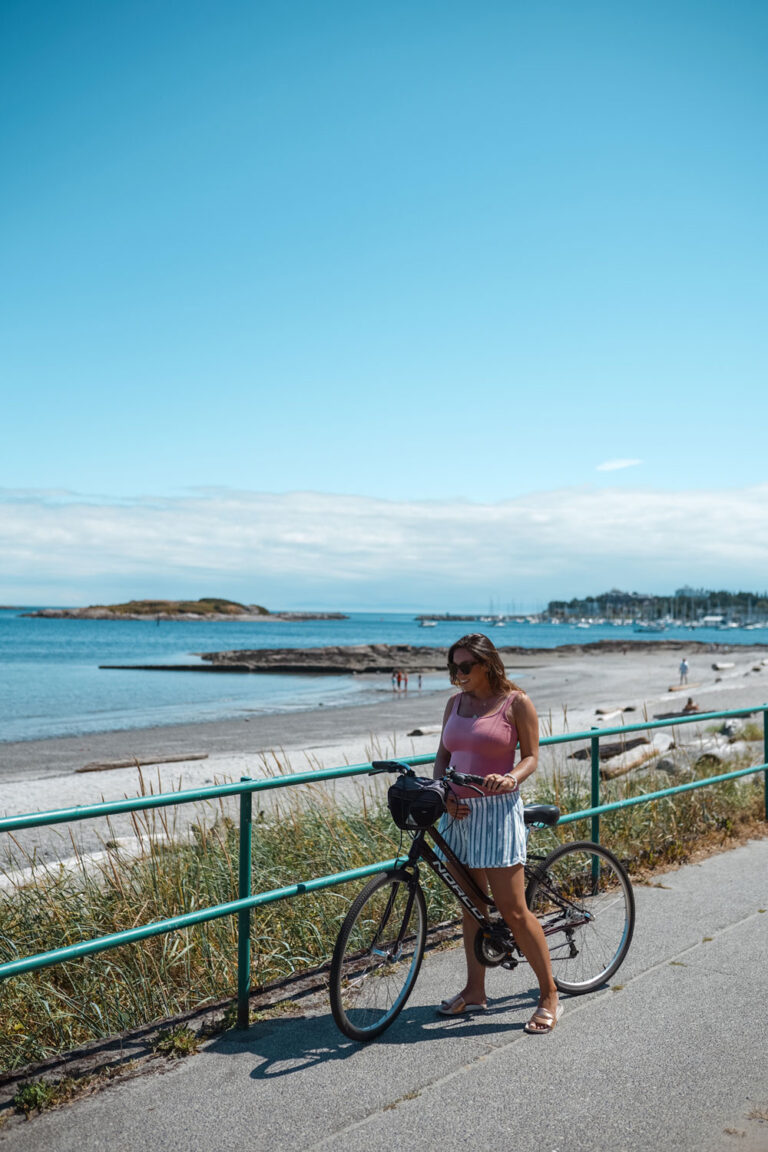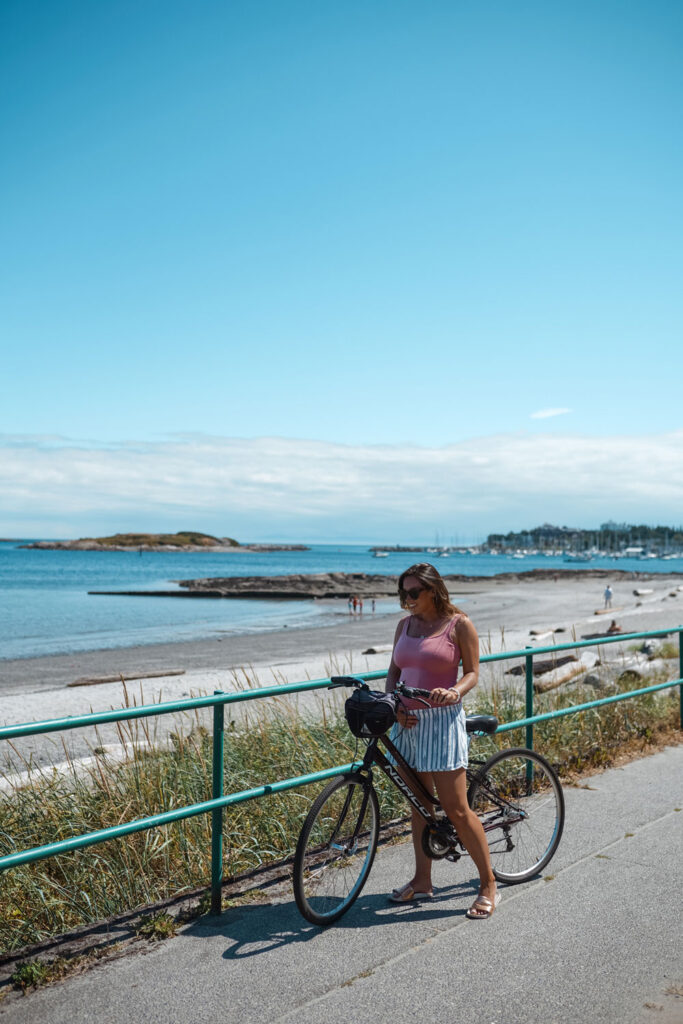 We biked, we ate, we relaxed at the beach, we stayed near the ocean and visited the school…it was just so special, and so us. All the things we most love doing in a place that isn't home anymore (for now at least…we were looking at a lot of real estate listings while there) but still feels like it.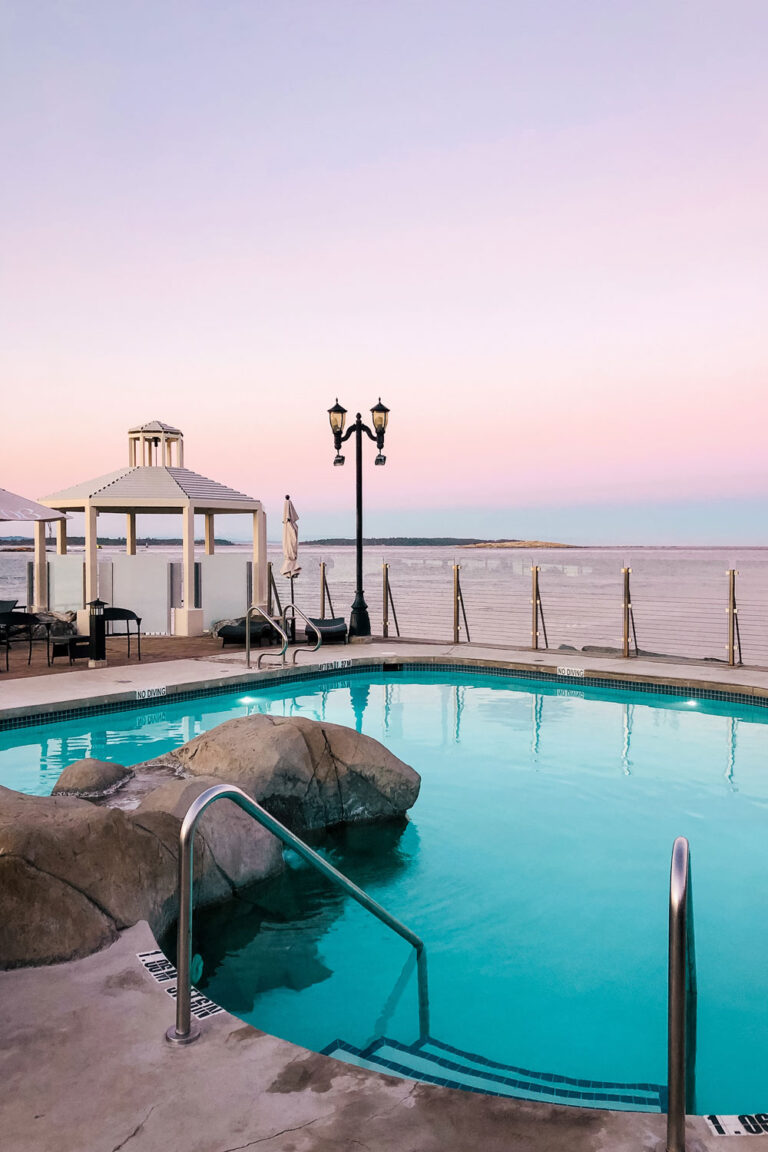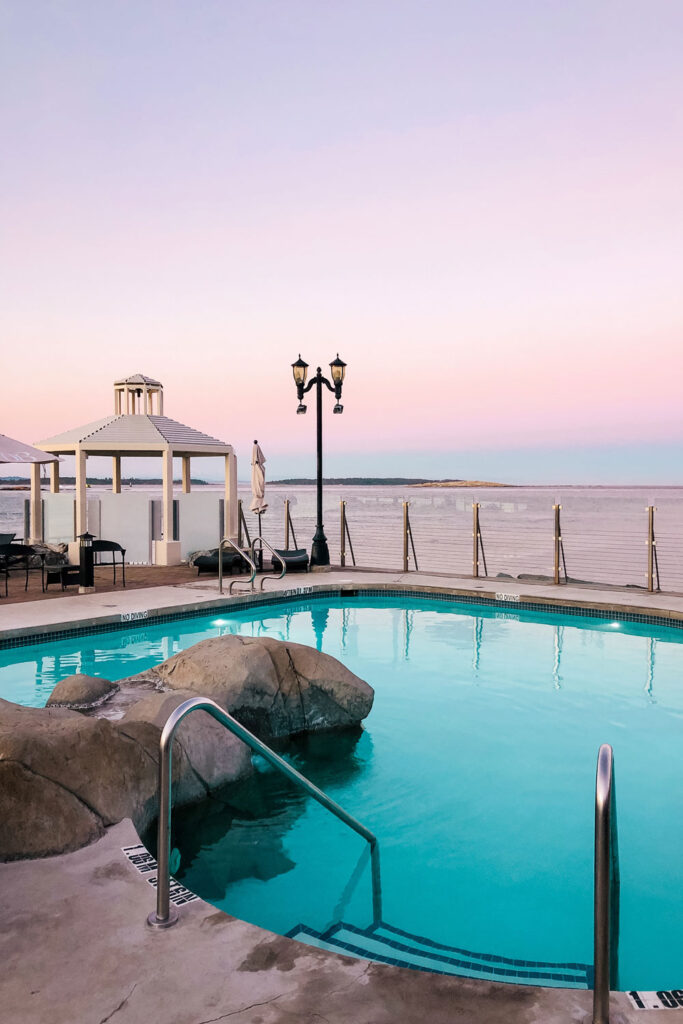 And part of what made it so special was staying at Oak Bay Beach Hotel for the first time ever…kicking myself that this was our first stay there because it was actually heaven, one of the nicest hotel experiences I've ever had and right in our own backyard! I can't wait to come back with our little buddy one day and have him look out at the sparkling ocean from the hotel, to bike him around Oak Bay (which is such a beautiful neighbourhood in Victoria, with oceanside routes like Beach Drive or Dallas Road nearby that make for amazing walking and biking), to bring him to the campus where his parents first met and fell in love, etc. Let's dive into this recap though of this weekend before I get ahead of myself though (as I do still have 3 months of this pregnancy left and he has some growing up to do before we take him on a local adventure!).
---
Where to Stay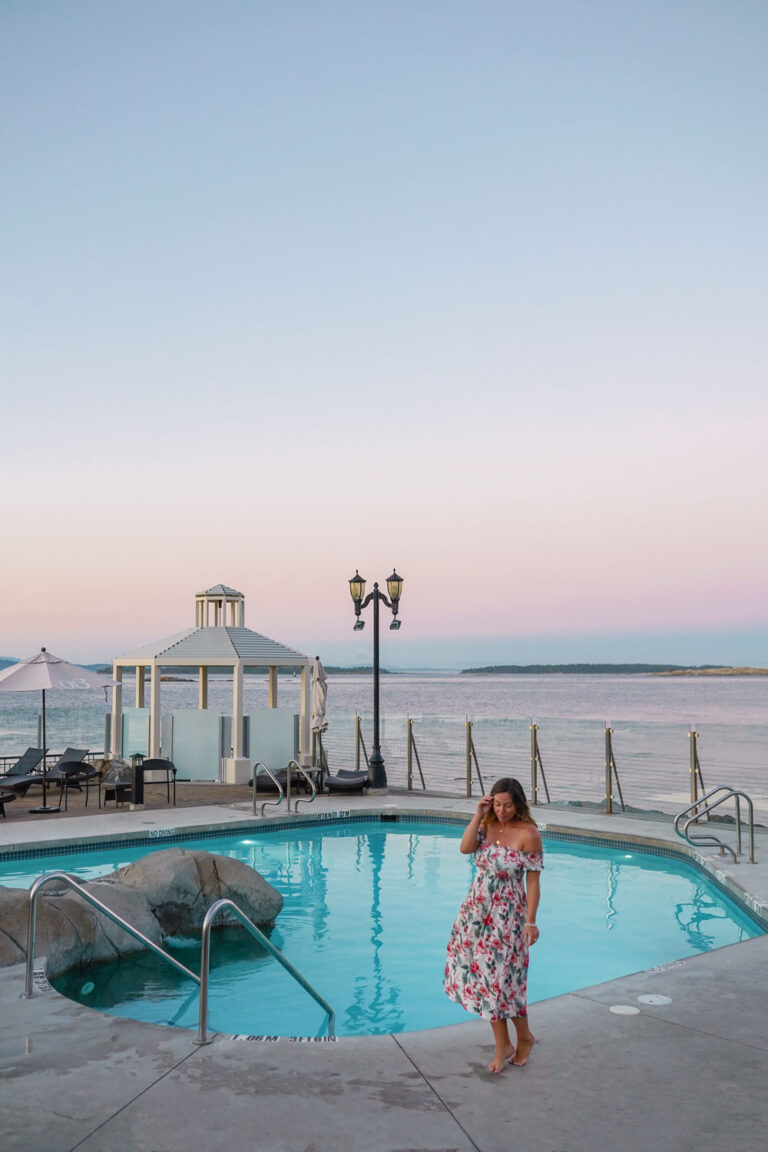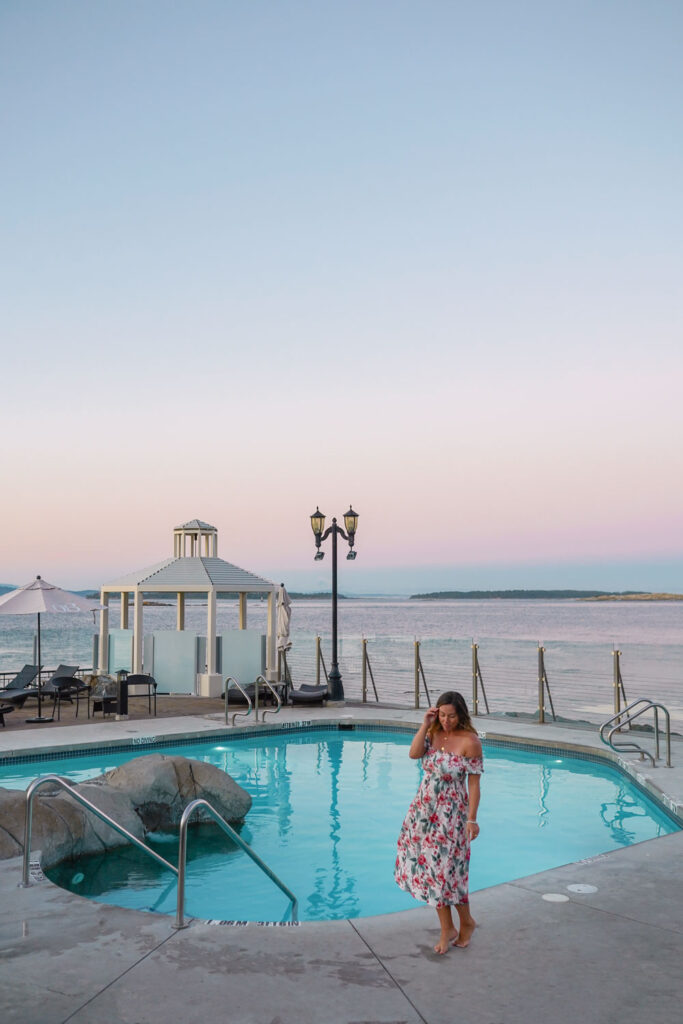 These photos really speak for themselves. Oak Bay Beach Hotel is one of the most beautifully situated hotels I've ever stayed at, not to mention it's beautiful in and of itself. At the top of a small hill on Beach Drive overlooking the shimmering sea, with gorgeous grounds including gardens, a fountain and of course its famous mineral pools and spa situated right over the ocean, it's a massive understatement to say the view is breathtaking.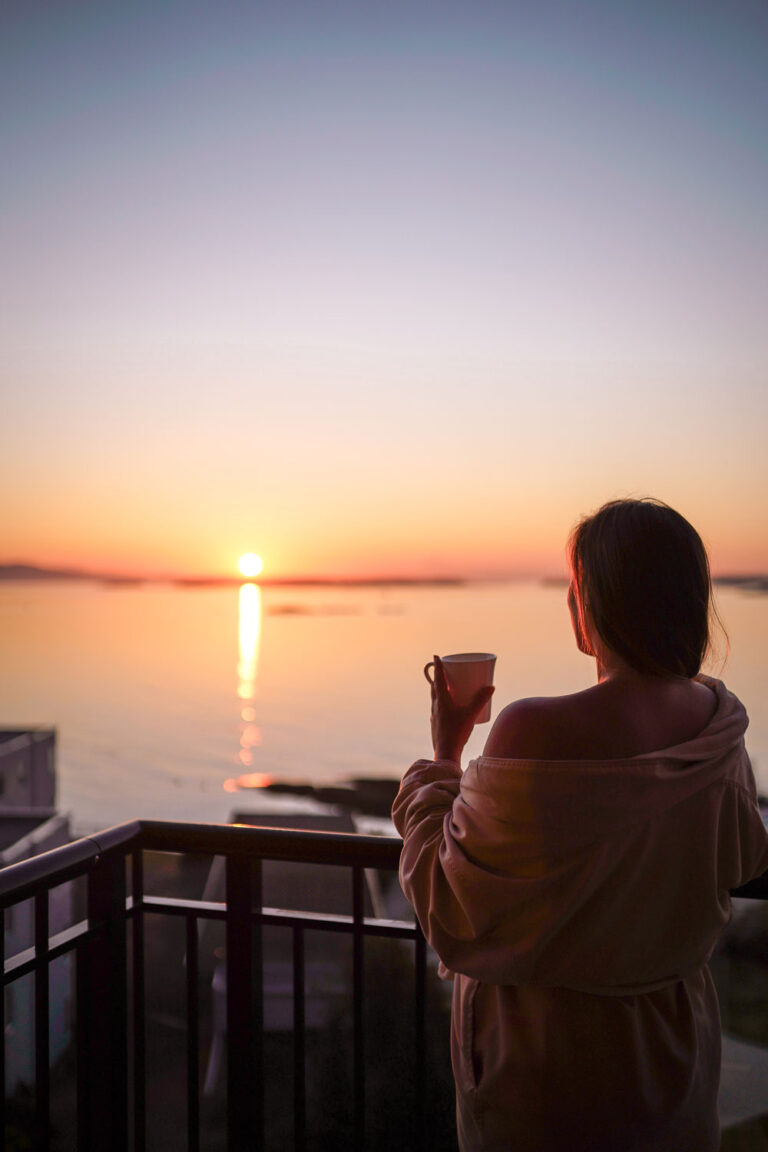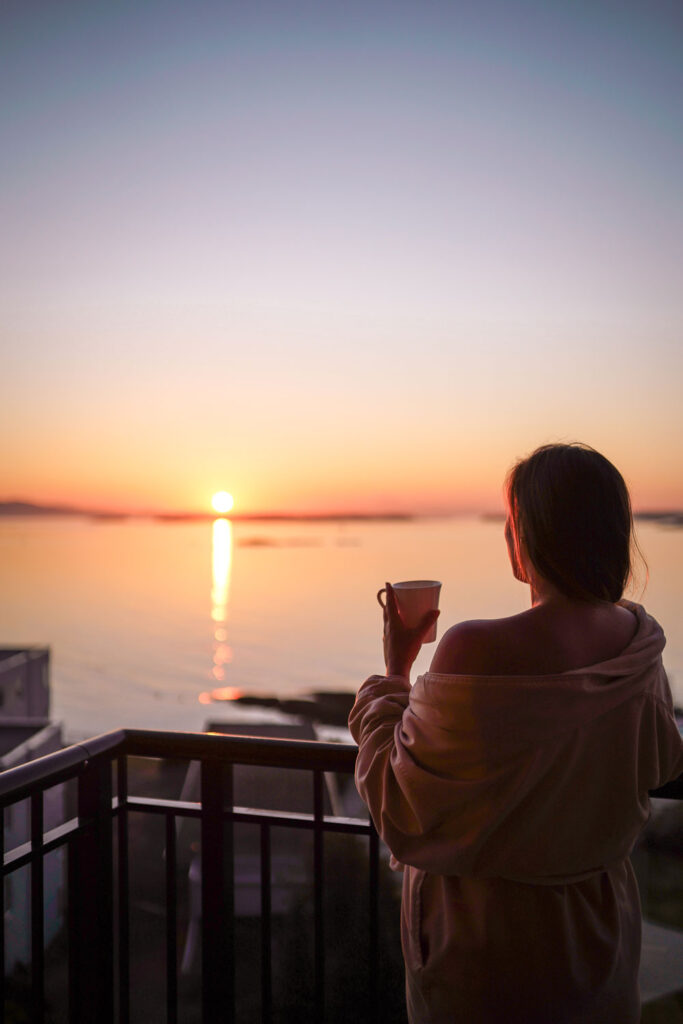 Despite sleep being pretty important to me these days, I felt like it was worth it to get up for sunrise every morning because it was just so magical—facing east, you get the most gorgeous sunrises here every sunny day, and the most gorgeous pink cast across the sky come sunset. Whether you're taking it in from your room, from The Snug Pub's gorgeous patio or while floating in the mineral pools (or even on the beach or seaside walkway you can walk right out to from the hotel), getting to just relax & take in all the different stages of the day was so amazing.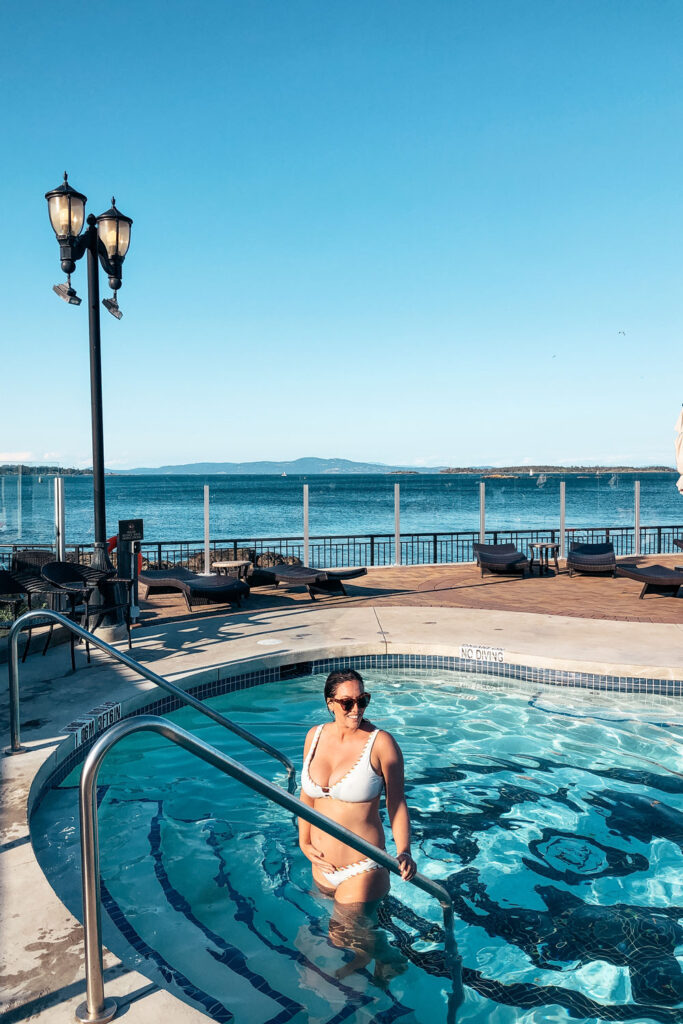 Being about 7 months pregnant at this point too, I am finding the heat is just killing me and while I've been really lucky to still be able to work out and move pretty normally, I find the breaks and just slowing down in general to be really crucial, particularly as we're in the middle of a heat wave (which is such a weird concept to me, since heat is usually my friend…not handling it well right now!). From lots of floats in the mineral pools (we must've come here at least 9 times over our 3-day trip) to the most amazing prenatal massage at the Boathouse Spa, just getting to feel like I was really soaking in some R&R was really just what I needed and so good for me. I'll get into the COVID precautions that the hotel has taken in just a moment, but with regards to the massage, I felt so safe the entire time.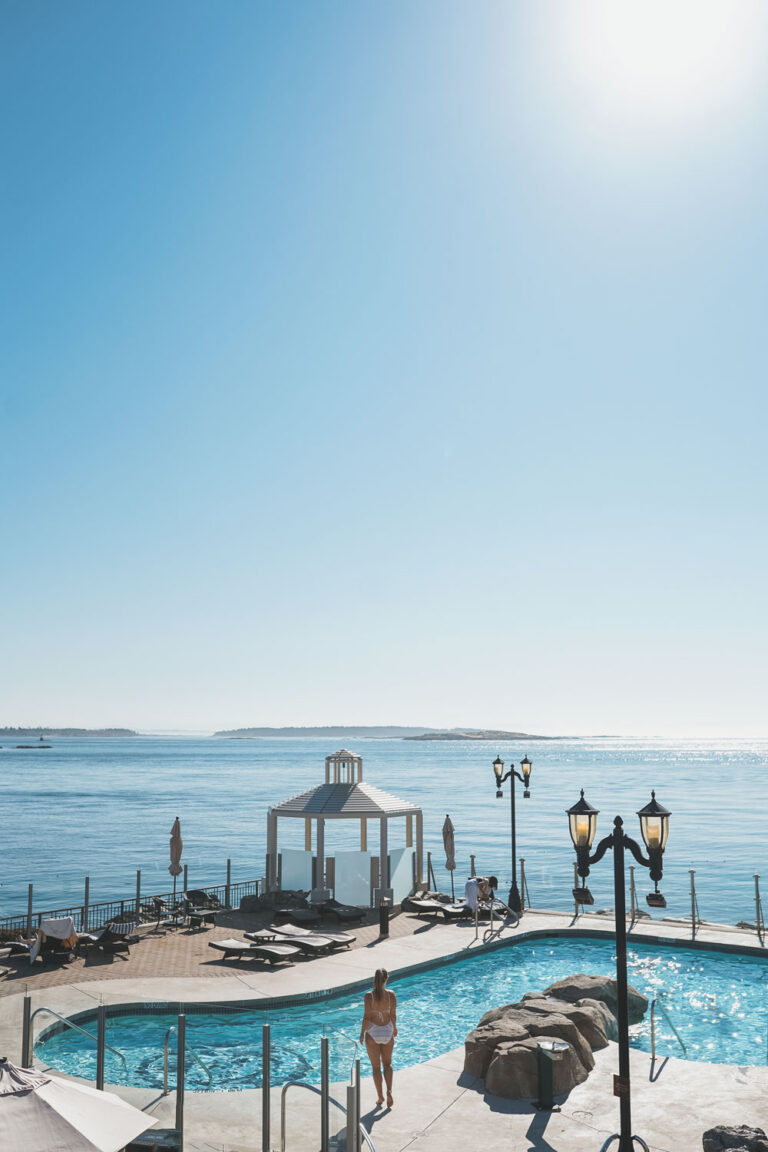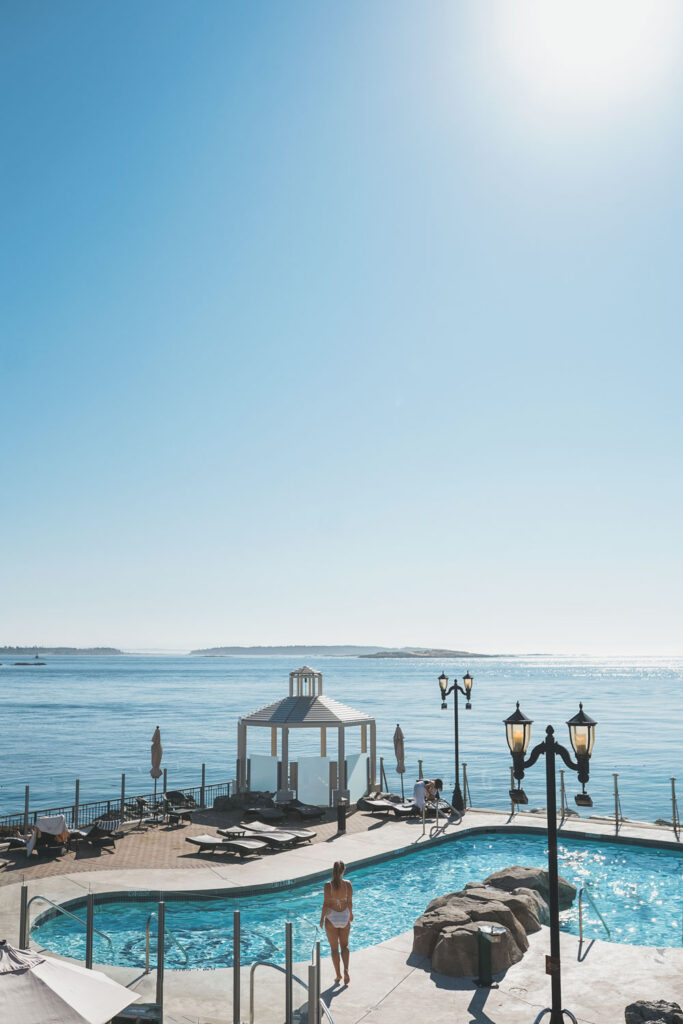 Both guests and staff are required to wear masks the entire time, but steps are taken to make sure that all guests and spa visitors still have the same luxurious, relaxing experience. Because BC has just very recently begun opening up (in the last month or so), not only was this our first travel experience, but it was also only my second prenatal massage during my entire pregnancy. It was just heaven to get to unwind like that, particularly during such a stressful period in time and being pregnant on top of that.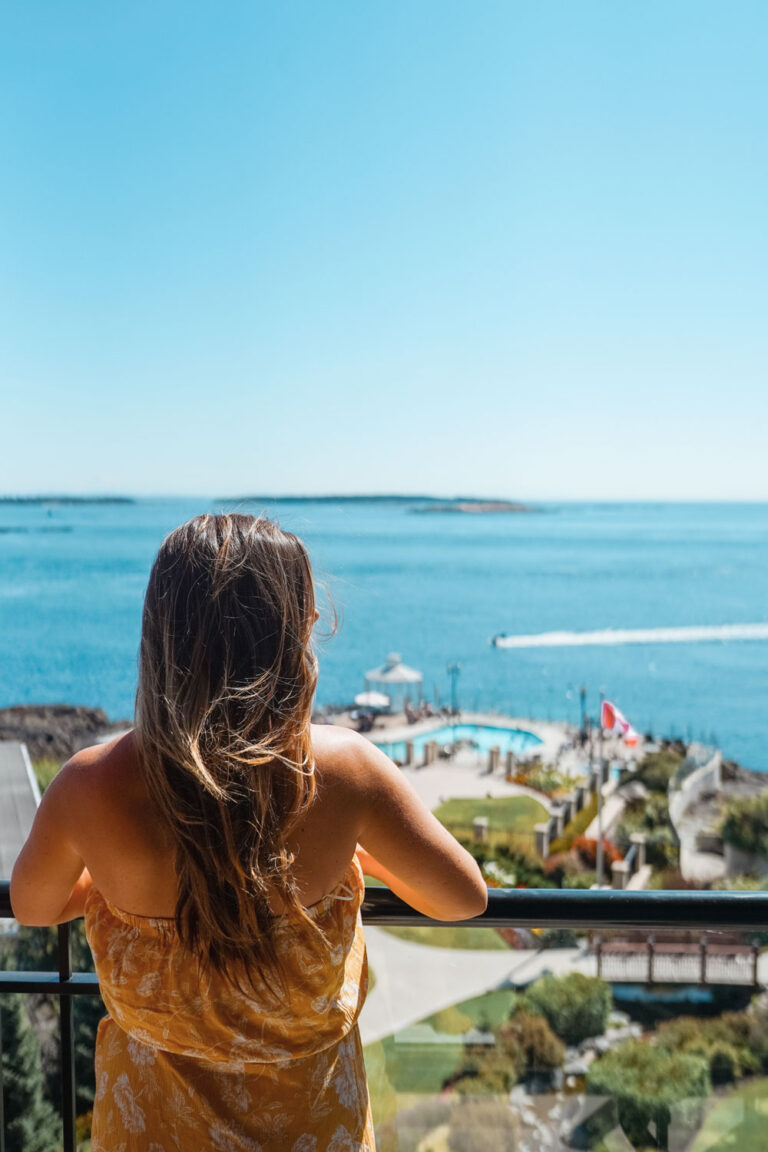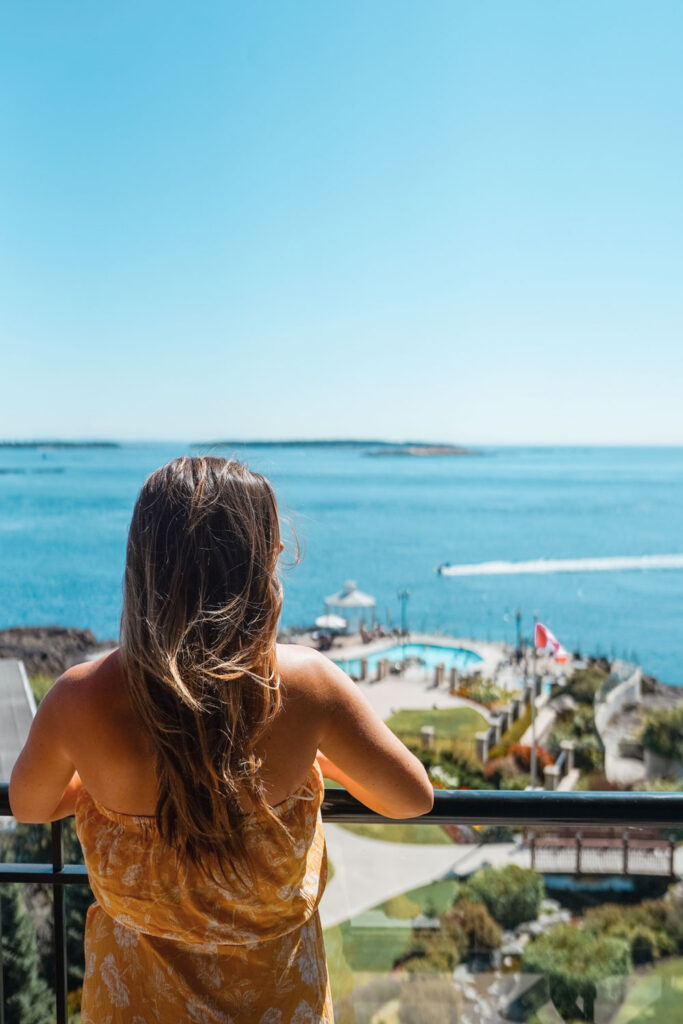 The pools were also managed so well—from a booking system that the hotel has where you get booked to a chair or lounger to limits on in-pool capacity to constant sanitizing of all railings, tables, chairs, etc, we couldn't have felt safer with the measures the hotel took to make one of its most coveted experiences a really safe, relaxing and anxiety-free experience. Needless to say given how much we visited, we felt totally safe the entire time! Guests were all really amazing as well, ensuring we all kept distance from one another in the pools and on the decks.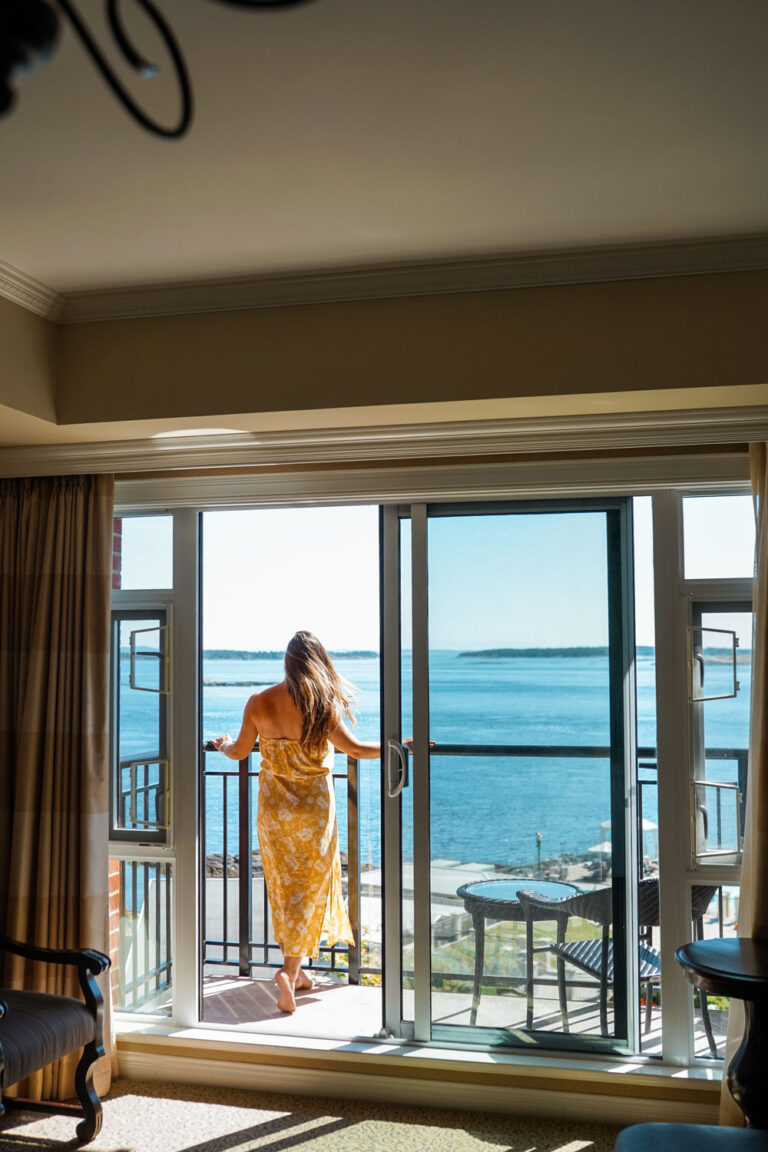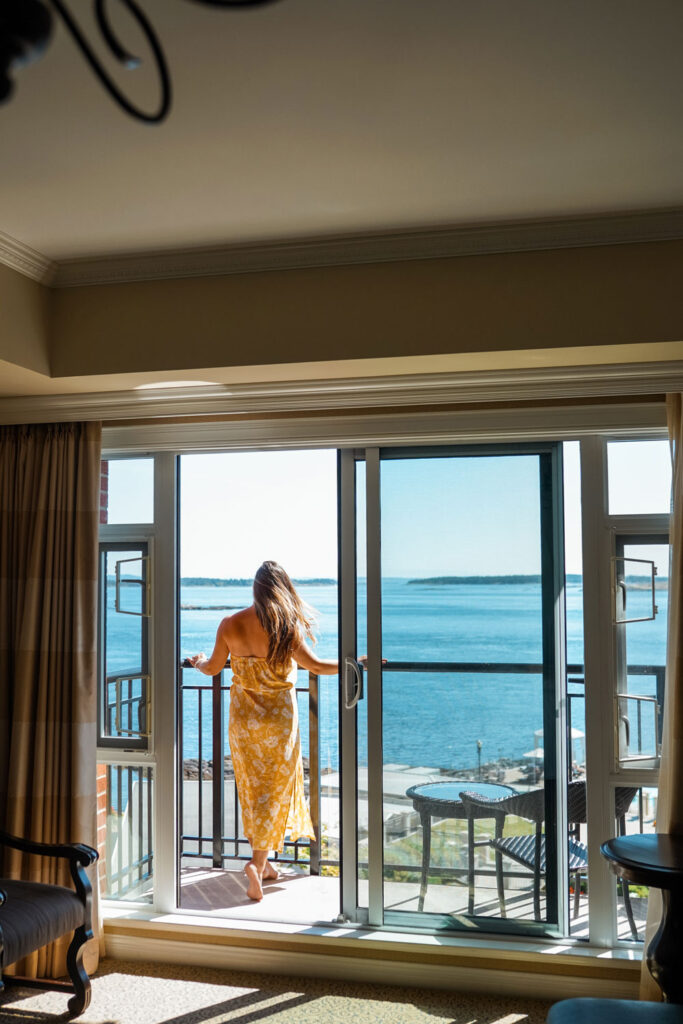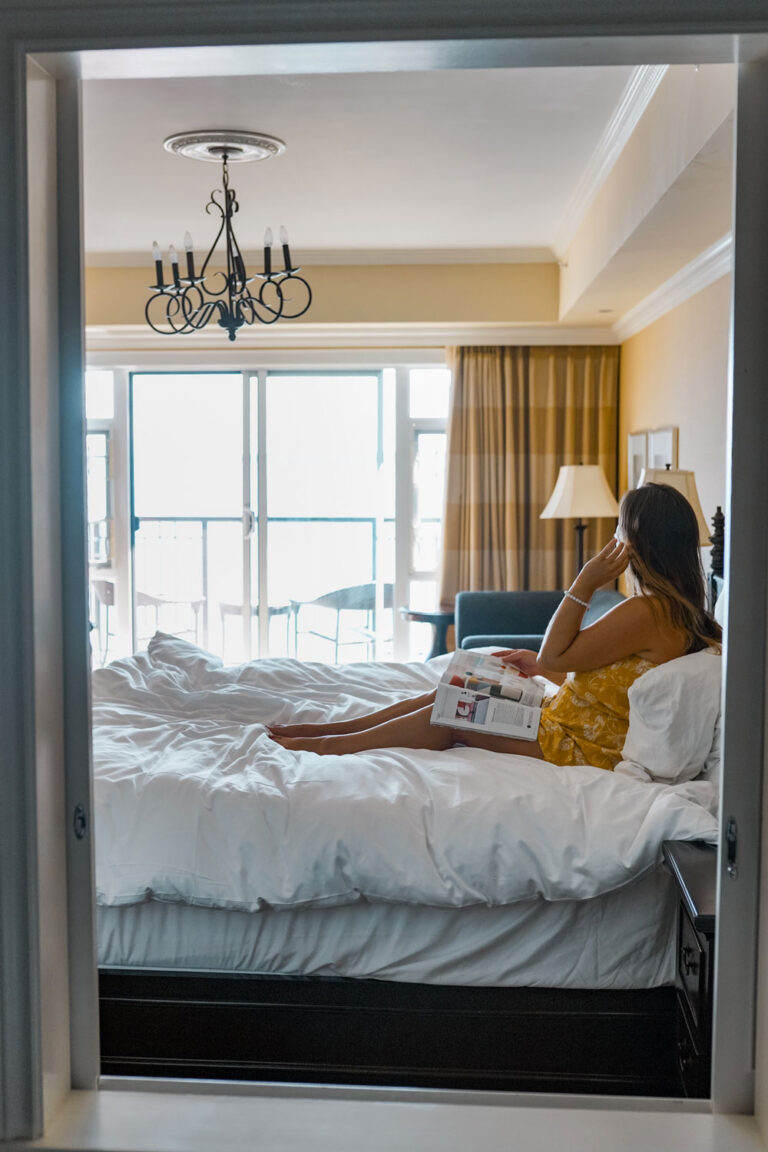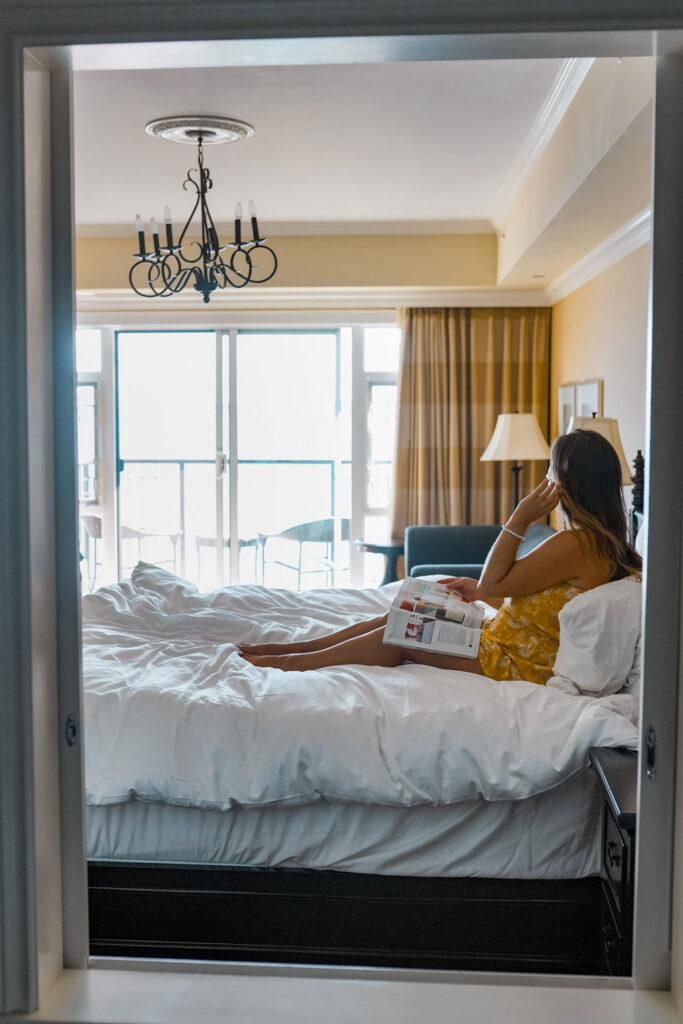 As for our suite, we had a beautiful ocean-view room with the most luxe bathroom set-up ever. If you open these windows in the bathroom wall, the bathtub has a view of the ocean so that if you wanted to unwind with a bubble bath, you could relax in privacy while still taking in the gorgeous sea view in front of you. Our bed was beyond comfy (again, sleep has never been more important to me so really value a comfy bed these days!) and spacious, which was perfect since I had to make a makeshift pregnancy pillow since I forgot mine!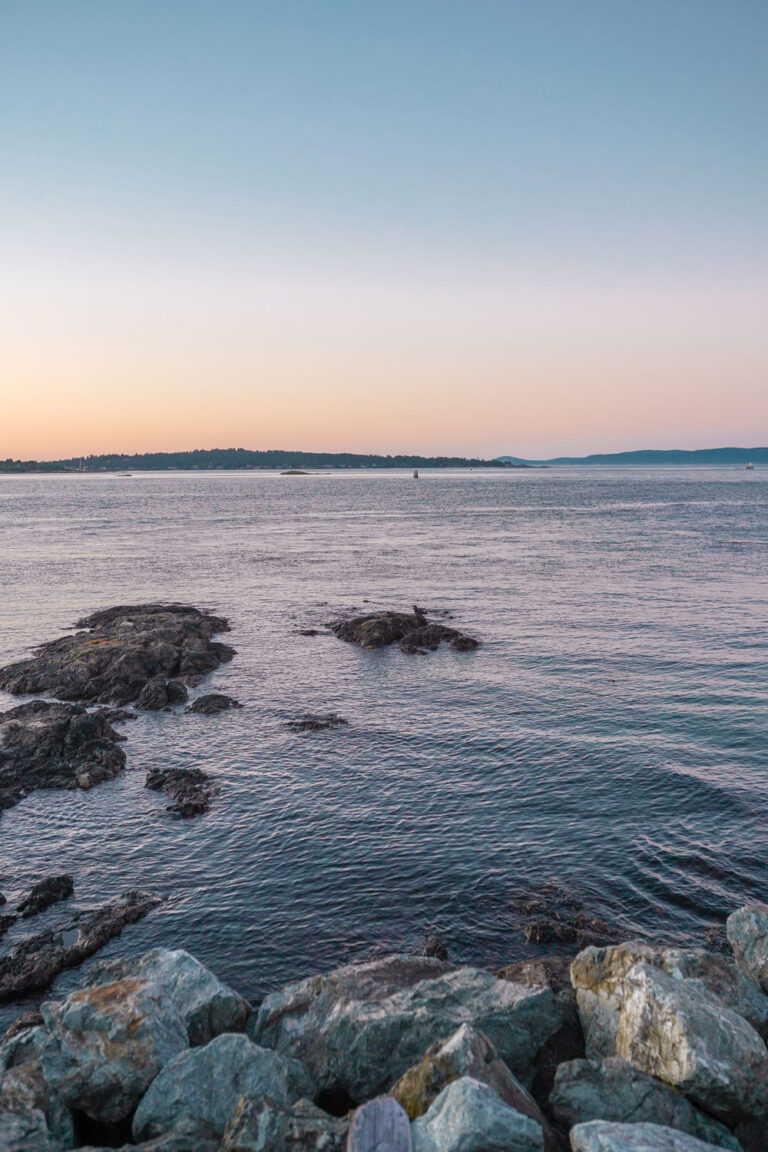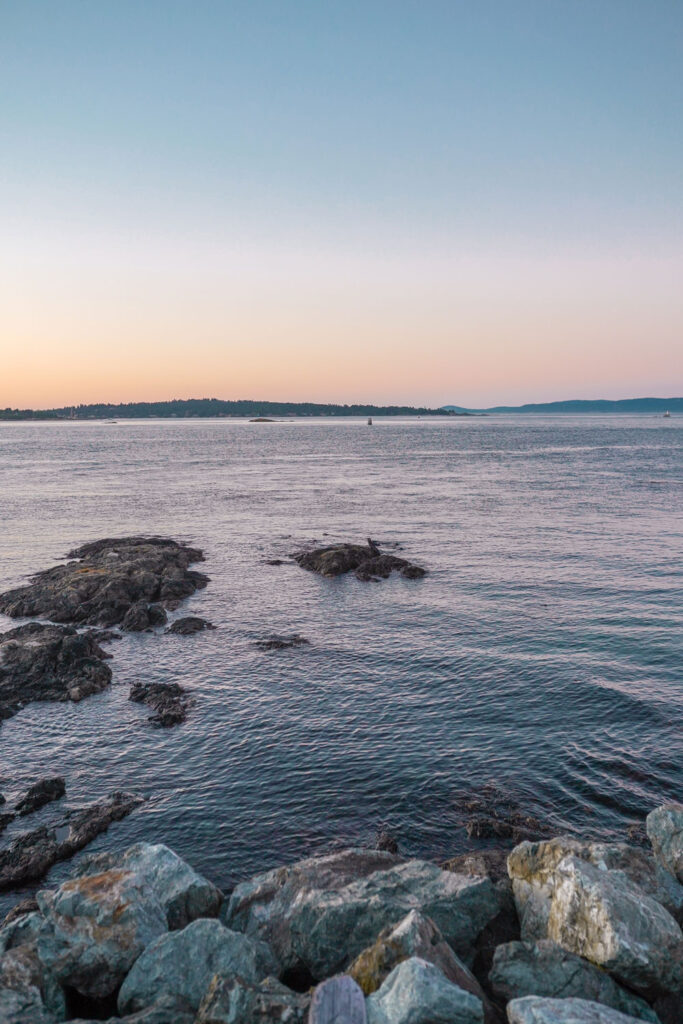 The hotel ensured that we felt safe even in our own room, with local brand K'Pure's amazing Dry Clean rinse-free hand cleanser so that every guest can sanitize on the go while staying in the hotel and touring around Victoria, and any room service was contactless, from our breakfast to any additional amenities we requested. It says a lot that I didn't actually stress at any point about COVID because being pregnant and a bit more nervous than I'd ordinarily be about health, I was anticipating being a bit more anxious throughout but really, the hotel set safety measures in such a seamless way at every point in the hotel (next to elevators, at check-in, in front of restaurants, at the pool, etc) that staying safe and knowing other guests were staying safe was a given.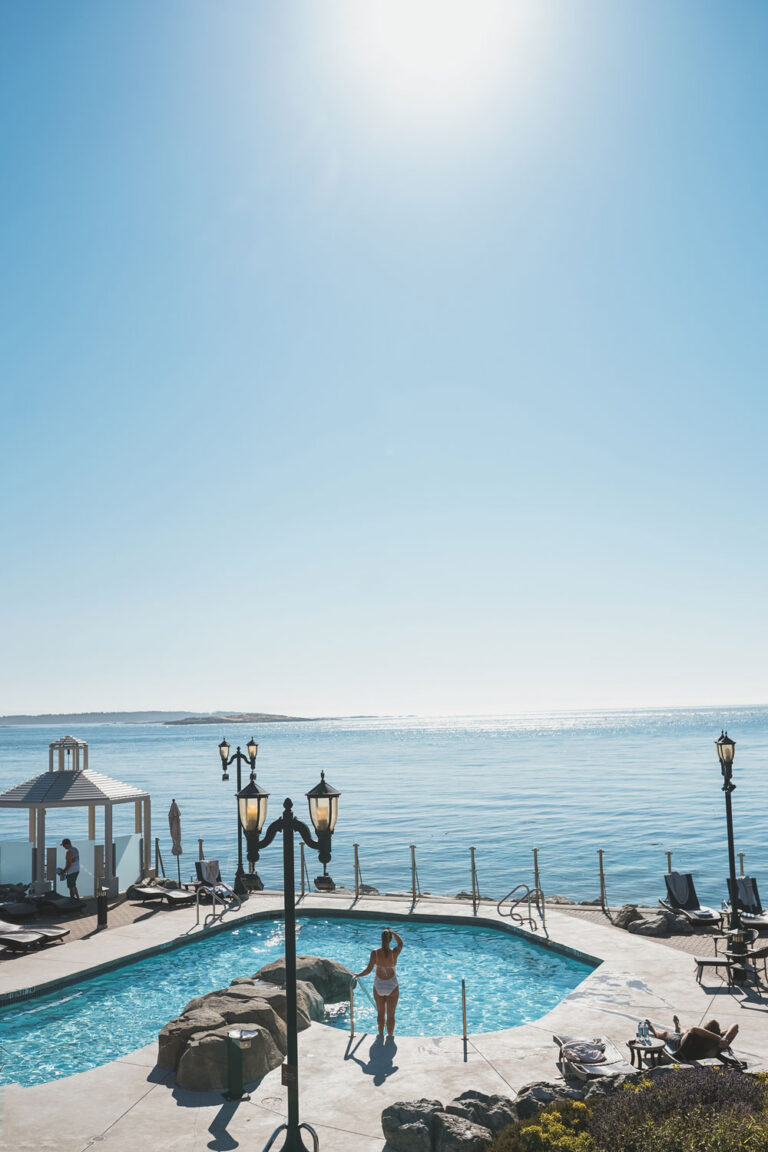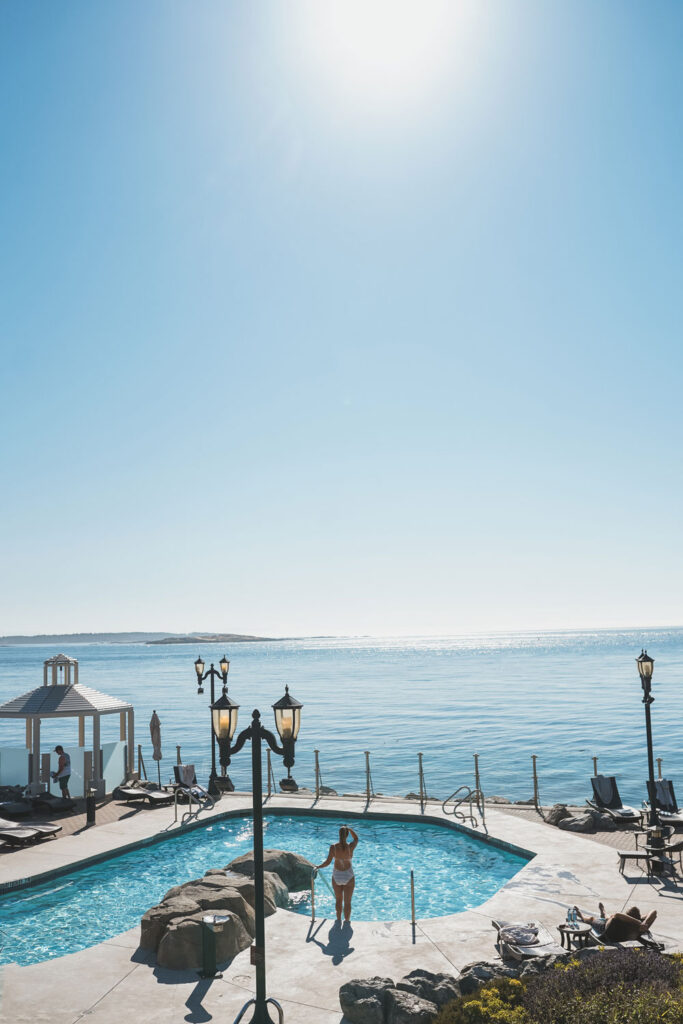 Also, the hotel made us just feel so at home during such strange times! With this being my first hotel stay, I was worried that with extra safety or precautionary measures, a hotel stay might feel like a foreign experience but it wasn't at all. Again, because safety measures were integrated in such a seamless way, everything felt so natural and actually very normal. From a warm check-in to the staff kindly helping us out throughout with any questions or requests to the most adorable welcome package for our little one (a surefire way to make me tear up is to present me with any baby things these days, so may have welled up a bit seeing this little welcome gift for our babymoon!), it just felt like such lovely and attentive service from start to finish.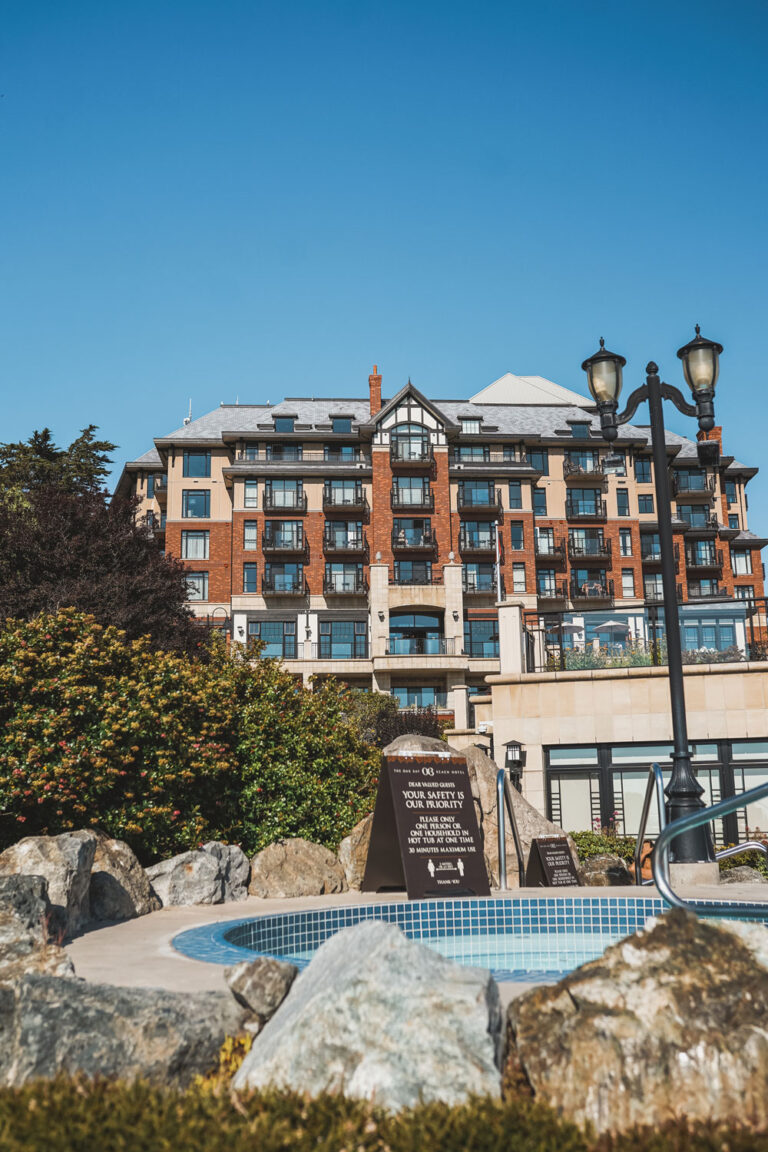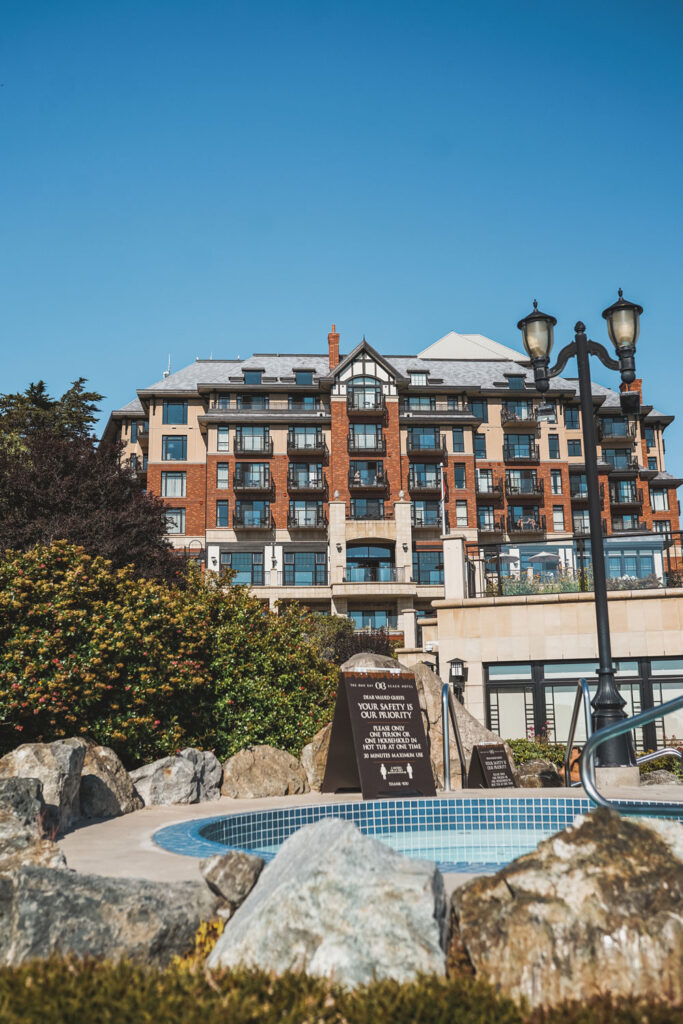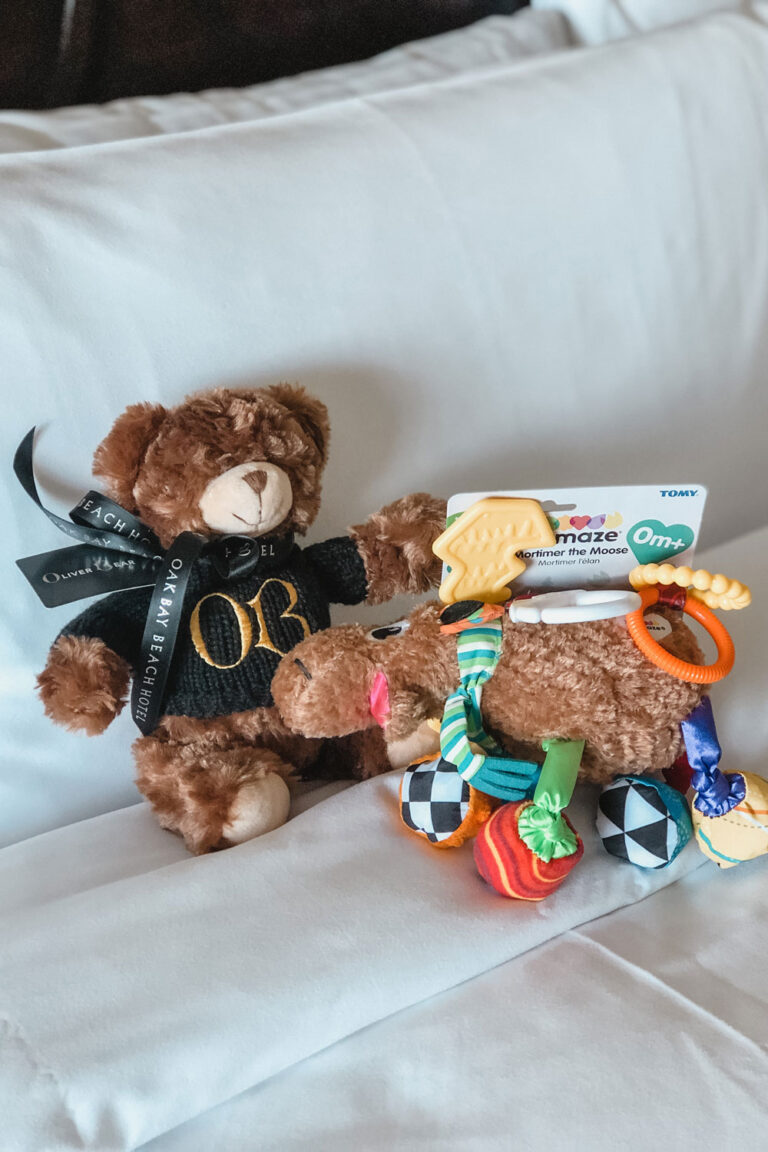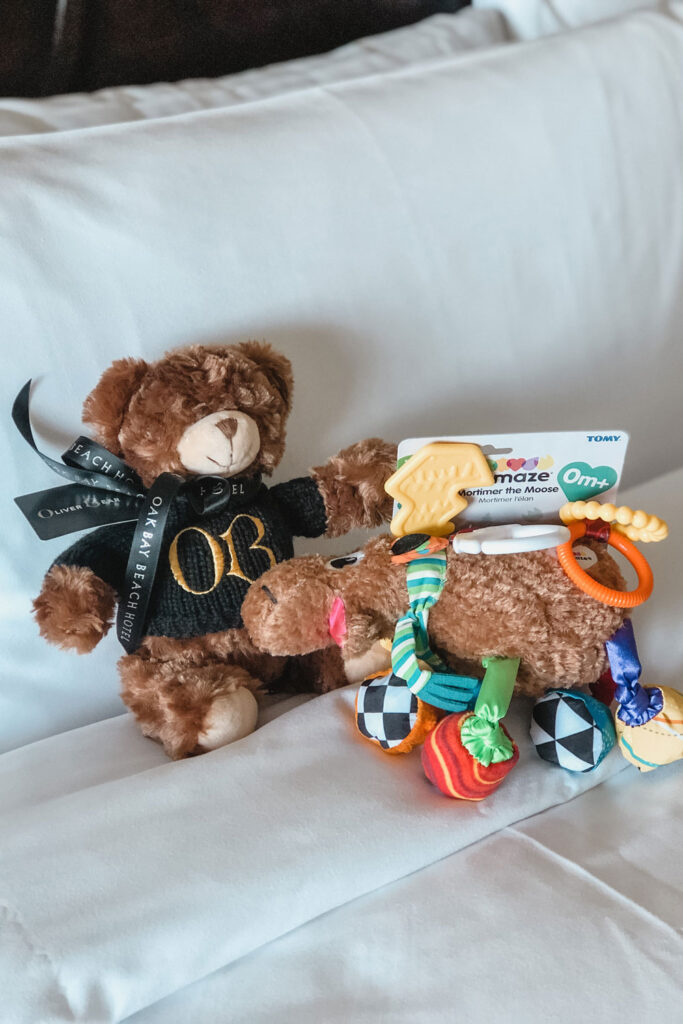 Goes without saying I think after this love letter to the hotel but couldn't recommend it enough! We were also saying how lovely this would be in the fall or winter—the pools are heated so I'd imagine you can dip in year round, and there's something really romantic and lovely about being snuggled up watching an ocean view even when it's stormy (though fortunately, Victoria has the mildest weather in Canada so you'd very likely still have some decent weather). But as a spring or summer pick, obviously you couldn't go wrong with booking here.
What more could you ask for than an oceanfront view like this, luxe accommodations, easy access to some of Victoria's best beaches and neighbourhoods, amazing in-hotel dining, next-level spa experiences and of course, the mineral pools?
I had so many messages from you guys on Insta saying you're officially sold on a visit, so hopefully this post really cements that all the more because we really had the most magical stay here.
---
What to See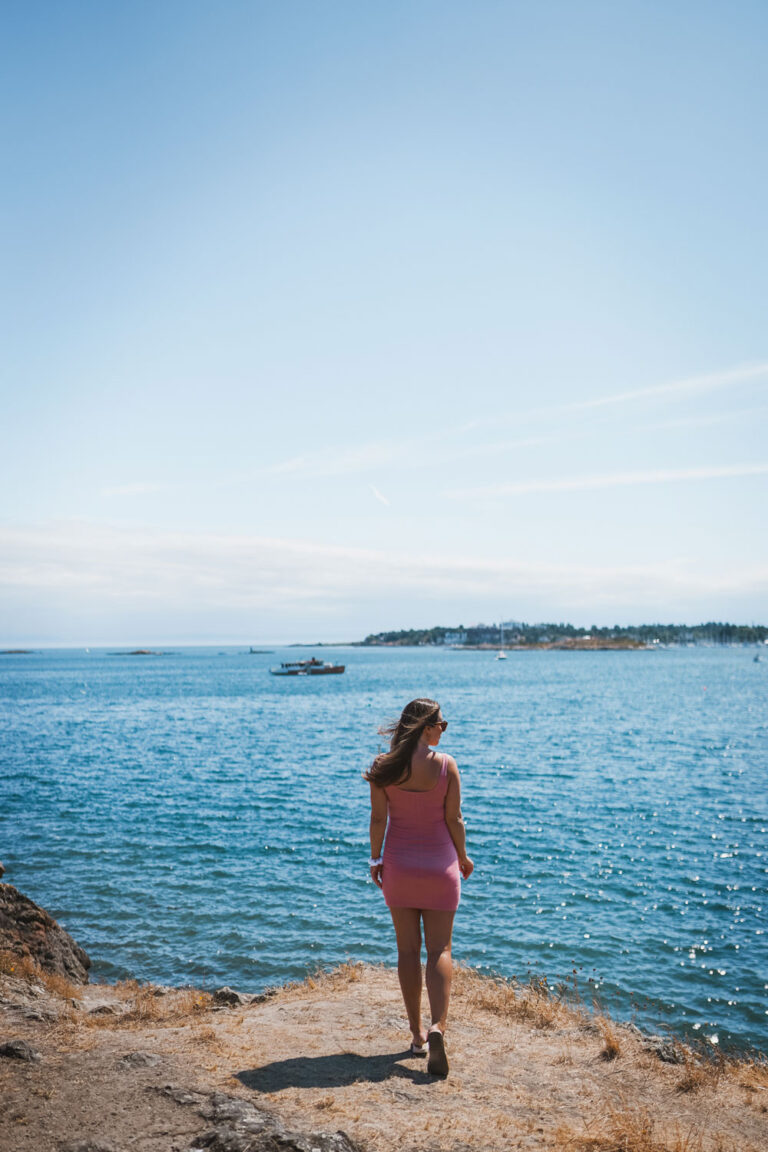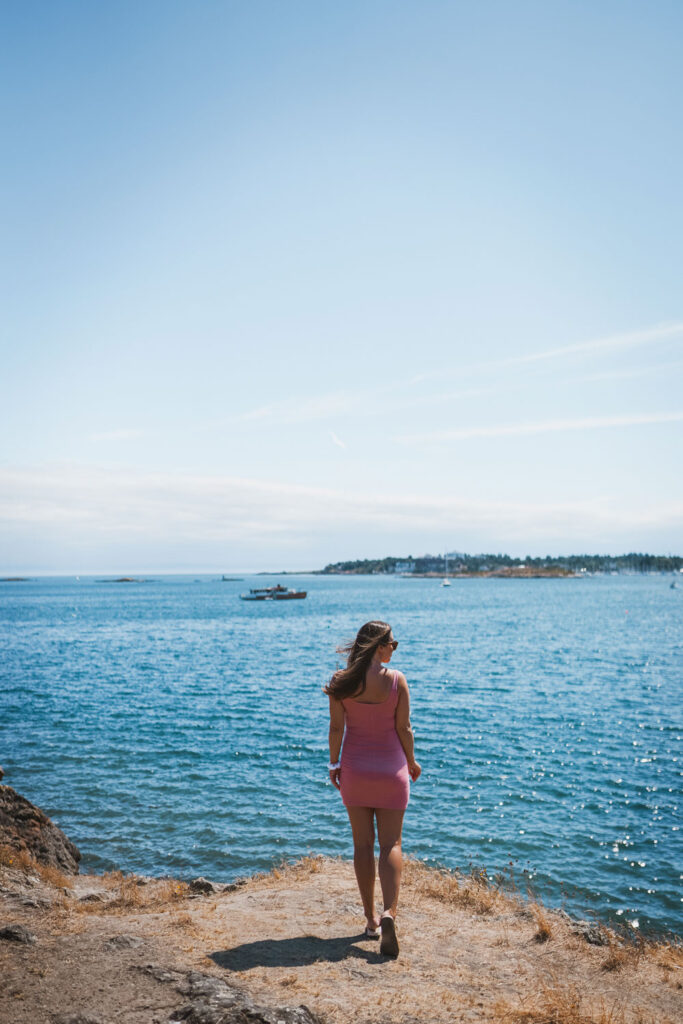 There's so, so much to do & see in Victoria, and I've covered quite a few different things to do in this post and this post from past trips. But quite frankly, our main intent with this trip was to relax. Both Matt and I's travel personalities are very go-go-go usually—I feel like I usually need a few days to recover once I'm home after our trips because our itineraries can be pretty gruelling, though to be fair we both also always knew that a baby would hopefully be in our near future and that's part of the reason we wanted to really see everything on any of our travels since we knew there was an expiration date on that form of travel soon enough. For this trip, we really wanted to recognize not only some of the physical limitations I was having and take it easier accordingly (again, I've been lucky but the heat and just, you know, being pregnant and carrying/growing a baby in me can definitely wipe you out very easily), but to also just spend time together and not just running around, because I think a babymoon should be exactly that—spending time as just the two of you before your twosome turns into a trio very soon.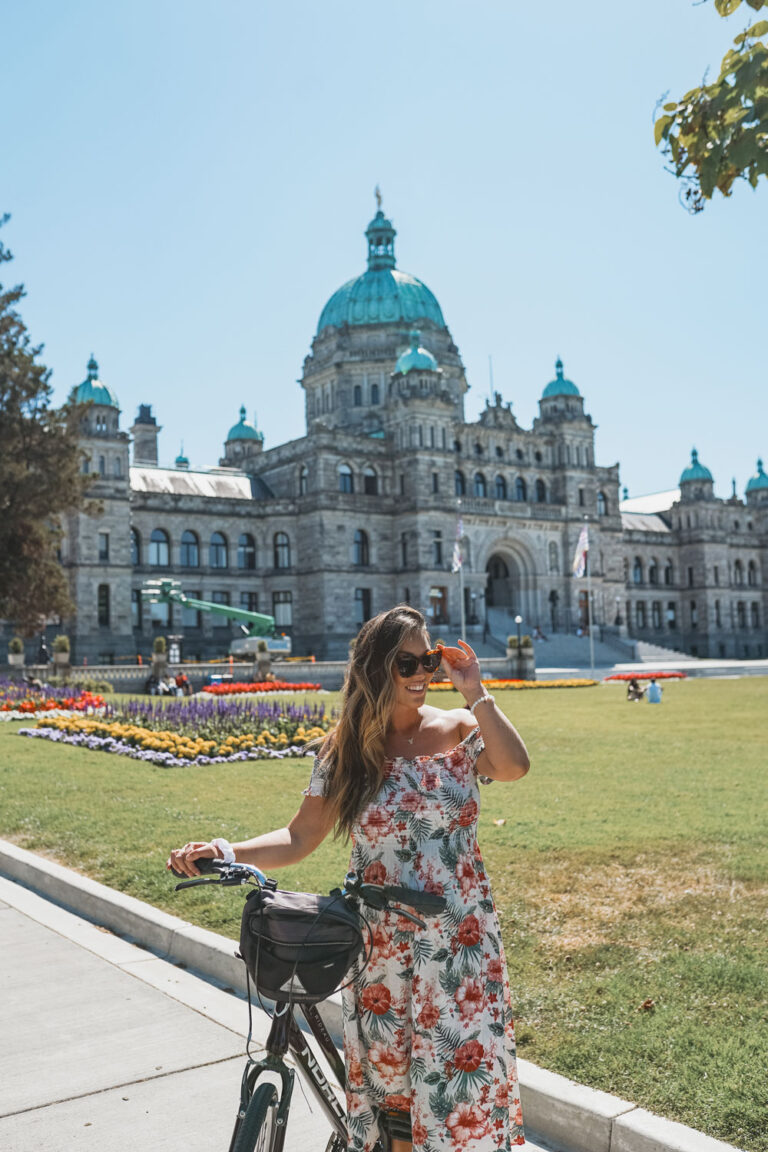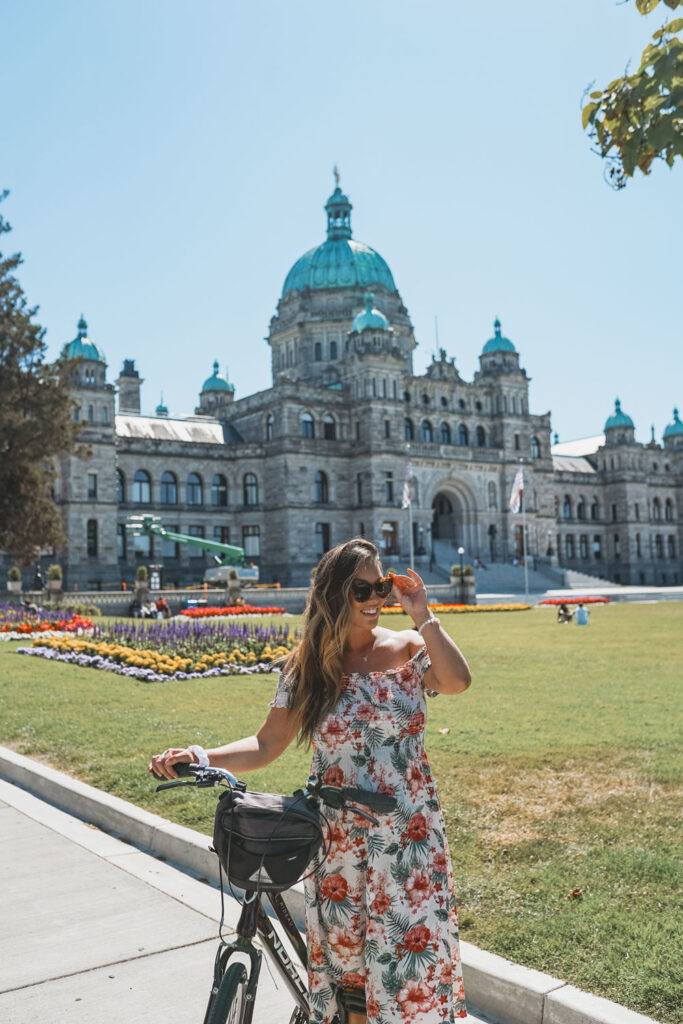 So our main goal was to get bikes (from our friends at The Pedaler again, who are very much a must if you want to tour around the city—they have such great bikes to choose from and are their location [right near the Parliament Buildings] could not be more primo), visit our uni campus, go to some beaches, have some shady park naps and relax. And that's exactly what we did! We had two amazing lightweight bikes from The Pedaler (a step-through for me, which was pretty key with my growing belly) and pretty much out the gate did an amazing tour of Beach Drive, which is an awesome bike route with so much to see. We stopped at Willows Beach (which is so gorgeous, the clearest blue waters and soft sand to relax in!) and Cattle Point, which has unreal views of the ocean around it and tons of tide pools to explore. Just a note too that if you're not comfortable biking around yourself, The Pedaler also does awesome guided tours!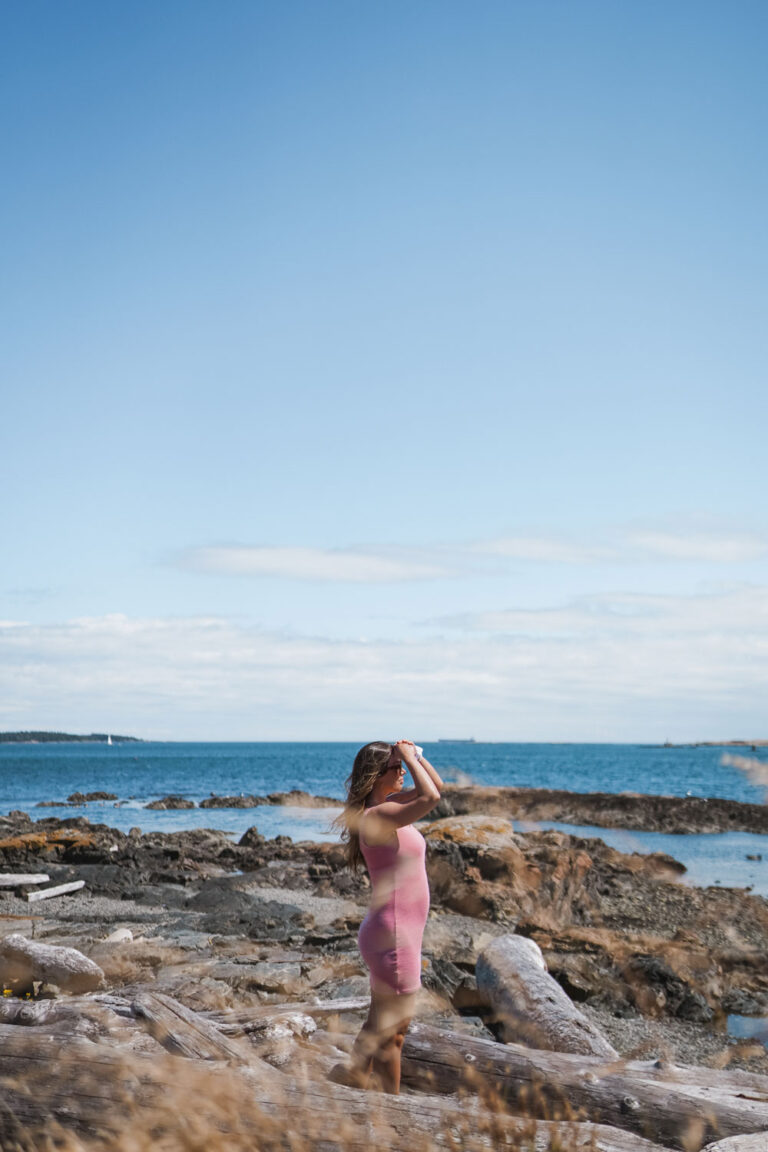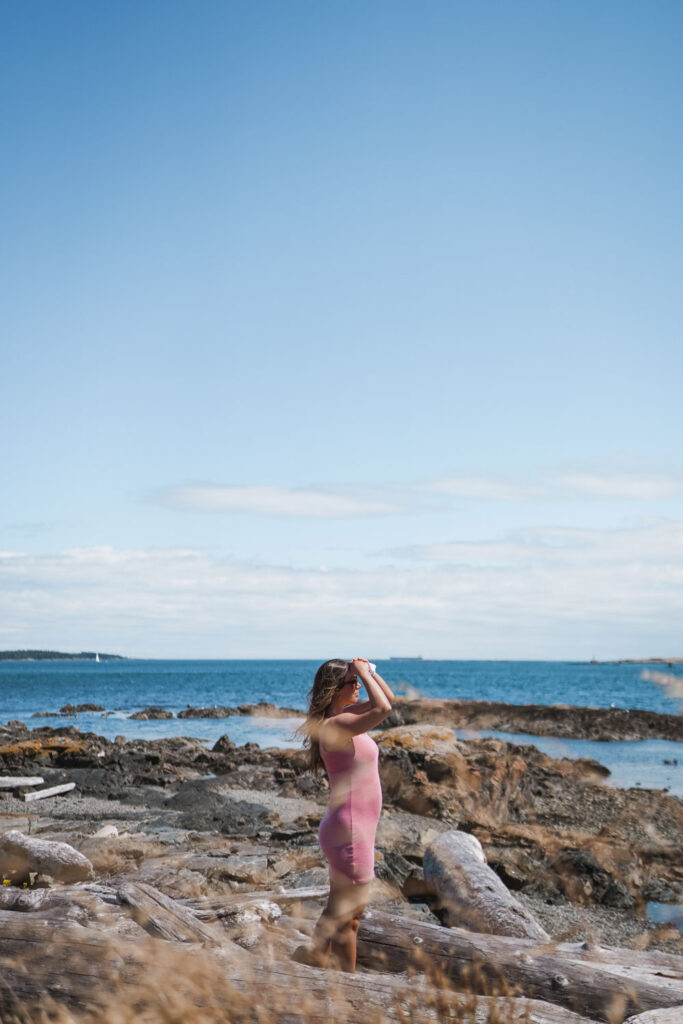 We also cruised by Cadboro Bay, which was a go-to during university for swims in the summer and bundled-up walks in the winter since the uni is just at the top of a hill from the beach. It was hard remembering how I used to go for runs and book it up this hill because being 7 months pregnant and pushing my bike up it in a heat wave, I definitely had to take at least a few breathers until we got to the top. It's steep for sure but the reward was getting to relax on campus in the shade of the trees that line the main pathway in front of the library there. So many amazing memories here and obviously such a special place for us! Matt even went to Centre Cafeteria and got us some fries and drinks (sparkling water for me, my go-to all throughout my pregnancy) and we had a little doze.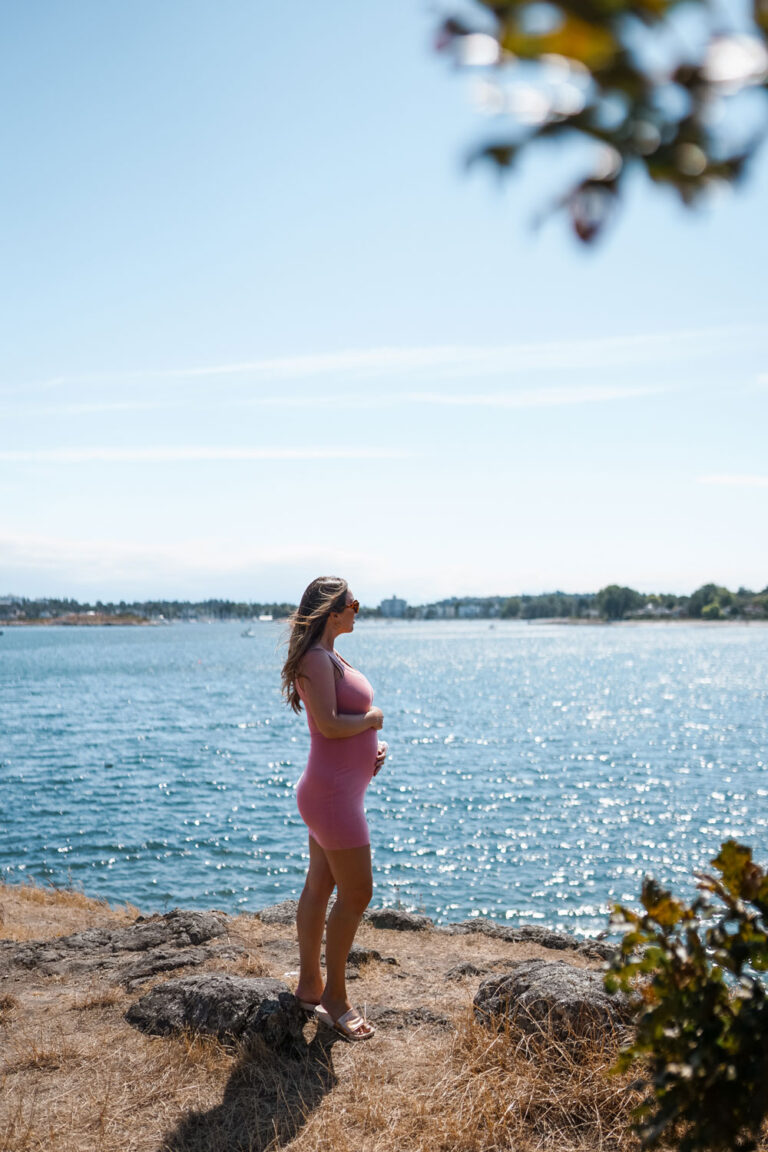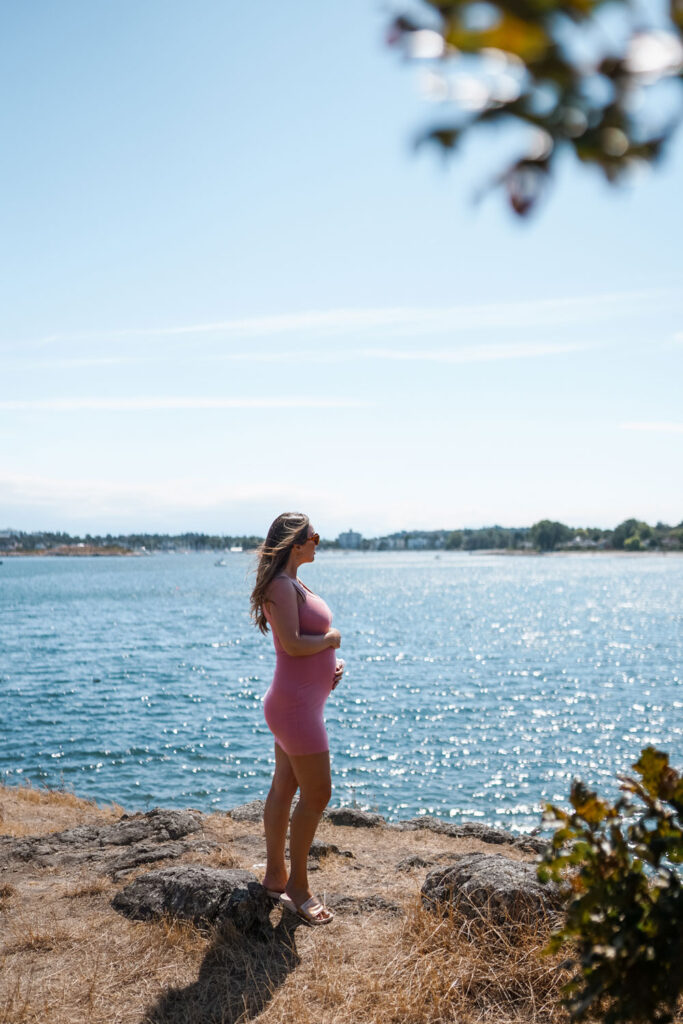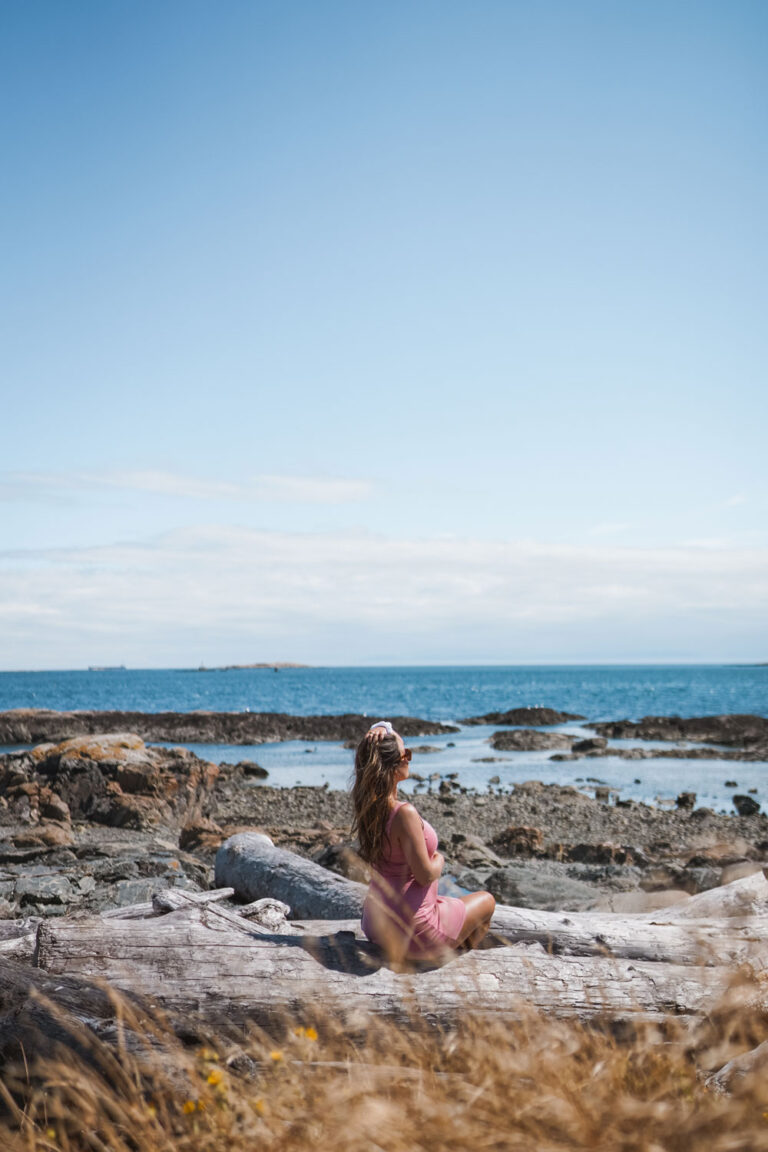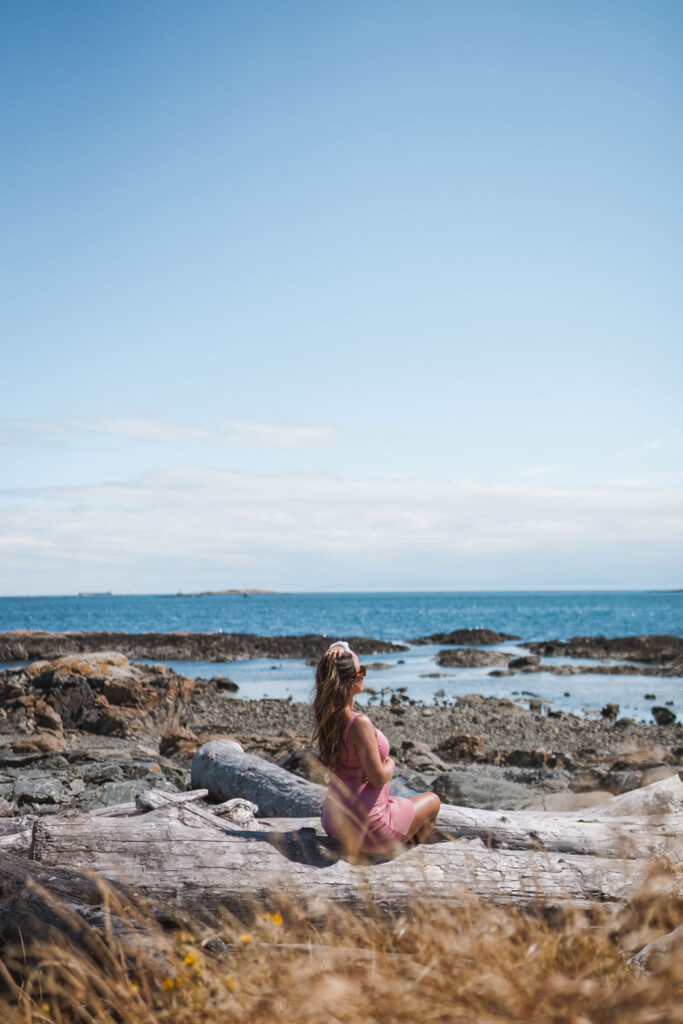 On campus there's also the beautiful Finnerty Gardens to see, and you can also head over to Mount Tolmie (another of our fave runs back in the day) which is just down the road on Cedar Hill Cross Road just outside campus. It's not much of a mountain as far as elevation, really just a short walk up and you get a great view of the city!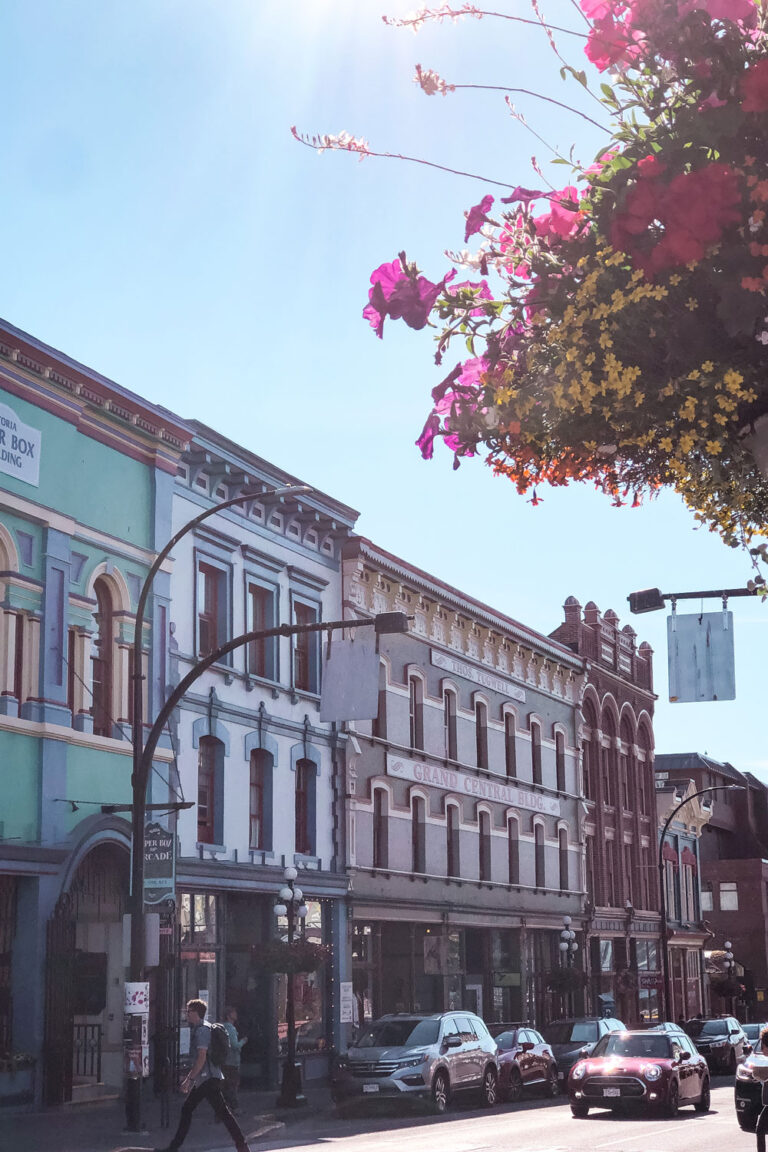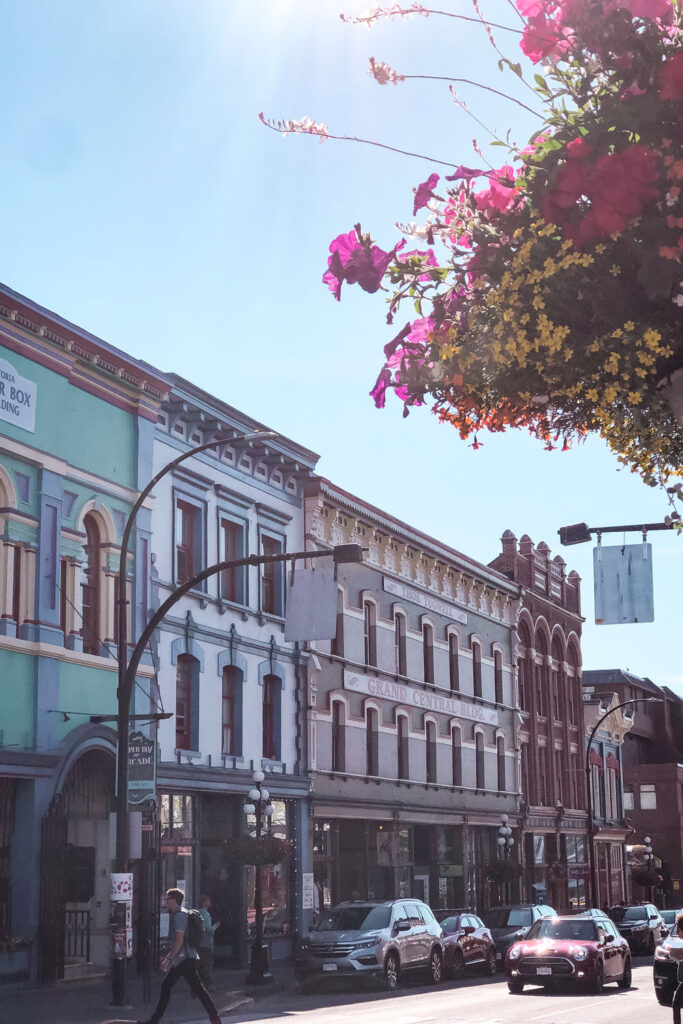 Other than cruising in downtown on our second to last day and taking in the Parliament Buildings and doing a quick tour of downtown (Johnson Street and Chinatown are both beautiful, and Fan Tan Alley and Market Square are both musts!) we mostly hung around Oak Bay, which was such a nice change because it's where we spent a lot of time in school and also just a nice change of pace to be able to just walk around the water, poke into some of the shops in Oak Bay Village, etc. I don't think we'd do it for a few years, but we've toyed with the idea of moving back to Victoria for a long time and now that we're expecting, the thought of raising our little one (and any that follow!) in Oak Bay is very, very tempting. Couldn't think of a better place to grow up honestly! There are so many amazing oceanside places to explore, from beaches to tide pools to the marinas, and the village in and of itself is so lovely. Lots of great dining, cute boutiques, bookstores, etc. While we love our downtown stays and I'm sure we have lots of those in the future, for a slower, relaxing trip, it was so nice to be within walking or biking distance of this neighbourhood and just chill!
---
Where to Eat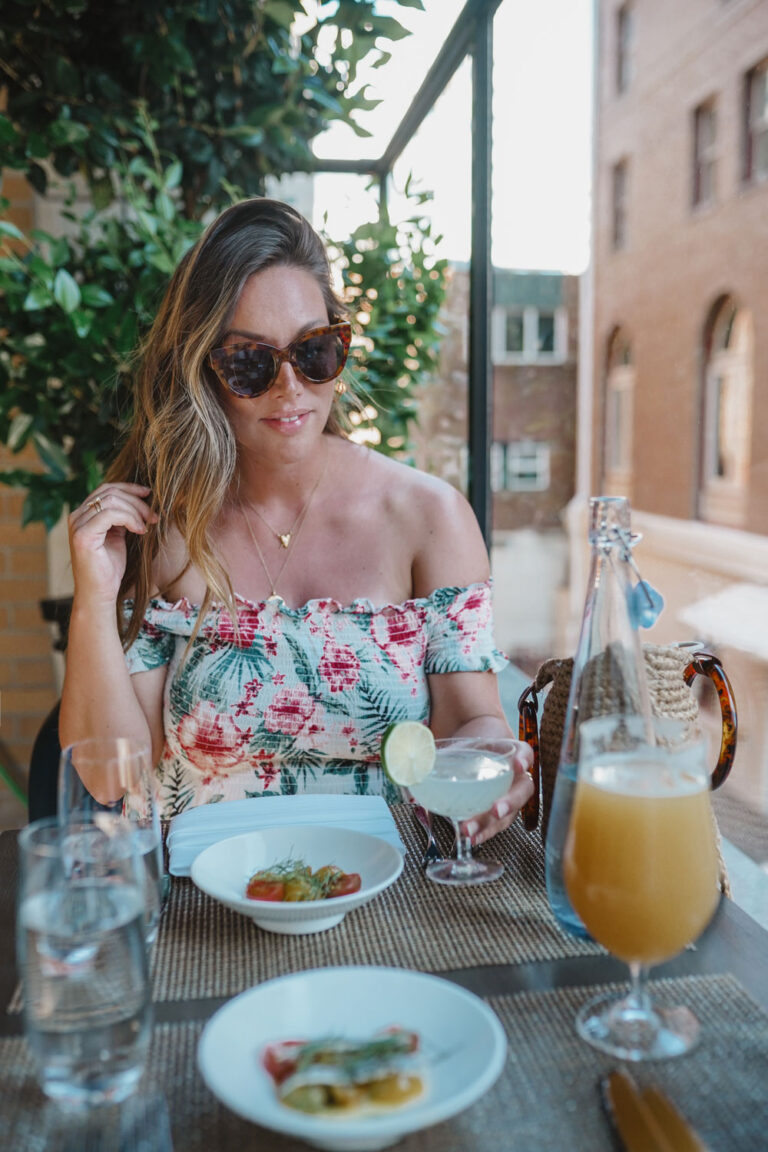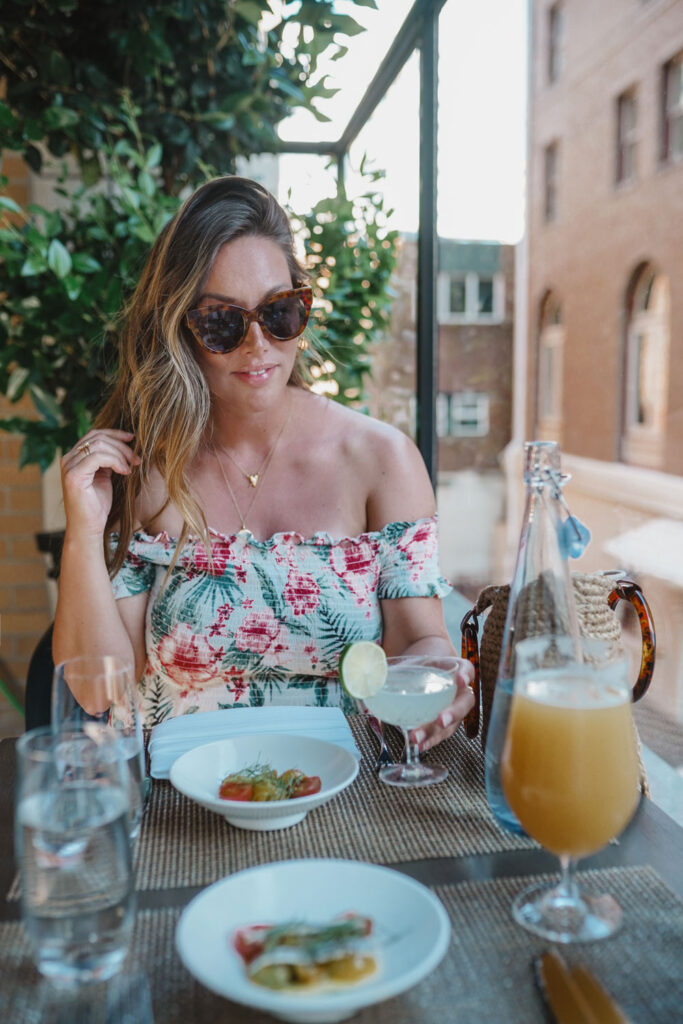 Well if you're staying at the Oak Bay Beach Hotel, one easy answer is FARO. Their handcrafted pizza delivered piping hot from their Wood Stone pizza is honestly amazing. I haven't really had much in the way of cravings other than peaches and sparkling water, but I will say that pizza, pasta, etc has all been very, very high up there as far as my wants during pregnancy. They also had such an amazing non-alcoholic menu which I so appreciate! I'm pretty easy for the most part because I do just love sparkling water, but when you're out for a special meal and unable to (or don't) drink, it is really nice to have something a bit more festive. They had the most delicious shrub mocktail which I was obsessed with.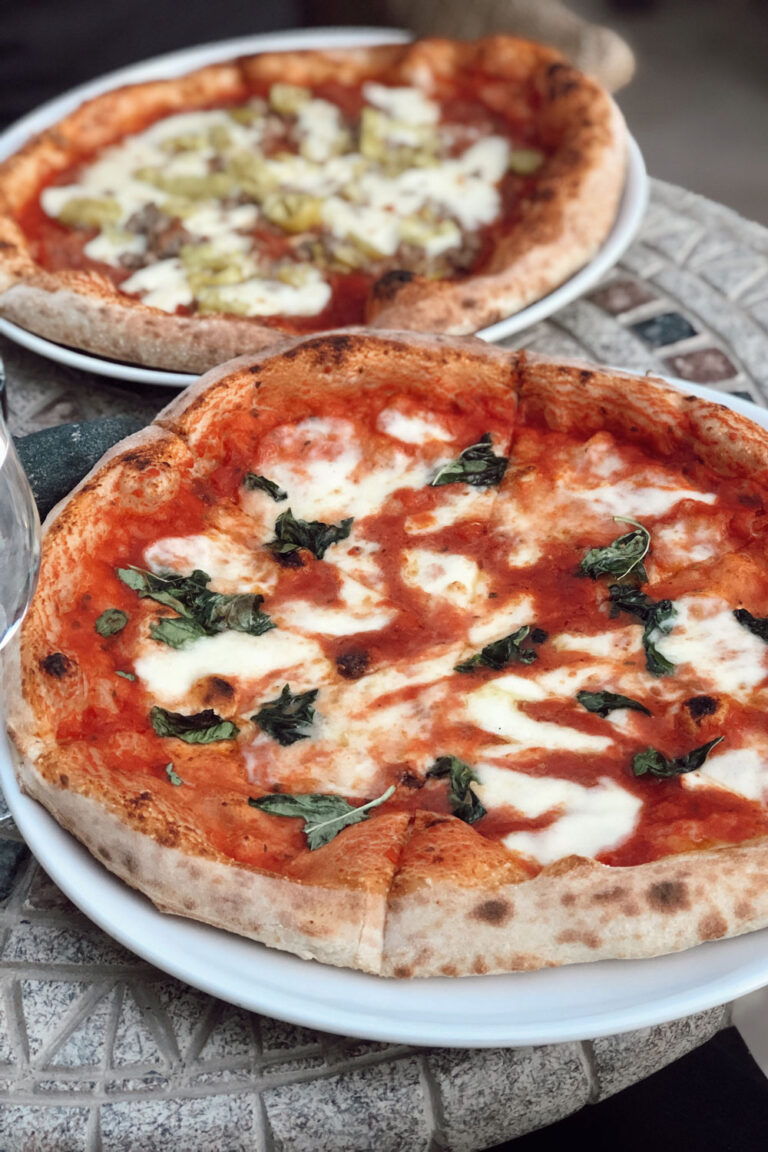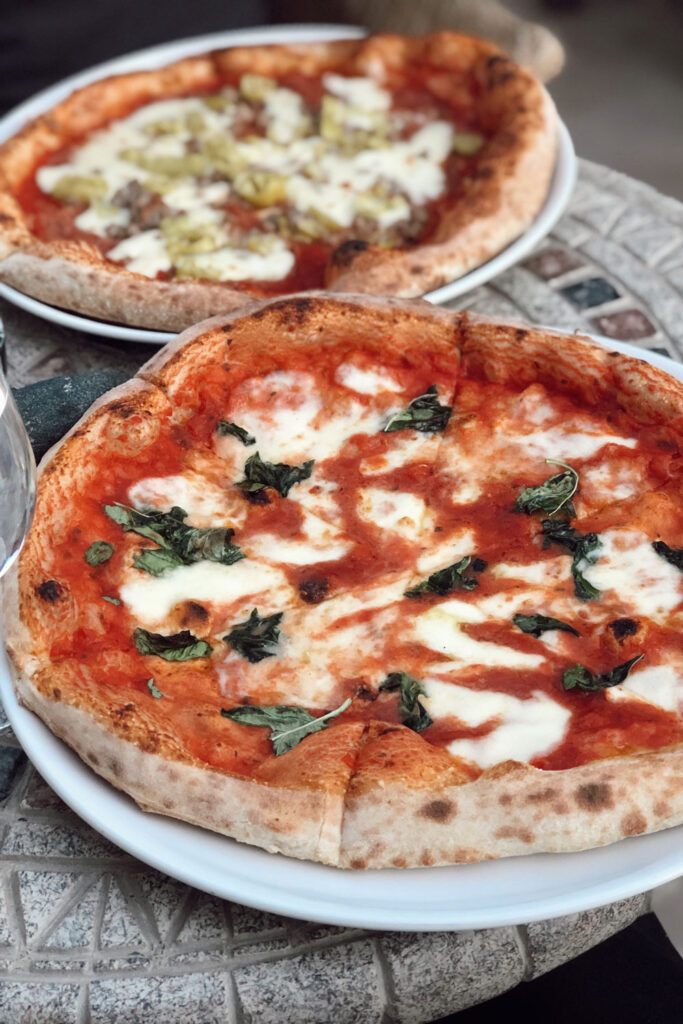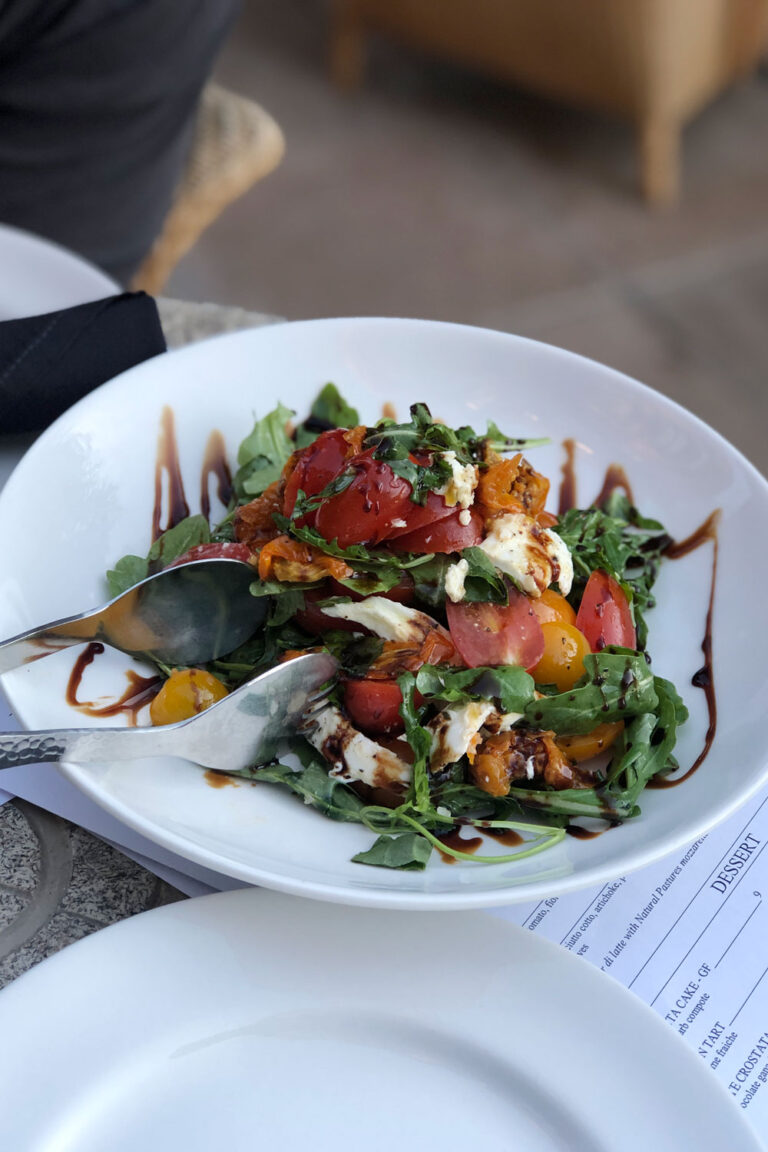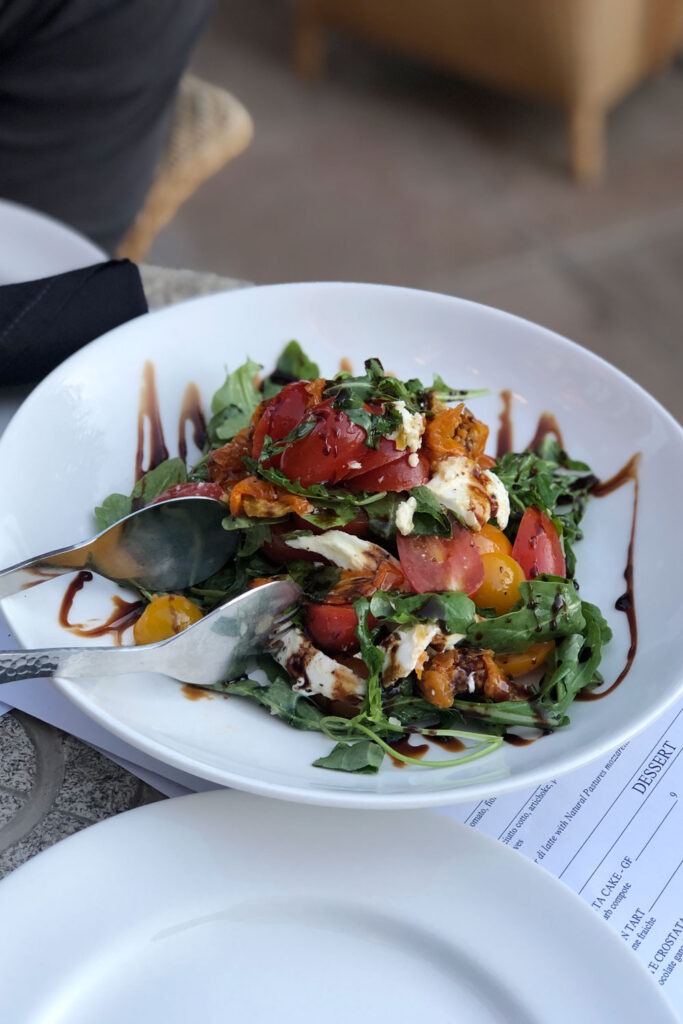 As far as pizza, I went for the Margherita and Matt for the Whole Beast and we both loved our picks and demolished each. We sat on the patio but the interior looked so beautiful as well so year round an amazing pick, and so nice to get to just enjoy an amazing meal and stroll right back up to the hotel or go for a nice post-dinner seaside walk after!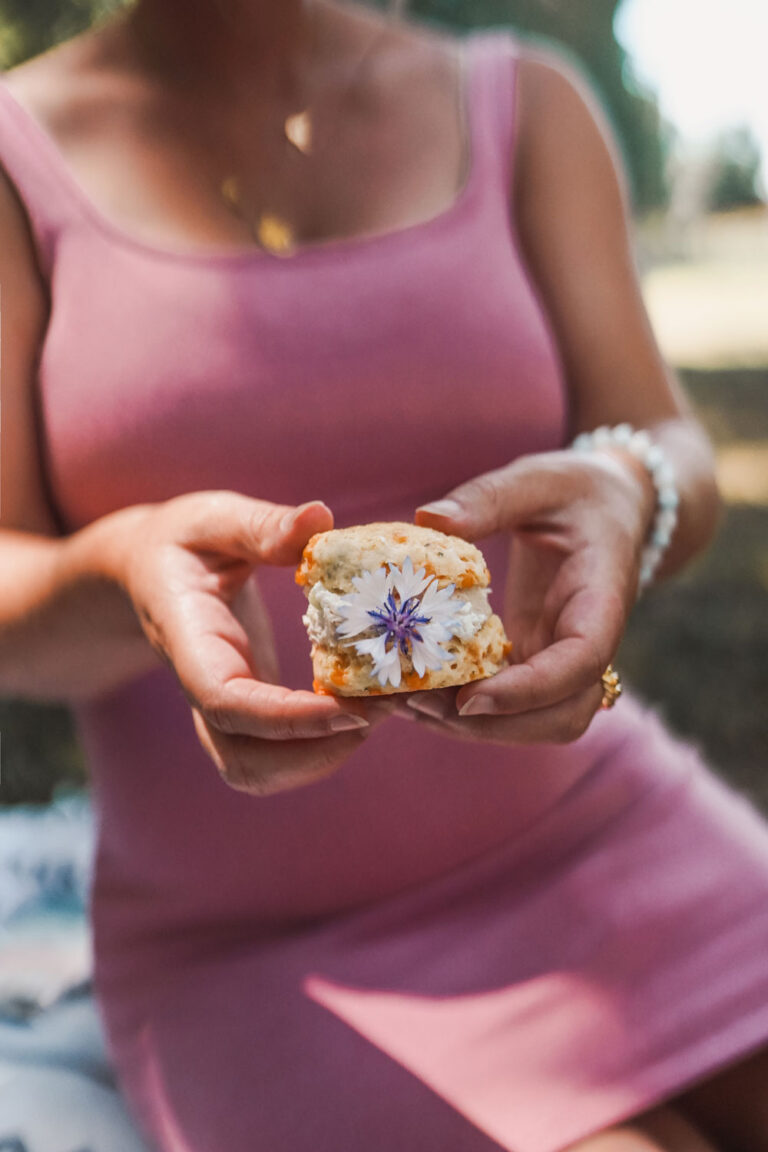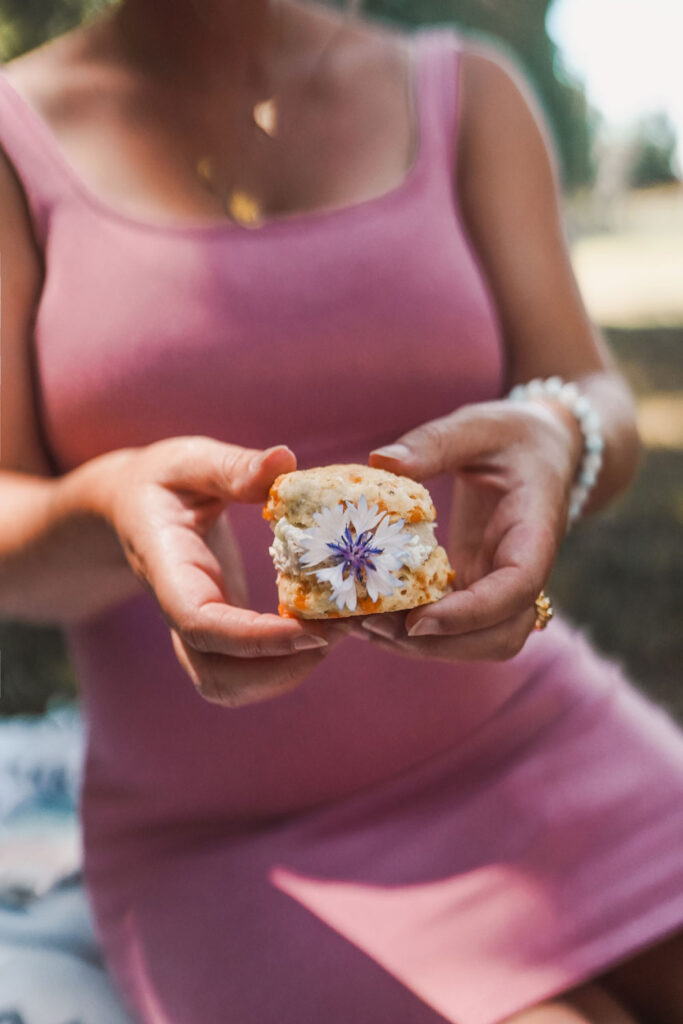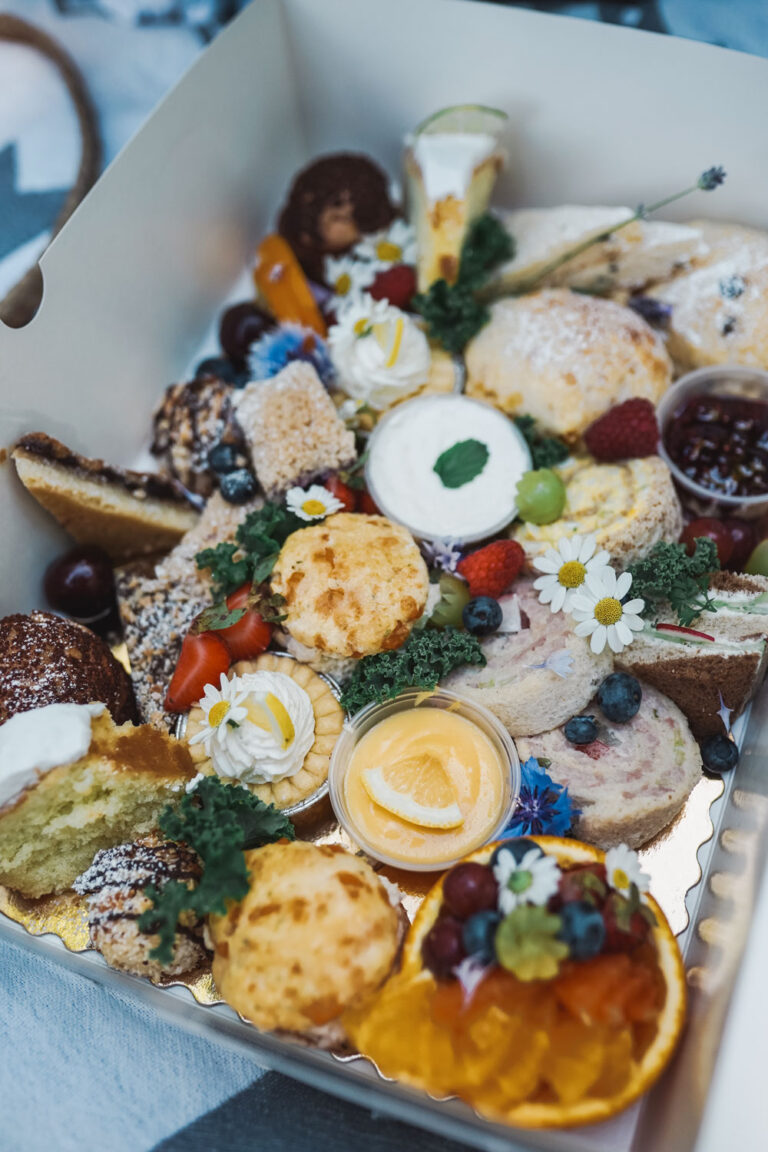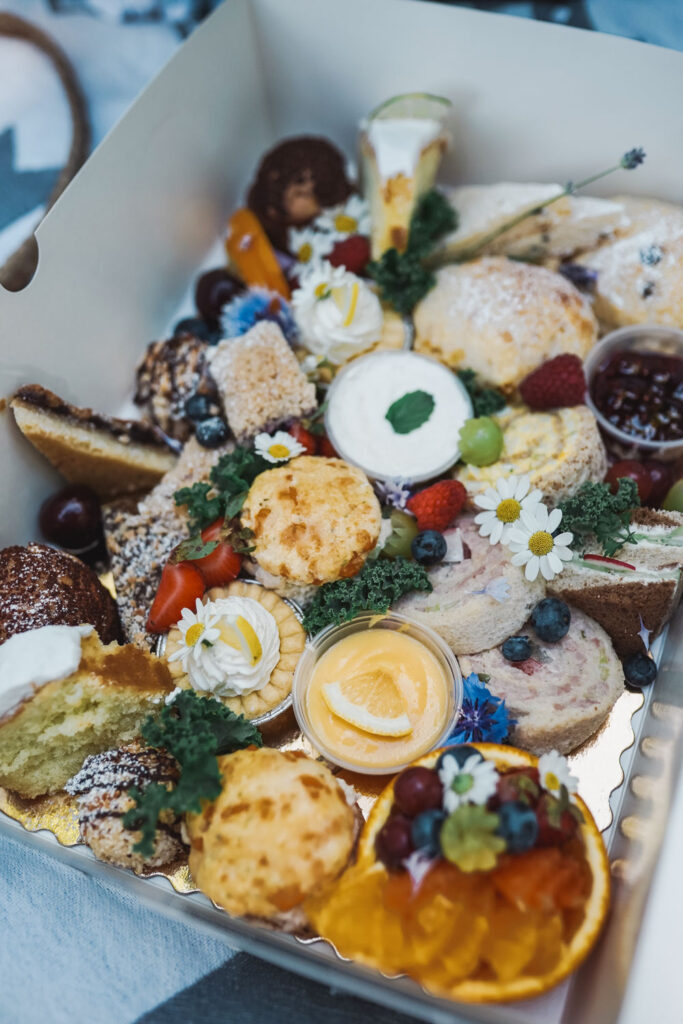 Nearby in Oak Bay Village, we also got to experience an al fresco afternoon tea by picking up the most beautiful tea box from White Heather Tea Room! Everything is made fresh and in-house, and the presentation couldn't be more gorgeous. You could pick up the tea box and cruise to any of the nearby beaches if you're up for a bit more of a walk or taking it by car, but since we were on our bikes we just went for a quick little walk to find some shade in one of the neighbourhood parks and to enjoy it under the trees. Was so lovely, and the team at White Heather was so sweet! Each treat was detailed to us to ensure it was all a-okay with my pregnancy requirements and everything was beyond delicious. Not only is this just such a nice summertime option at any point, but with COVID I've really become a huge picnic fan so love the idea of taking this out and enjoying with Matt or with friends or family as it's really the perfect treat for sharing with your bubble right now!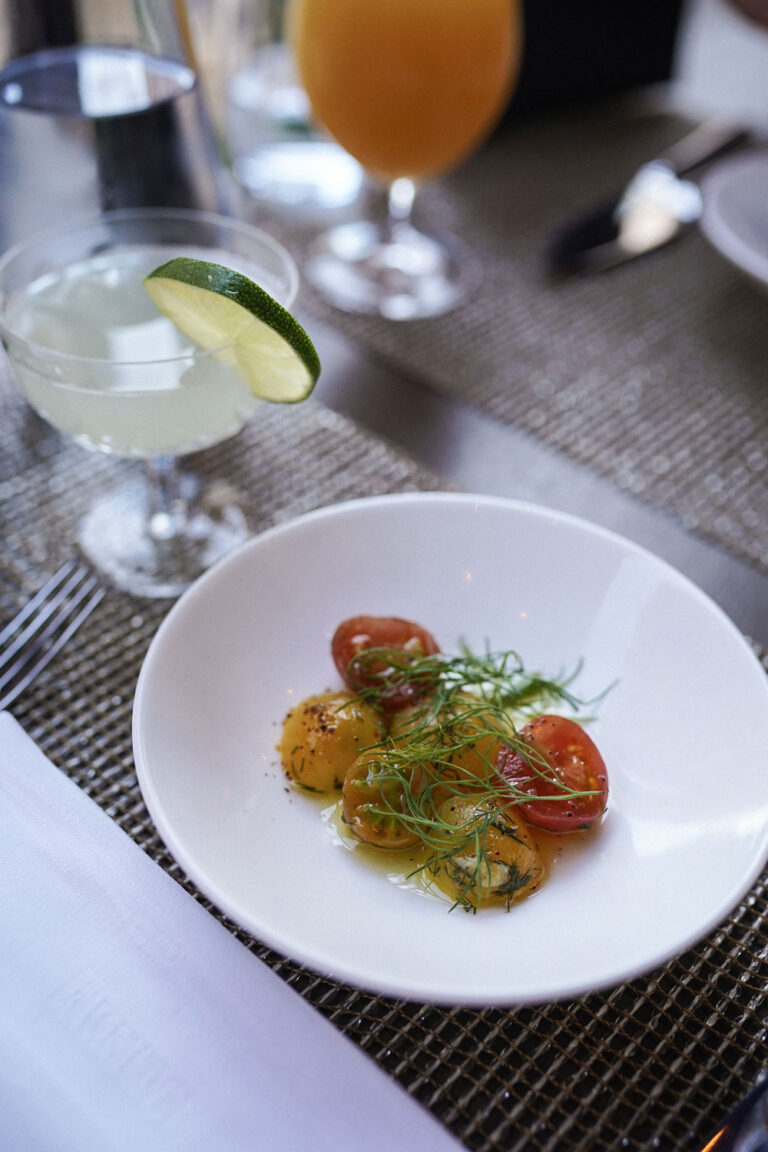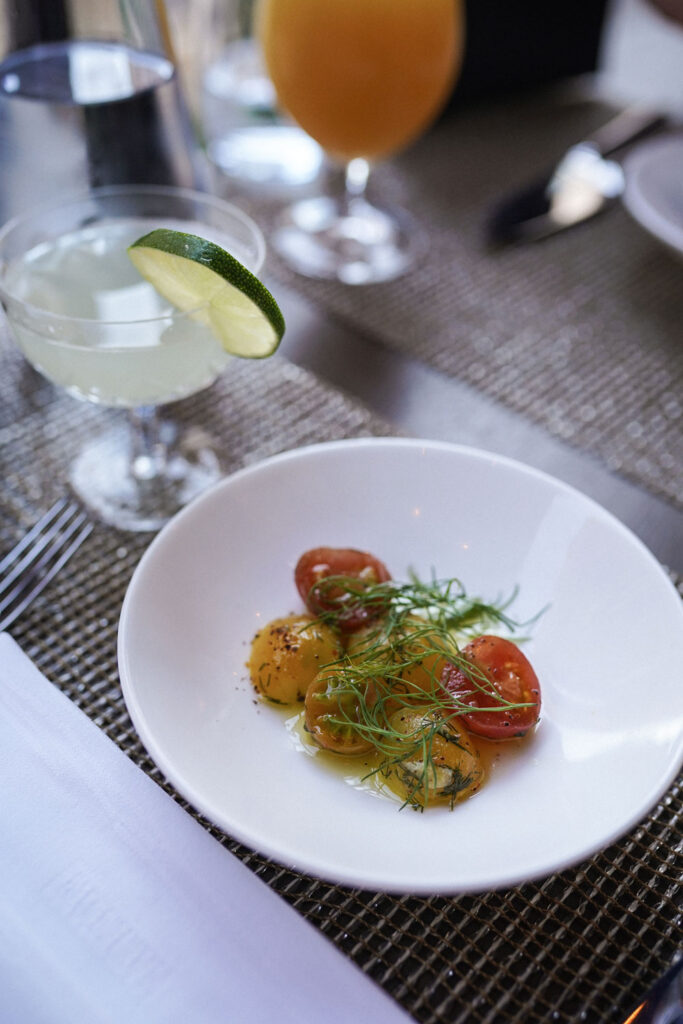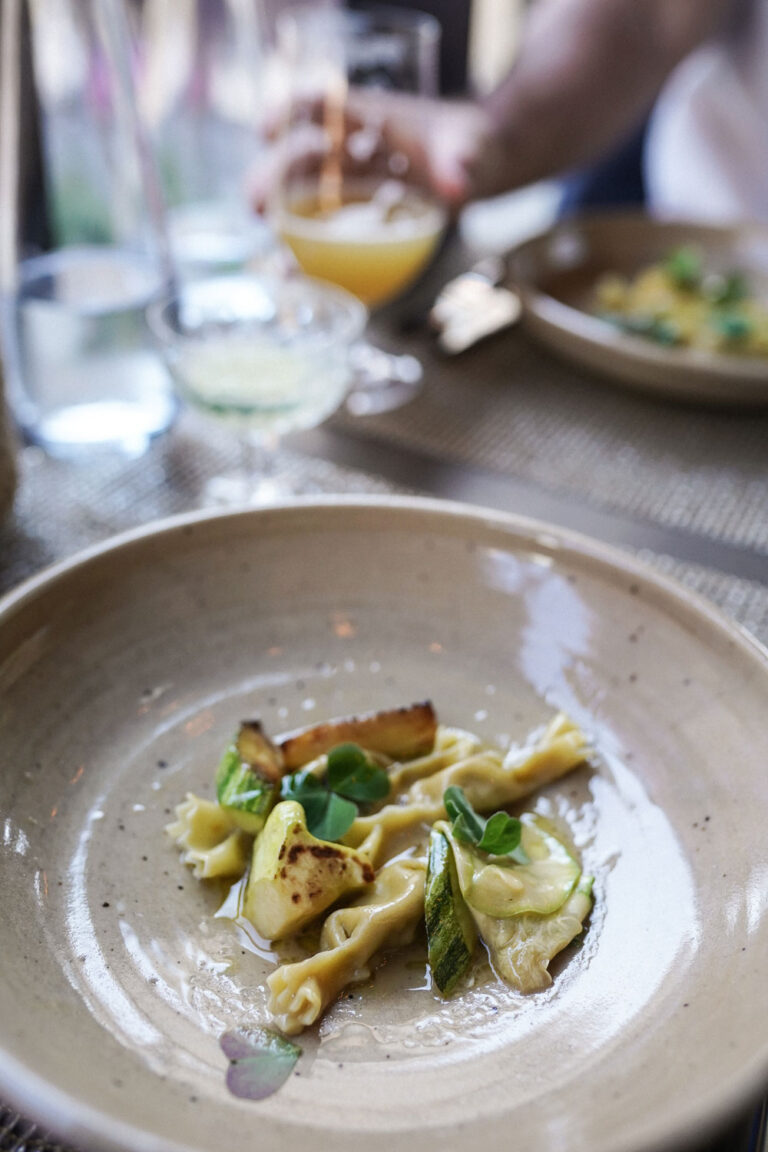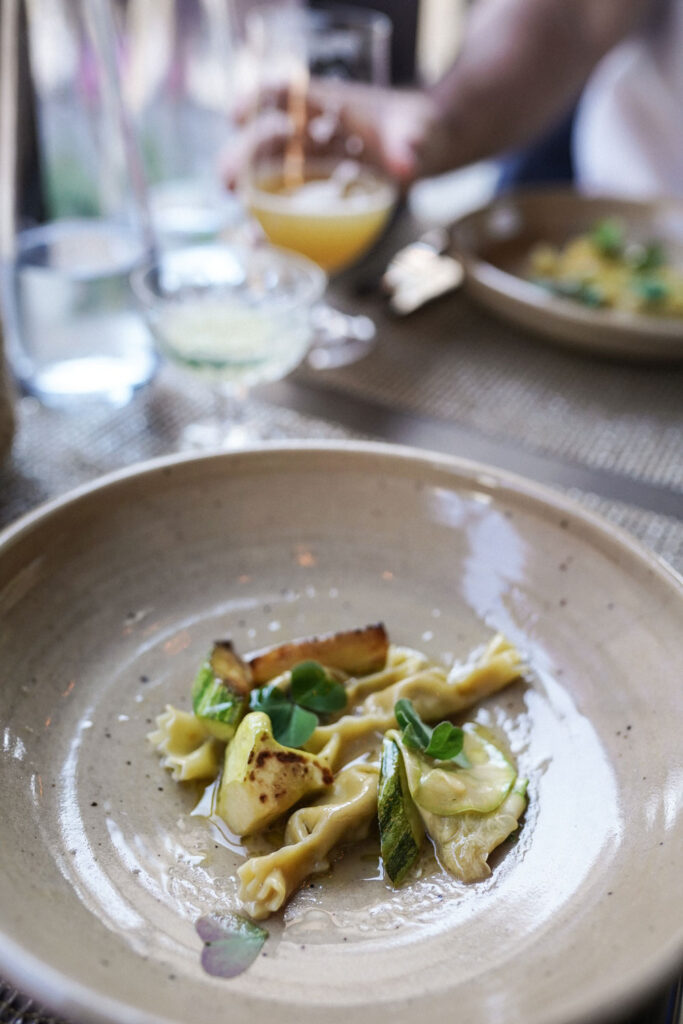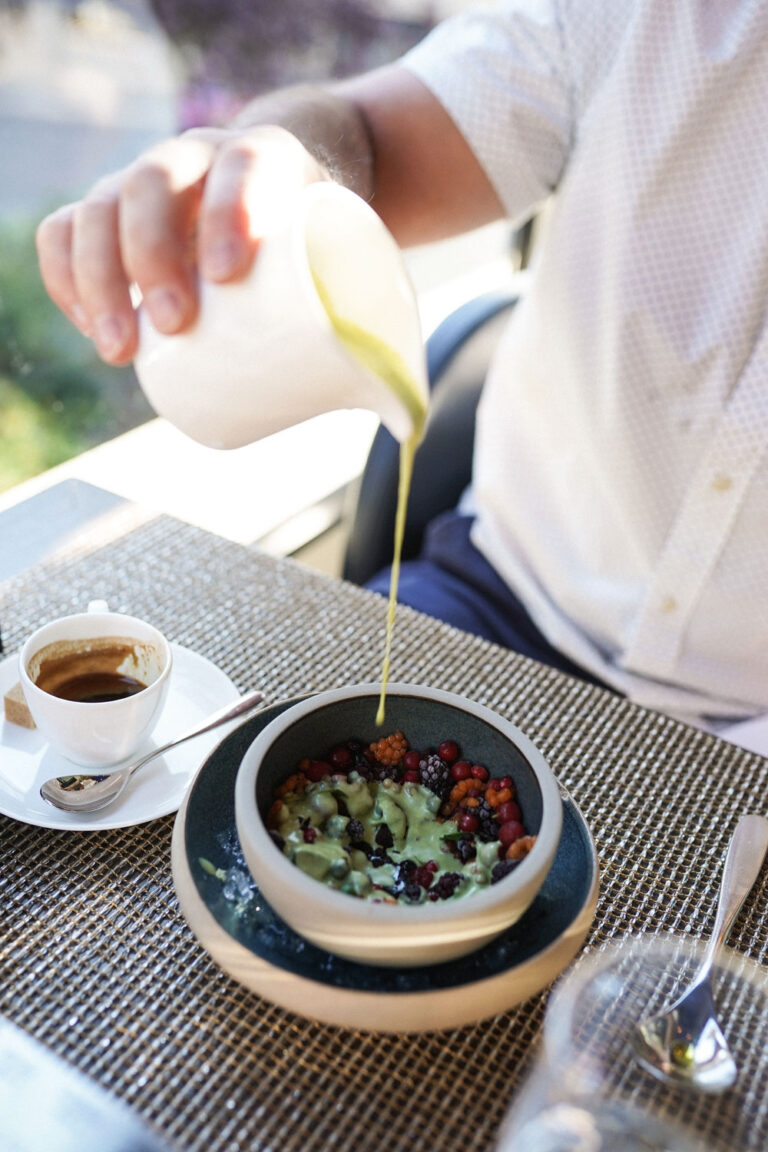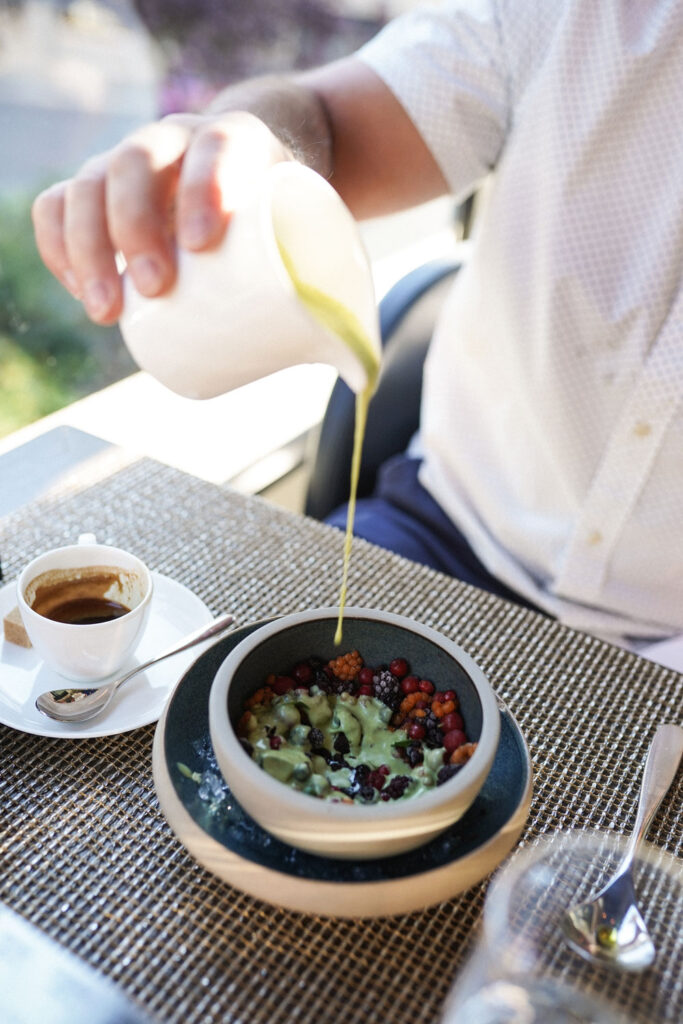 On our last night, we stopped by The Courtney Room which was remodelled a few years ago (we'd been beforehand and it was beautiful then but so gorgeous now!) and had yet another amazing al fresco meal on one of their beautiful patio spaces. We were treated to an amazing tasting menu, all modified to be pregnancy-safe for me (but Matt got to enjoy as is too, which was so sweet that they went to the trouble of researching and modifying just for me!). Truly elevated flavours and the presentation was beautiful. From our appetizer which featured local tomatoes bursting with summertime flavour to tender pork chops with pickled cherries to (my personal fave) our ricotta and truffle stuffed housemade pasta, everything was so delicious, locally driven and the thought/artistry behind it all was so impressive. I also especially loved our dessert, which was a locally foraged berry medley with basil, along with a cooling, creamy mint sauce to layer on top. So perfect for a hot summer day! And like FARO, seriously impressed with their non-alcoholic options—I'm a big gin lover, and they had a really similar alcohol-free spirit that they fashioned an amazing "cocktail" for me out of.
---
How to Get There
Part of the appeal of Victoria is that it's so unbelievably easy to get there from Vancouver—whether it's by air with Helijet or Harbour Air (a 30 minute flight) or by boat, you can leave in the morning and be there no matter which mode of travel you take within a few hours at the most. I actually love getting there by air but being a bit nervous with COVID, pregnancy, etc we opted for BC Ferries, which I probably use more than most anyone I know (other than my family)! While we make lots of island visits, it's going up to the Sunshine Coast where my cabin is that I take the ferries the most for (and this route involves two ferries to get to our cabin in Powell River). While COVID has slowed down the rate of visits to my cabin a bit this spring/summer, ordinarily I'll be on the ferry at least once every other week so it's a mode of travel I clearly love and am very familiar with!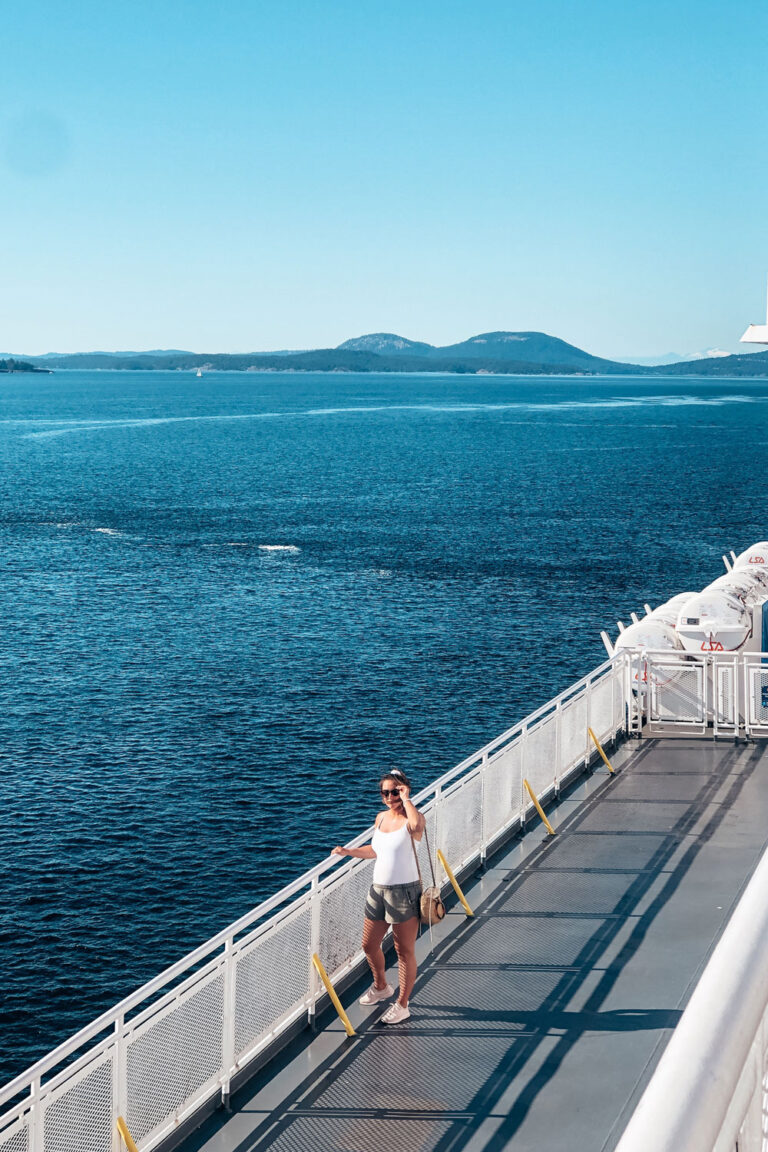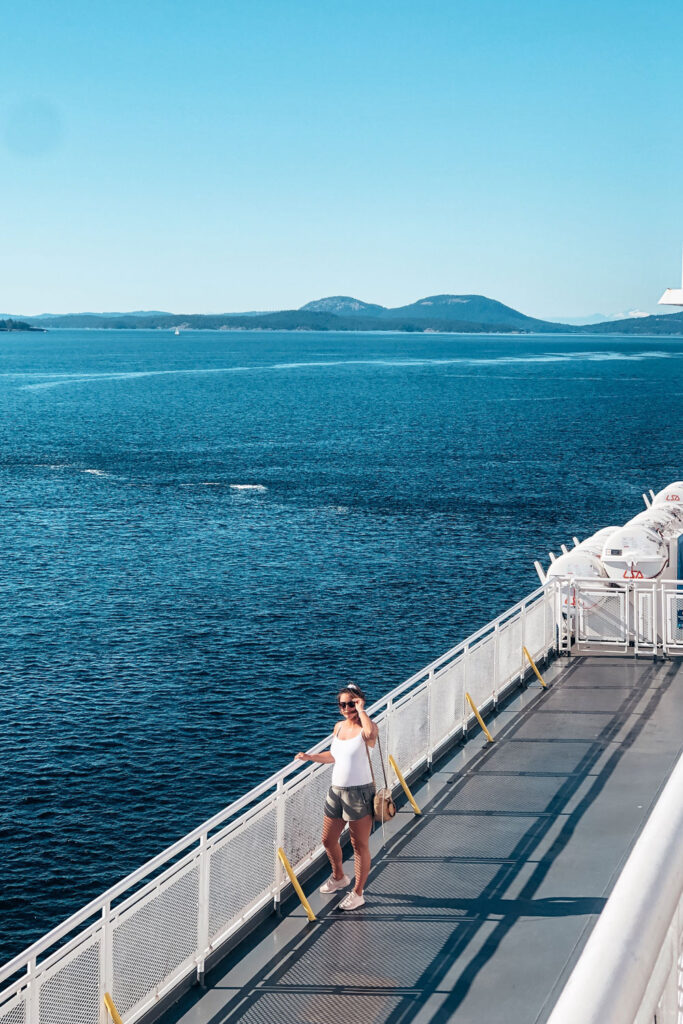 I've been really impressed with how BC Ferries has managed its very busy summer routes during the pandemic—I've only done one trip to my cabin since COVID hit, but both then and on this recent trip to Victoria felt really safe. Masks are required for all passengers, ferries are running basically right on time which is a huge feat given the extra precautions the company needs to take right now and all dining from in-terminal cafes to on board feels very safe and managed. Personally, I'm just a fan of wind, shade and being outside in general right now so nothing made me happier when the heat really spiked on Sunday then just finding a shady little spot for us to relax on the deck and letting the wind cool us down while taking in the insane views! We're so lucky to live where we do, and even if most of us are only exploring close to home, what a place to get to call home & see!
Thank you again so much to Tourism Victoria for such an unbelievable and special babymoon—a trip we'll remember always, and such a bright spot during what has been such a weird time! Was so amazing to see how the hotels, restaurants and just the city as a whole is ensuring that all visitors still have the most amazing time while maintaining really rigorous safety precautions. If you're thinking of a getaway at any point but definitely right now as we're closer to home (and you're a BC resident), could not recommend a little visit over to the seaside beauty that is Victoria enough.
All the photos in this post were edited with my Beach, Sunset or Decor Presets from the TVOB Presets Classic Collection.
---
pin me