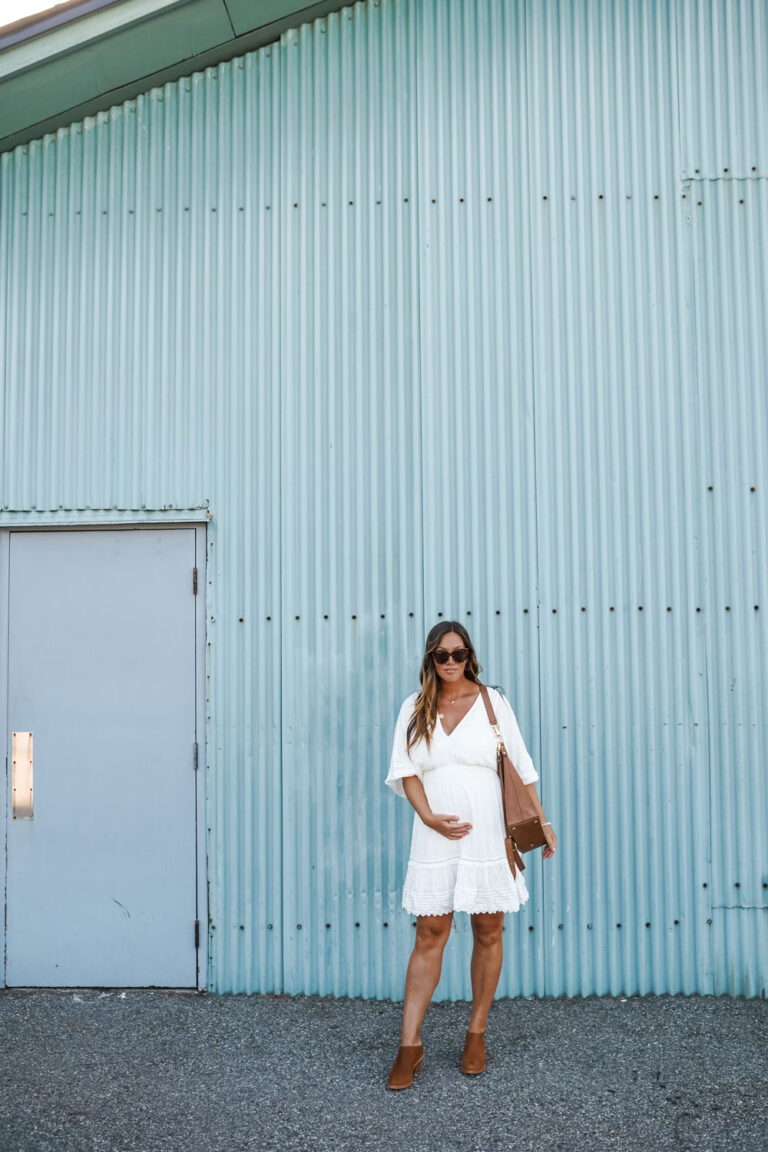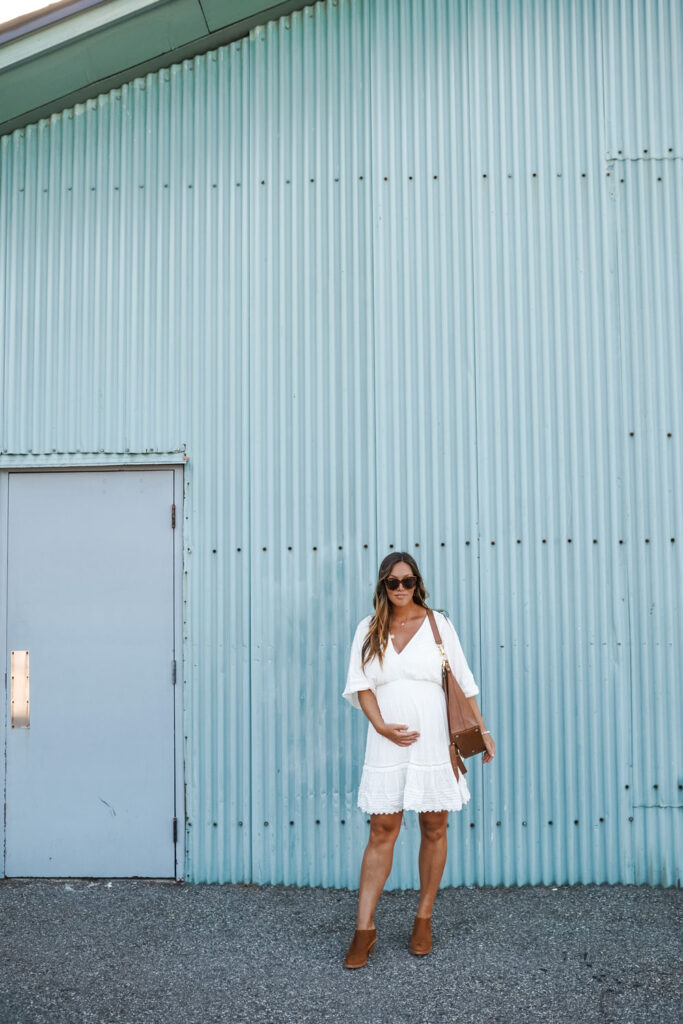 I never thought I'd utter these words in the summer, but hallelujah, we finally have a cloudy day today here in Vancouver! I am such a sun baby usually and live for the sunshine and summer vibes in general, but being just about in my third trimester at this point means that the summertime heat isn't exactly mixing well with the little furnace burning away inside my body right now (aka my bebe). I still have been loving our slow summer days exploring the city (since we're all staying closer to home this year), but I've never before placed such a premium on comfort!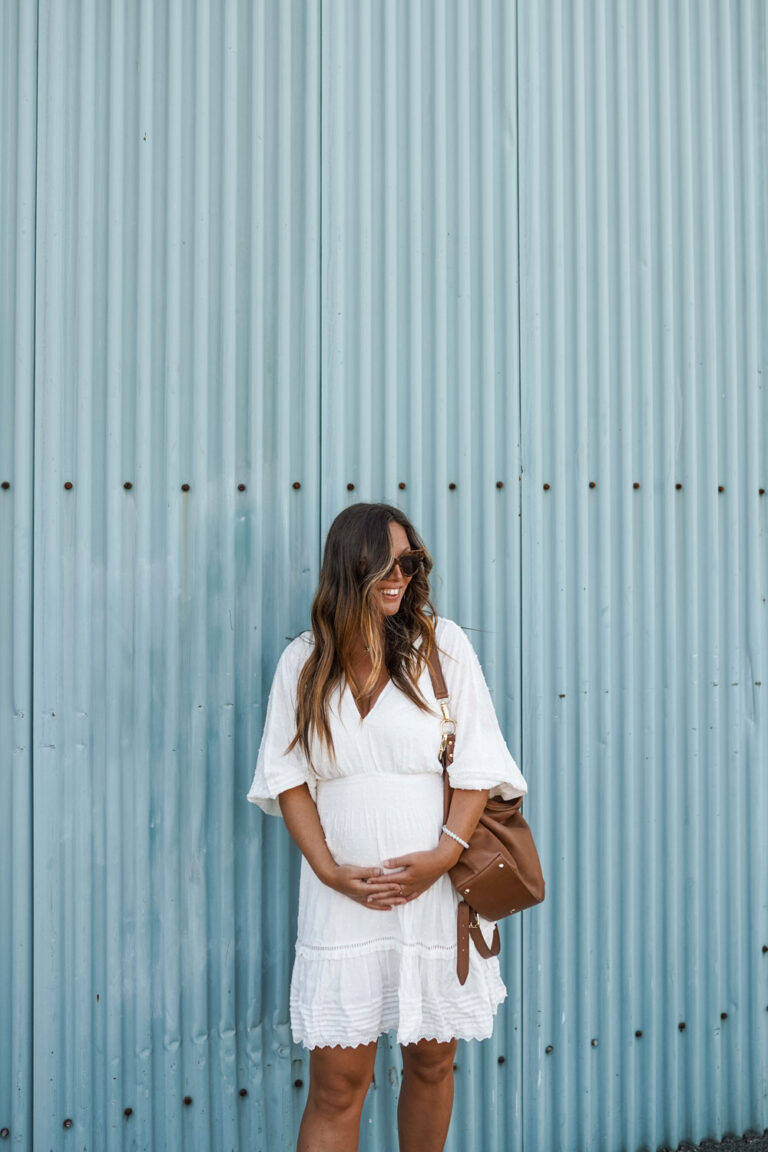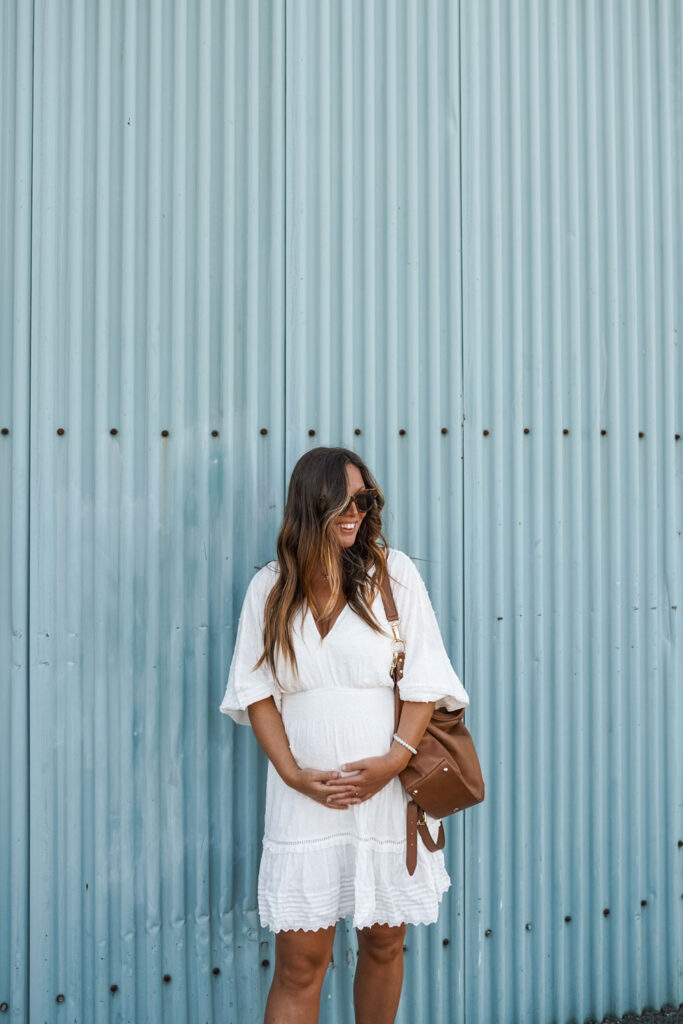 Having said that, as you guys know from my earlier maternity style post this summer, while I'm all for comfy maternity style, I really still want to feel like myself as well, and feel chic and pulled-together even as I pivot my style a bit for my growing bump. I wanted to share two effortless summer looks that would work for anyone (pregnant or not), but that are very much bump-friendly for those of you also expecting, or looking for that added comfort postpartum.
---
Boho Dress + Mules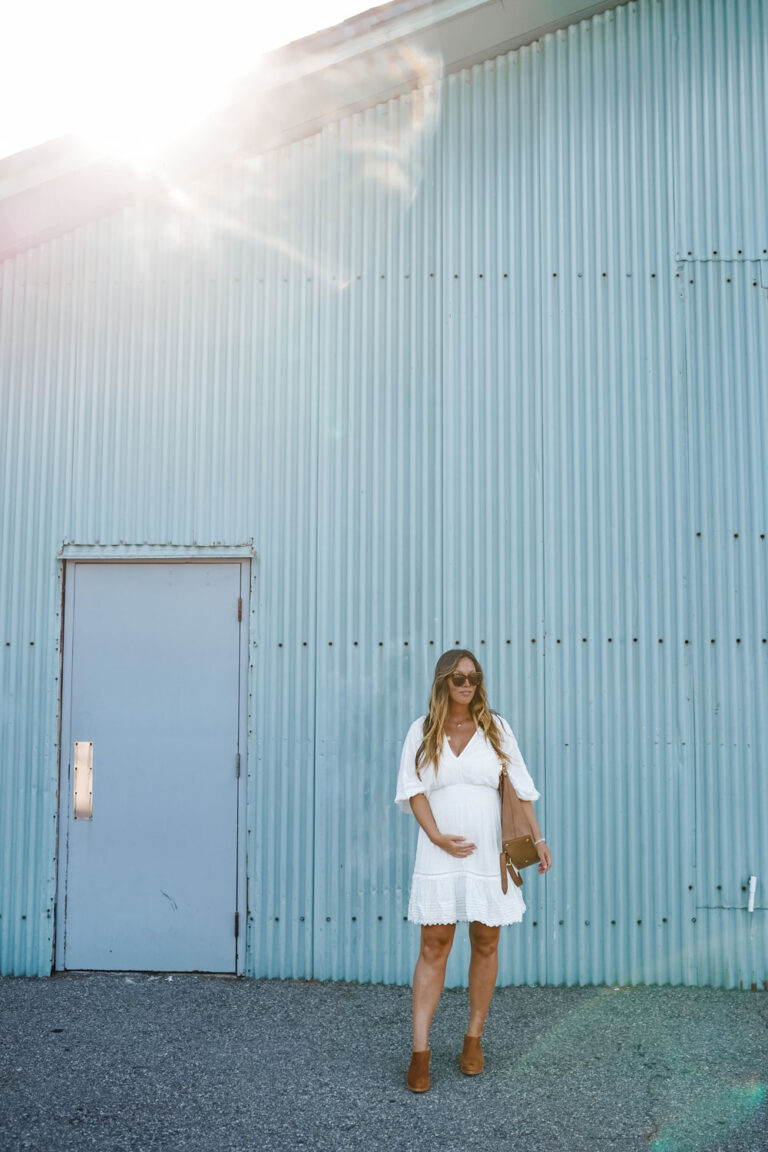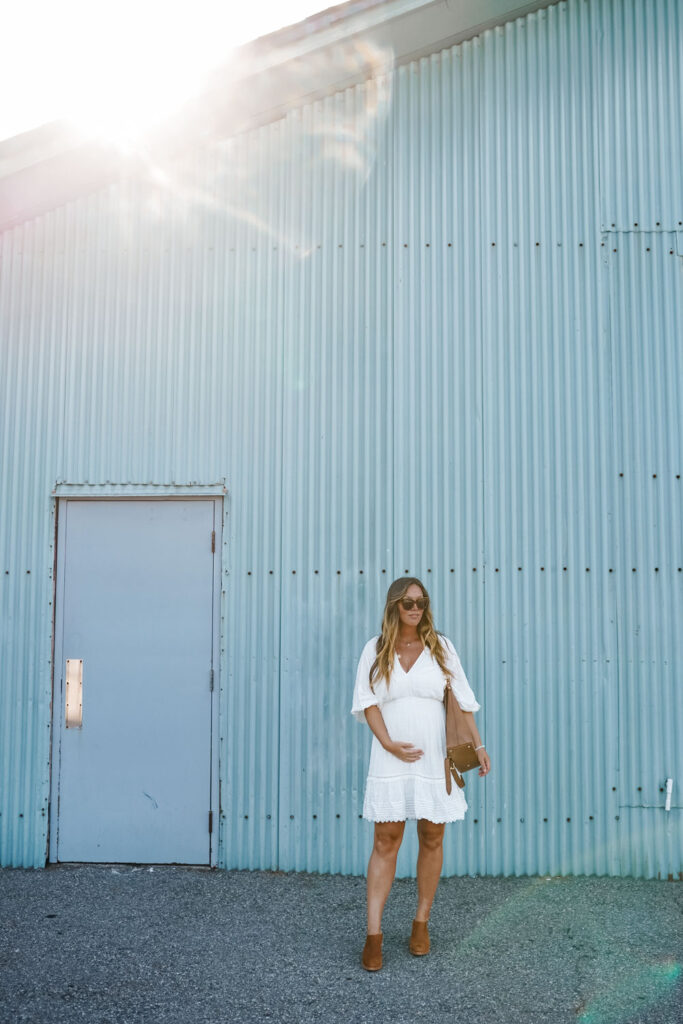 I actually wore this dress in my announcement post! It's a little boho number I picked up from local boutique The Latest Scoop and it will obviously always be precious to me because of the very special occasion it was used for, but while it's precious to me, I'm not generally precious with my clothes (if that makes any sense) and love to style things on repeat that I'm loving so knew this would be making lots of appearances this summer. The elastic waistband (key for comfy & effortless maternity style that isn't actually "maternity style," i.e. maternity pieces) is what makes it so workable, plus the generous cut through the body, the chest (as I'm really expanding in that area, woe to me & my poor back) & through the arms, which is so needed in the summer for a breezy flow!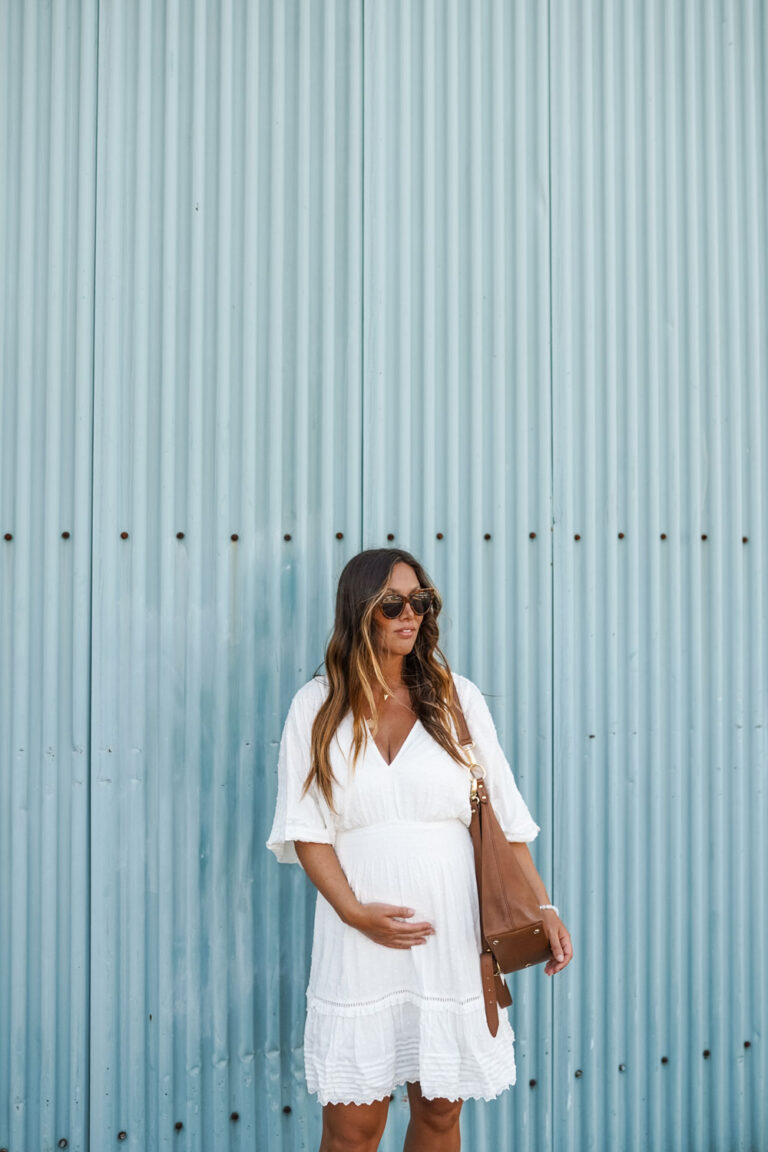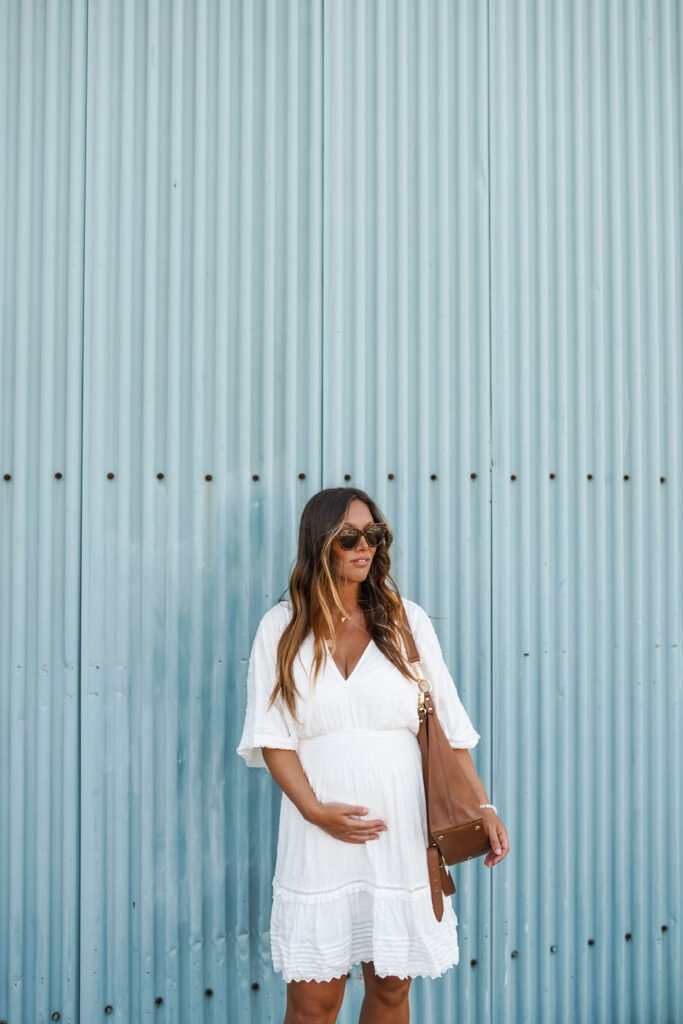 As you guys already know if you've been following me for some time, I'm such a huge fan of Canadian label Poppy Barley so while I'm being careful with heels while pregnant because I don't want to exacerbate too much hip/back pain, they're such a trusted source for quality, comfort and ethically produced footwear that their pieces are a no-brainer. They work with artisans in Mexico to bring style, ethics and comfort together and there isn't a piece of theirs I own that isn't in my heavy-rotation category. They're also having their annual summer sale so shop it before pieces sell out! Anyway, their very coveted mules (seriously, these guys sell out like crazy) are the perfect all-season piece, but I am loving them for the summer as they pair so perfectly with all my relaxed, boho pieces.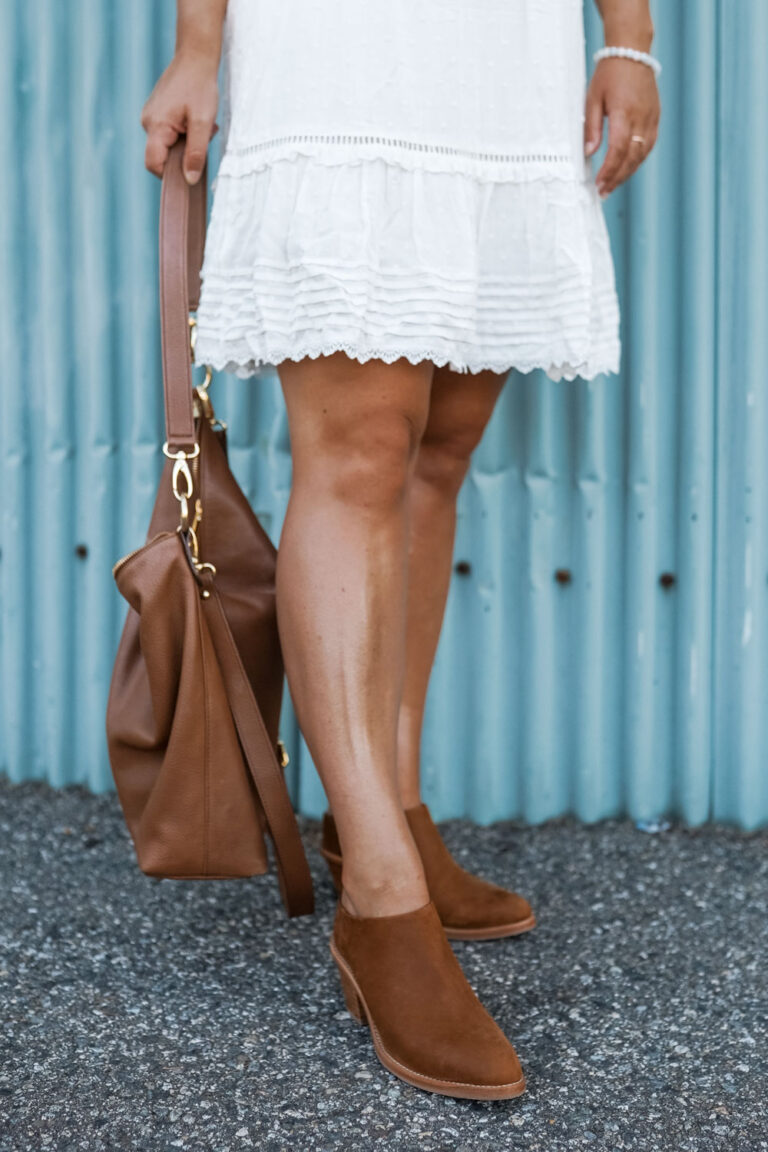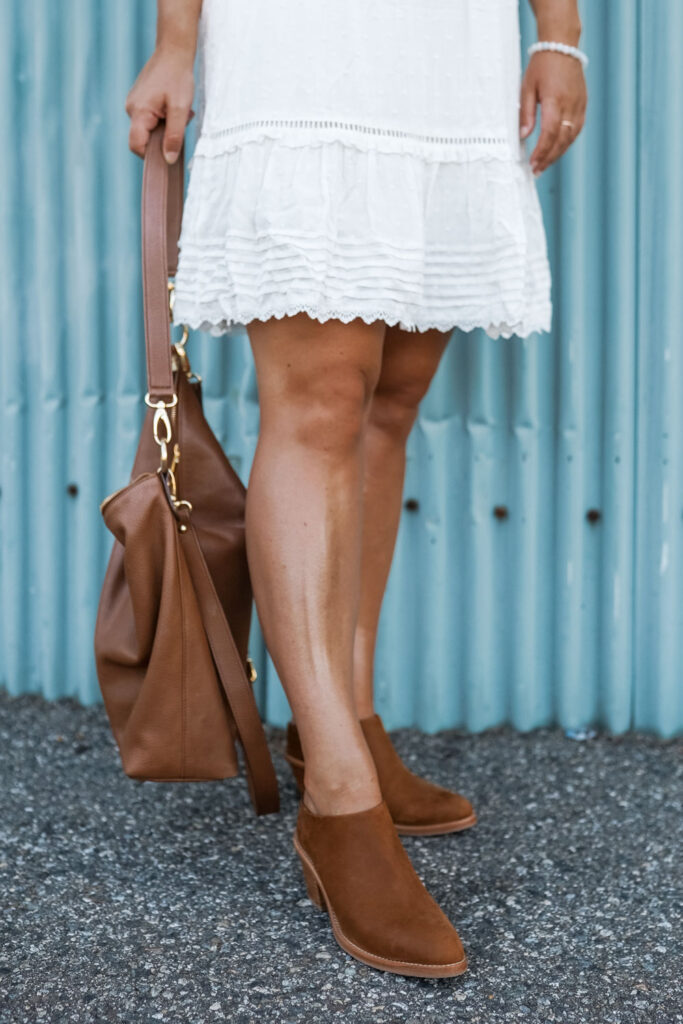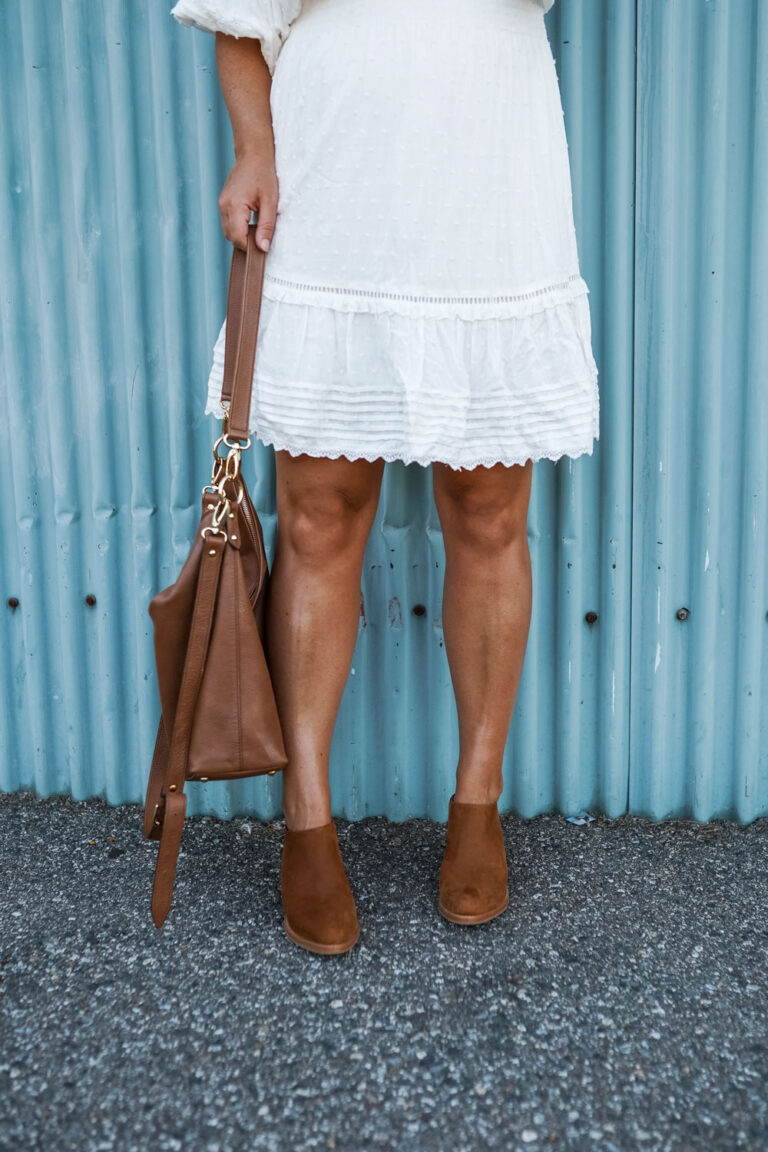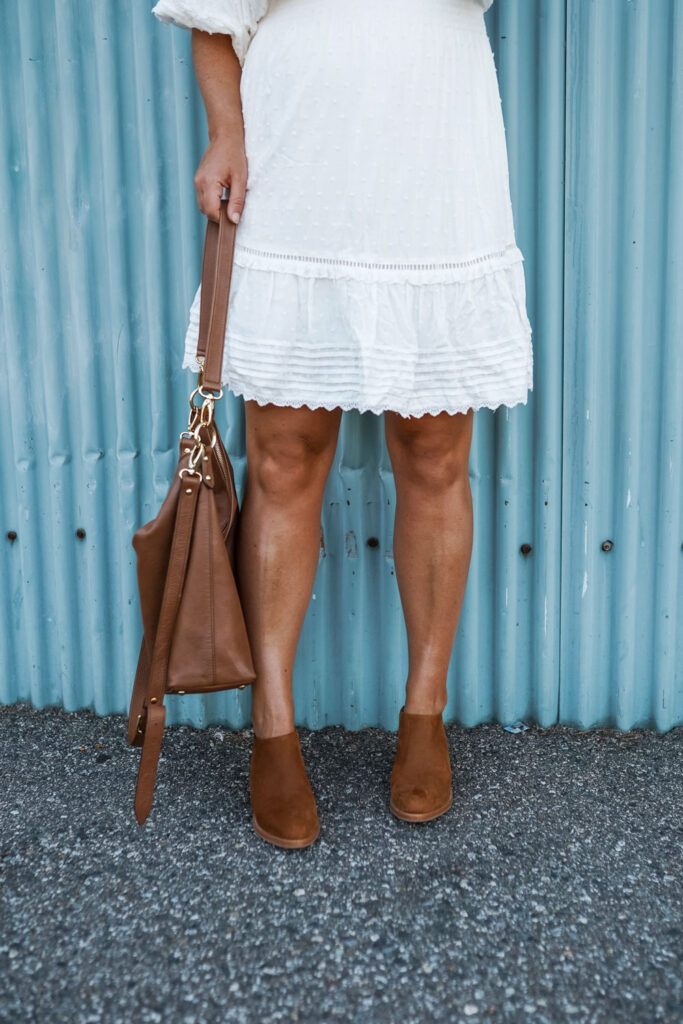 I got them in the desert tan tone as there's nothing like that warm brown tone with a good mid-summer tan and crisp white pieces. Layer some gold jewelry on and you're set! They are actually the comfiest shoes with their stacked heel, I could last all day in them even now! They're also so easy to slip on and off, which is key because I can only imagine getting up from a seated position to put on shoes will be a bit harder later into my pregnancy and don't really need to add in the strain of hard-to-squeeze-into shoes.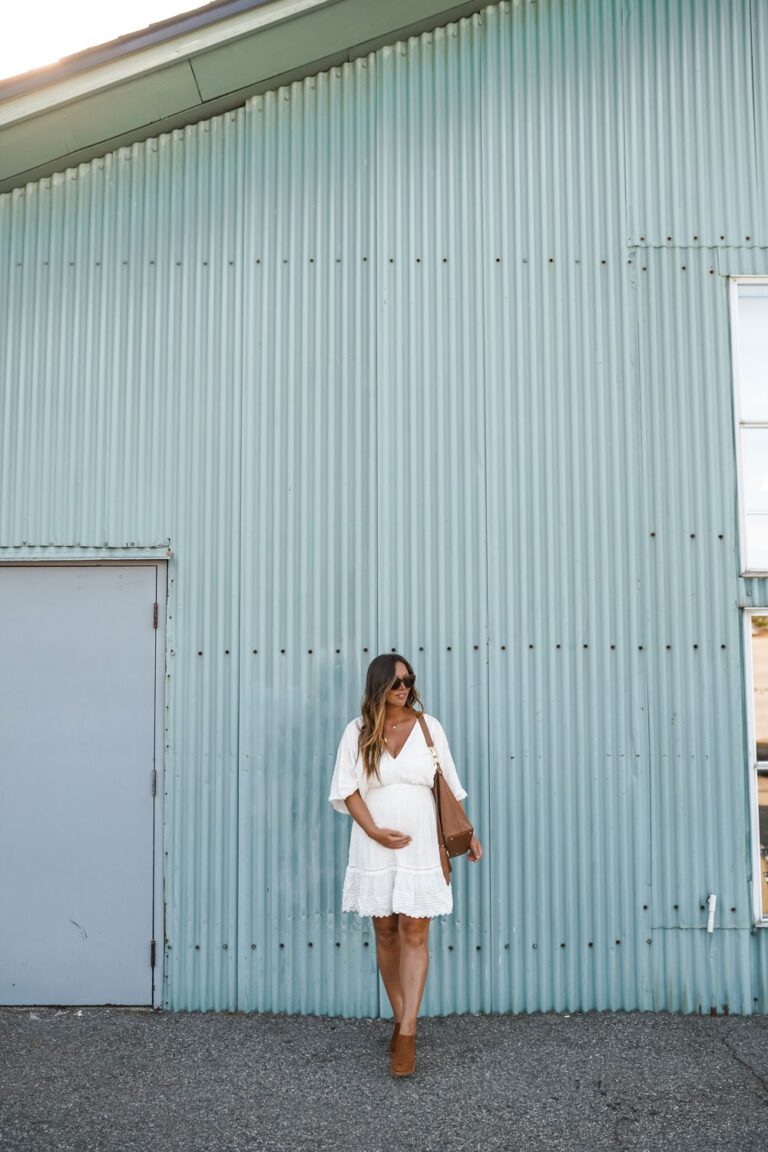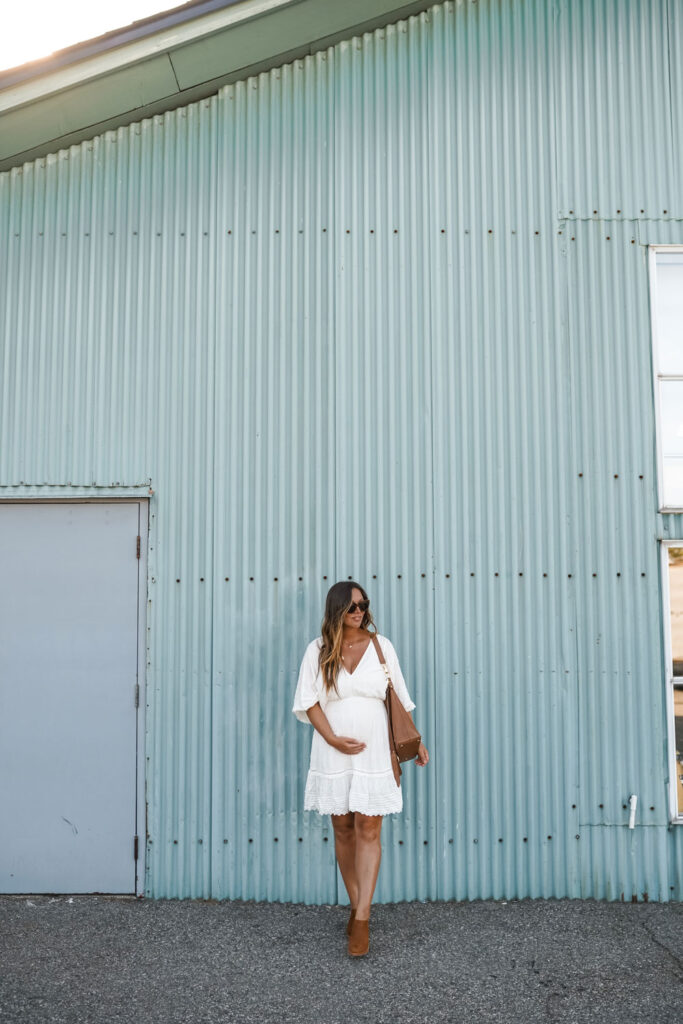 I've been lucky so far to not have too much foot swelling but as I mentioned, I am just rounding the corner on my third trimester so that could very well be in store for me later. These are so unbelievably comfy though I can only imagine they'll keep my feet happy as we transition into fall, when they'll be perfect with jeans (likely maternity jeans at that point), sweater dresses, etc. Also thinking ahead to when the baby's here, these are actually shoes I'll be able to chase him around in when the time comes. An essential for any closet, for sure, come summer, fall, winter or spring.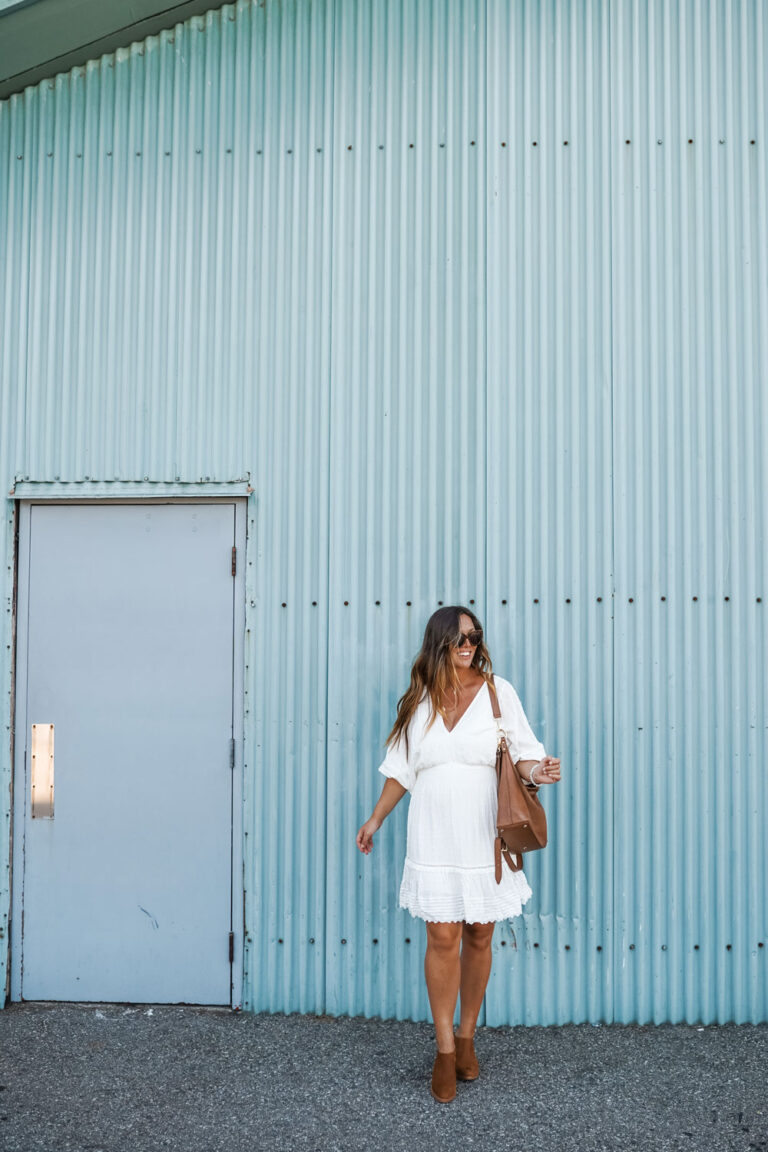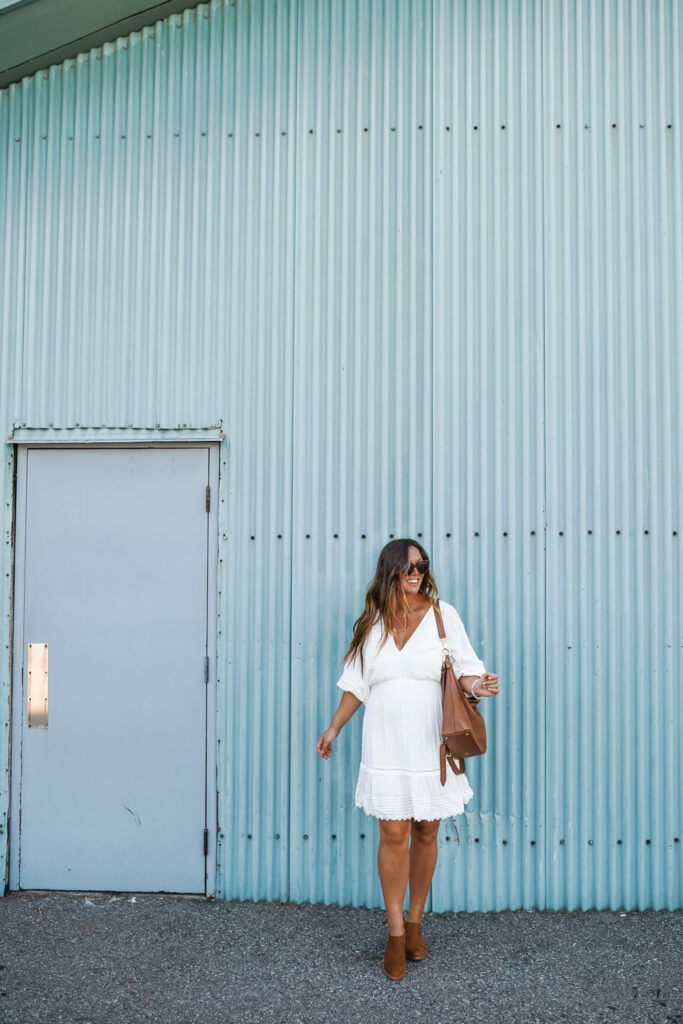 I also have had this Hobo Tote (also in desert tan) since this winter and it's easily my most-used all-season bag (you can see it styled up here). It just fits everything, whether that's my laptop for doing some quick work at the studio in the winter (which I've been missing as I haven't gone in since COVID started), or packing up a Turkish towel for shady visits in the park, which have been on heavy rotation all summer. It's also a cross-body which is so key for me as a frequent traveller, since I want to be able to keep all my things safely at the front of my body. Again, thinking later this year for baby, I'm sure I'll need all the hands-free accessories I can get and know this will be one I'll use all the time (though by that time it'll be stuffed with diapers, bottles & soothers!).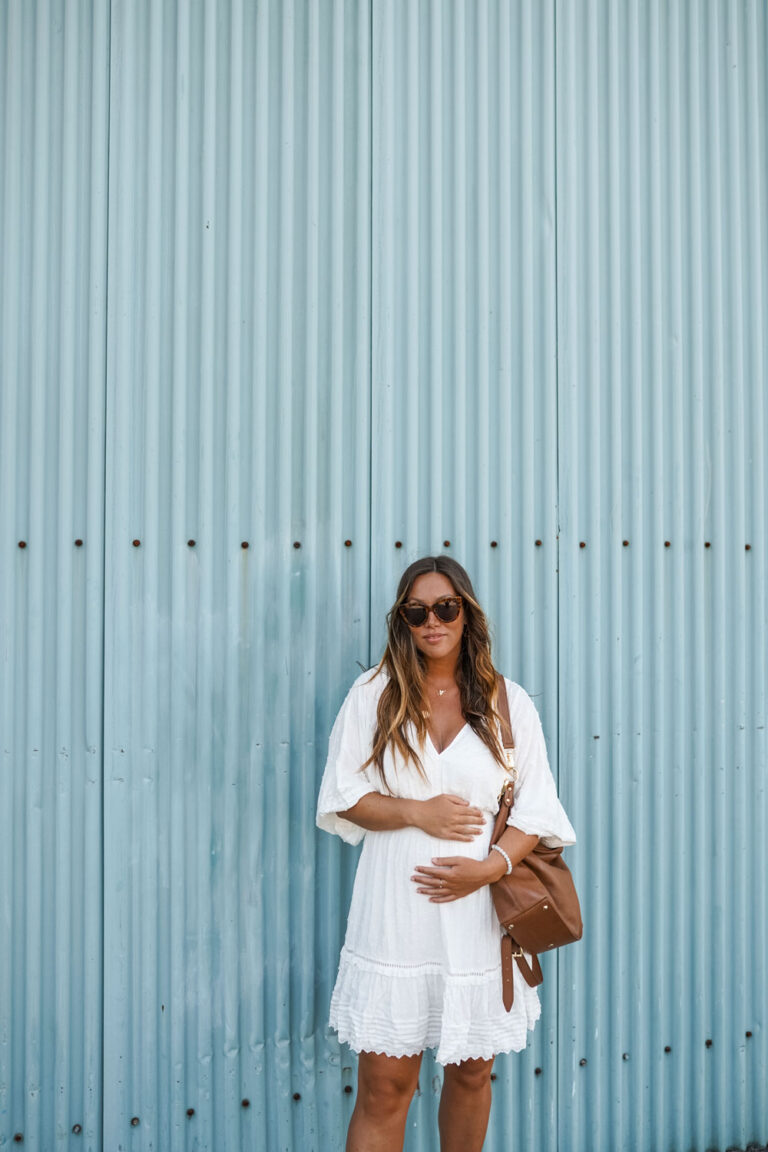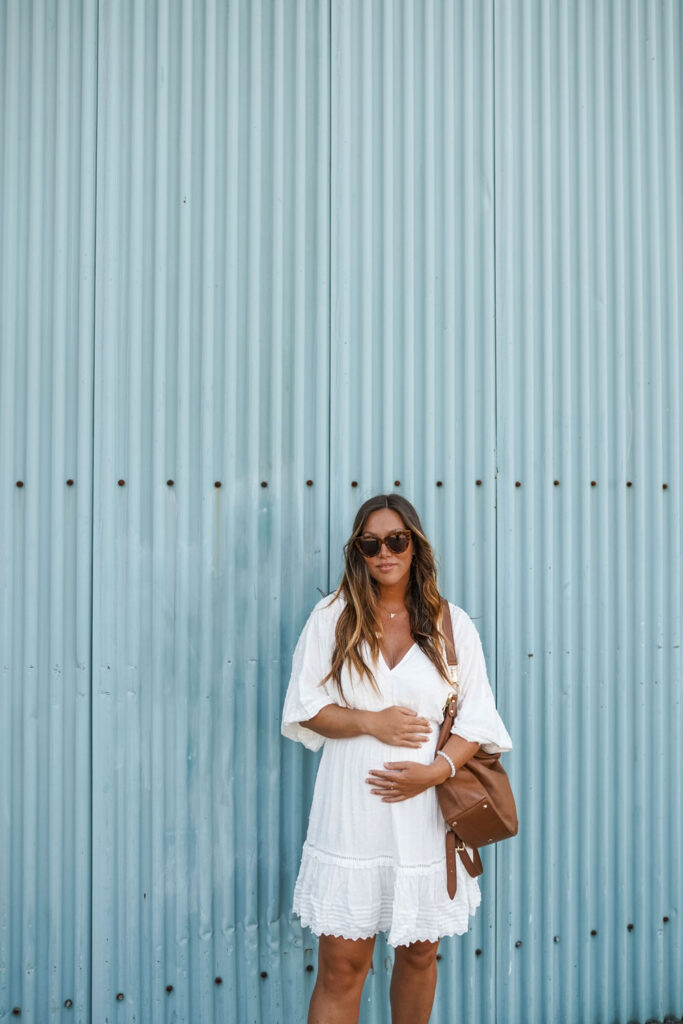 Gold jewelry is always my go-to but it's especially perfect in the summer with these warm weather tones and pieces—everything I'm wearing here is Sarah Mulder, a local designer who creates collections that make me literally want to snatch up every last piece. Especially since I'm focusing more on stretchy basics that will transition into next summer, feel like there really is no such thing as too much jewelry right now because it just really helps elevate an otherwise stripped-down look, so layering her necklaces, hoops and rings constantly!
---
Shorts + Sleek Sandals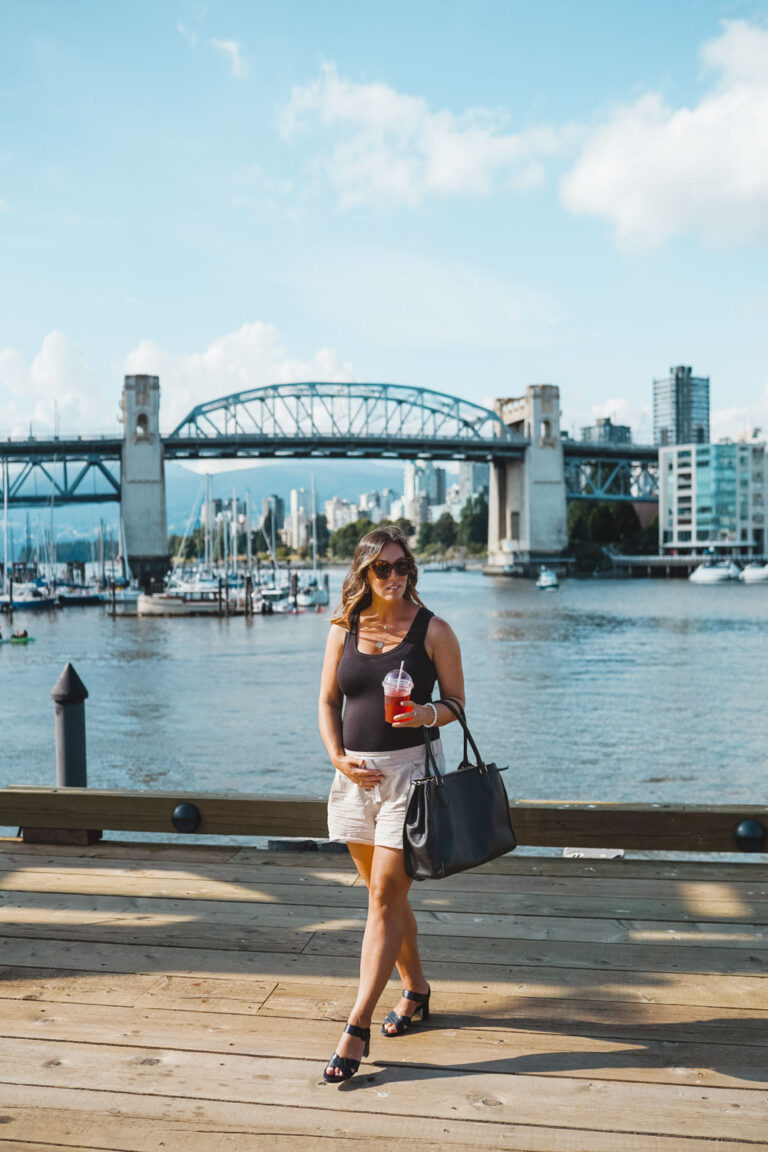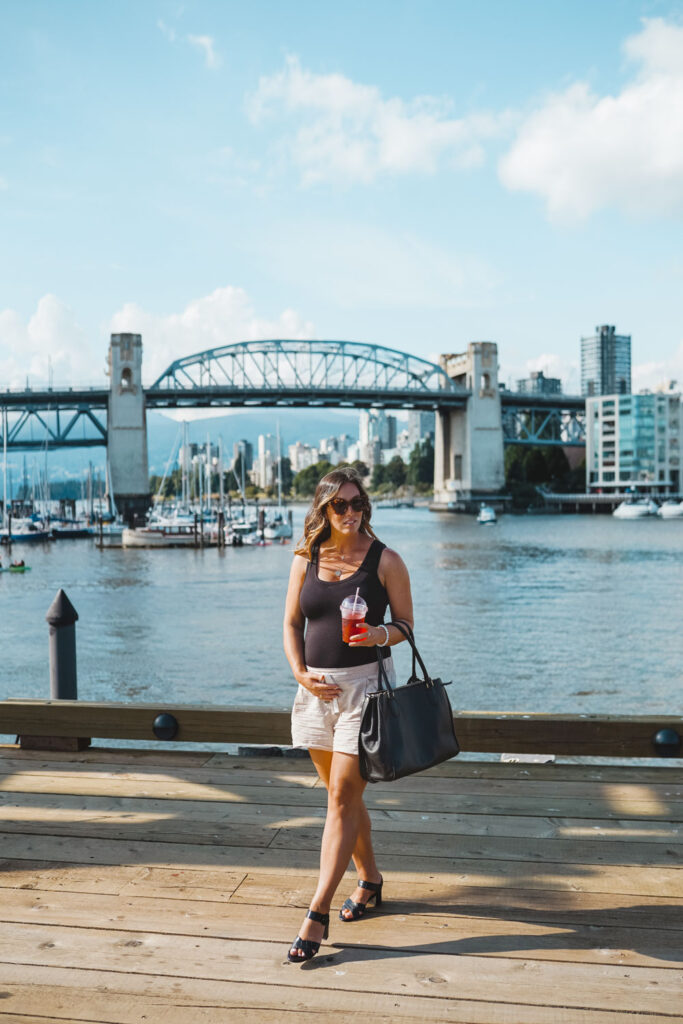 I styled up these Joe Fresh shorts in my last "maternity style" post (I use maternity style loosely because I honestly would wear all these outfits pregnant or not, they just happen to work well with a bump!) and I'm so obsessed with them. Again, the elastic waistband comes to the rescue! So essential to look for waists with generous stretch, particularly because as any pregnant woman knows it's not like your waist grows gradually—you can go to sleep, wake up the next day and discover your baby/bump is a whole new size. I find I grow in leaps about once a week or every two weeks so while a button extender or something along those lines is helpful, it's really the stretch that's been key for me.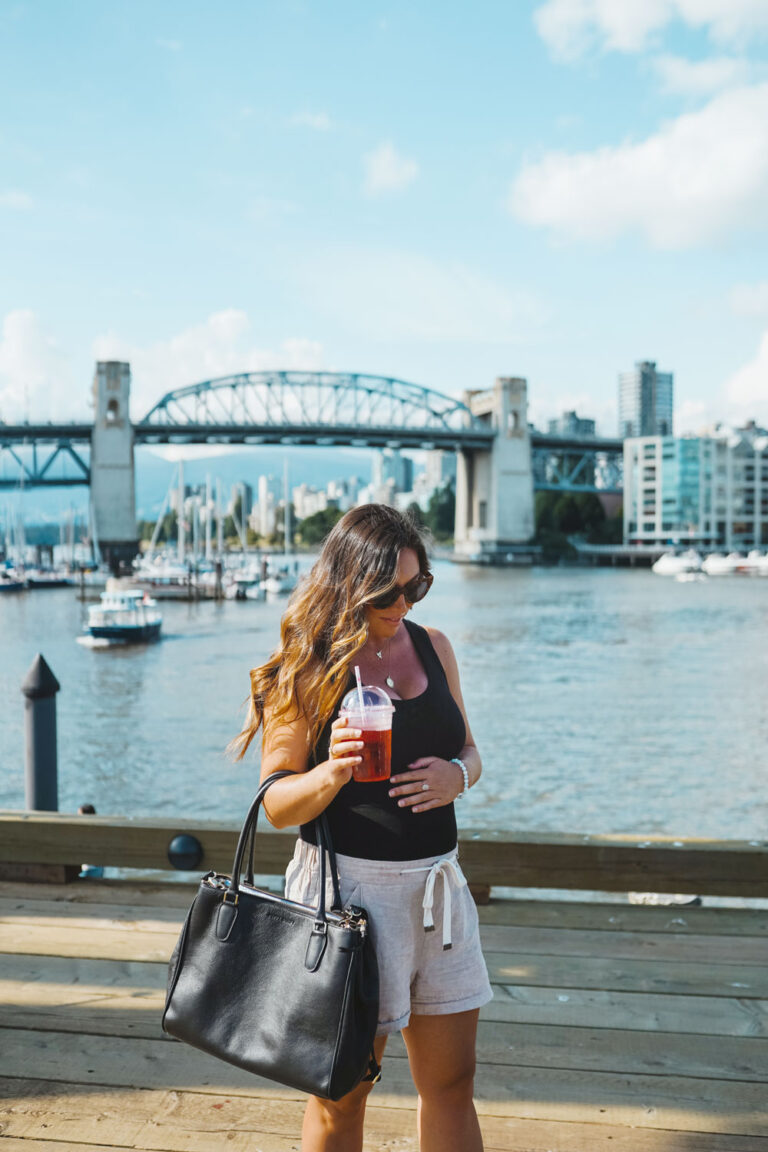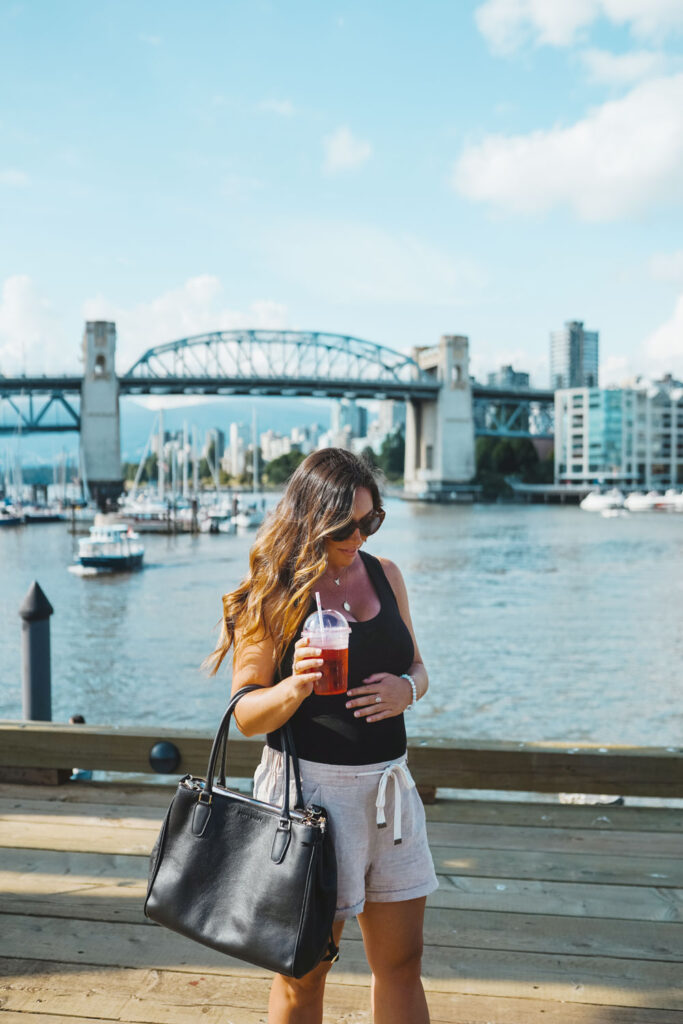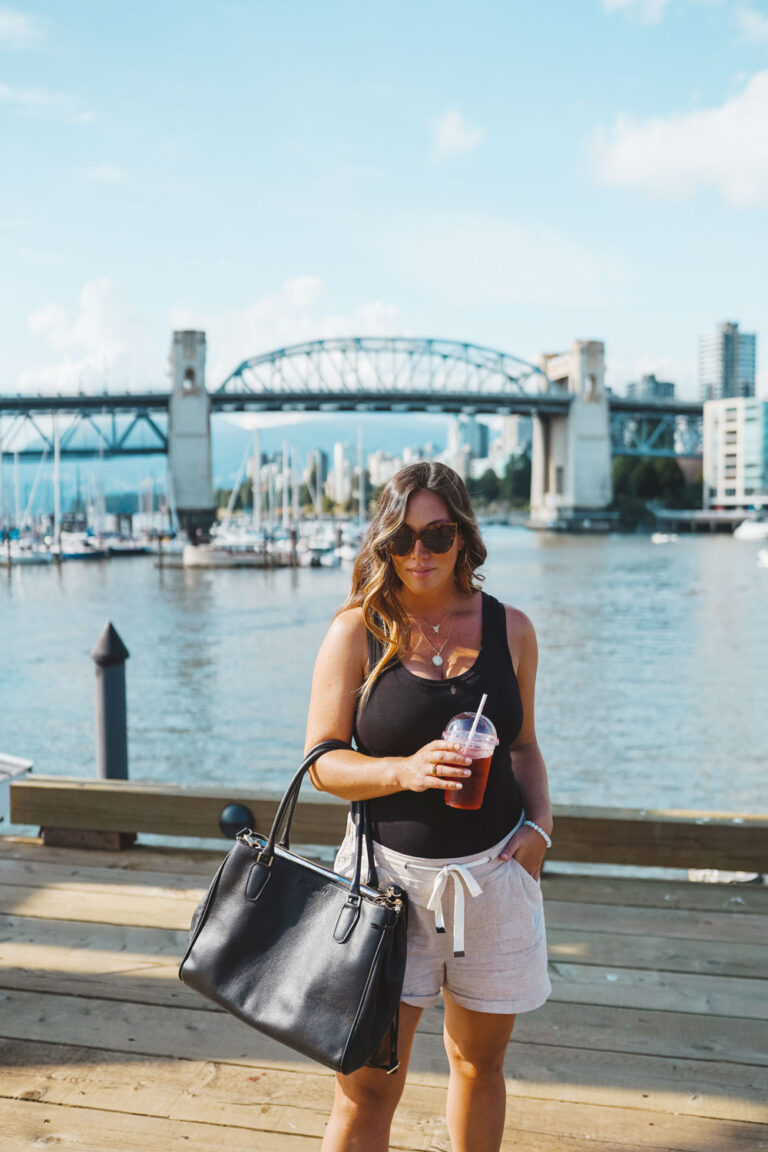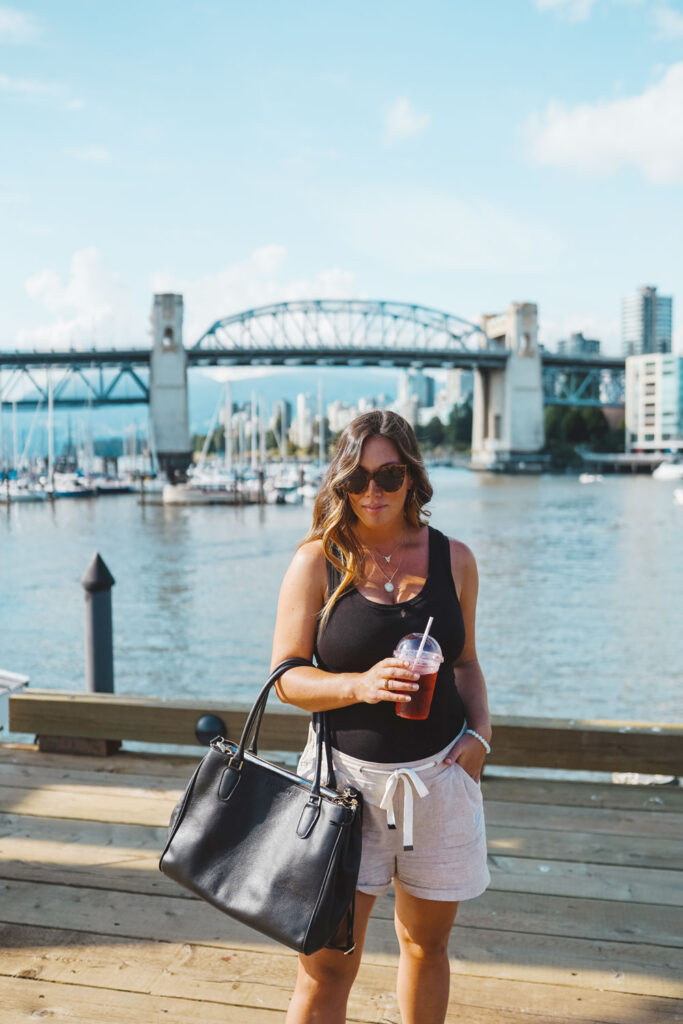 Speaking of stretch, I recently got a ton of just basic tanks, tees, shorts, etc in just plain black & white with lots of stretch in them. I sized up (I'd usually wear a size S in basics like this but got them in a M), which just means I'll have some comfy basics to wear all next summer for layering, at the cabin, etc. All my cute strappy, structured or cropped tops are going into storage until next year…stretchy basics I can wear on repeat with a ton of different outfits are where it's at this summer. While adding in just a basic black tank makes for a more pared-down look, adding in really killer accessories helps elevate it all instantly.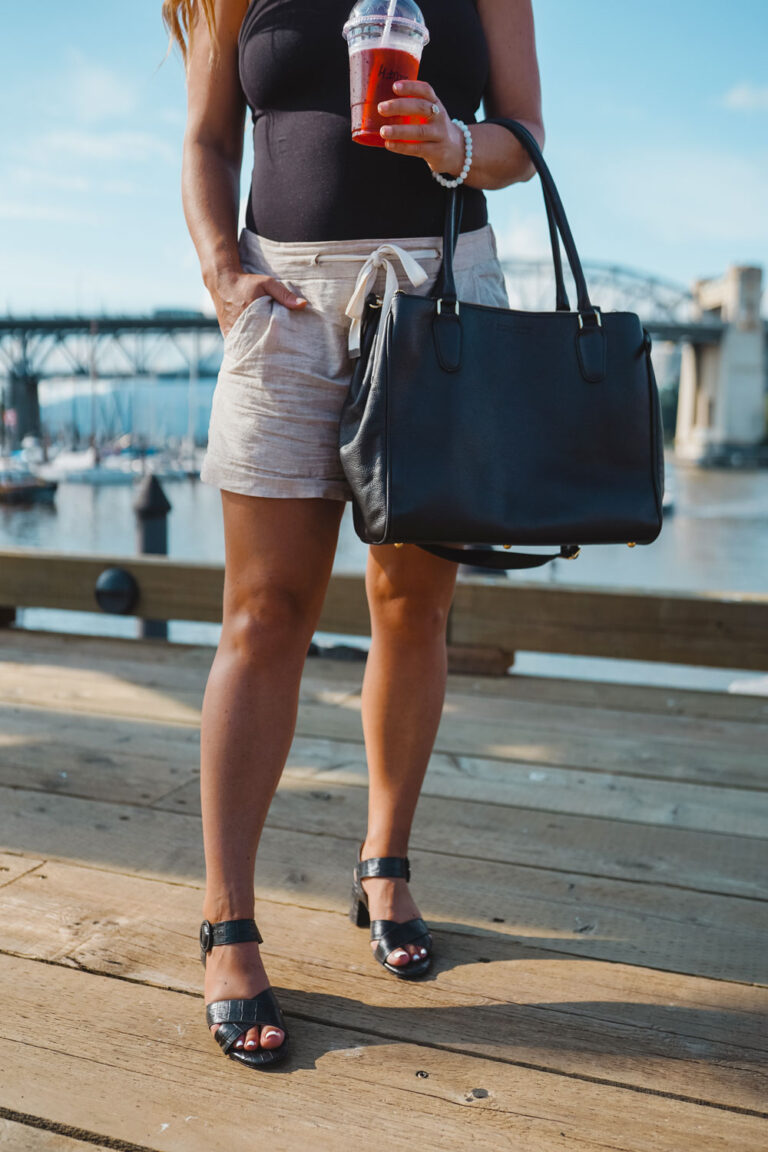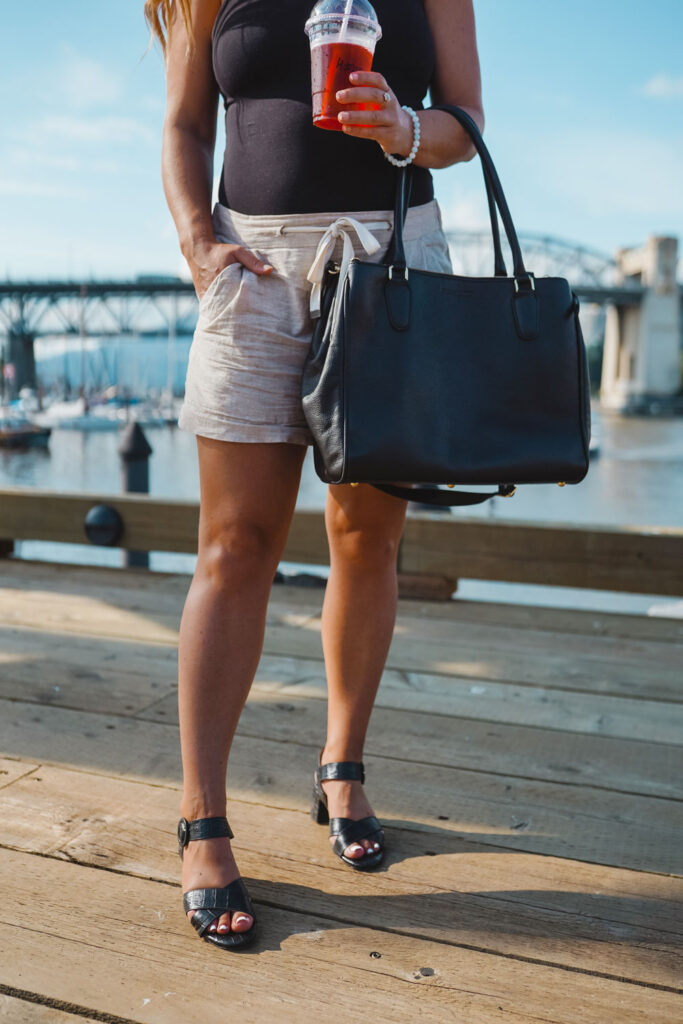 The RSVP Heeled Sandals from Poppy Barley were literally the missing piece in my wardrobe—I don't generally wear a lot of black, but the black croc is just so luxe and chic, and given that I'm going for a lot of essential tones like black or white right now, just creates such a streamlined and stylish look when paired with these basics! They are beyond comfy and the heel is the perfect height to elevate a look without sacrificing comfort. One thing about Poppy Barley in general is just that all of their pieces are so beyond comfortable, something you particularly appreciate when you're preggo in the summer! Oh, and did I mention the sandals are currently on sale? They come in this luxe black croc, as well as leopard and metallic champagne.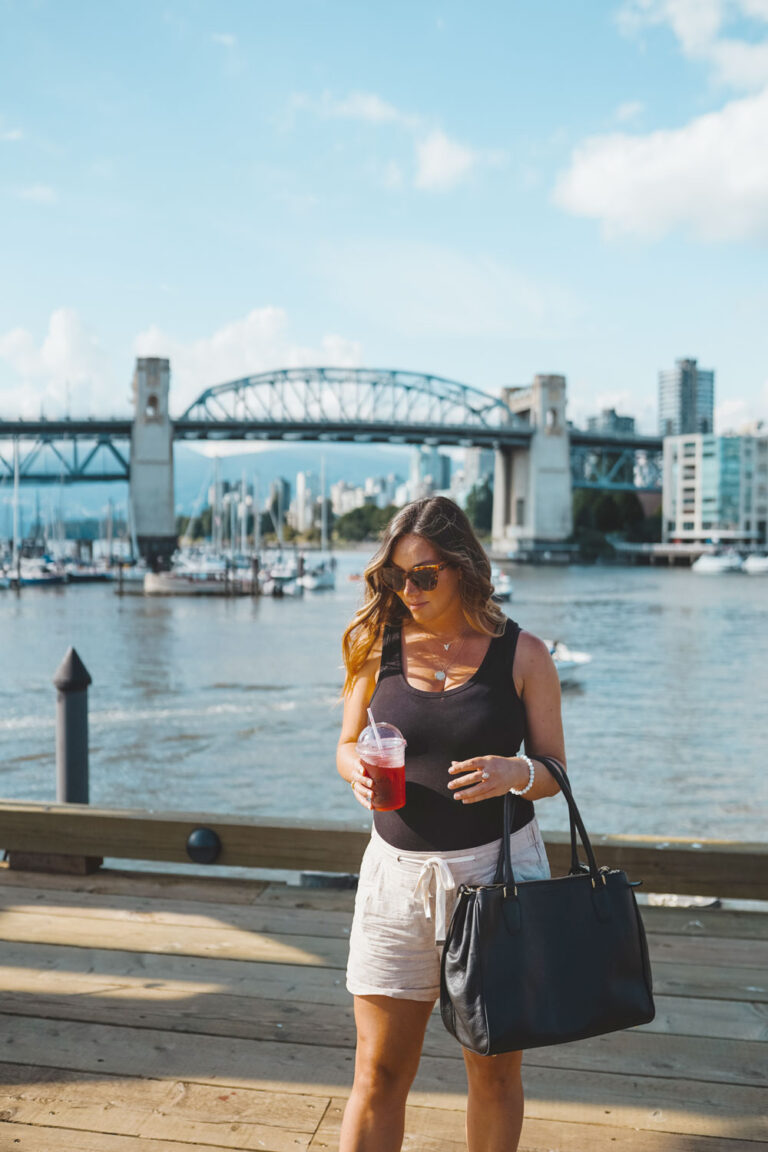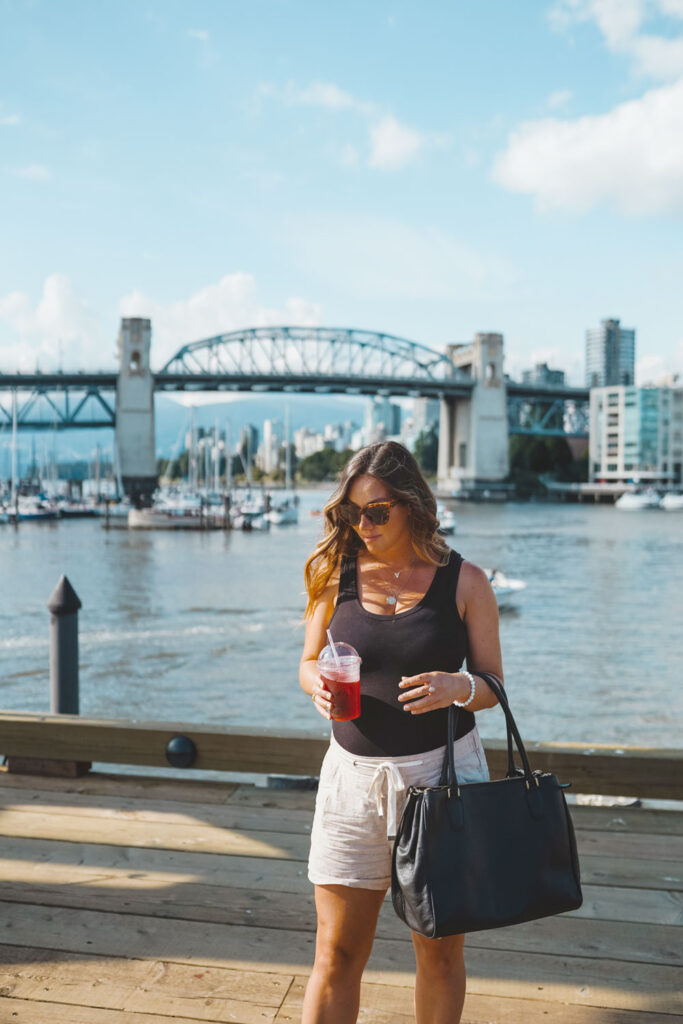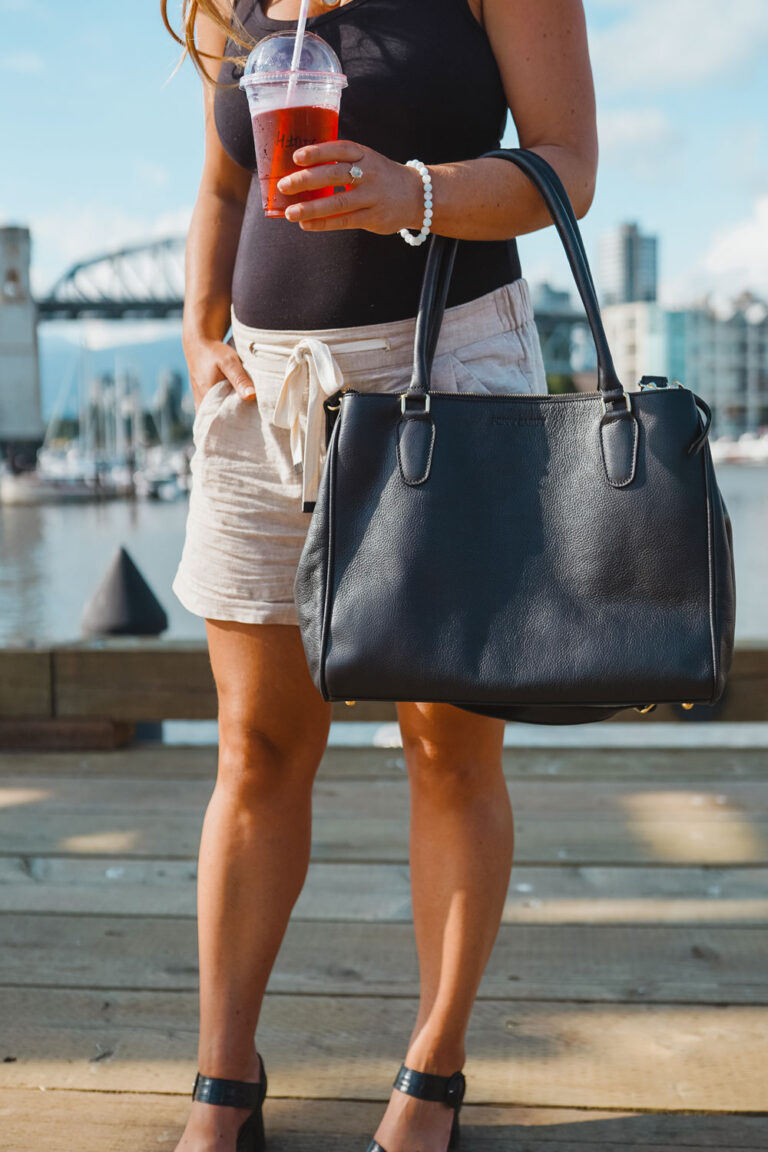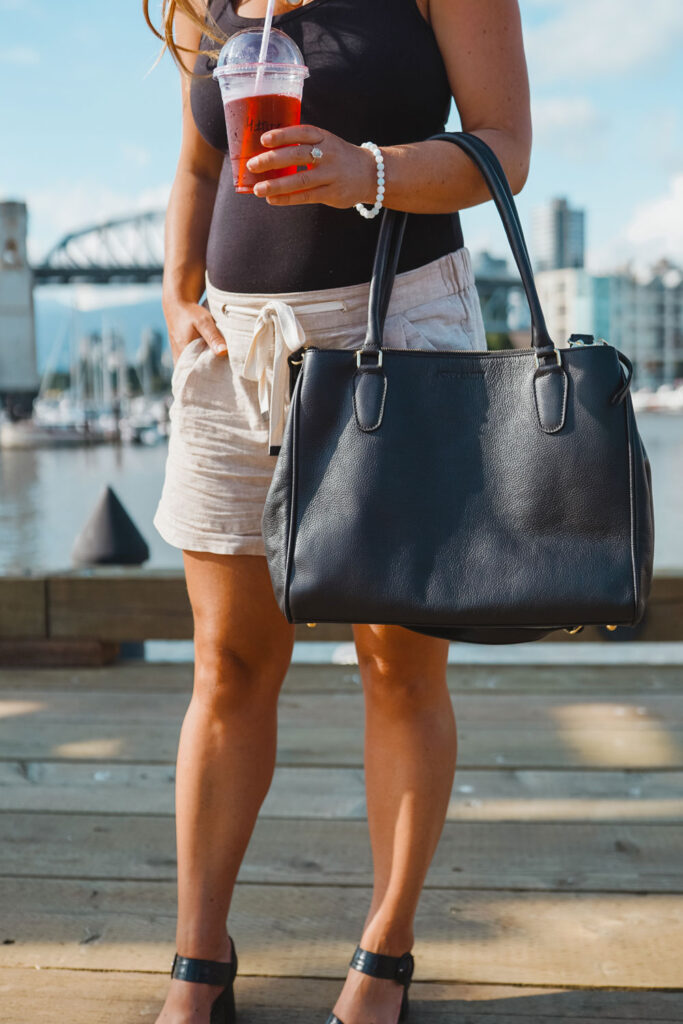 Another missing piece in my wardrobe was a really chic, functional and roomy black leather tote. Cue in the Co-Worker Tote: it's literally the most intelligently designed bag I've ever owned, and it's going to be such an asset with baby! There's a place for everything: your laptop, your water bottle (or a baby bottle), a sleek, nearly-invisible slit in the back for your phone for easy access, compartments for notebooks, pens, and so much more. There are two zippered sections, along with an open, organized compartment in the middle (that encloses with a magnet closure) for easy access to things you often need on the go (keys, bottle, etc). It's also got a cross-body strap, which is something that's just very essential to me right now.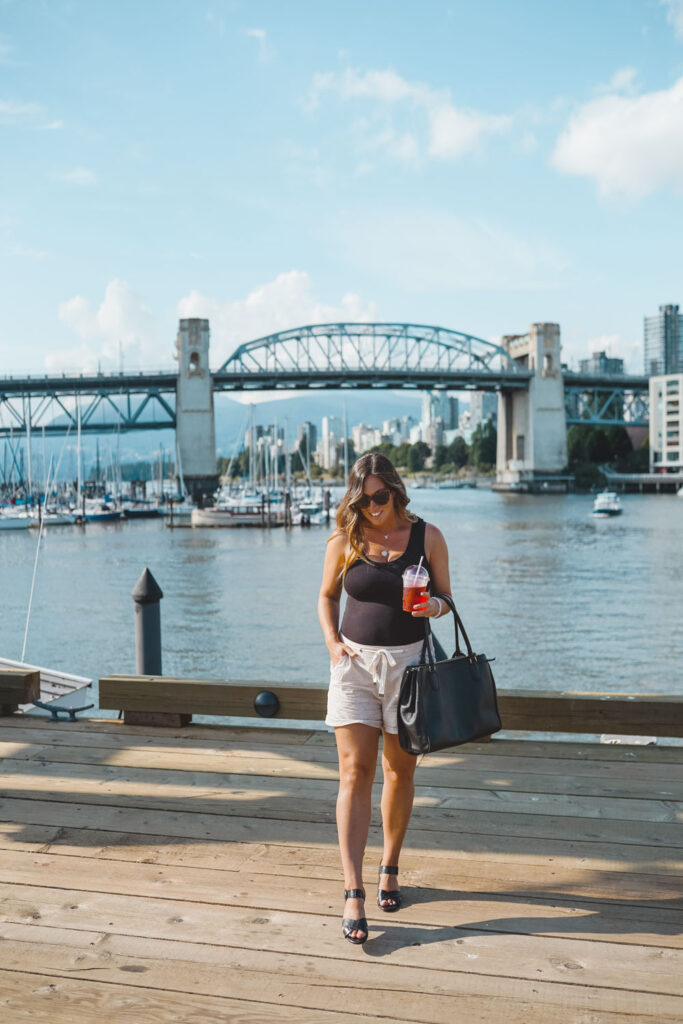 Even before I got pregnant, at this point in my life I look to invest in pieces that I can wear in any setting but that feels luxe still. This bag really fits the bill perfectly—it's chic enough to wear on a big date night out or with drinks with friends (even if that looks like mocktails or sparkling water these days for me), but it's also the perfect everyday bag—sling it over your shoulder with the cross-body strap while lugging around your little buddy (human or otherwise…this is a dog mama's best friend too), pack in whatever you need for work on the go, pull together a chic travel look with all your essentials readily available, etc.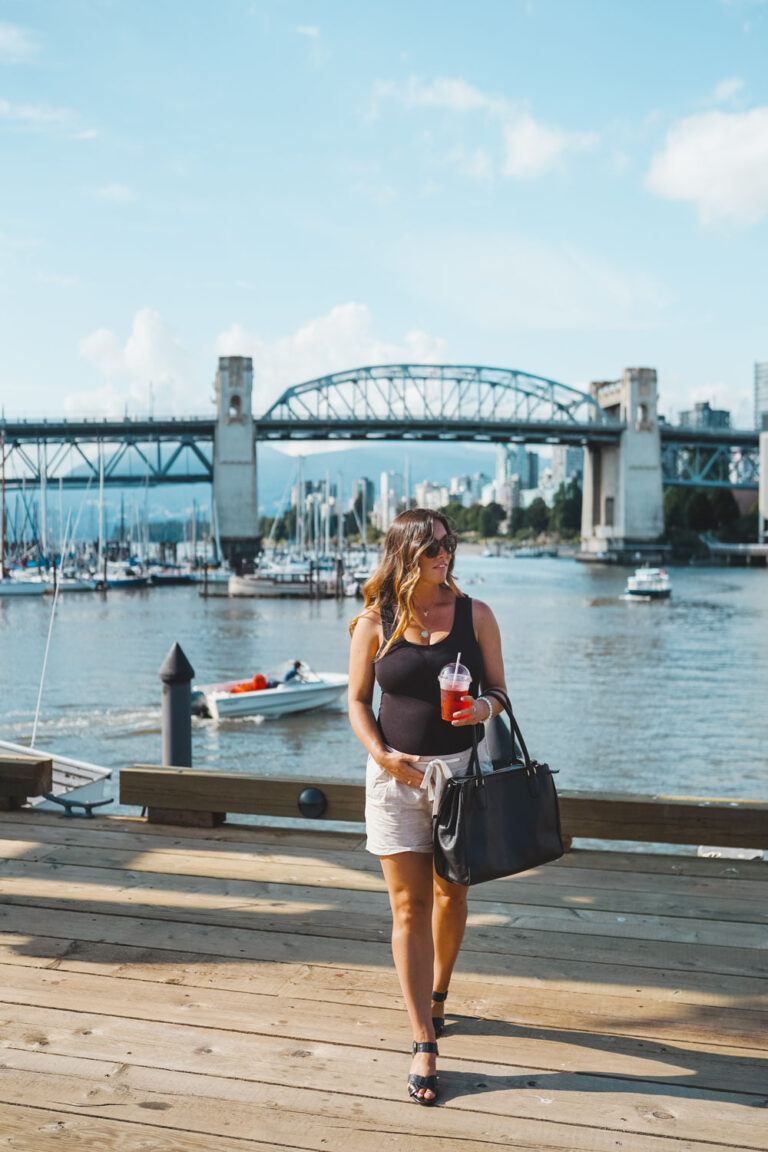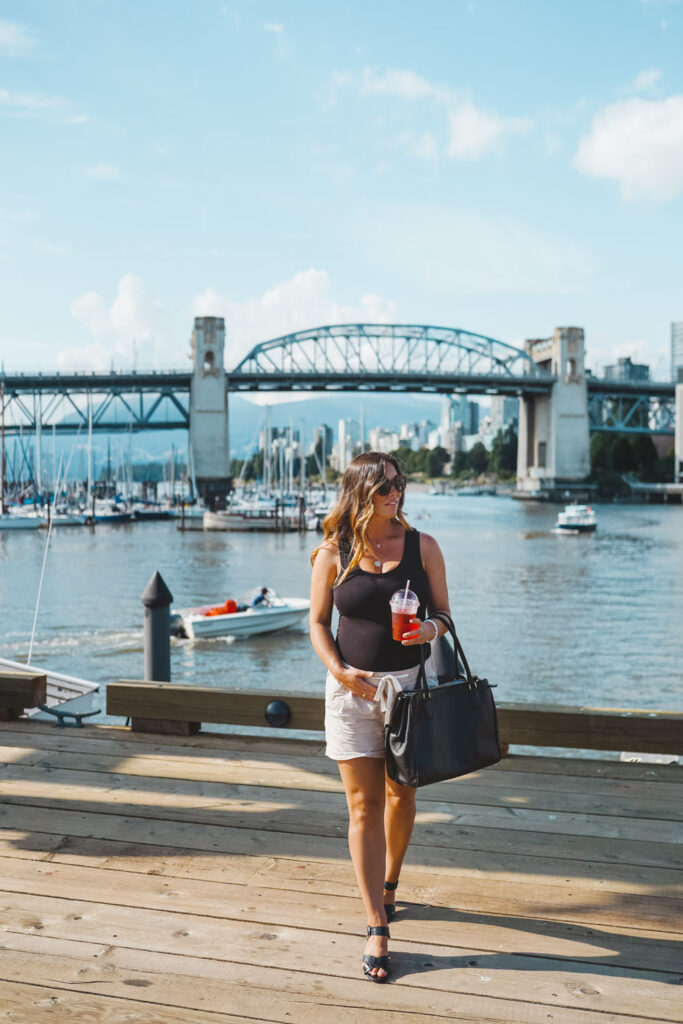 Again, layer, layer, layer the jewels! I just love all the gold in the summer. Hair-wise, I haven't touched my hair since February (with either a trim or getting it coloured) but thanks to my stylist Chris Weber's exceptional talent, it seems to be holding up really well! And honestly I've just been taking good care of it by not doing almost any heat styling and I think the pregnancy has boosted its thickness as well so I've been pretty happy with it, but just adding in some loose summery waves in both these looks is all I really need to feel like I'm "done" beauty or hair-wise (and some dark sunnies…I've been lucky to be sleeping really well lately so fortunately no dark circles to cover up yet [they're a-comin' though] but they just pull the whole look together so well). 
I've honestly been having the best time styling my new little accessory (aka my bump) and being home more & not travelling as much as I anticipated to this summer, I've been returning to my blogging roots (which was initially all style!) so I'm so excited to share more style posts with you over the course of this summer. Anything you've been loving for this steamy summer so far style-wise? Tell me in the comments below!
All the photos in this post were edited with my Beach Preset from the TVOB Presets Classic Collection.
---
PIN ME