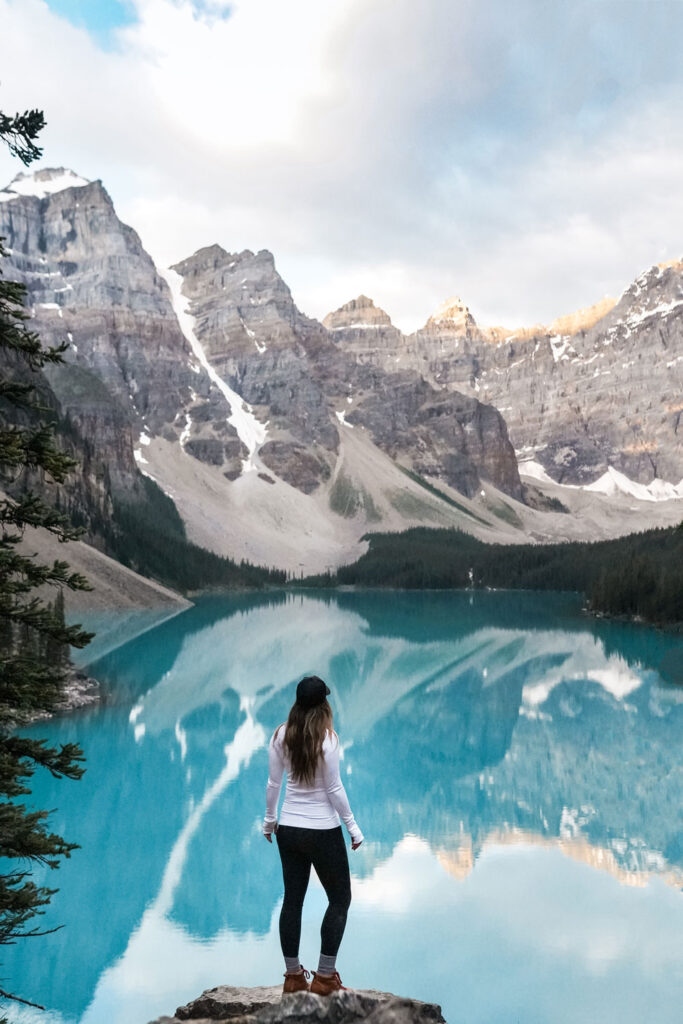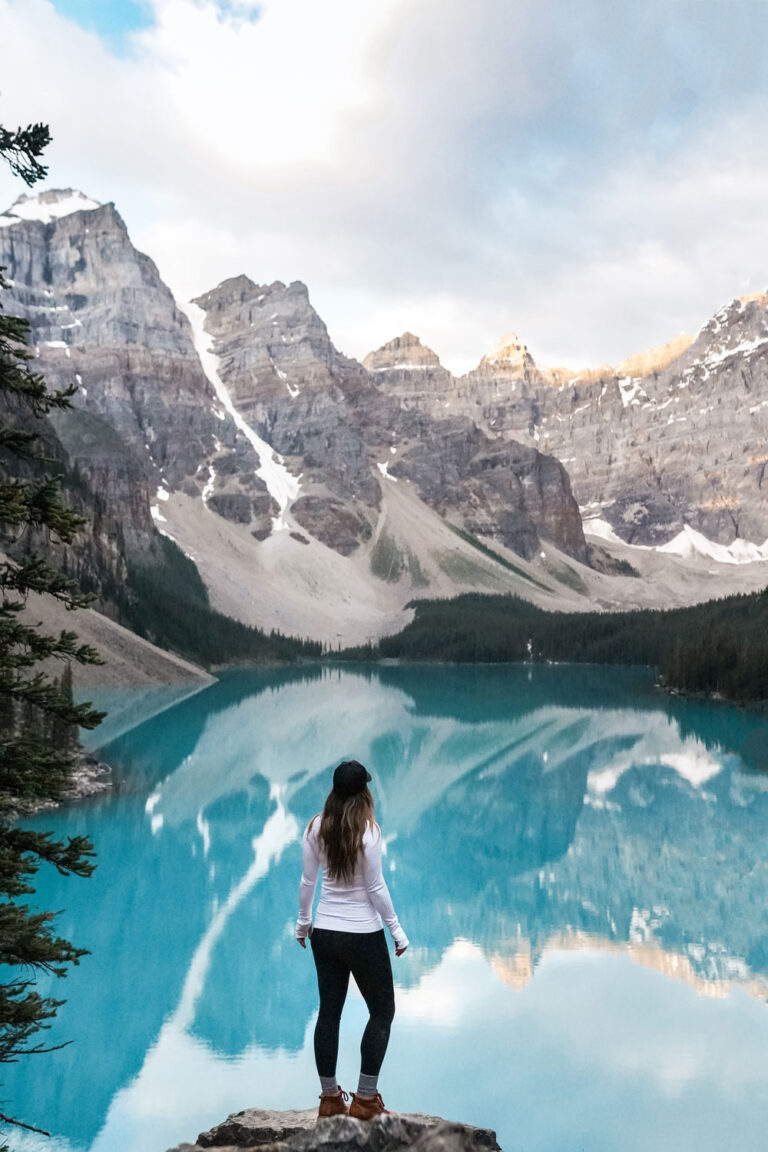 Time in general is flying by—we're in the last few weeks of the summer, I'm officially less than 10 weeks away from bebe arriving, and the couple of trips I had lined up with my girlfriends that felt like they were way down the pipeline this entire summer already came and went, all in the last week! Last Sunday, my girlfriends and I took off to Lake Louise and its surrounding areas for a very short stay—just 2 nights, in fact! I wasn't sure if I'd get the green light to go since I'm in my last trimester now, but my midwives gave me the go-ahead so I was a bit of a last minute addition. I'm so grateful I got to go, because it was honestly such a special, bucket list experience.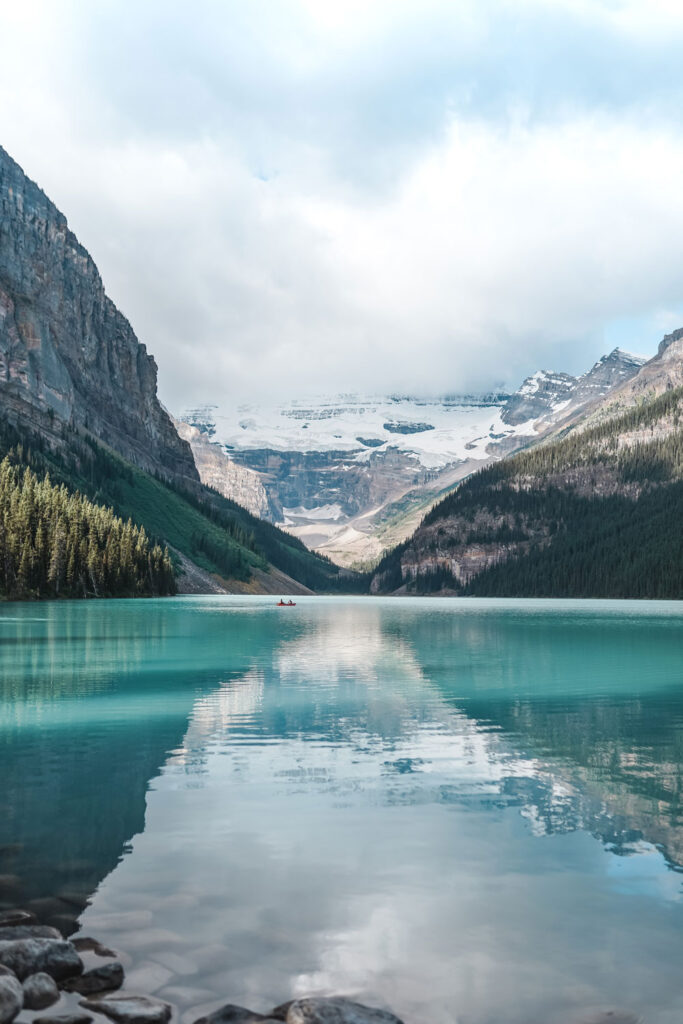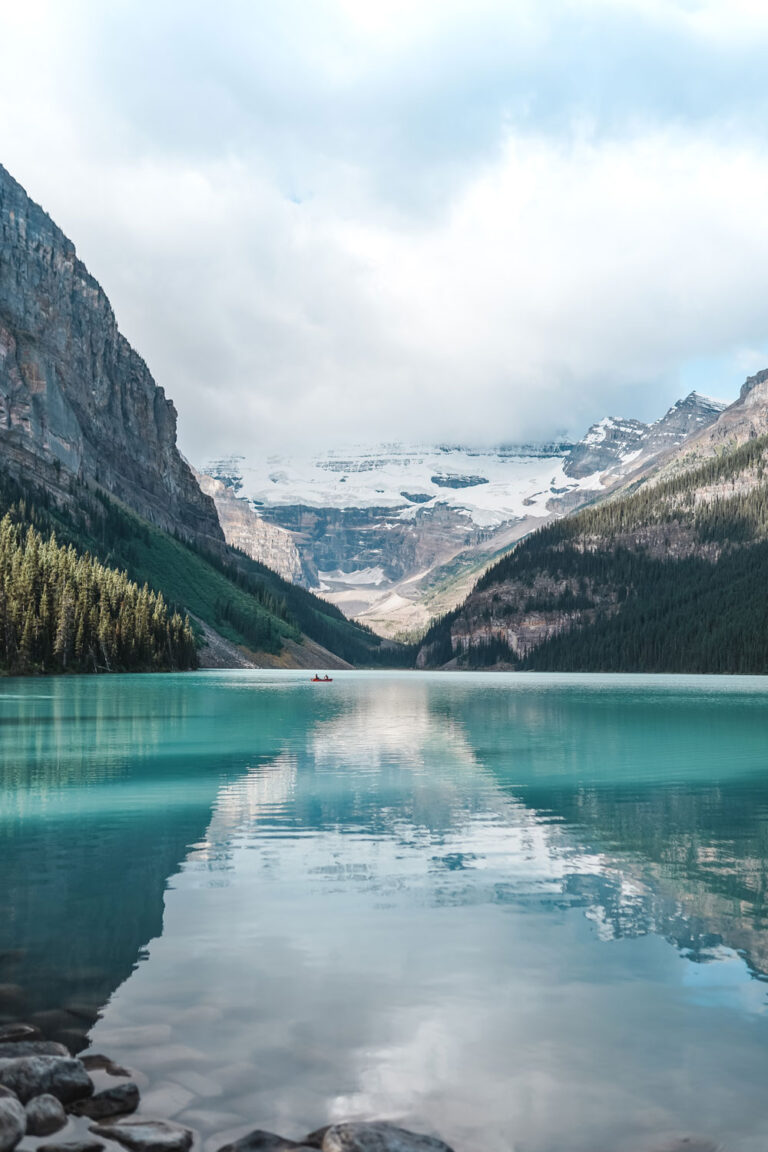 Lake Louise is one of the few places in the world where pictures truly don't do it justice. It's so easy with presets and filters and Photoshop wizardry these days to make just about anywhere look more magical than it is, but this is one place where the photos truly don't live up to the real thing.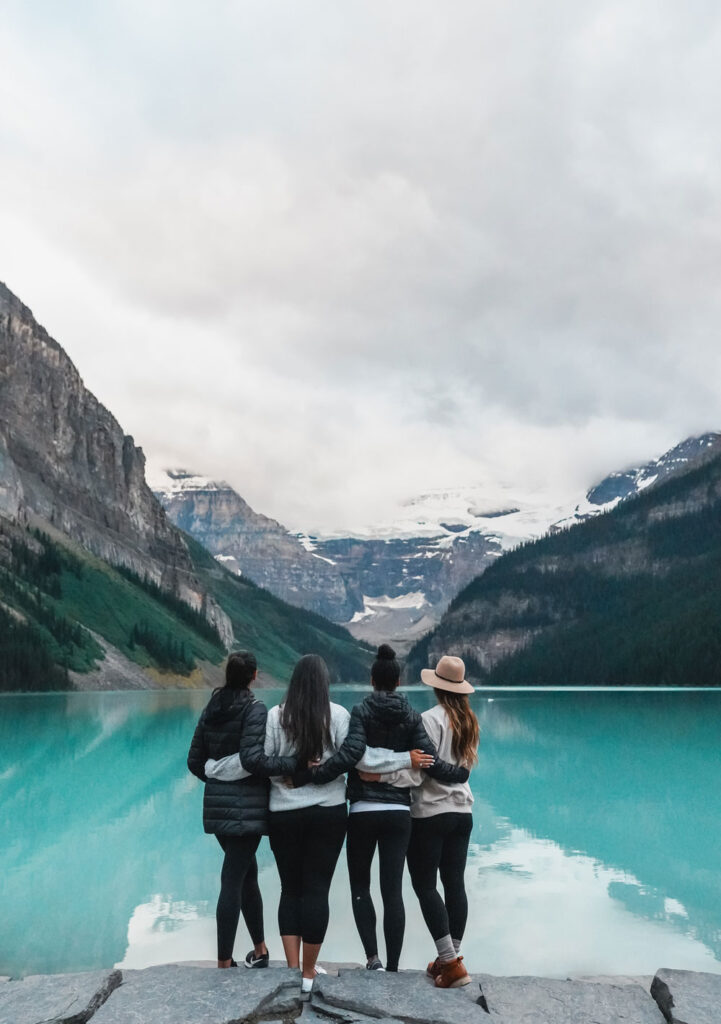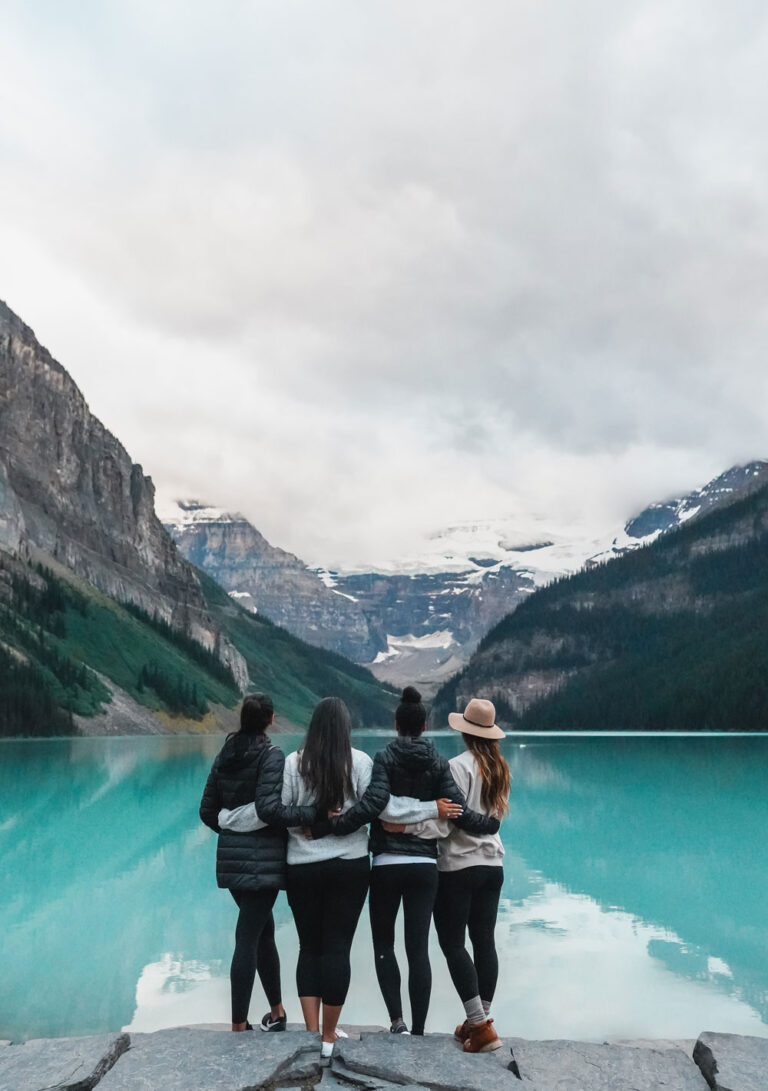 While I've felt the magic of the Rockies before (I've been to Jasper a couple times before in the winter), I think something about this season around late summer or early fall is especially amazing for seeing the area in all its splendour. Seeing the aqua waters of Lake Louise mirroring the painting-like mountains standing behind the lake (what perfect design created those two mountains meeting exactly in the middle, with the snow-capped Victoria Glacier perfectly encased in between?) or the vivid blue-green of Emerald Lake or the jewel-like turquoise of Moraine Lake in person is just so unbelievably special. It's so beautiful in the winter with snow all around, but the changing tones of the lakes from sunrise to sunset is something you do have to see in person at least once.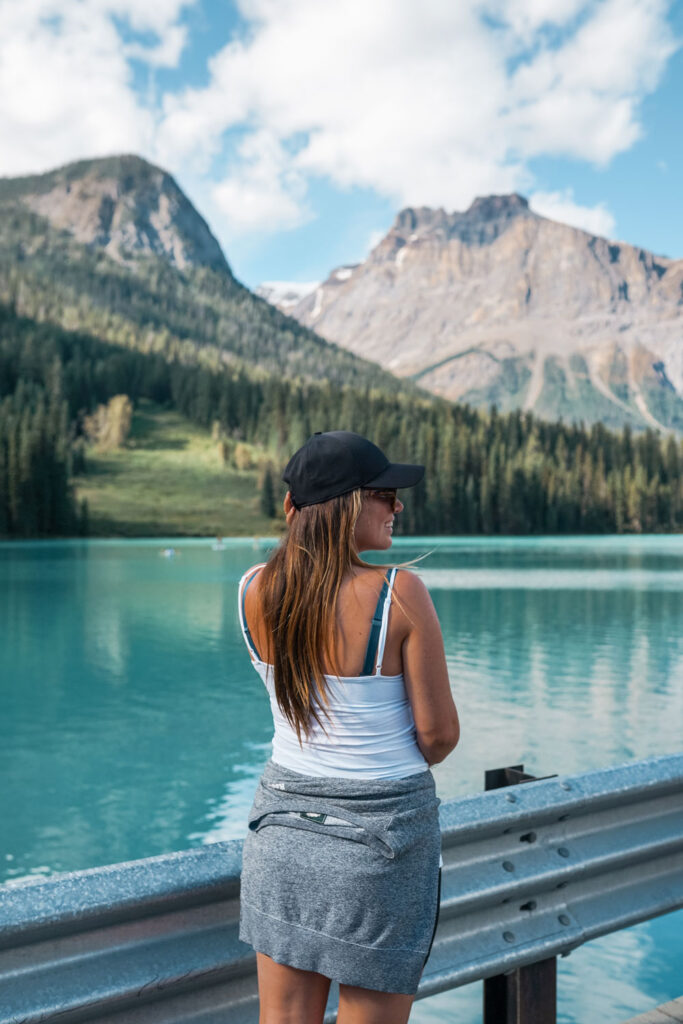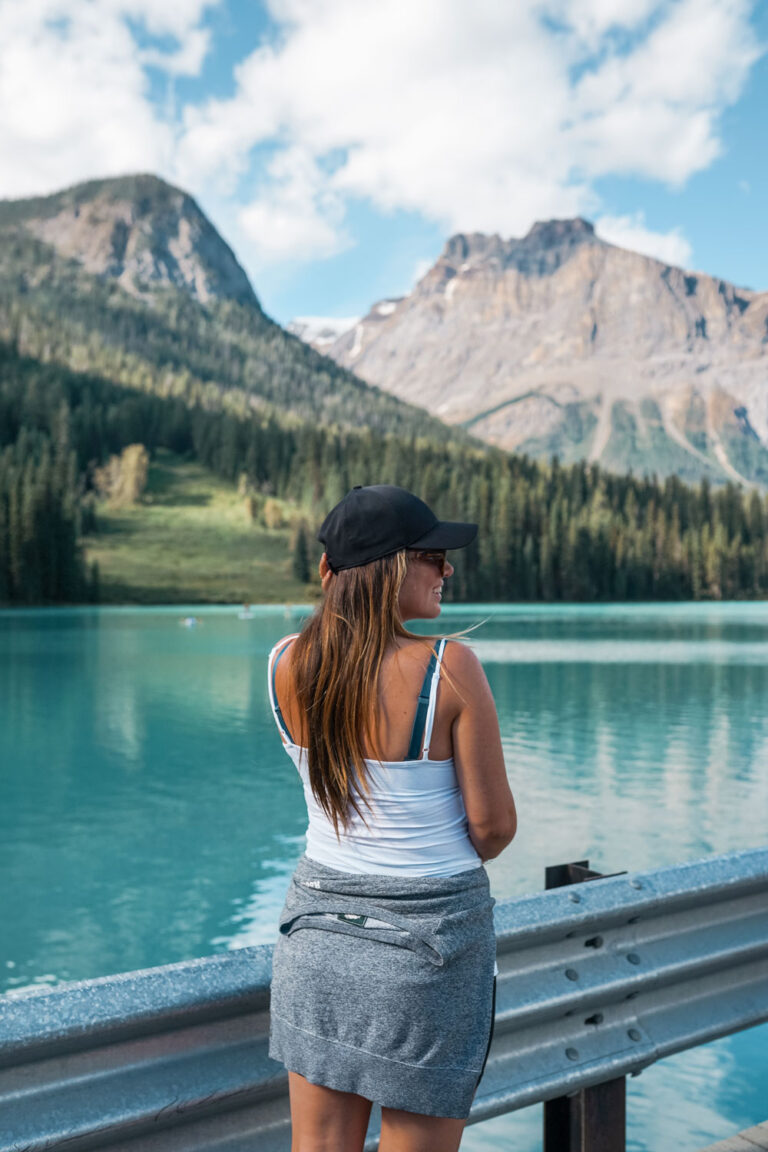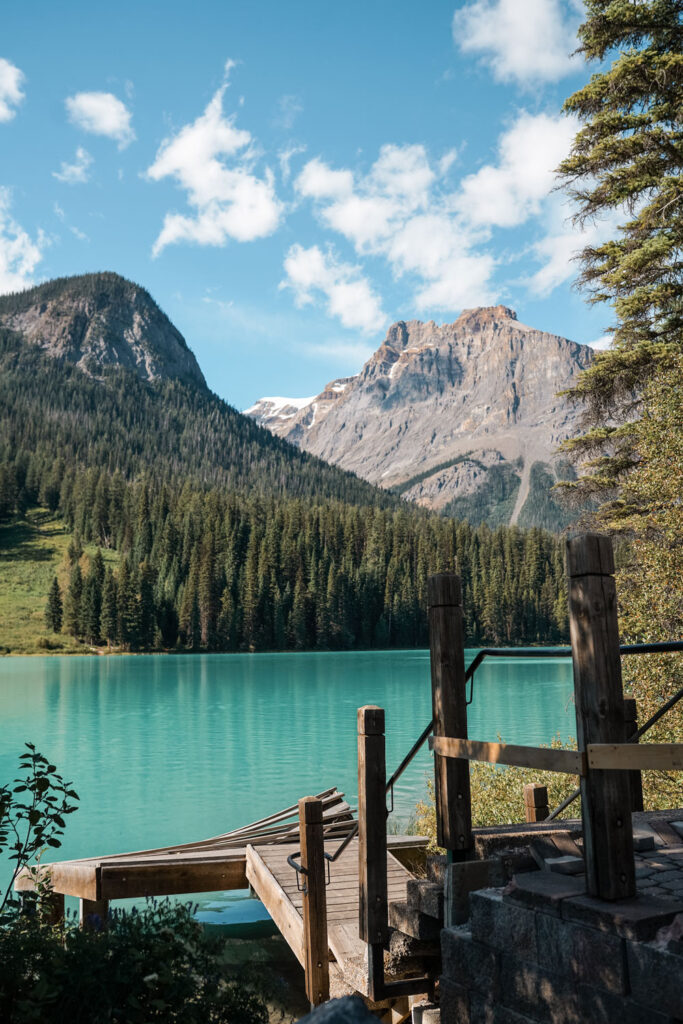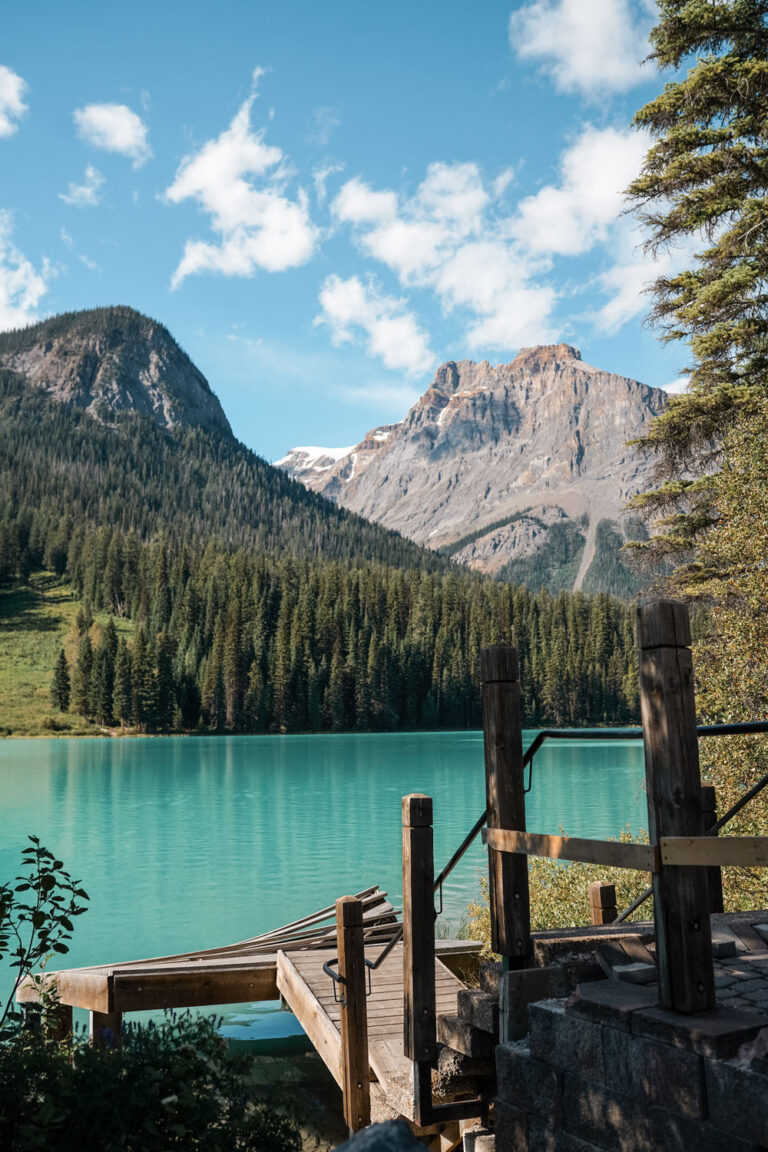 I wanted to share what we covered in our short little trip here, where we stayed, how we got there (with key pit stops) and more! Obviously, want to preface this all during these very strange and scary times by saying that my friends and I have been each other's bubble throughout the summer which is why I felt comfortable in travelling with them, and we took all necessary precautions over the course of the trip, from constant sanitizing to masks and more. Everyone will have to assess their own personal risks vs benefits balance to see if local travel is a viable option for them right now—I was a bit concerned mainly because of the baby and his safety, but from the girls to the hotel to measures that were put in place locally (masks are generally required most everywhere), I felt very safe in the end but that was just me!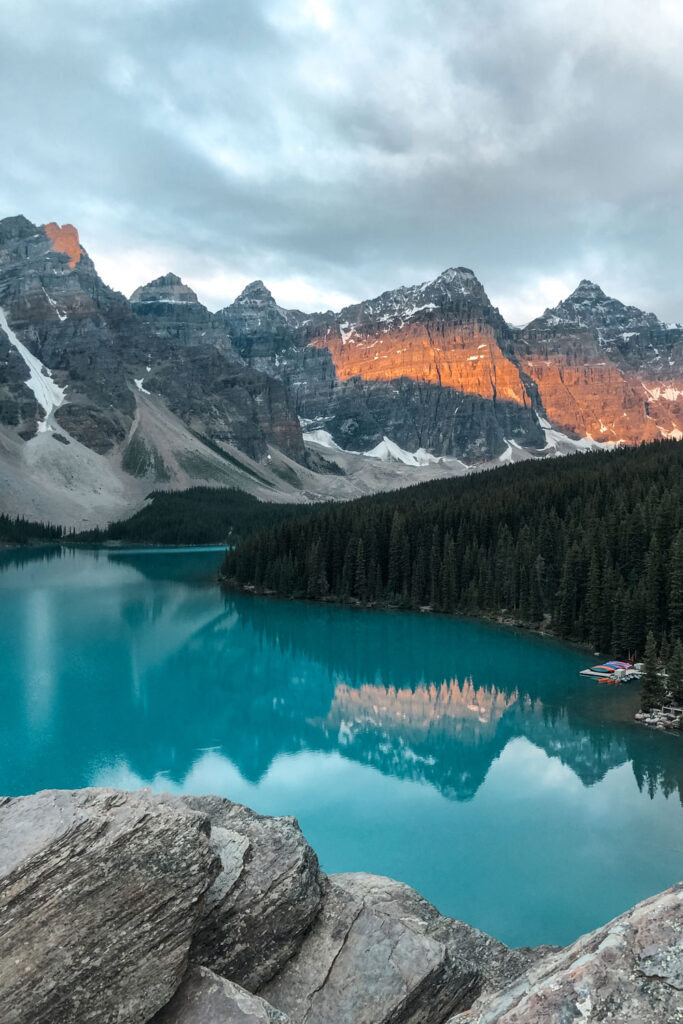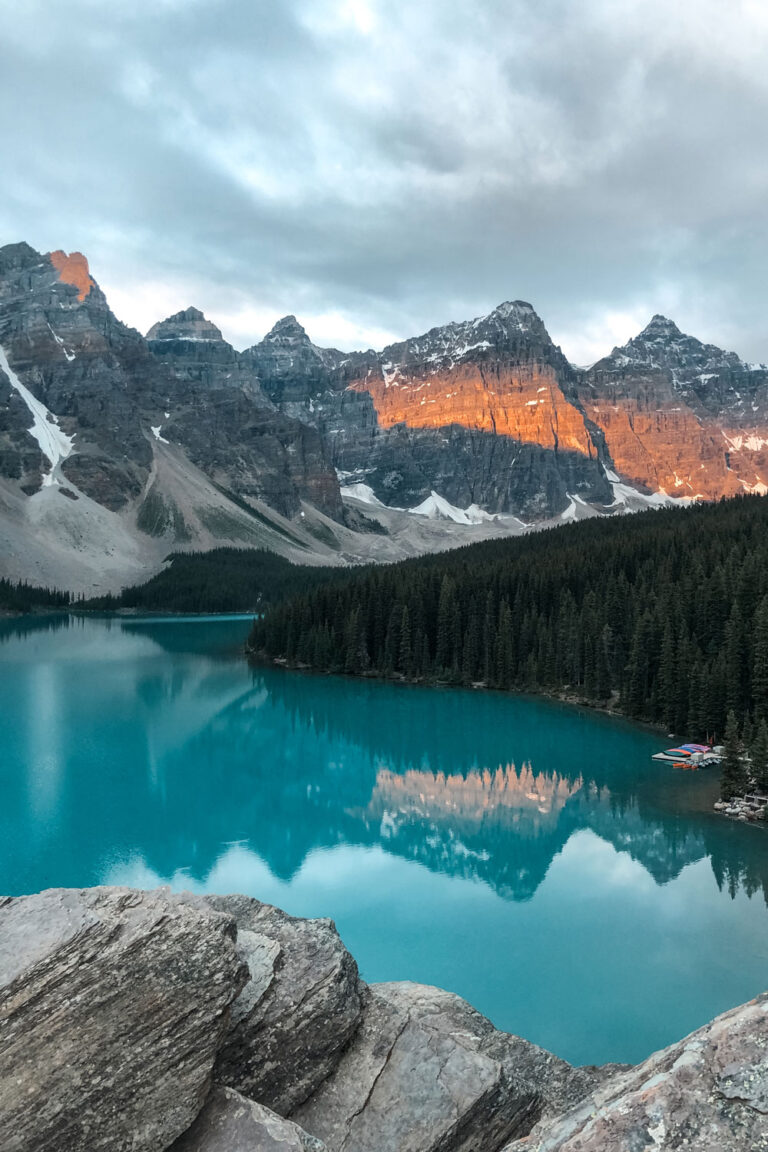 ---
How to get to Lake Louise
You can fly into Calgary and then Lake Louise is just under a 2 hour drive, but obviously given the risks of air travel right now we decided to opt out and just make it a road trip! The drive from Vancouver to Lake Louise is around 9 hours long, which sounds daunting but we ended up breaking it up in a way that was actually really pleasant! I have to say, I'm not the most confident driver but I'm an excellent navigator and road trip planner. The girls let me and my Type A tendencies when it comes to route-planning have my way and I charted out what was a pretty perfect route (not to toot my horn or anything).
From Vancouver, we stopped in Hope for a leg stretch and coffee, made another similar quick stop in Kamloops and then got out at Revelstoke for lunch, and it was honestly a great drive when broken up into rough 2 hour increments like this!
We ate at Old School Eatery for lunch on the way in and at La Baguette on our drive out (both in Revelstoke), would really recommend both! We then carried on to Emerald Lake, where we stopped to get a proper walk in before just wrapping up the last little 40 minute drive to Lake Louise!
---
What to See
Emerald Lake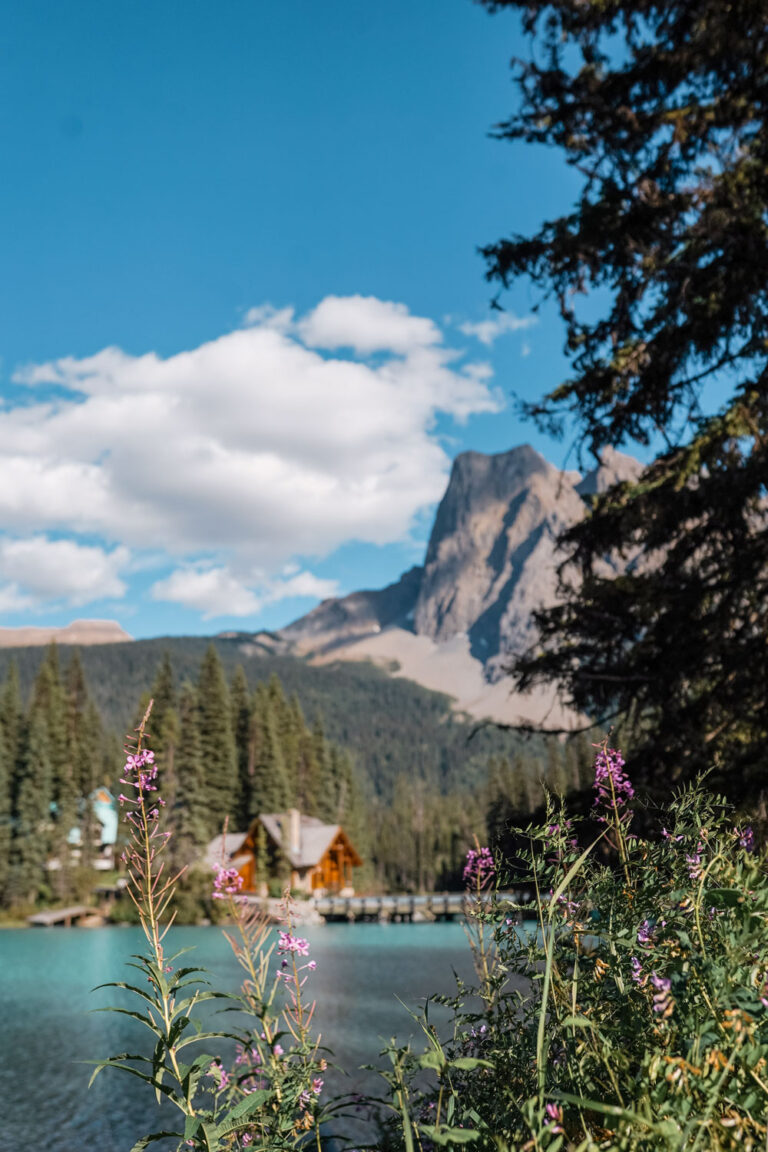 So when I did a quick question on my stories about anything we should see, eat, do etc in the area, I was shocked by how many responses were for Emerald Lake, and honestly it delivered across the board on everything you guys said it would! Far quieter than its more famous neighbours but incredibly beautiful with (as its name suggests) very vivid blue-green water, canoe rentals that you can take out which seemed quite open and quiet actually (no queues at all), and just all in all very gorgeous.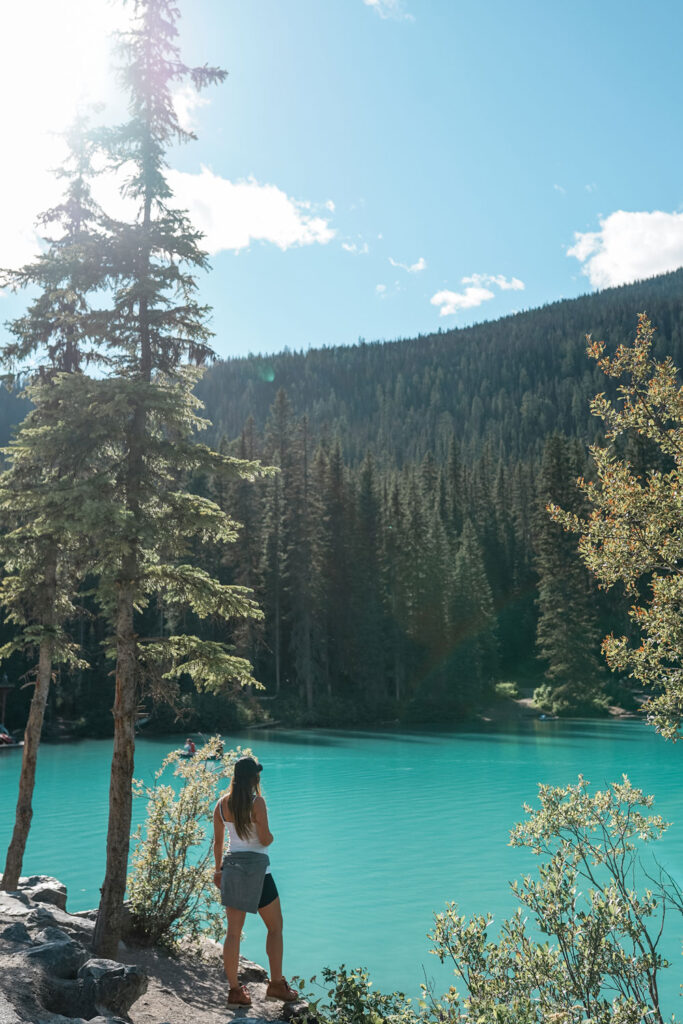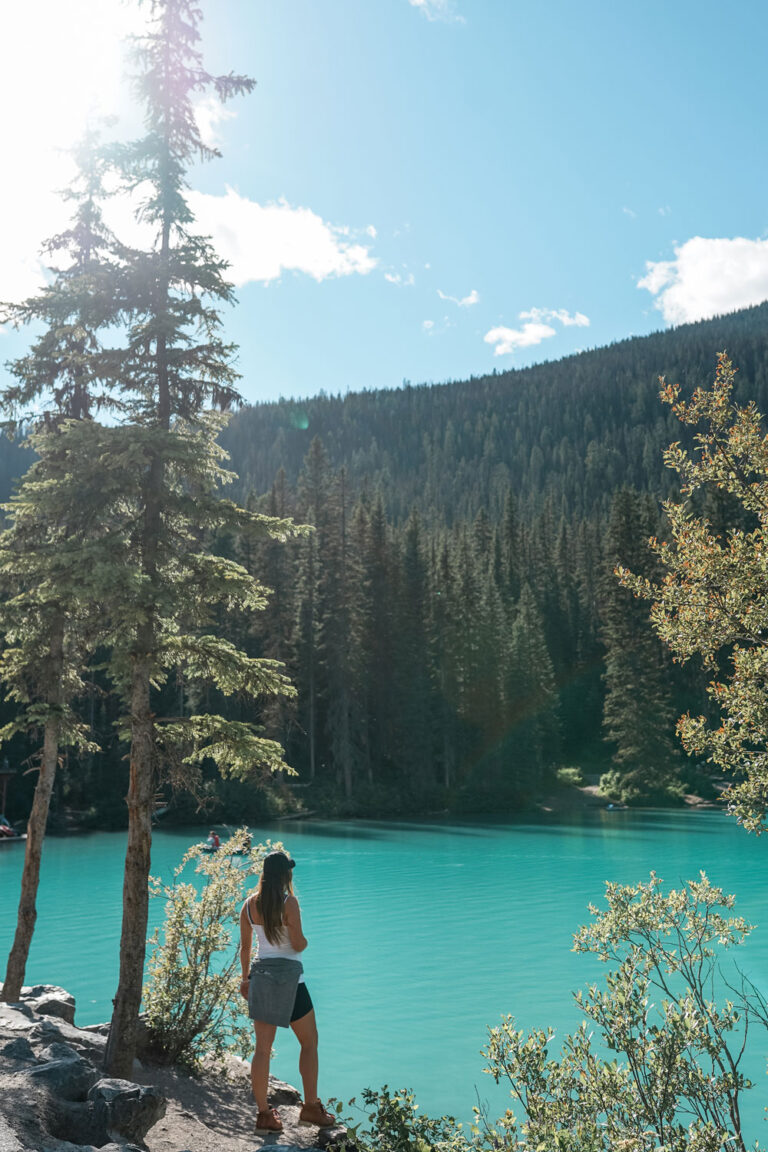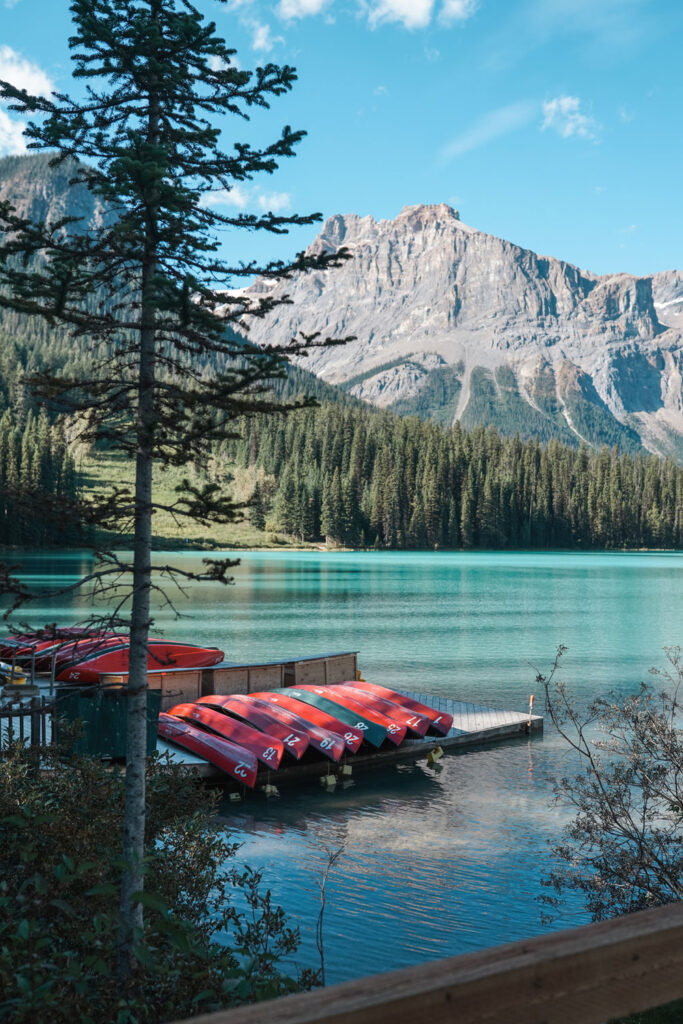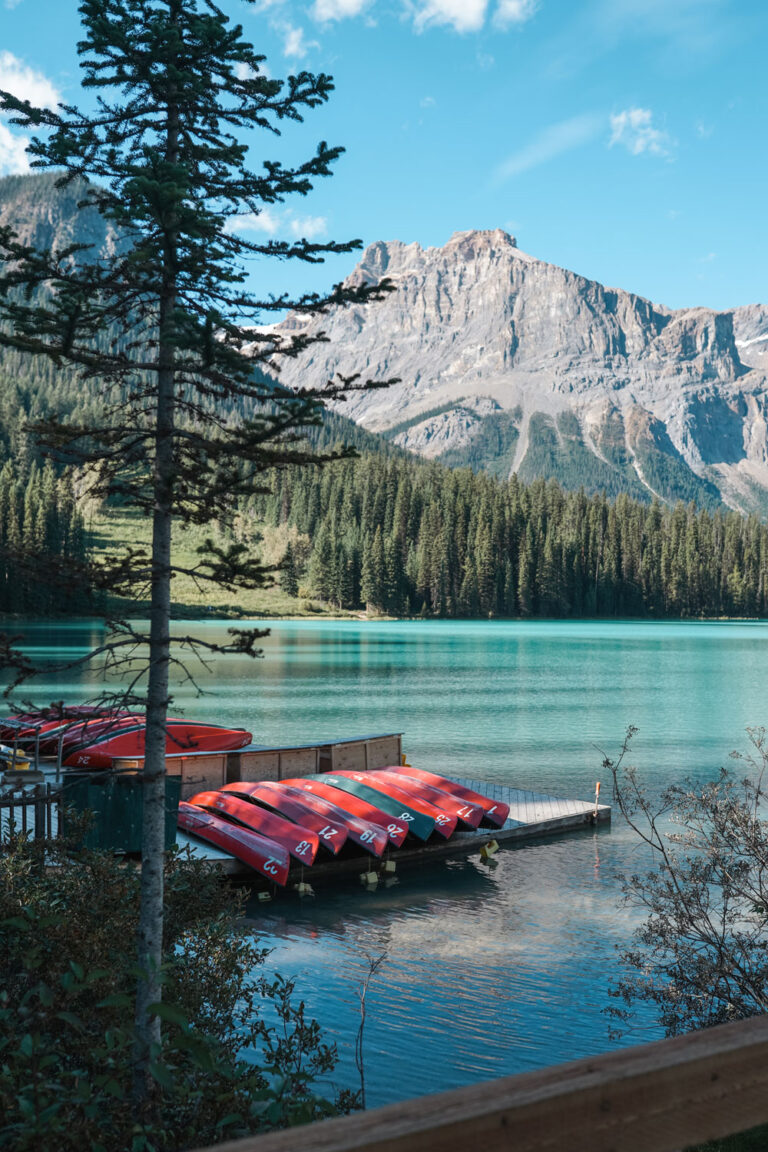 It's super easy to get to off the highway and kind of breaks up the trip a bit (it's literally on the way in if you're coming from the west and headed towards Lake Louise or Banff). There's also a natural bridge you can stop at to scope out very quickly on the drive out from Emerald Lake back to the highway!
Lake Louise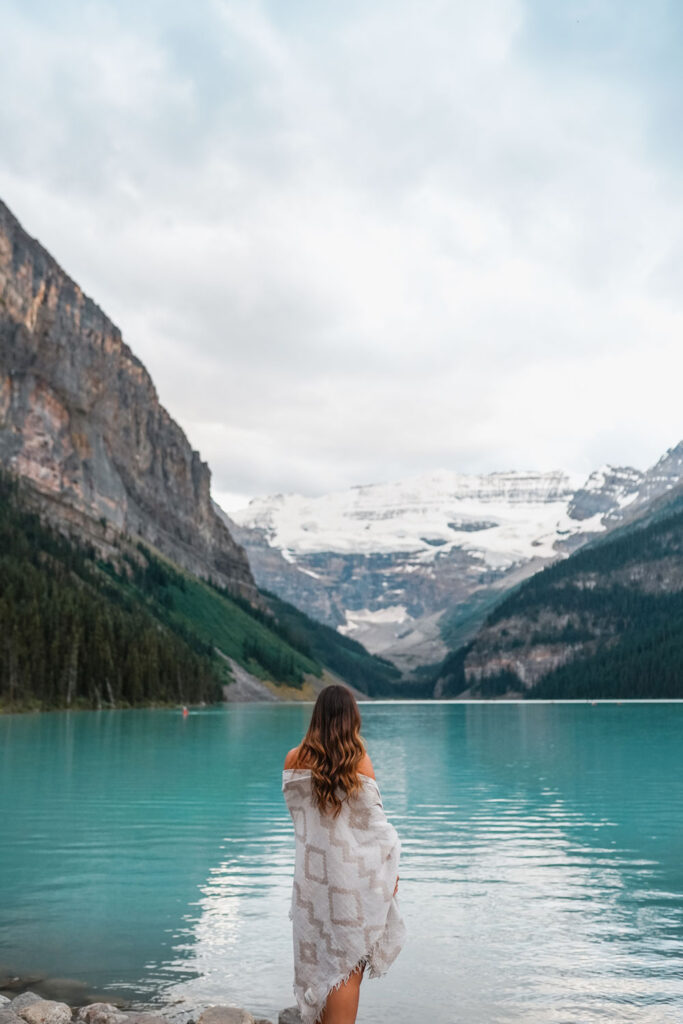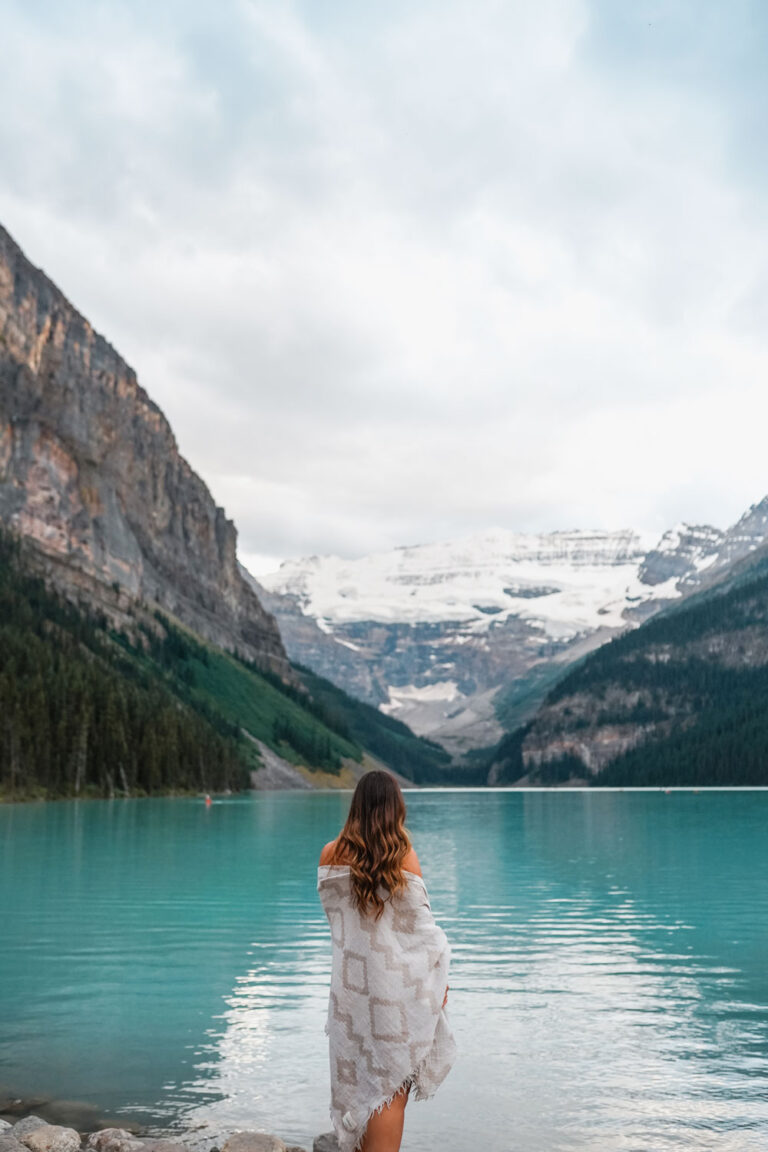 Well this is an obvious one, isn't it? But it's famous and renowned for a reason. We checked into Fairmont Chateau Lake Louise right before dusk (more on our amazing hotel stay in a second) and had to race down to our dinner booking on the patio super quickly so didn't have time to scope out the view before dinner. In a hurry we ran downstairs and got seated, and when we finally looked up and saw what was right in front of us I'm pretty sure all of our jaws dropped. It's literally like a painting. It's just so beautiful, particularly in the early or late hours of the day when the wind dies down and the water is glassy, and the light diffuses over the mountains softly.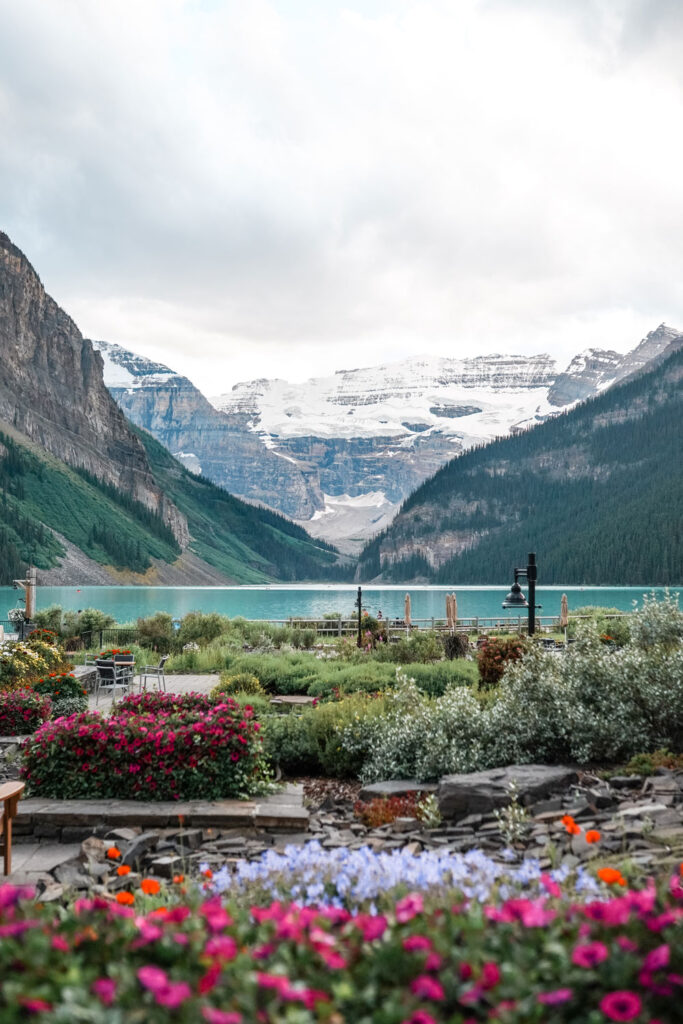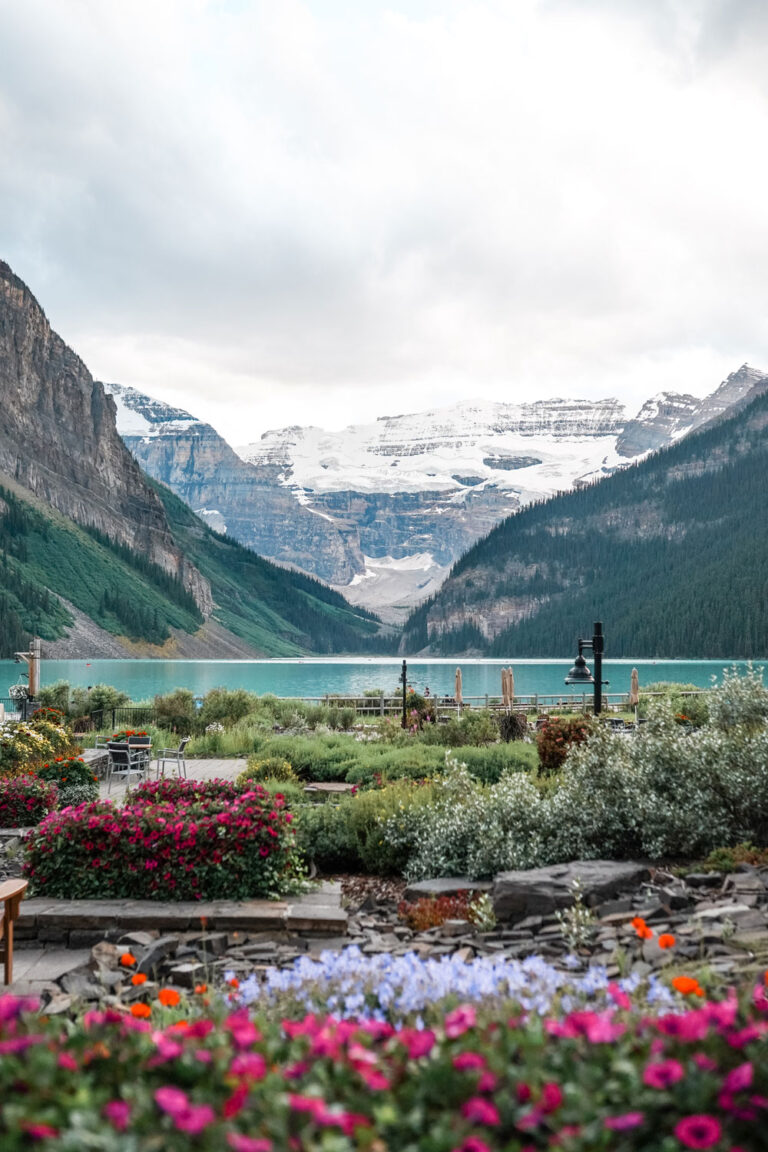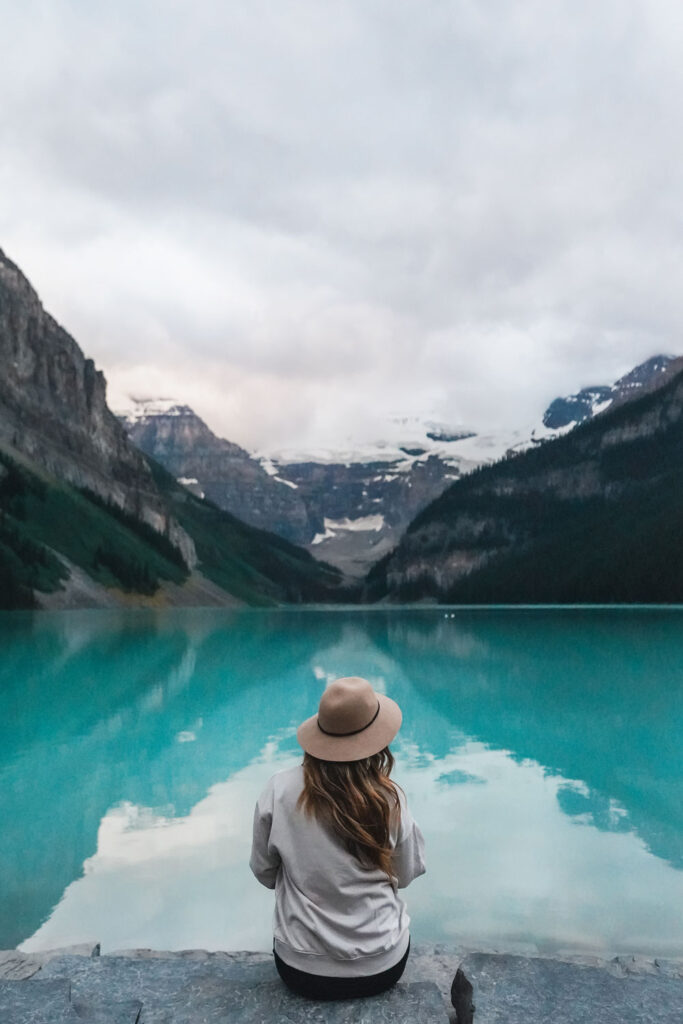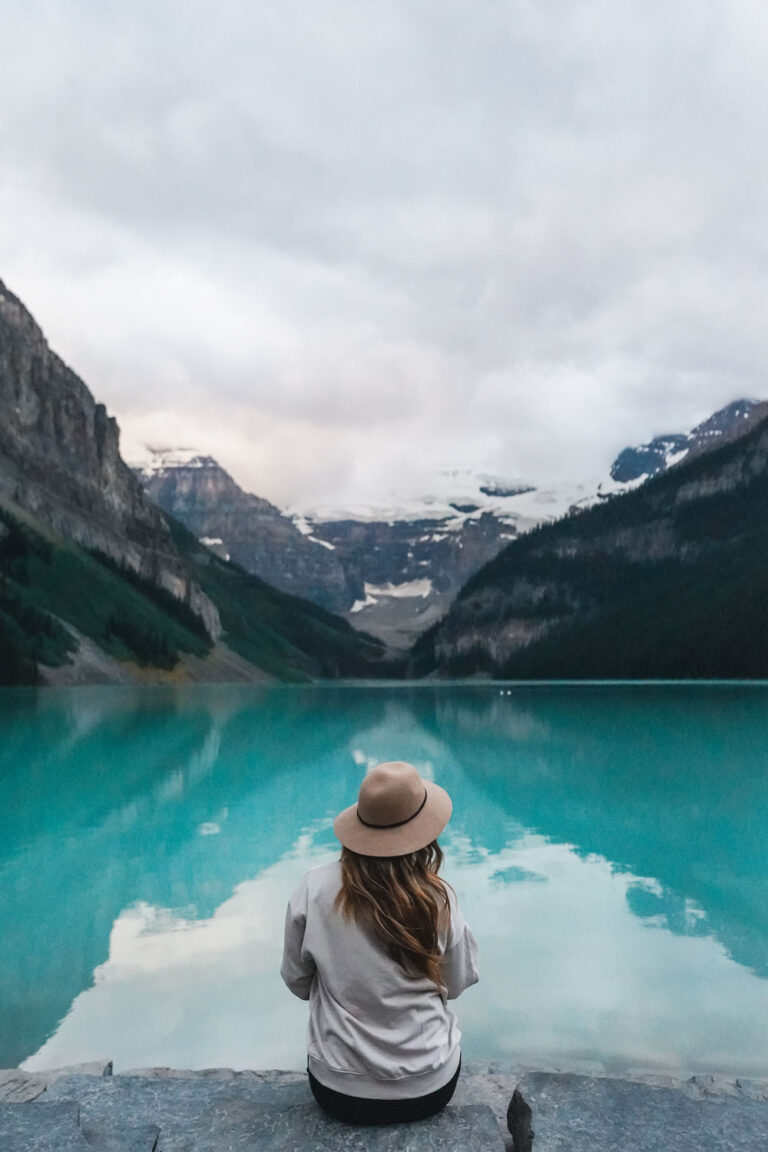 A few tips for here: while Moraine Lake you really need to get there very early (I'm talking before sunrise early), I'd suggest definitely coming here early but if you're not staying at the Fairmont or nearby, I don't think you need to come here at the crack of dawn. In fact, it seems like a lot of people do go to Moraine Lake at the crack of dawn (which is what we did) and then swing by Lake Louise after. Having said that, I'd aim for earlier in the day for sure (we were down from around 7-8AM and it was lovely, very quiet and we were there in the middle of August), and sunset is beautiful and quite quiet too.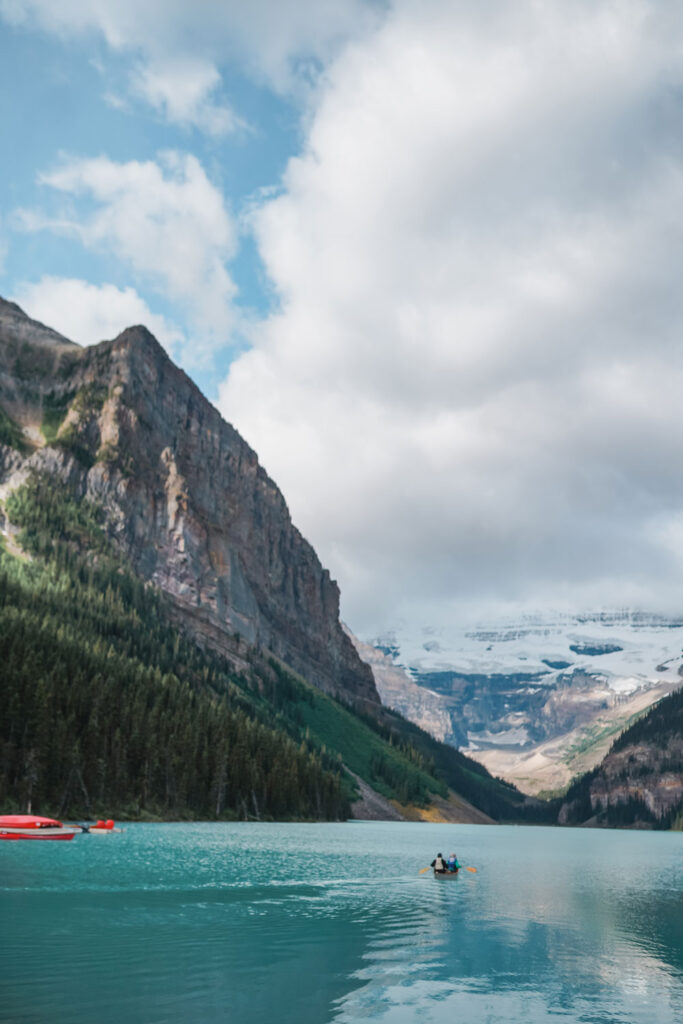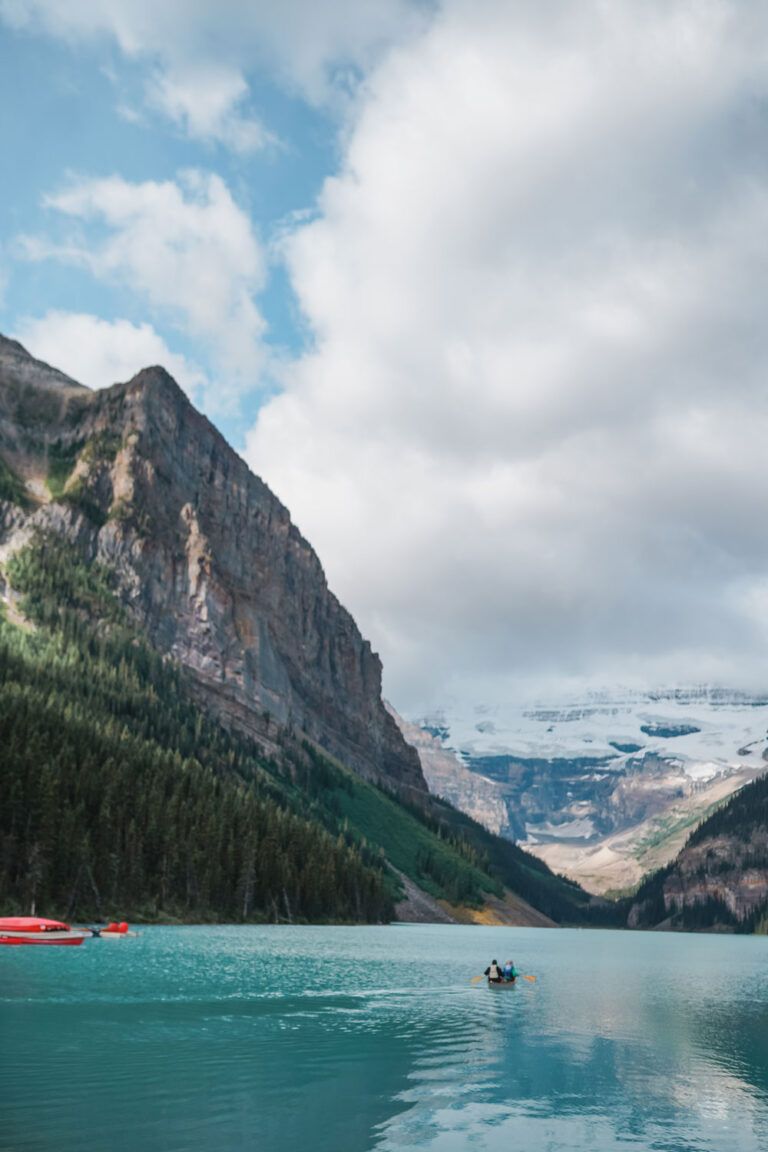 Another tip is that a lot of people seem to stop at the entryway closest to the road and just start snapping (the entry is where the wooden boardwalk is). I'd suggest continuing to walk towards the Fairmont—not only do you get the lake to be perfectly centred with the mountains making for a better shot and just overall vantage point, it seems to be a lot quieter here and there are some lovely rock steps that you can snap on instead, which I thought were more photo-friendly than the boardwalk as it is! Seriously, around the boardwalk at any hour of the day it seemed busy but the most beautiful vantage point was downright quiet earlier and later in the day.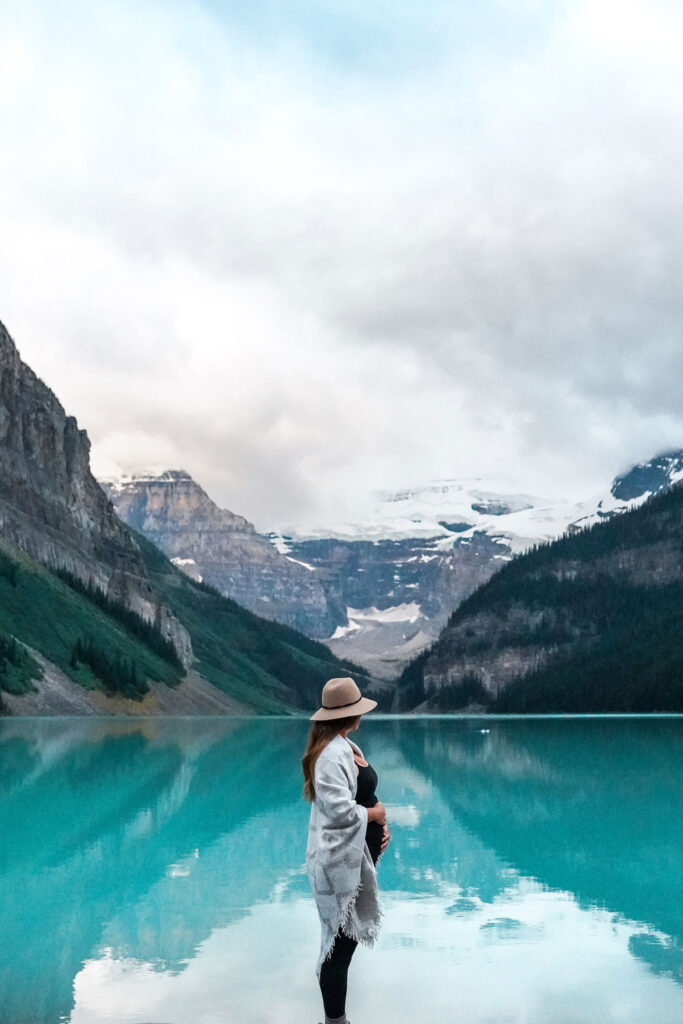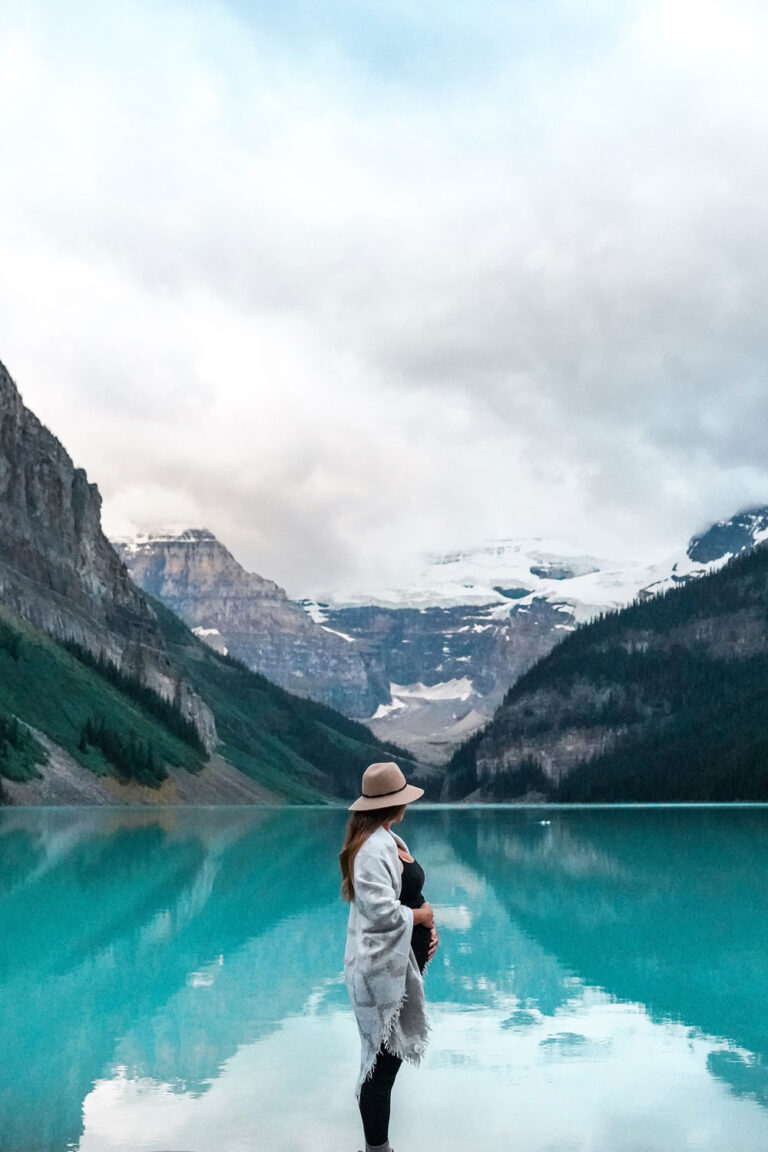 There's a great lakeside trail which I ended up not doing because I actually had some work to catch up on that day (another reason I was grateful for an early wakeup call to soak in the views sans-tourists beforehand) but it's an easy walk just alongside the lake that will give you different views of the whole lake! There's also the lookout point hike which is an easy trek up and gives you a gorgeous view of the Fairmont.
Moraine Lake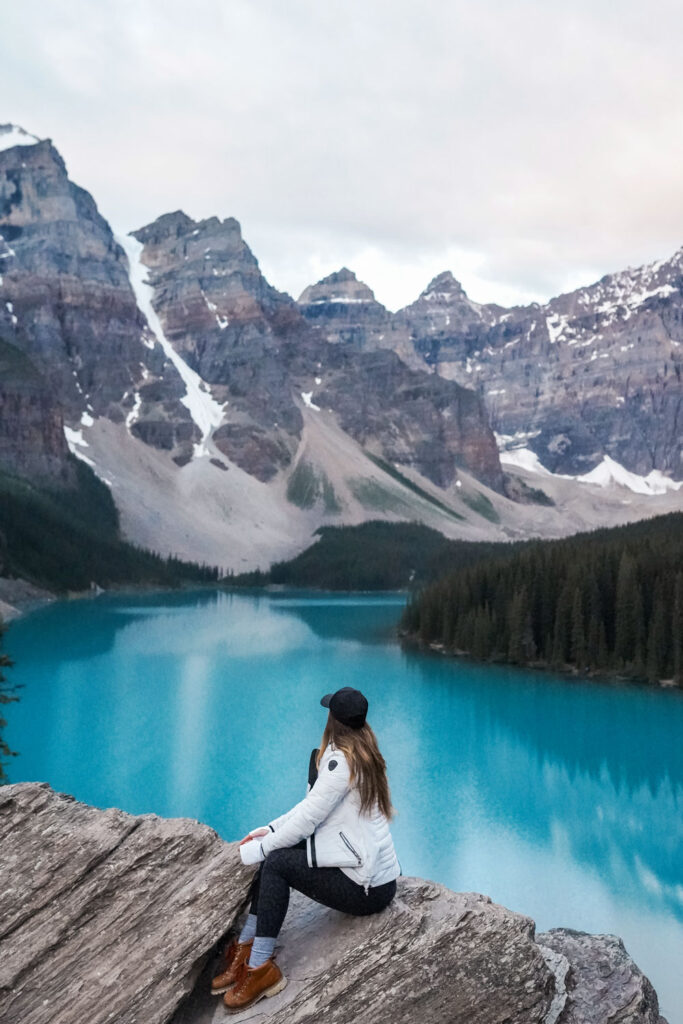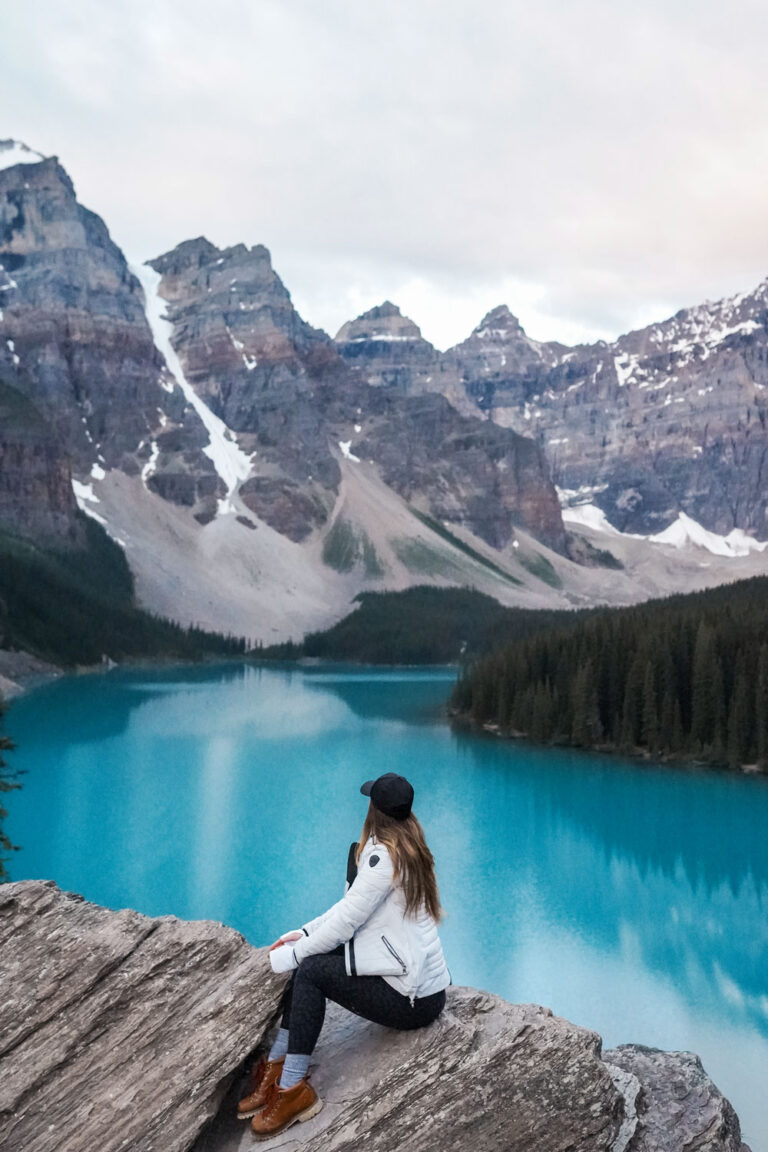 Out of all the lakes, Moraine Lake maybe even edges out Lake Louise for visitors, or at the very least that's what it felt like when we were there! I don't know that the girls believed me at first when I said we had to go there before sunrise until I asked our server the night before to back me up and she said that 100% if you want to park there, you have to get there well before sunrise (which was around 6:30 for us), and that the lot even fills up on peak weekends around 5AM. The operative phrase though is "finding parking"—if you park elsewhere, you can absolutely still come at any point of the day and I don't actually know that it'd be much busier than what we experienced! While we were maybe the last of 10 cars to snag a spot in the bursting parking lot just before sunrise, it was somehow still a bit of a zoo at first—literally there were wedding shoots set up, people who had 5 tripods going for evidently 5 very crucial different perspectives, etc.
My suggestion is come early to get parking nearby, head up to the rock pile lookout point for the best views, stay and watch sunrise because it's really very magical (and obviously snap shots of the gorgeous lake if you can get any shots without a ton of people in) and then stay awhile after while people inevitably clear out and that first wave wraps up their insane shoots to actually explore more of the area, snap some pics, etc. Obviously, if you want any pics with you in them, this would be the ideal time to get them when the sunrise crew heads out!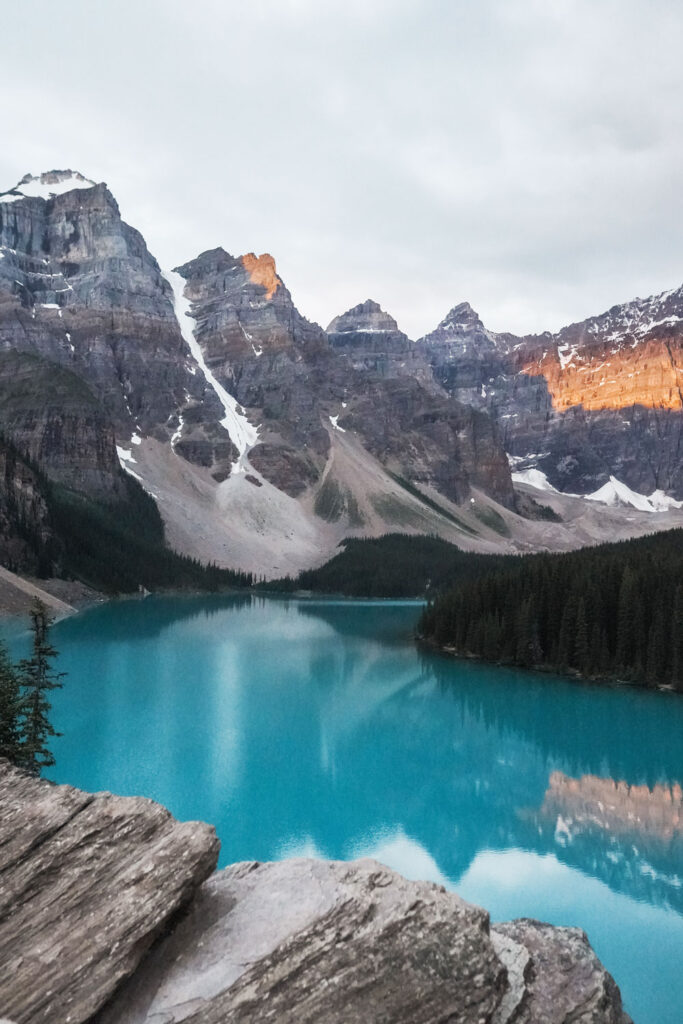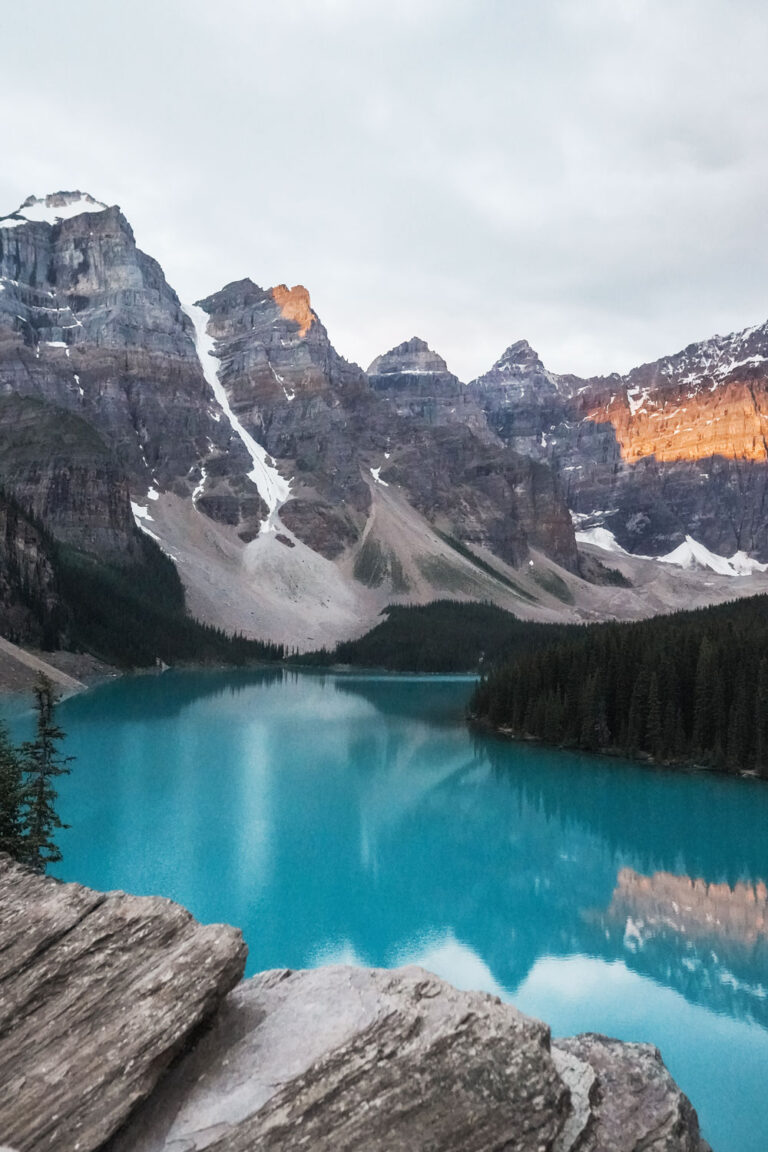 A note about the rock pile lookout point too—when you walk towards it from the parking lot, you just hang a left and there's a very nice trail and stairs leading all the way up to it. A lot of people out of either pure panic or just ignorance (having maybe not researched at all beforehand) seemed to think you have to clamber up the rock pile itself, which is really dangerous and obviously you should never be on an unmarked trail for environmental reasons too! So just take the trail—you can't miss it, literally just to the left!
Last tip is especially since there's no warm hotel room to retreat to here or anything like that, pack a ton of layers! I'm running warmer being pregnant but my girlfriends were so cold to the point that they wanted to get going at a certain point (meanwhile I was in a long sleeved shirt happily scampering about, completely oblivious to their discomfort). I wore a long sleeved tech shirt, leggings and a vest (all from Lululemon, they're all linked in this post) and a Pajar puffer, along with some wool socks and my hiking boots. I personally was totally fine but again, running way warmer! I'd wear a lot of thin layers (even in the summer!), pack a toque, etc as well if you run a bit cooler.
---
Where to stay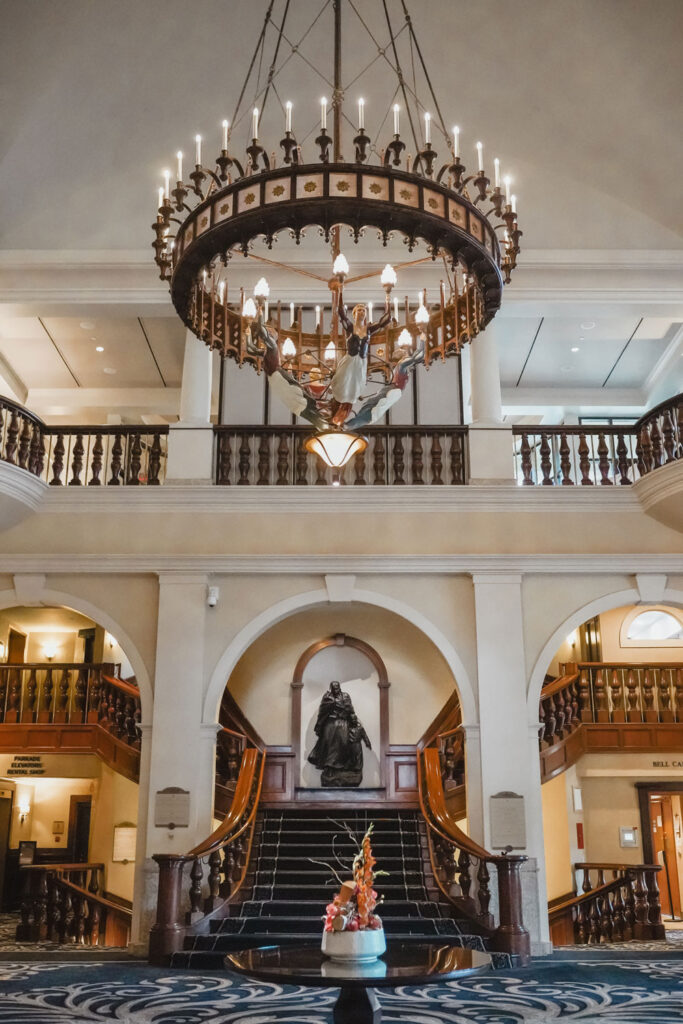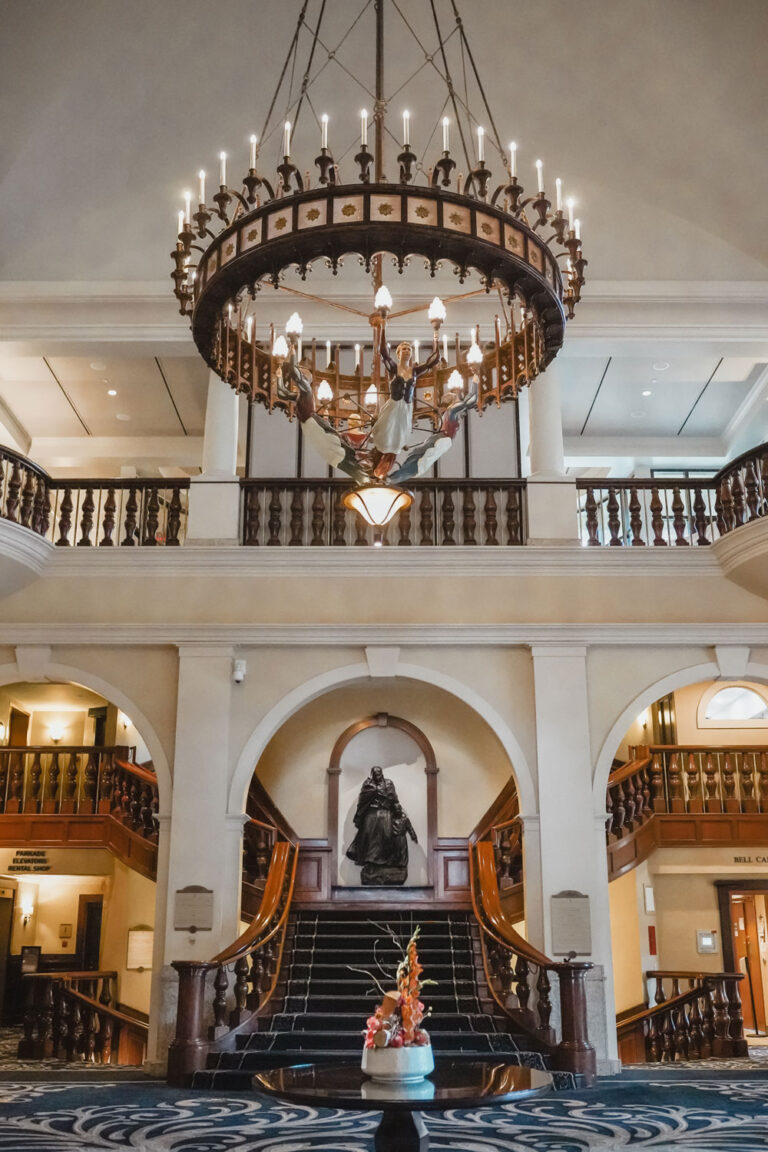 Well…there is one very iconic and very easy answer and that is the Fairmont Chateau Lake Louise. You guys know from my many trips to the Fairmont Chateau Whistler and my stay at the Fairmont Jasper Park Lodge how much of a fan I am of the brand, so when my friends mentioned that they booked in for the BC resident deal for these 2 nights, I was so excited about the prospect of coming with them. I was really nervous that I wouldn't be given the green light to go since I had recently entered my third trimester and with everything going on COVID-wise, but with some precautionary measures and instructions from my midwives, was given the go-ahead and am so happy I did because it was honestly such a bucket list experience to get to stay at the Fairmont here.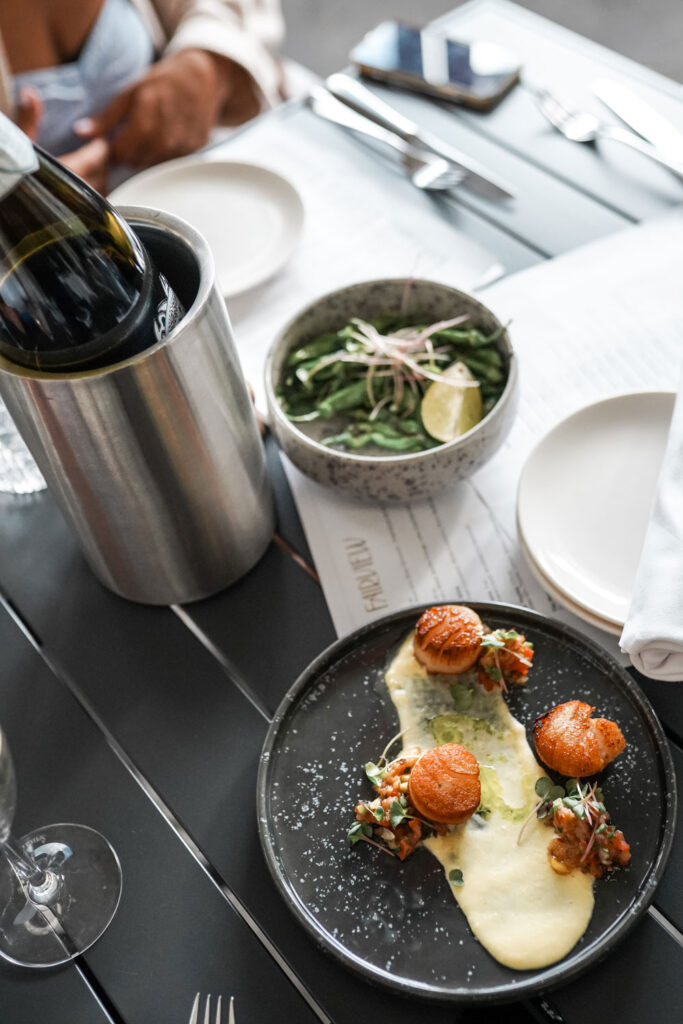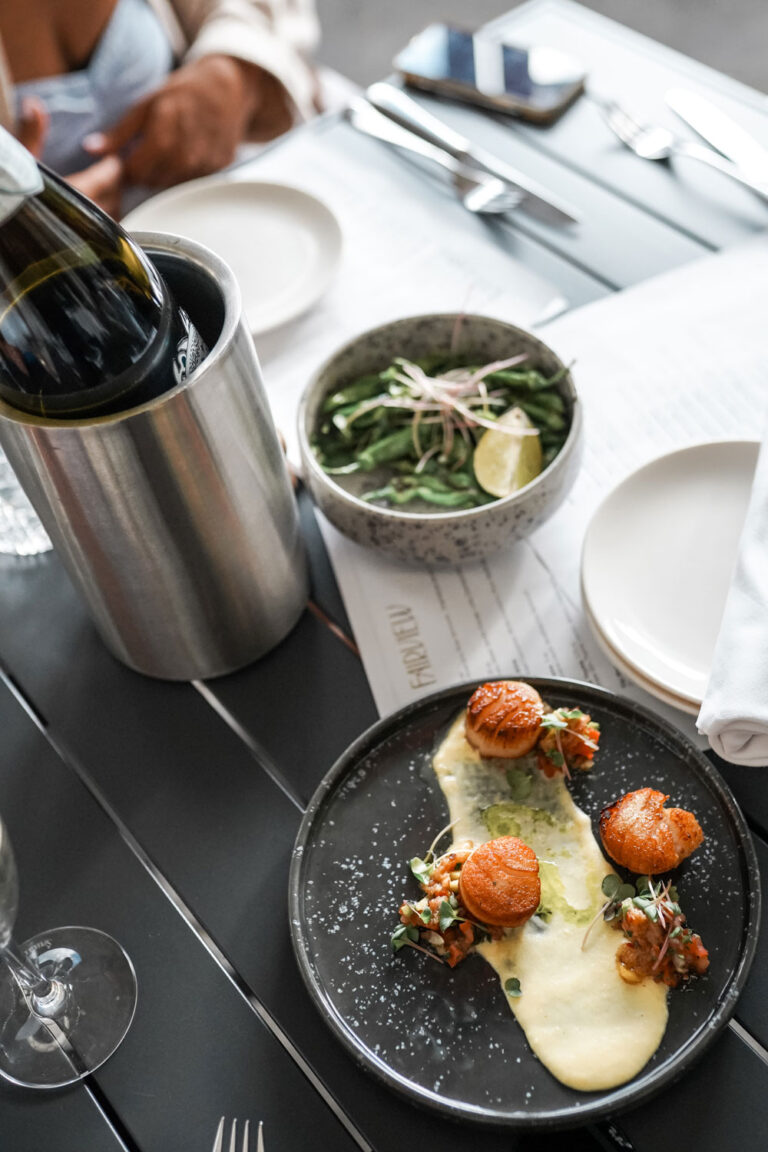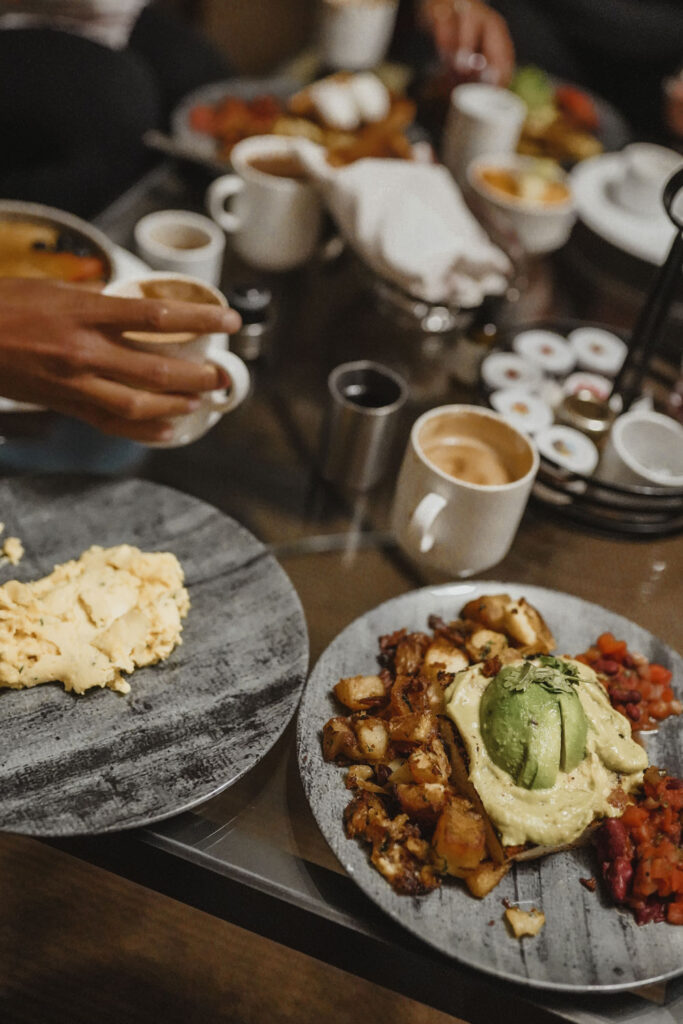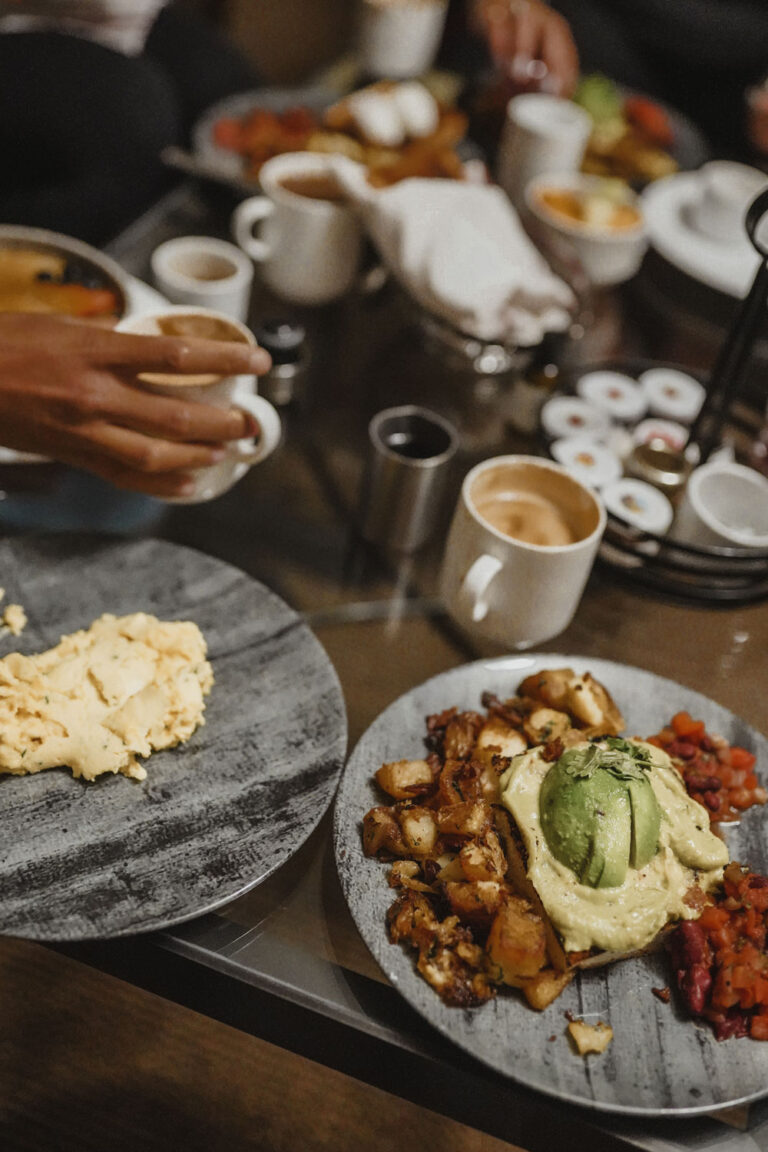 They very kindly hosted us for both breakfast and dinners—unfortunately (or fortunately in some respects) one request from my midwives was that we eat only outdoors if it's a restaurant setting, so we ate both dinners from the gorgeous and very iconic Lakeview Lounge patio that has these gorgeous views of Lake Louise—so beautiful! So while it meant we didn't get a change of scenery in getting to experience both the Lakeview Lounge and the upscale Fairview Bar & Restaurant, we did get to still experience both menus and that view honestly can't be beat, even if it required a bit more layering (again, it gets chilly in the Rockies when the sun goes down, even in the summer!). We also had in-room breakfast in our gorgeous two-bed suite which was so delicious and so needed every morning as we were having such early starts and were always ravenous by the time breakfast rolled around. They took such amazing precautions to make sure the food arrived safely and we all loved our selections—the avocado toast was my fave!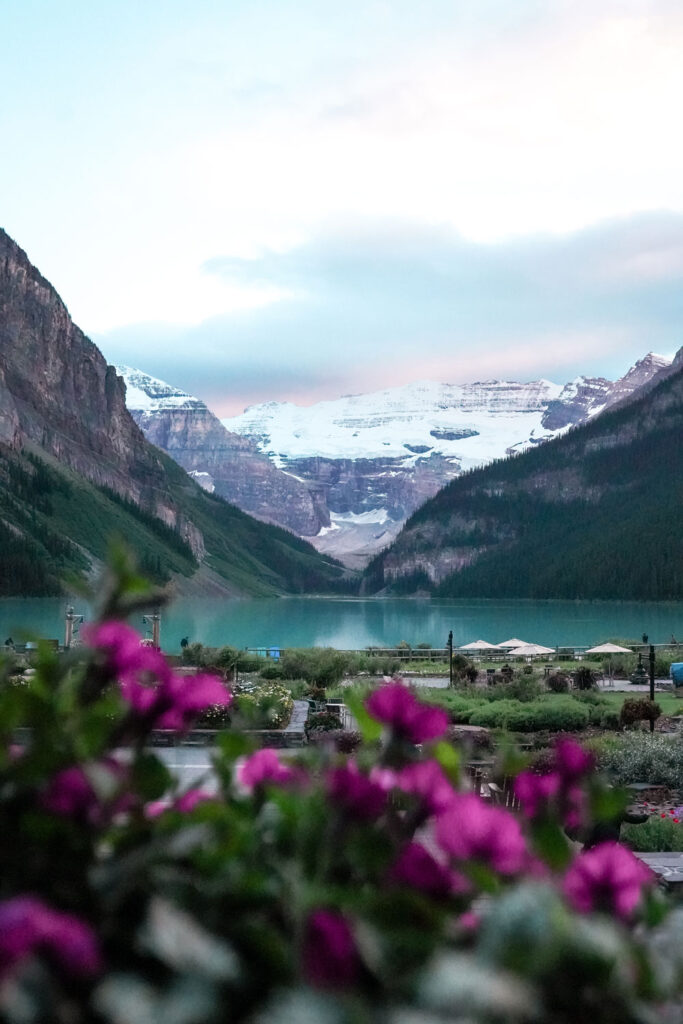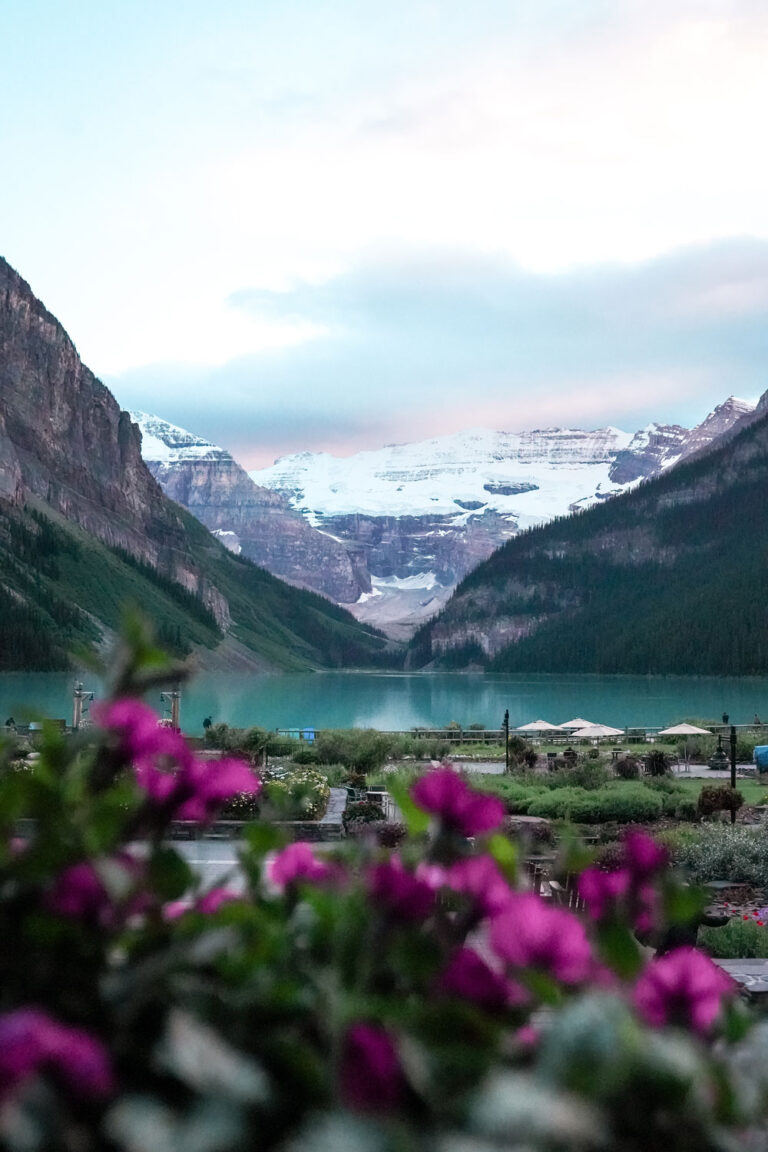 I do want to touch on their COVID measures because I was just so impressed by how seriously they took it. Not only was the road entrance to the Fairmont manned to only allow for hotel guests to come through (which was really reassuring, especially given how it's one of the most busy and popular natural sites in all of Canada), but masks were required on both staff and guests inside. I am a big believer that if you are a human being who cares about other humans right now, you should be wearing a mask indoors (the one exception being dining, obviously…you do need access to your mouth for that). Even if you feel just fine, you just never know if you could be asymptomatic and it's not about how you feel or your personal perceived threat of contracting the virus, it's about protecting those around you. I understand depending on where you live that wearing masks outdoors might not be necessary, but I really think that we should all just be taking that precautionary measure right now to protect one another when we're in an enclosed space, and it shouldn't just come down to staff at restaurants, hotels, etc…where's the consideration for them or for other patrons too?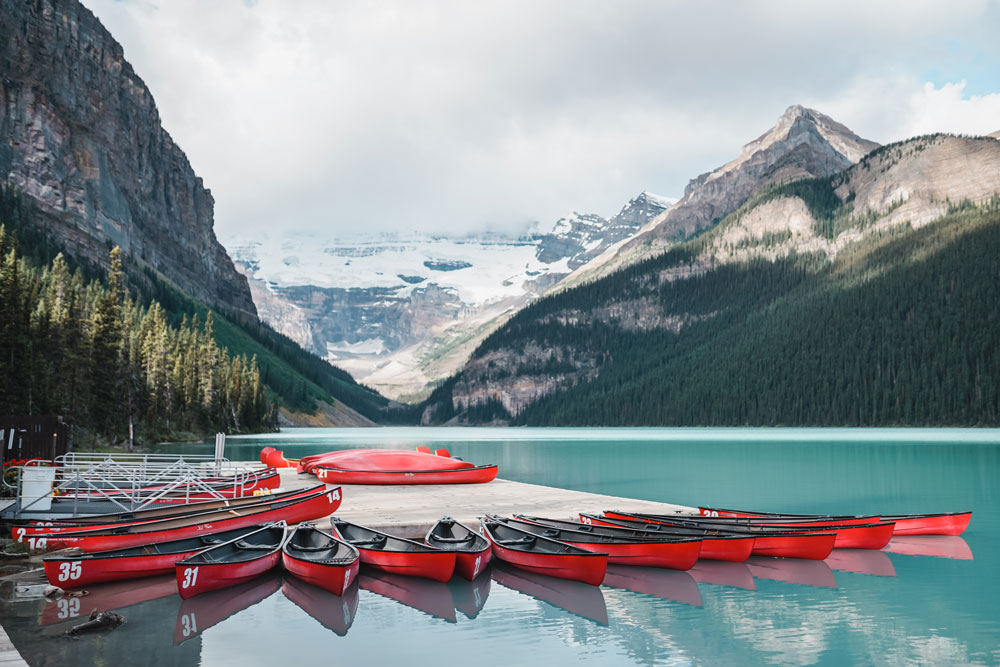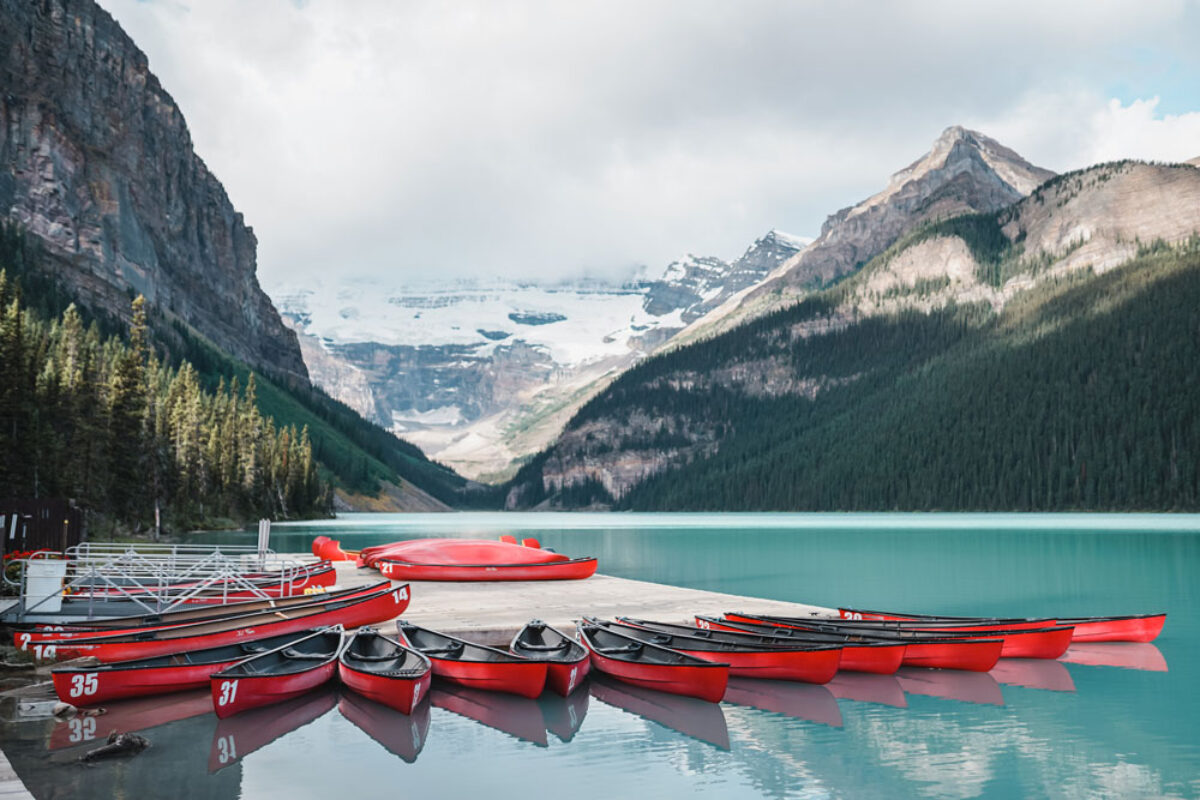 Rant out of the way, I so appreciated this because this is how it should be right now and it made me feel so much safer staying there. Things were sanitized constantly, the pool operated on a booking system and you needed a reservation for the lounge or other dining options (which kind of just makes life easier anyway, doesn't it?) and all in all, it just felt like they'd done everything they possibly could to make sure that their guests were safe, without detracting from the experience of staying at such a luxurious and special place.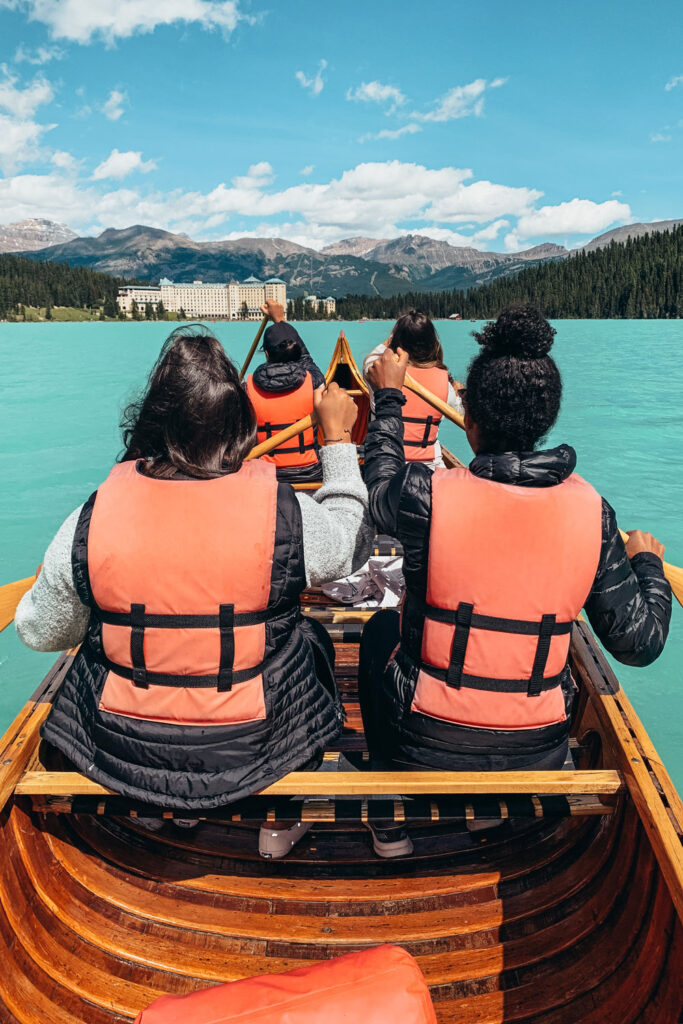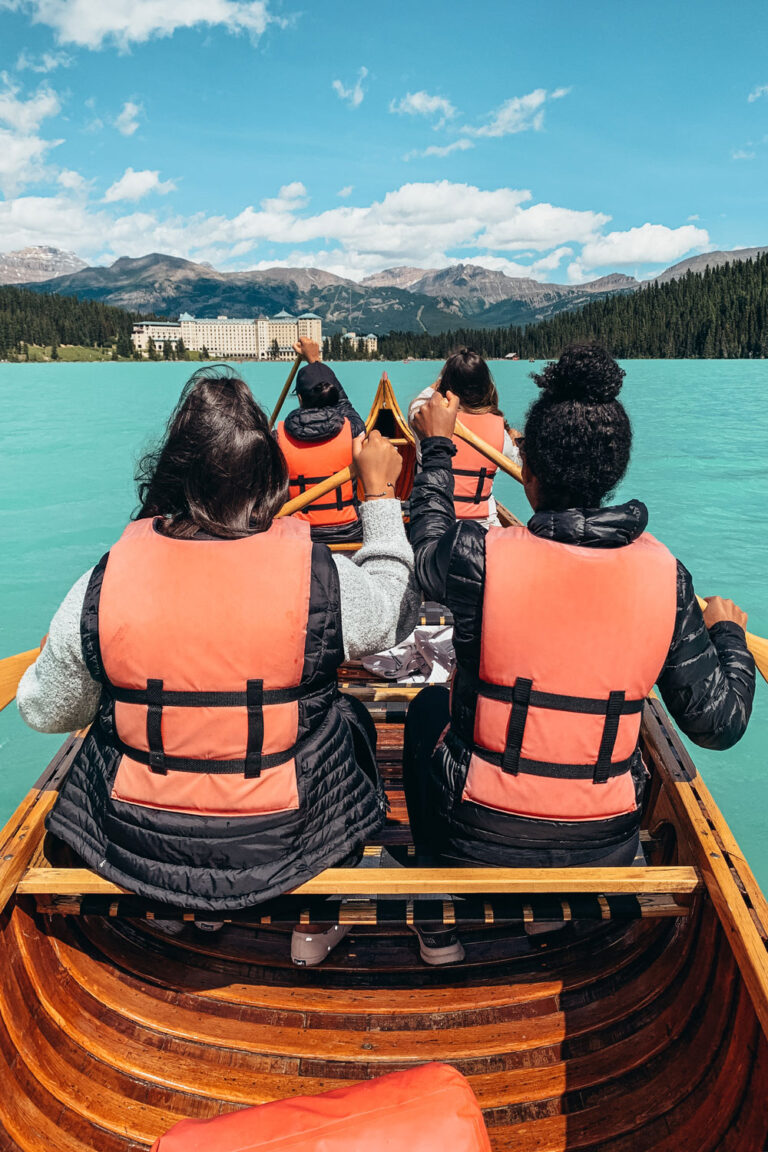 A common theme for me this summer (well, for all summers, but especially this one) was to get outside, and one thing that was really amazing to do was to get out into the sunshine on a particularly windy day and do the voyageur guided experience with our guide Mike, who told us some really interesting history and facts about Lake Louise (did you know that Lake Louise is the highest permanent settlement in Canada?) while we canoed about in our huge wooden canoe. We had such a blast and it really is a must-do.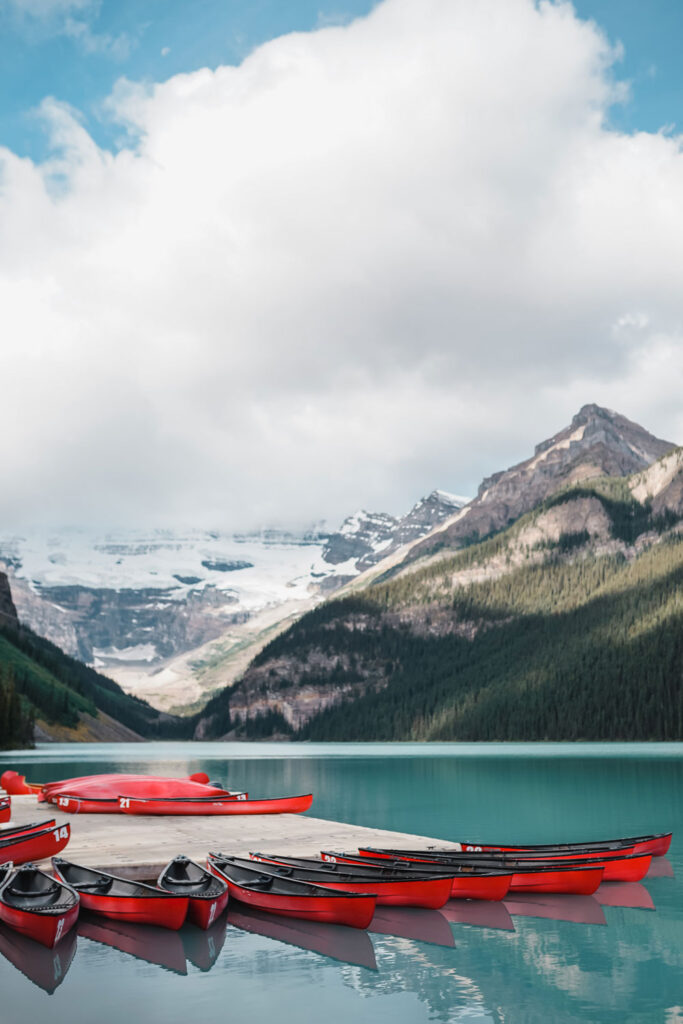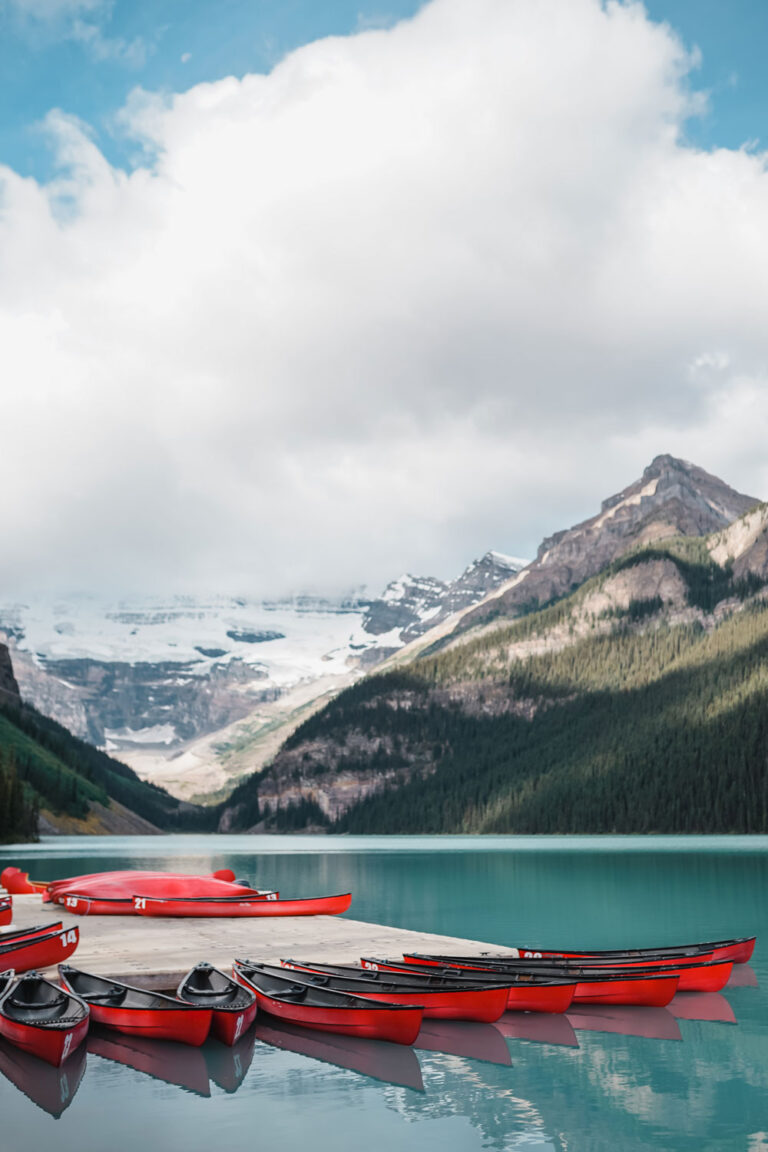 The lines for the canoes (you can also just take one out on your own) can get very long so again, same message here: go early! The girls went to hike The Big Beehive Trail (which I opted out of as my very limited lung capacity these days would've slowed them down quite a bit) and I wandered around the lake for a bit myself early in the morning and saw people getting canoes around 9:30 when they first open up and it was not busy at all yet, so again, the earlier the better with these very popular locations! A big thank you to the Fairmont Chateau Lake Louise for elevating our stay, we had such an amazing experience!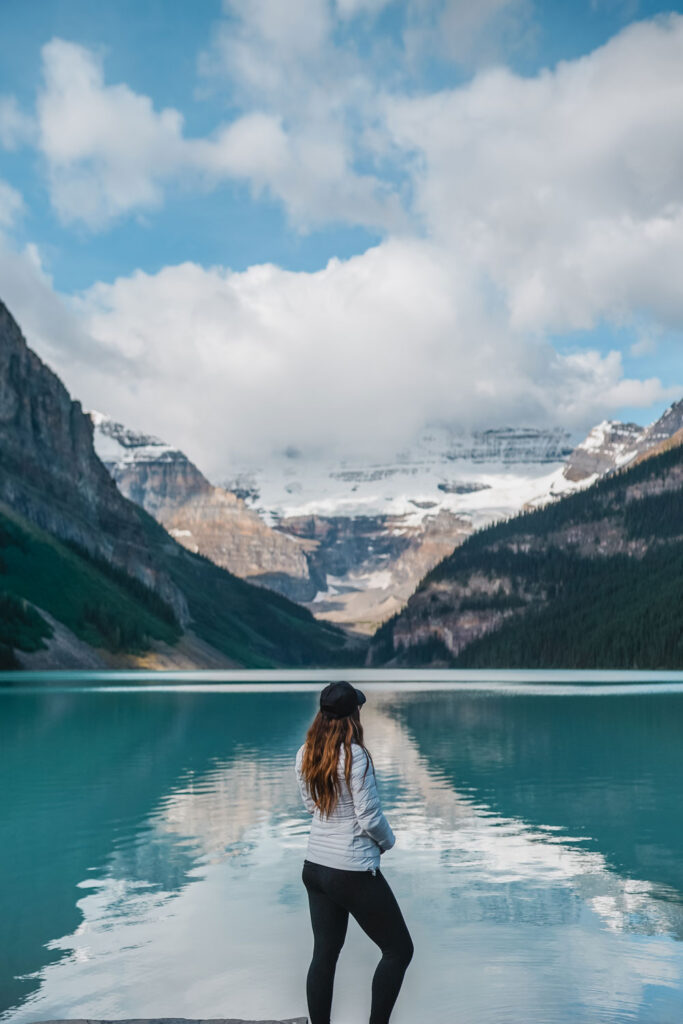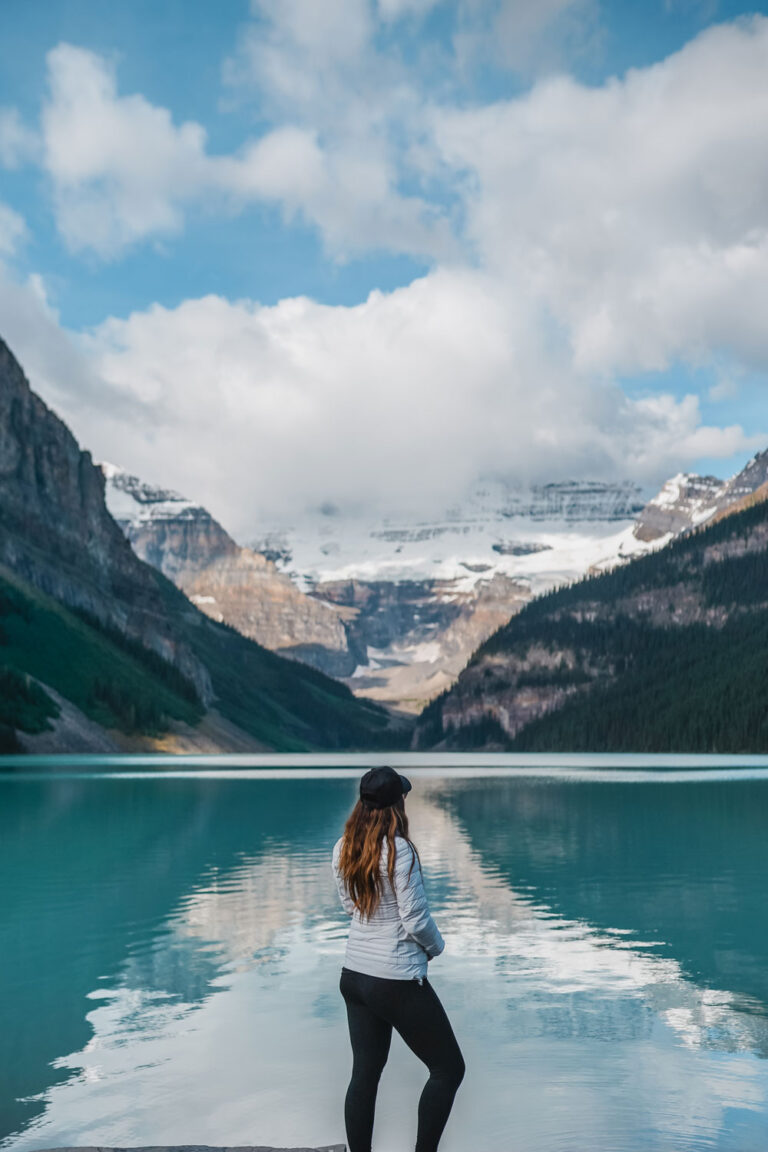 Our hearts and my memory card full (seriously, one of the most picturesque places I've ever been to, narrowing down the shots for this post was a serious undertaking) we left after a whirlwind but amazing two days. Matt and I had initially planned to do both Lake Louise and Banff this September but being too close to our due date, we're so looking forward to bringing our little buddy maybe at the turn of the summer next year, right when the lakes first thaw. I'm so happy I got this little getaway in with some of my best pals, but am also so excited to start planning for all the places I'm going to bring my new little adventurer to as well. If any of you have baby-friendly trips you'd recommend, I'm all ears!
TOP LAKE LOUISE TIPS

Pack layers (even in the summer!)

Arrive before sunrise for Moraine Lake if you want parking, and arrive shortly after sunrise or for sunset at Lake Louise for a quieter experience

If driving from Vancouver, break your trip up into 2 hr increments. If flying in, Calgary is your closest city (it's just under a 2 hr drive from there).

Best time to visit to see the lakes thawed: late summer/early fall or at the turn of summer.
---
pin me