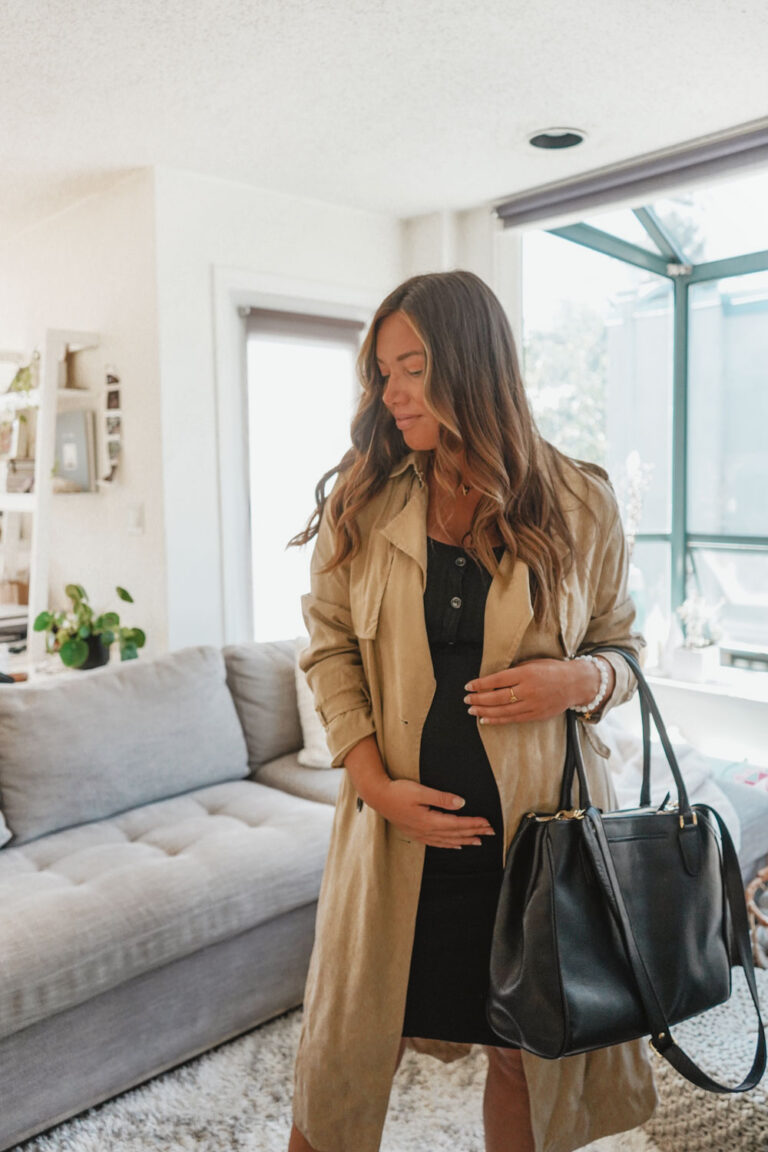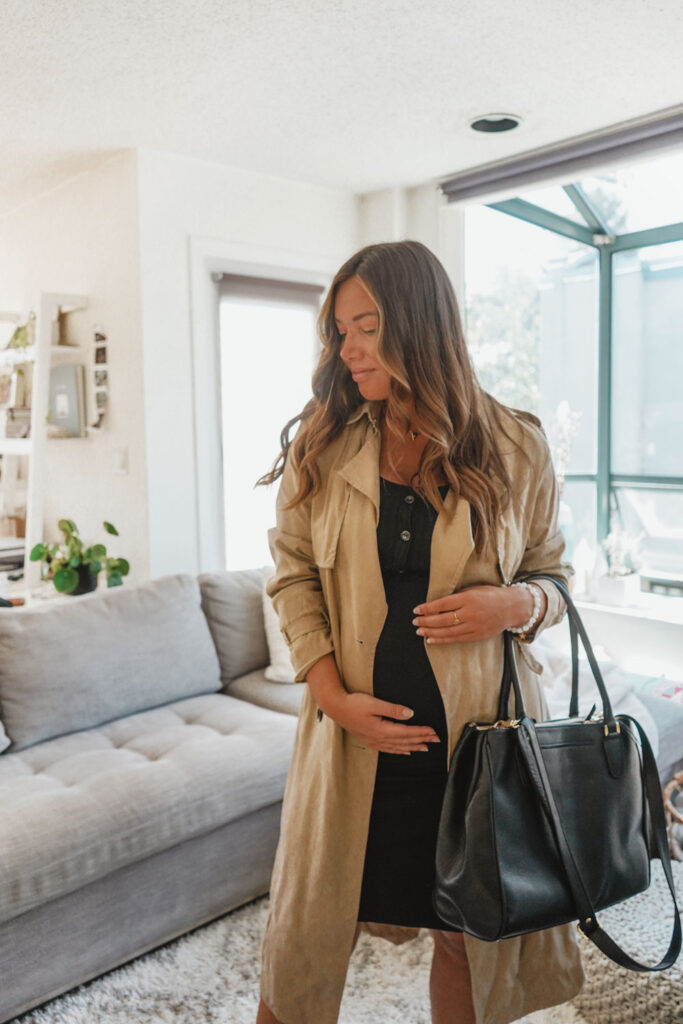 At the onset of my pregnancy, in addition to the millions of other things that I instantly became excited or nervous about, I immediately started excitedly mapping out all the style content I'd be sharing over the coming 8 months (since I found out I was pregnant just around my 4 week mark). Well, first of all I didn't realize that my bump wouldn't really come in for some time…it's different for everyone obviously, but I imagined my bump being in pretty much right away and it took its sweet time to really pop (though it is most certainly here now at 8 months!). The other thing I didn't anticipate was that my pregnancy would go by very quickly—here I am with just a couple months (give or take) until we meet our little guy, and feel like I'm running out of time to share all that maternity style content!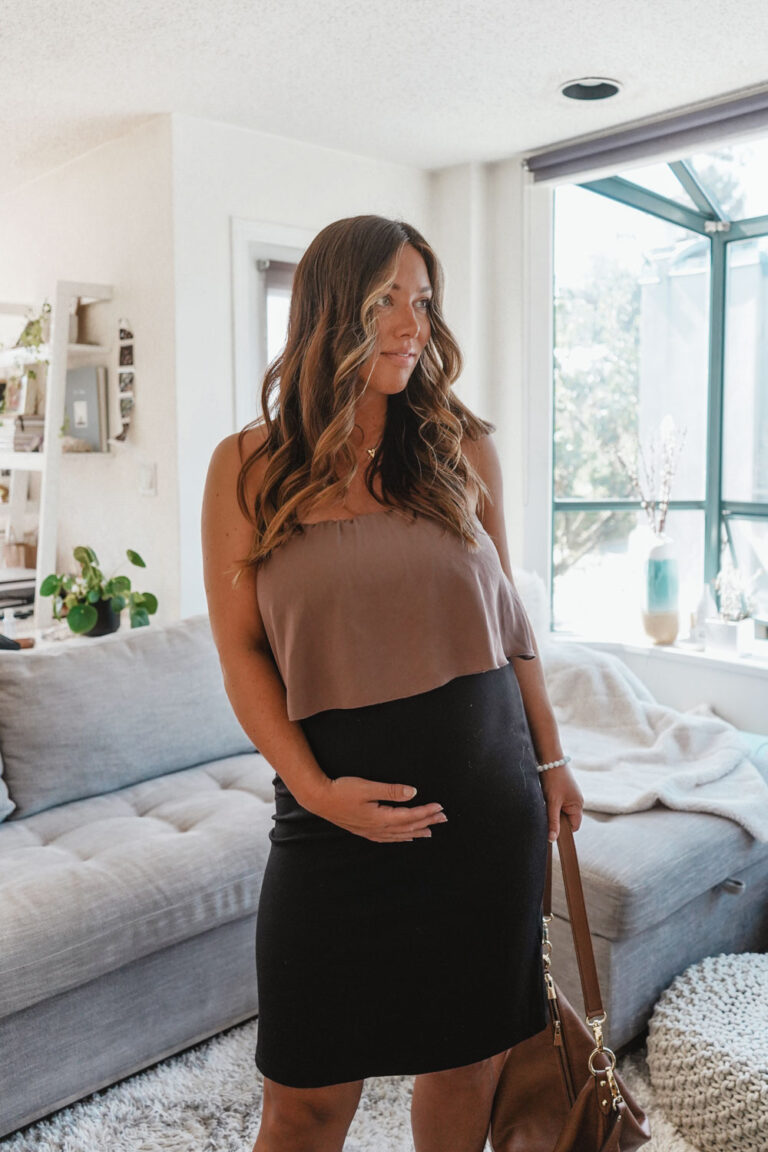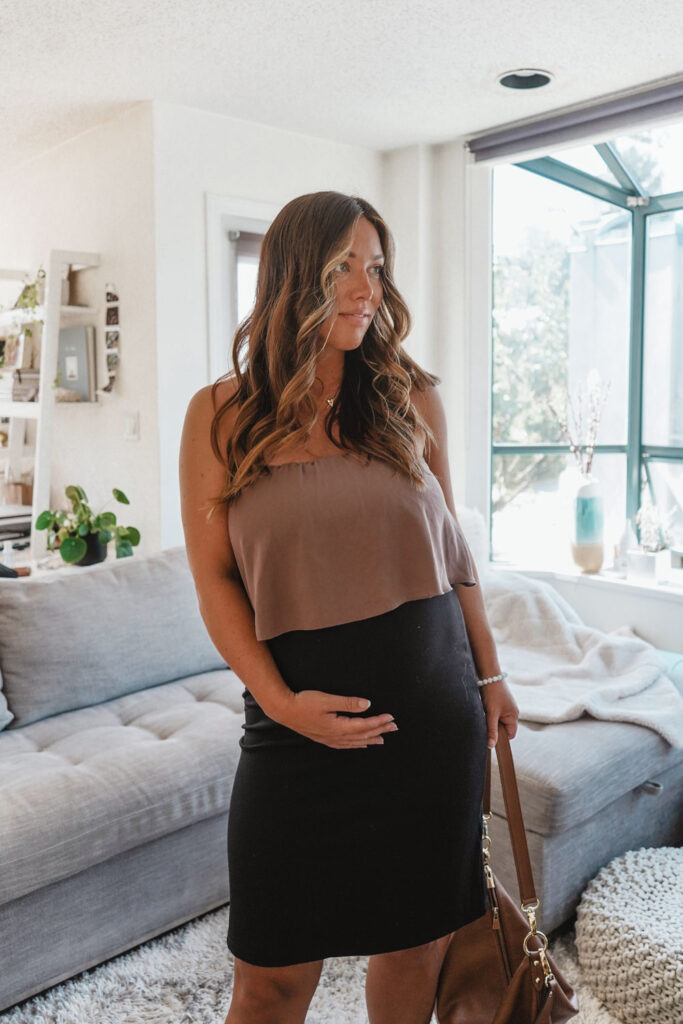 While I have shared some maternity style over the last few months (two second trimester outfit idea series here and here, along with activewear here), I'm hoping to make up for lost time in the next couple of months, and particularly because I have quite a bump to dress up now!
I wanted to highlight one of my maternity style superheroes that I've been wearing throughout the summer, and particularly when my bump popped: the stretchy maternity skirt!
This is a super inexpensive one I got from H&M (maternity style hack: shop brands' basics lines, lots of stretchy options you can wear on repeat), I'm wearing a size M here. I've been finding that while my more restrictive clothes I have to bench for now, a lot of things still work in my size or a size up for the time being (I'm usually a S or M, so have just been getting everything in a M & so far so good!). Tops/jackets are easy because I've just been wearing my usual pieces, but with bottoms, specifically either shopping my closet or making a few new purchases to make sure there's stretch, elasticized waistbands, etc! Here are 5 different looks with the same pencil skirt (incidentally, these looks transition from summer to fall as you scroll top-to-bottom)!
---
Pencil Skirt + Crop Top + Mules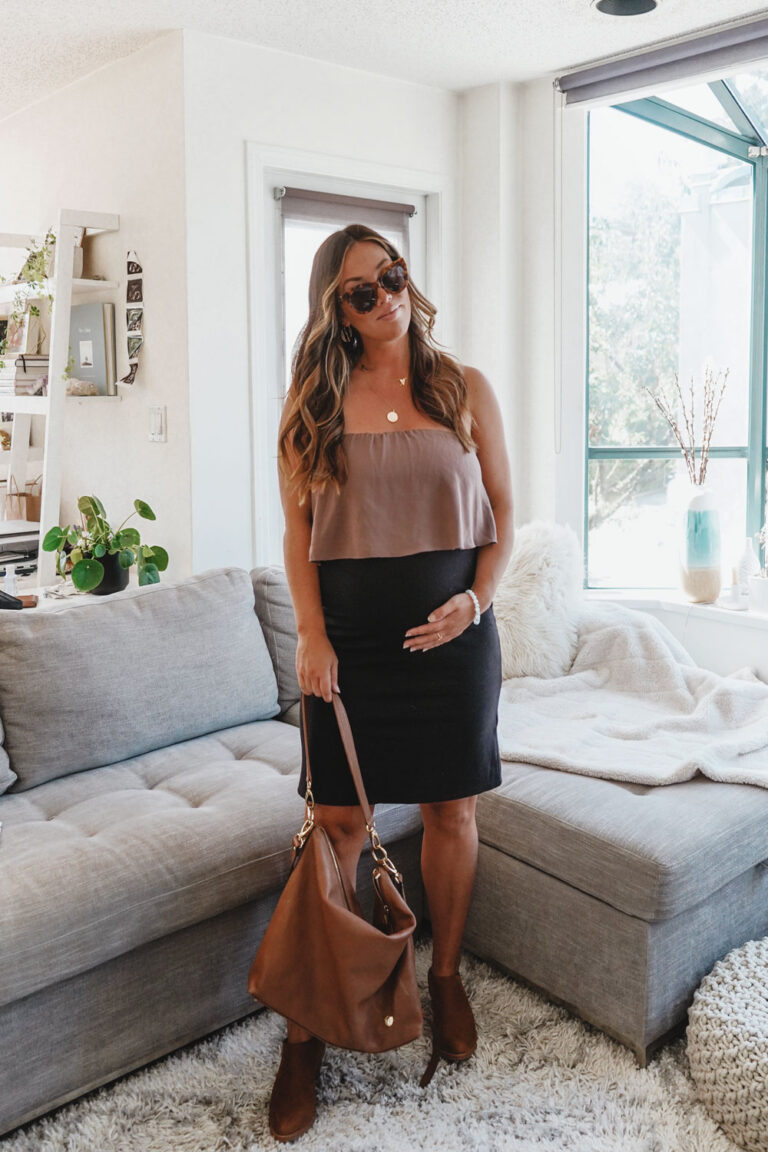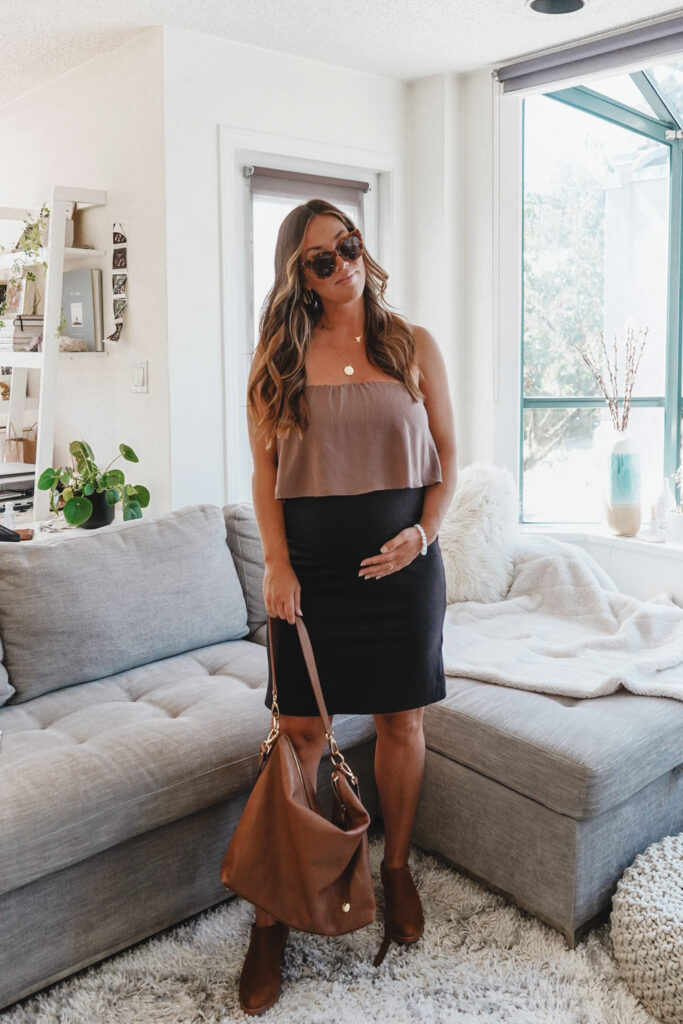 I have this top from Aritzia in 2 different colours and love it, though sadly it looks like they no longer carry it! I've got it paired with my fave Poppy Barley tote and mules, which I style up more in this post! A really easy summer look—I wore this in the Rockies with a big scarf to stay warm, along with some flats! So comfy but chic.
Pencil Skirt + T-Shirt + Sneakers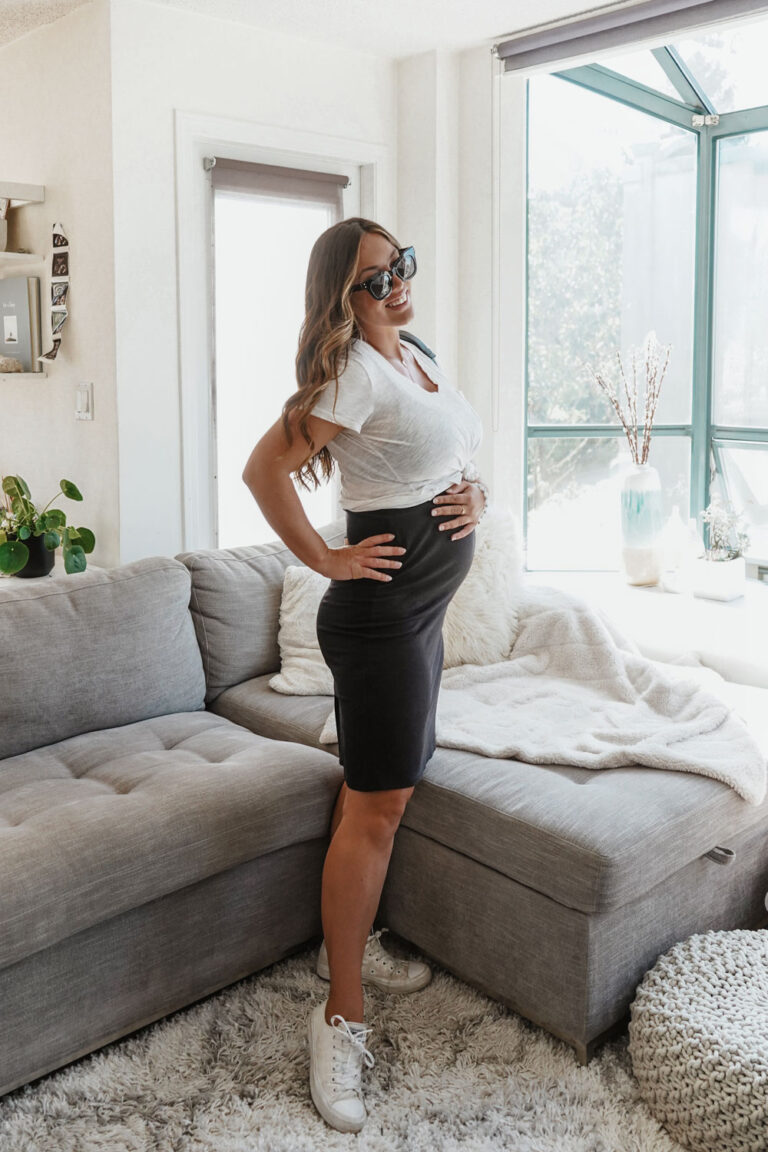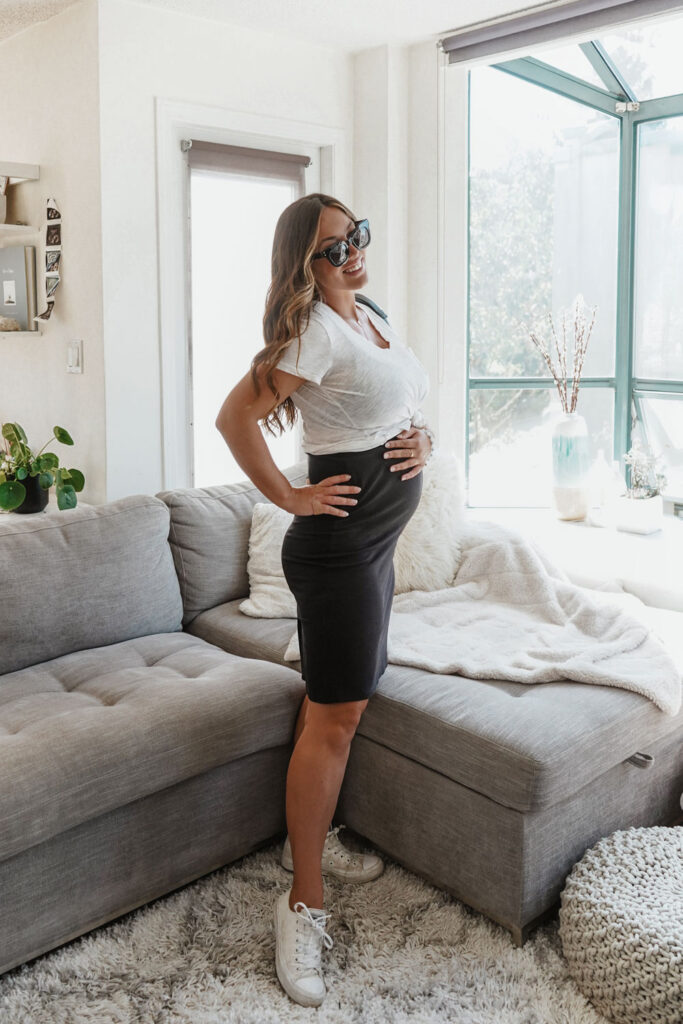 This is one of my go-to looks for daytime, running errands, going for a gelato run, etc. A simple knotted tee, my Converse sneakers & a See by Chloe Hana mini bag I love for running errands since I can just slip in my wallet, Epipen (damn wasps, I hate you and I'm also very allergic to you), sanitizer and go!
Pencil Skirt + Knotted Button Down + Heels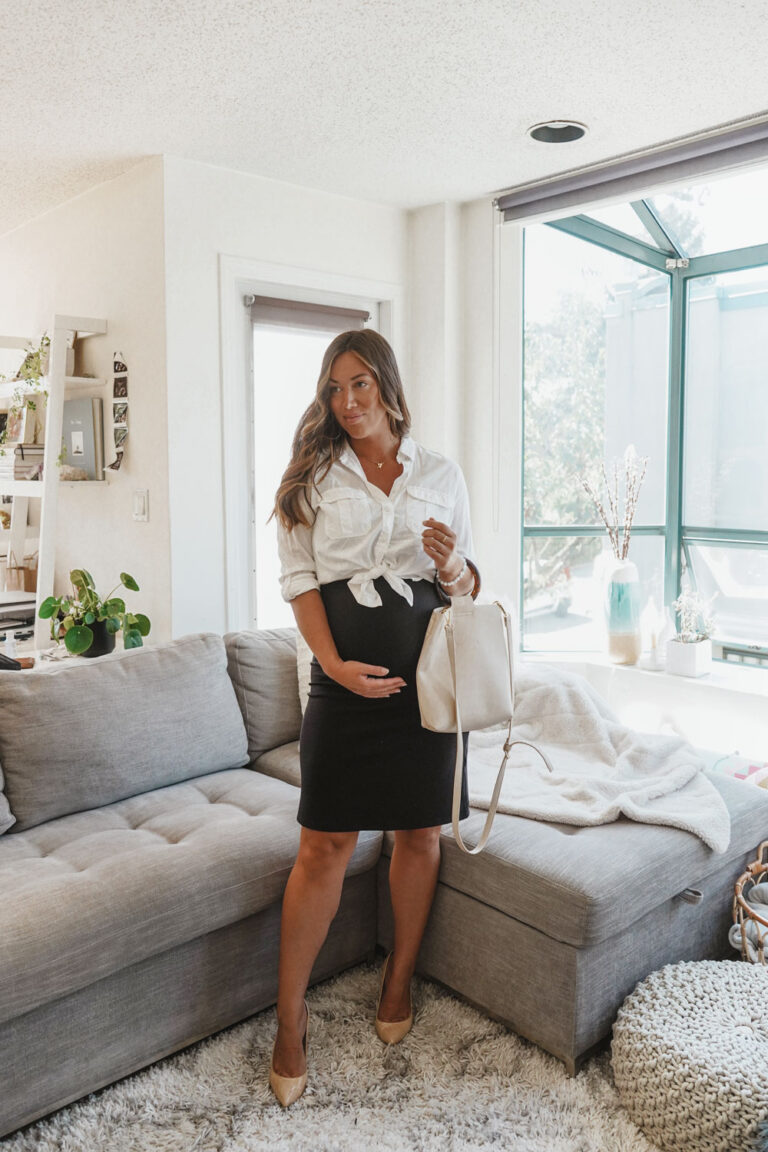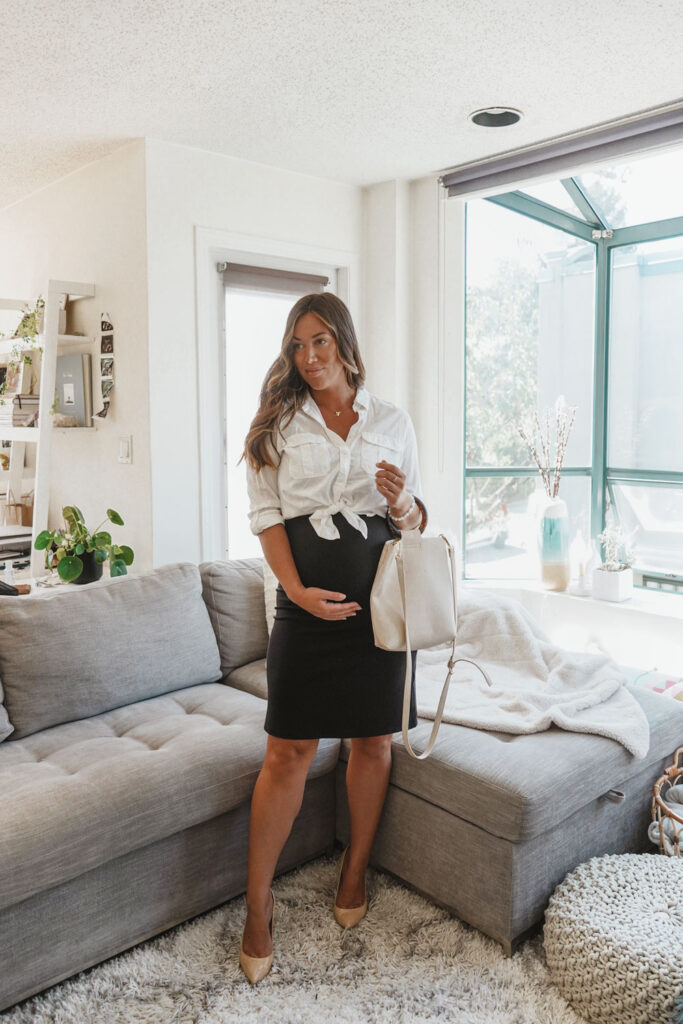 This is a good work option as you expand—throw on a knotted top and either tuck in or for a slightly more casual look, knot the ends! I'm not spending too much time in heels other than comfy ankle boots or those mules pictured above, but for a short stint something sleek like these older Ted Baker pumps is perfect!
Pencil Skirt + Trench Coat + Ankle Boots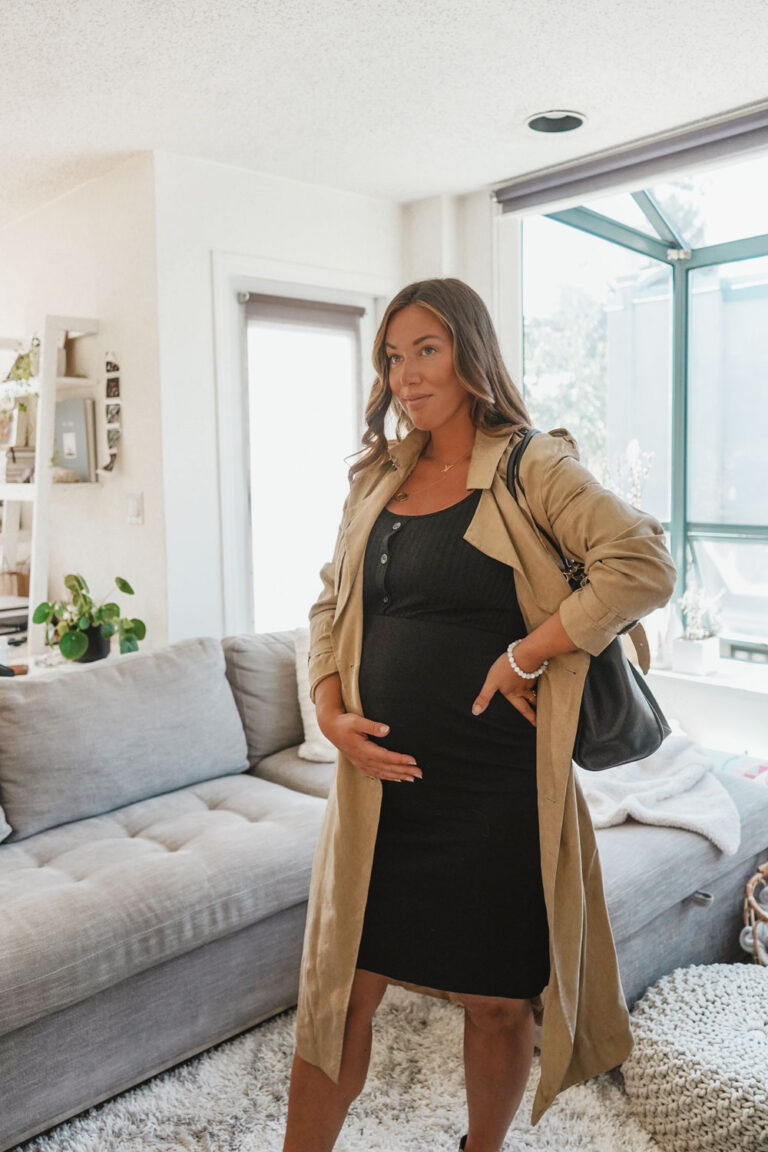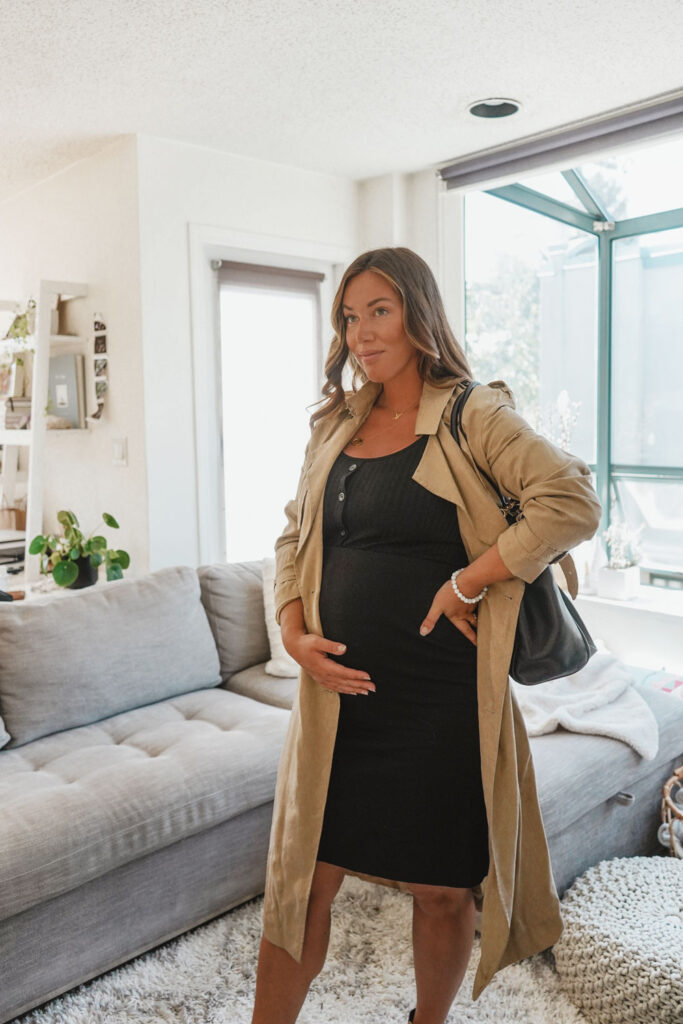 Moving into more of a fall look! This Artizia trench coat (this one's not around anymore but this one's very similar) paired with a simple black tank and the Co-Worker Tote from Poppy Barley makes for a sleek summer-fall transition look. Wearing ankle boots here but you could either go for pumps or sneakers/flats too depending on whether you want to dress it up or go for something more causal.
Pencil Skirt + Sweater + Wool Hat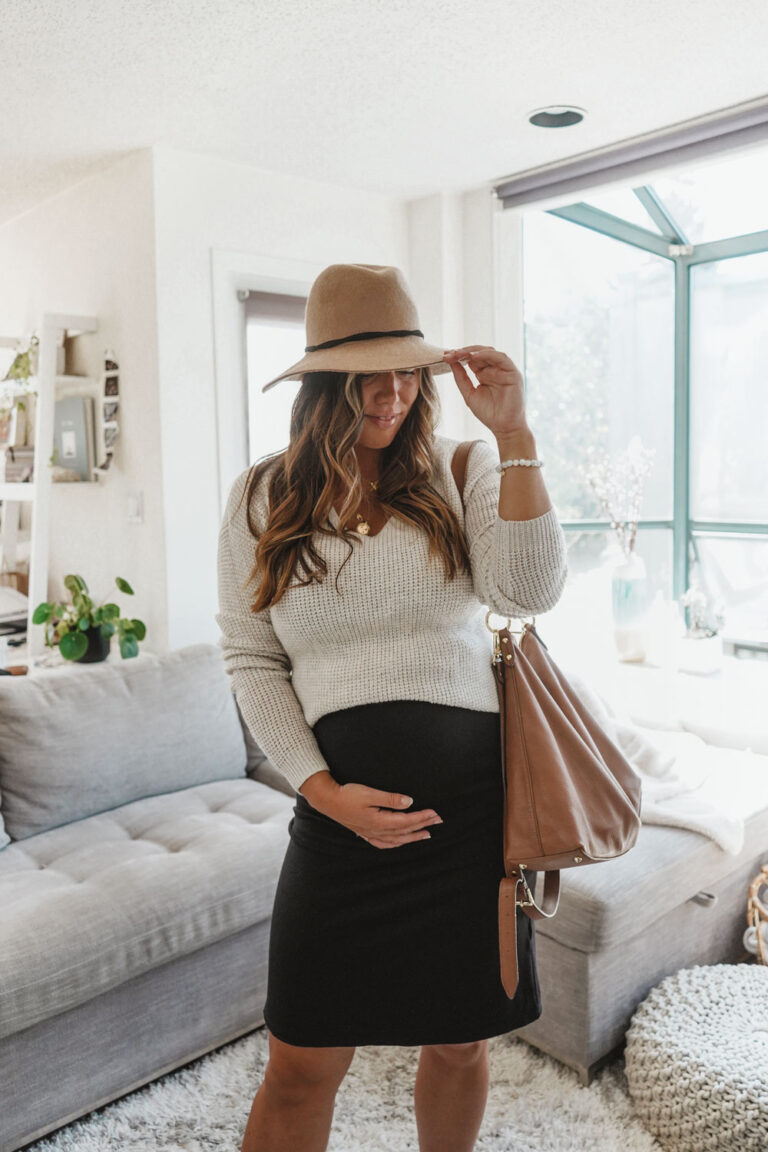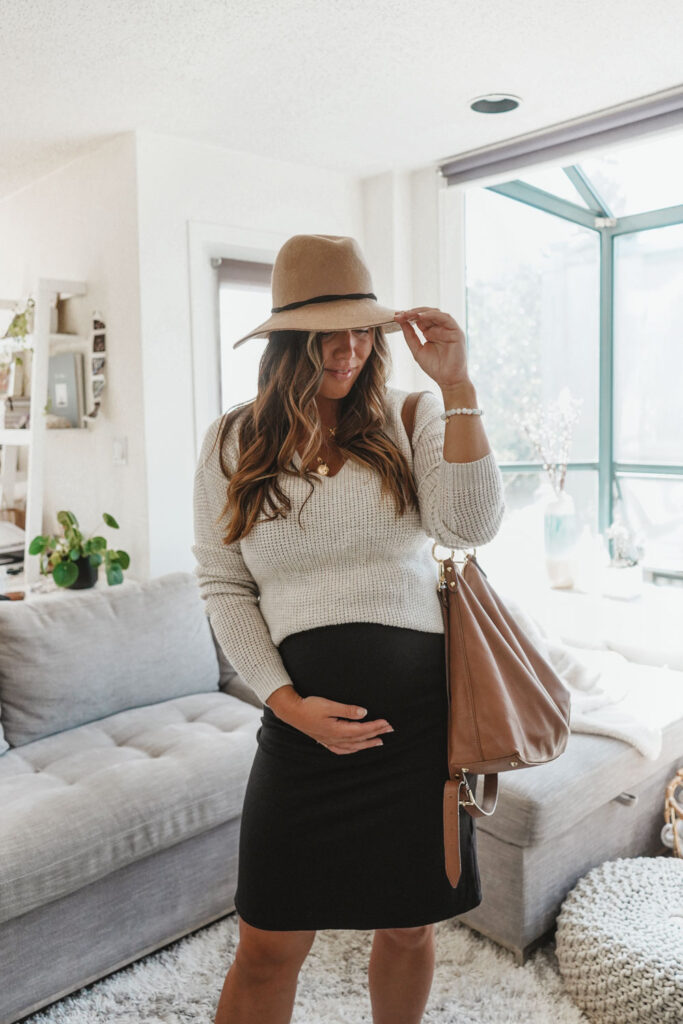 I was literally sweating pretty hard at this point, it is still pretty warm in Vancouver and I honestly feel like I'm a furnace on full blast all the time these days! But once the temps properly dip, this is a really easy early fall look—just toss on a sweater (this is last fall from Aritzia, this one's similar!) and either tuck it into the waistband of the skirt or throw on a belt to tuck it into, put on a monochrome hat & either go for ankle boots or mules, which I'm wearing here! Also loving a slouchy tote forever & always for fall, this is the same Poppy Barley bag worn again here.
I think my nesting is beginning to happen, and it's largely characterized by just wanting to get rid of everything we own. Just looking at my closet gives me massive anxiety right now so that's what I'm focused on chipping away at while I'm still quite mobile. So obviously, buying a ton of things style-wise for this pregnancy wasn't a priority of mine. I wanted to have some basics I can rotate in easily, particularly for bottoms since my waist is really what's growing (though I'm sure the rest of me is growing too…thankfully, I'm not weighing myself so I'm blissfully unaware of it!).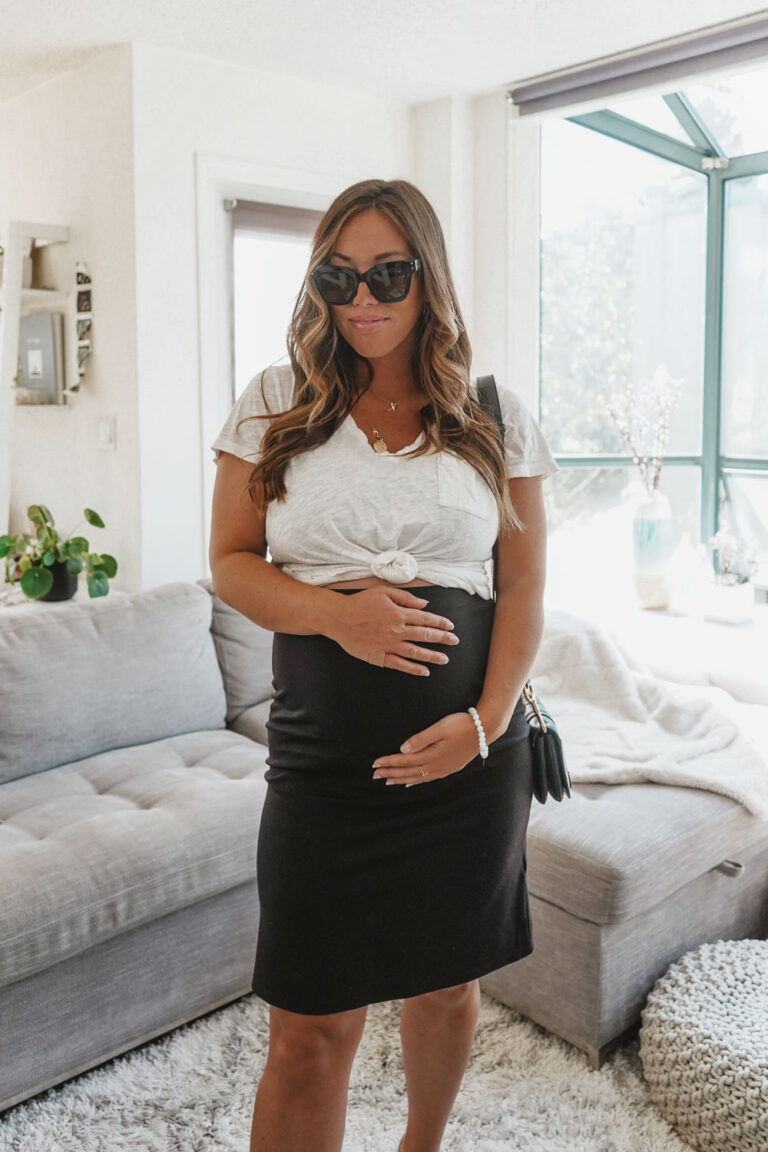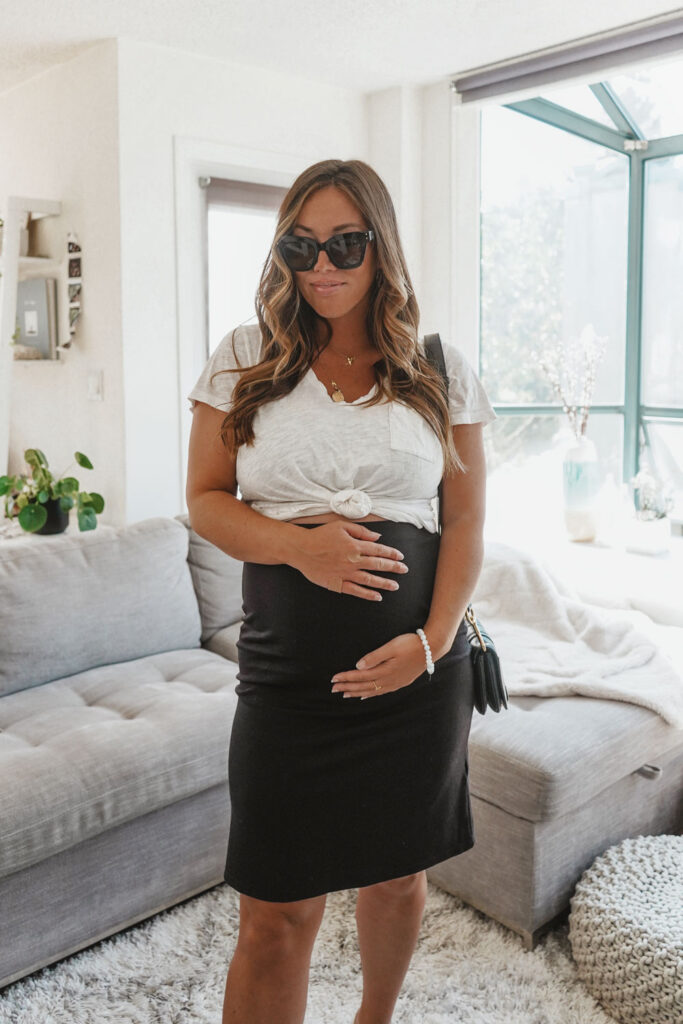 For instance, the linen shorts in this post I've also worn constantly, along with stretchy dresses, elastic band skirts, comfy sweat shorts, etc. I don't have anything against maternity wear (I feel like I keep getting messages from maternity wear advocates who seem to think I'm against maternity wear – not at all, it's just been a personal decision for me to try to be strategic with what I bring into my closet!) and might very well work in a piece or two as I get bigger, but I just really want to Kondo our belongings so aggressively as it is that going capsule-collection-style has worked so well for me so far and it's so nice to not have a bunch of pieces I feel limited to or that I know have an expiration date on them!
Looking forward to sharing more style guides with you guys soon, along with the decor changes we're making to our space. So much excitement, preparation and nerves in this last little stretch but really just still loving this whole experience and feeling in shock by how soon we'll be meeting our little guy!