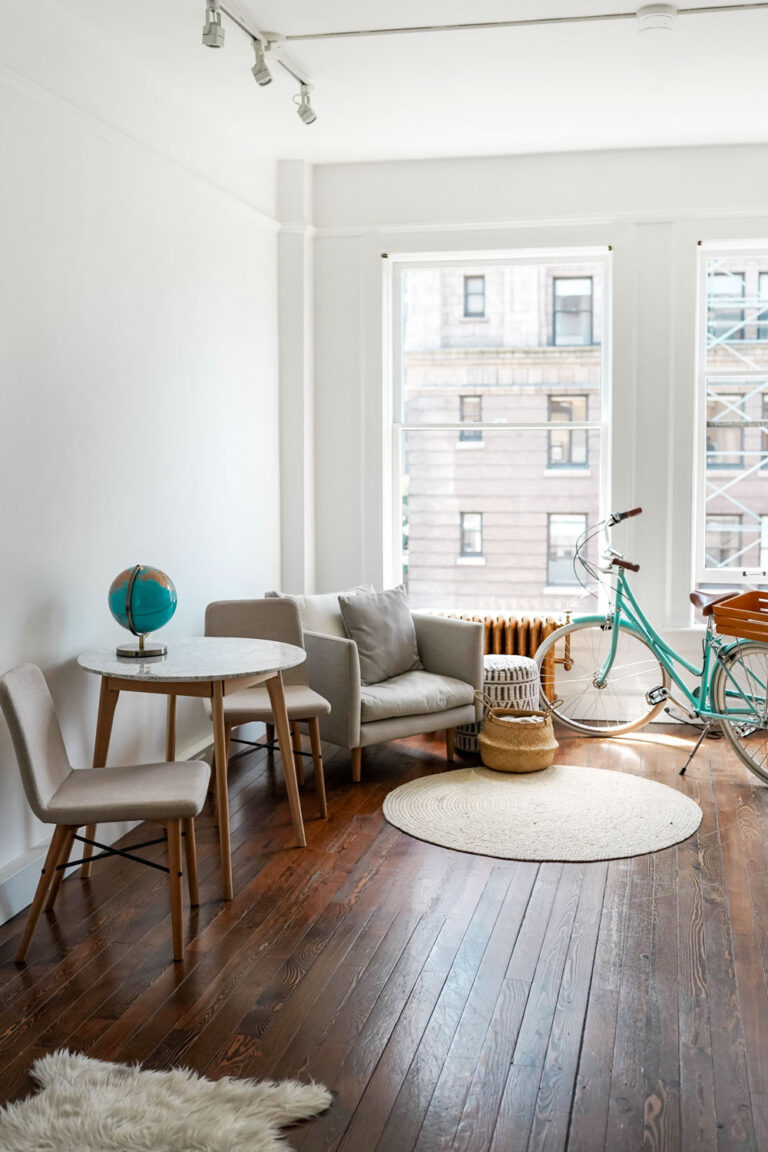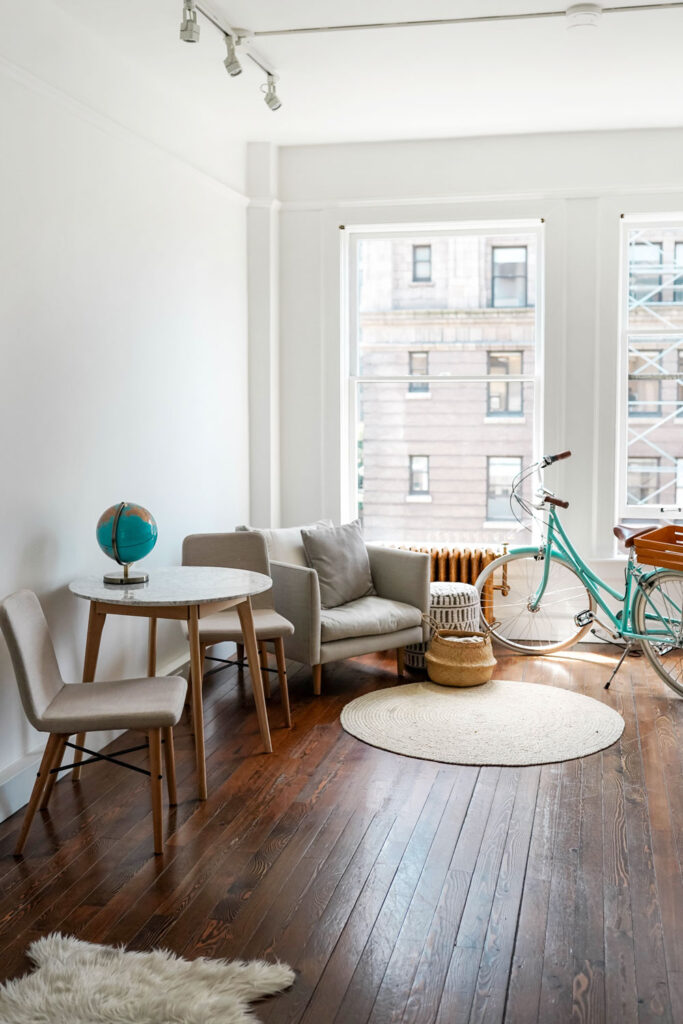 We just had a long weekend here in British Columbia and it was pure heaven—4 solid days of swimming in the ocean at my cabin on the Sunshine Coast, making friends with the cutest little seal buddies and all in all relaxing and catching up on sleep after an insanely whirlwind month this past July. But now I'm rejuvenated and recharged, ready to get back to work. Naturally, there's no more inspiring space to crack on with creating content than a studio space that is not only comfy beyond belief, but that is endlessly inspiring in its style. After a makeover a few years ago with Article, we've added in a few more pieces and revamped the space to make it a truly mid-century space and we (we being myself and my pal Alicia of Alicia Fashionista who shares a corner of the studio, along with the lovely ladies of Gloss Boudoir and a few other creatives in the city!) could not be happier.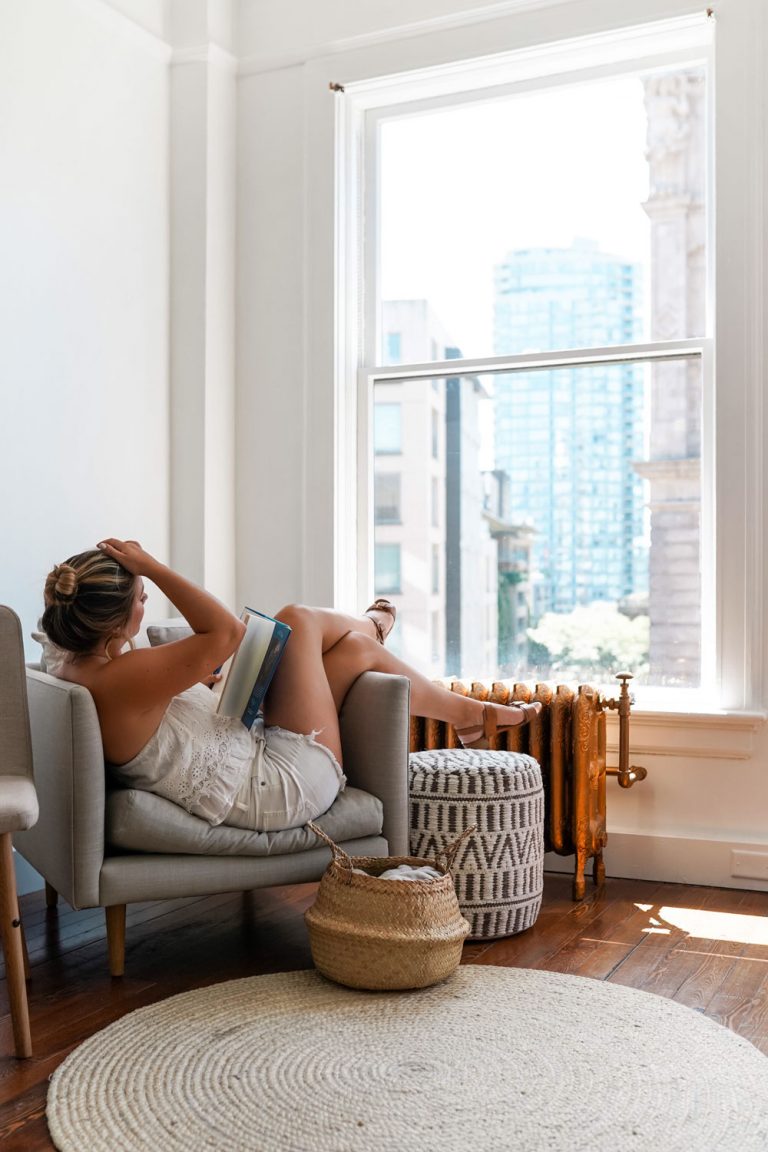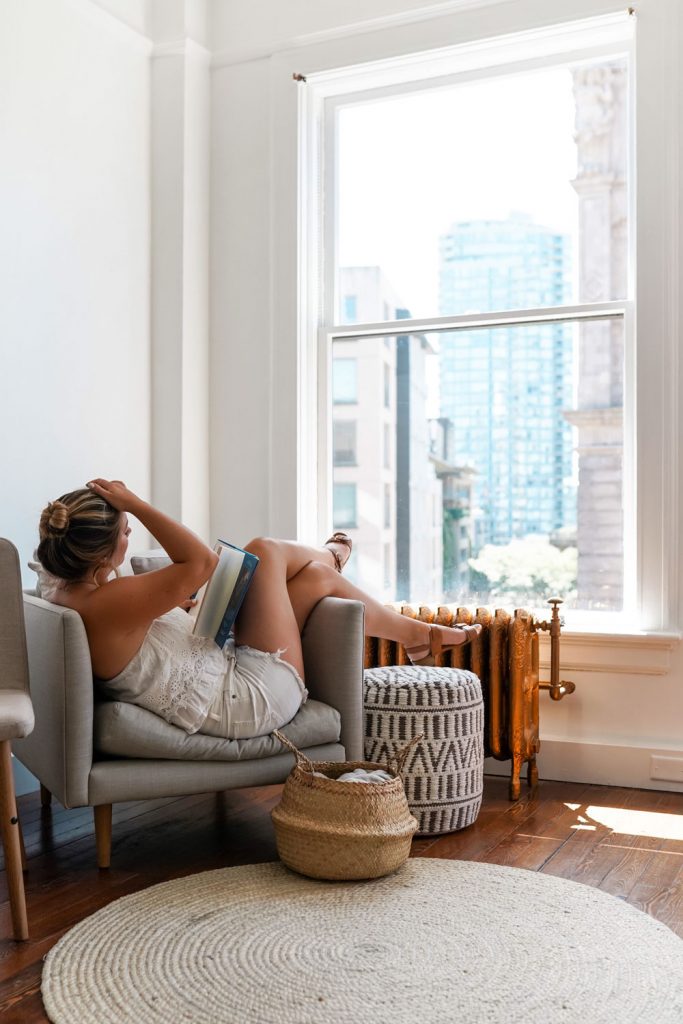 As a quick refresher, way back in 2016, we added in a few pieces that already quickly transformed our little Gastown studio—the gorgeous Mara marble coffee table (which I also have in my apartment, you can see that feature here) and the beautiful, most cozy Burrard armchair in Seasalt Gray. Not only were these both amazing additions because they're so gorgeous (and the studio is a go-to for me for photography), but the studio isn't just where I love to shoot, but where I love to work—working from home is great and I actually have really adapted and taken to it over the years, but I do find I just get a bit more locked in and focused when I'm in a space purely dedicated to work, like the studio. It doesn't hurt either that it's a super easy bike ride for me as well, not to mention a gorgeous one! Hence why my bike Keanu is making an appearance as well.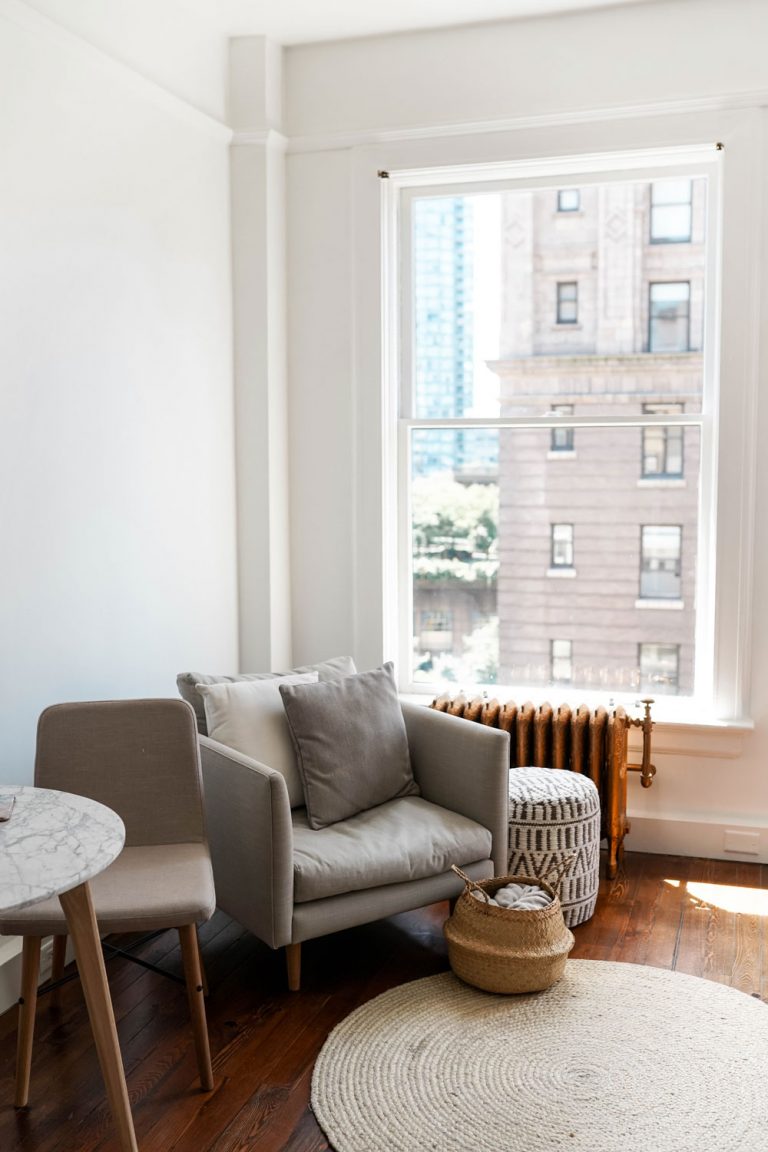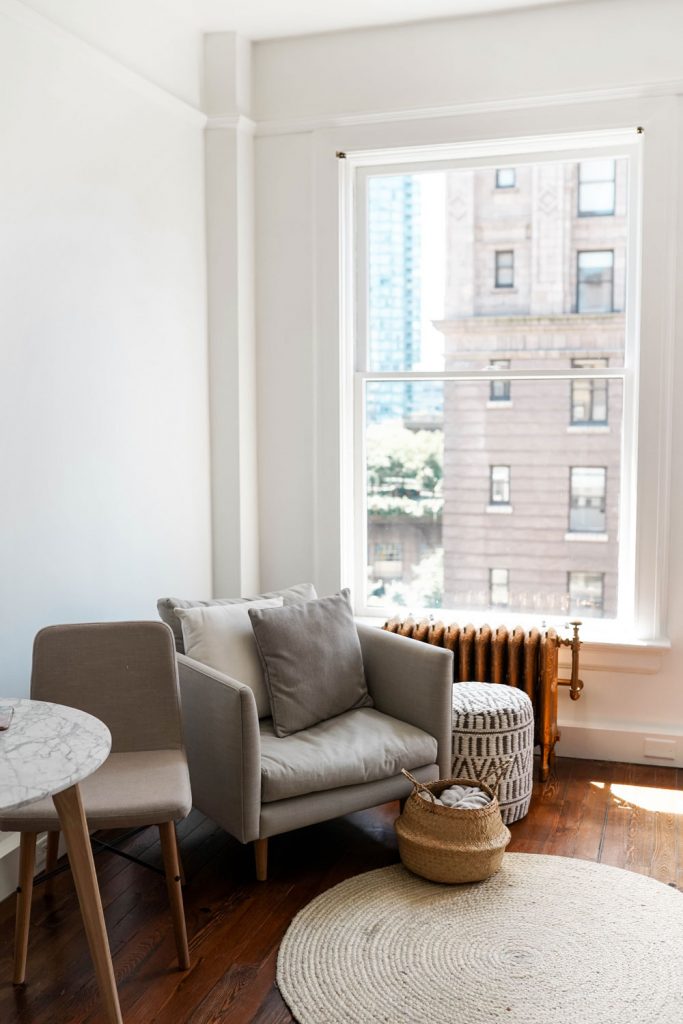 Cue to a few years later and we had a bit of a personnel shift in our studio with the lovely ladies of Gloss moving in and one of our longtime studio friends moving out, which left us with a lot more space to play around with when some of the furniture she owned got sold or moved out. We did a huge haul of donations (dropping them off at the Downtown Eastside Women's Shelter, which is such an amazing charity so wanted to make sure I noted that in case any Vancouver area people are looking to donate to a worthy cause here in the city!) and that left us with a truly wide open half of the studio other than our coffee table and armchair. It was time to redecorate and really bring to life the vision we've had for our space for a long time!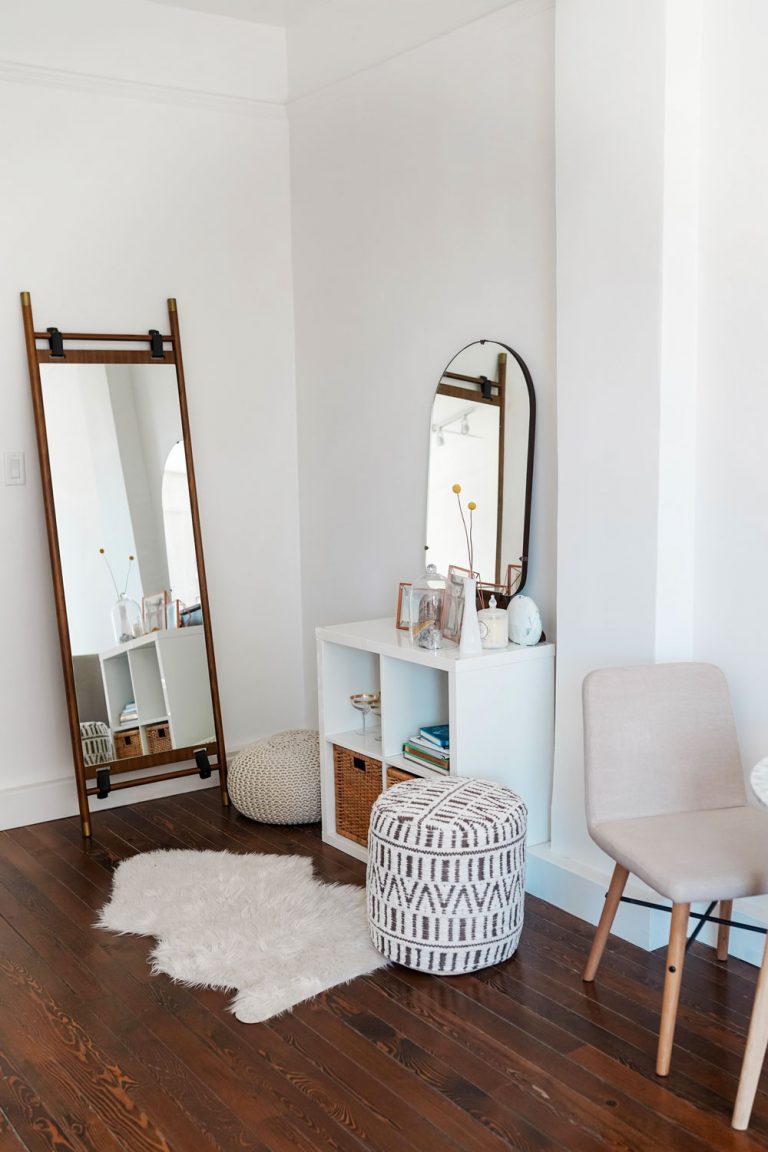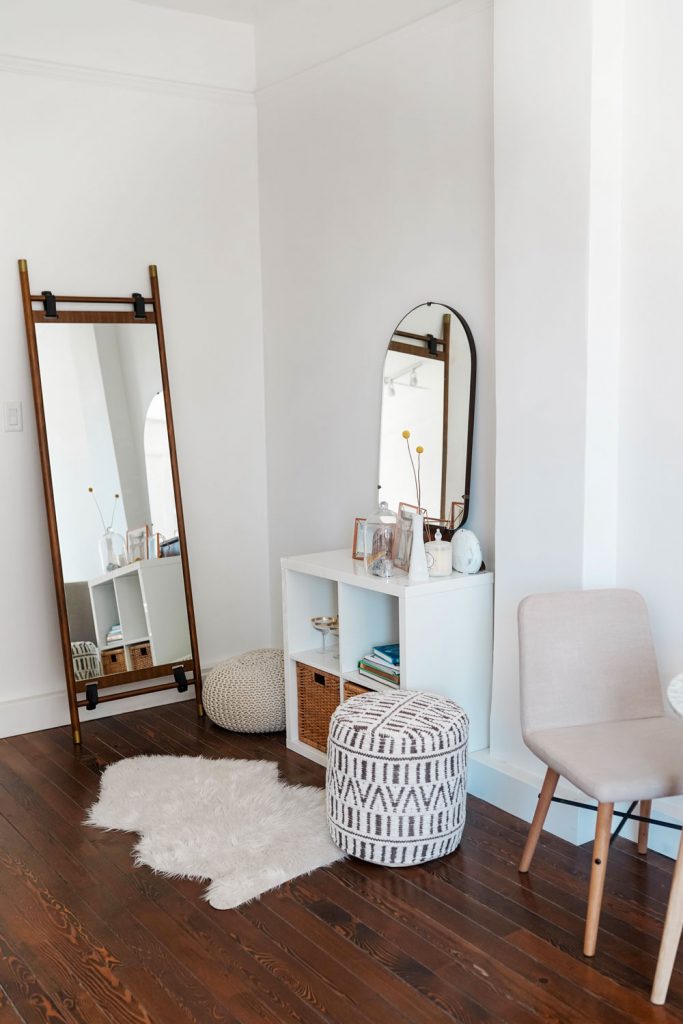 The first thing we knew we needed was the Beau Mirror, pictured above. This gorgeous full-length mirror is a piece of art in and of itself, with a beautiful light walnut frame, black leather strap accents, and an awesome vertical dowel style. Not only did it instantly open up our space thanks to the reflection, but it's added so much style to our space too. Article really perfects that modern and minimalist take on mid-century decor and I feel like it's captured so perfectly in the Beau Mirror. Along with an antique mirror in a similar wood stain, it's opened up the little back corner of our studio that doesn't get quite as much light and created the most chic little vignette there with our little storage shelving and some of our favourite little accents. Another thing I love about it is how functional it is—I am already eyeing this piece for our home as well, which is a bit more colourful and bright than the studio (hard to believe anywhere being brighter than here but our apartment is literally Window City, amazing for light but crazy for heat) because regardless of location, I feel like this is that perfect stylish accent for any space.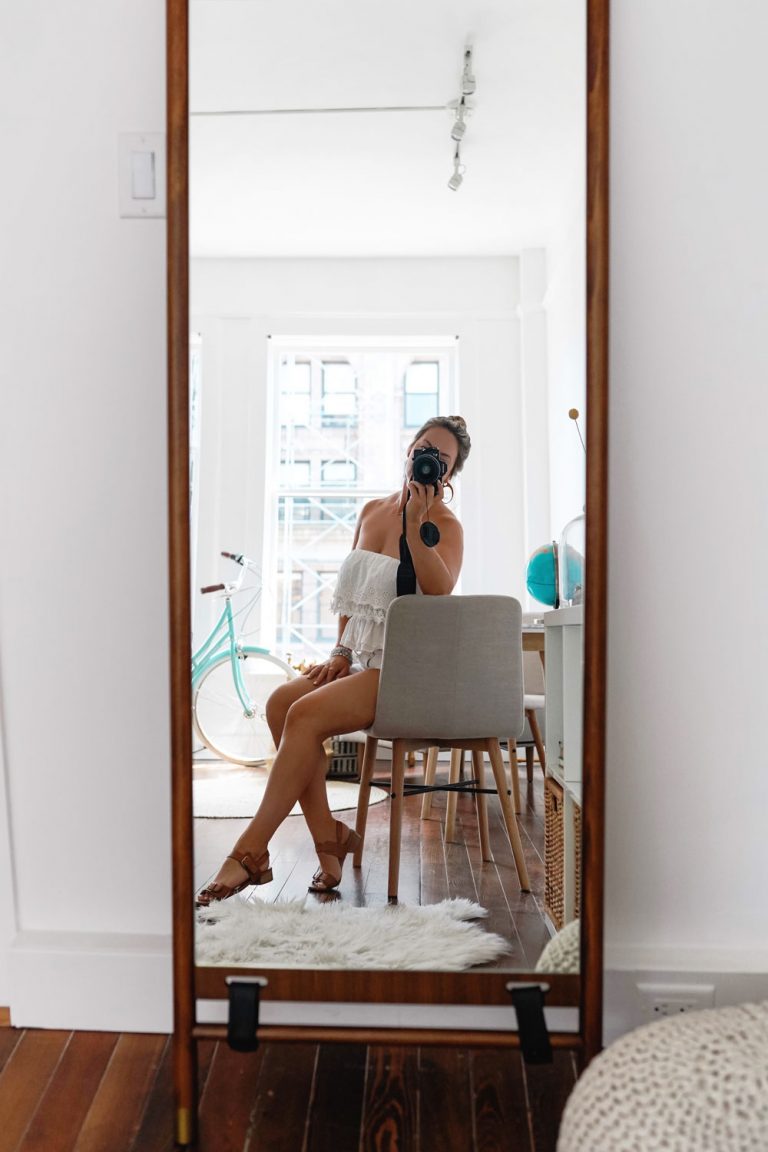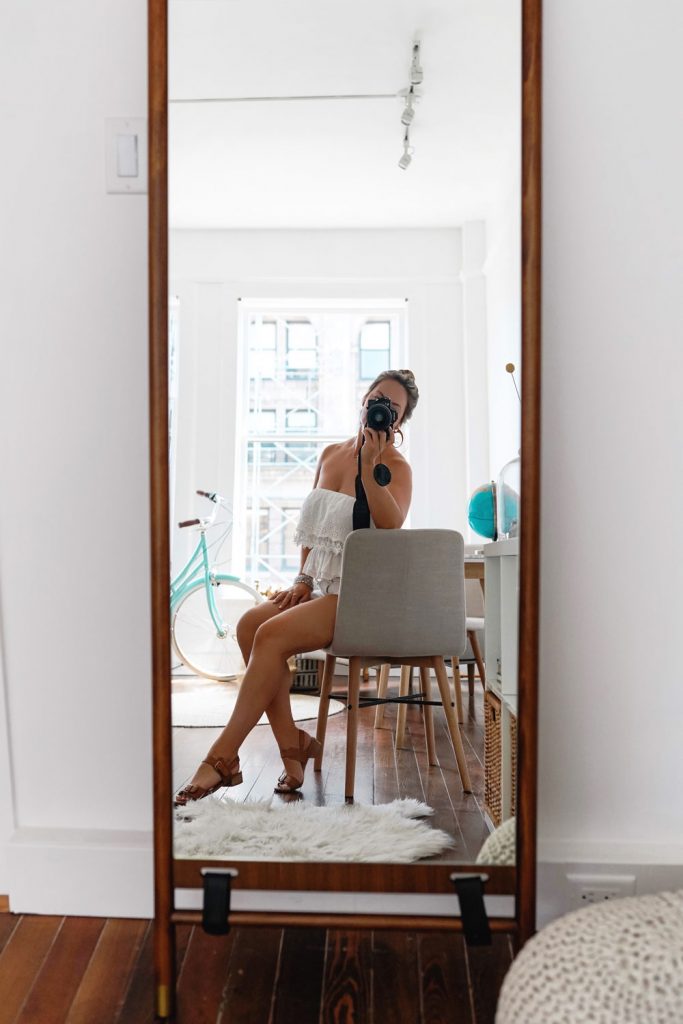 We also knew we wanted to add in a bit more texture—our mood board for our space was literally mid-century meets beach meets boho meets world traveler (specific, I know), so in addition to our clean, elegant and simple pieces we also wanted to add in a bit more visual interest. Cue in the Bamba Pouf! First of all, poufs are my favourite thing. I don't know why everyone doesn't have them dotting their living rooms because not only do they add the best visual interest, texture, and style, but as someone who hosts a lot they are also the best impromptu party seating! They are seriously so functional. Even as a makeshift ottoman, I find I use my poufs on repeat both at home and at the studio.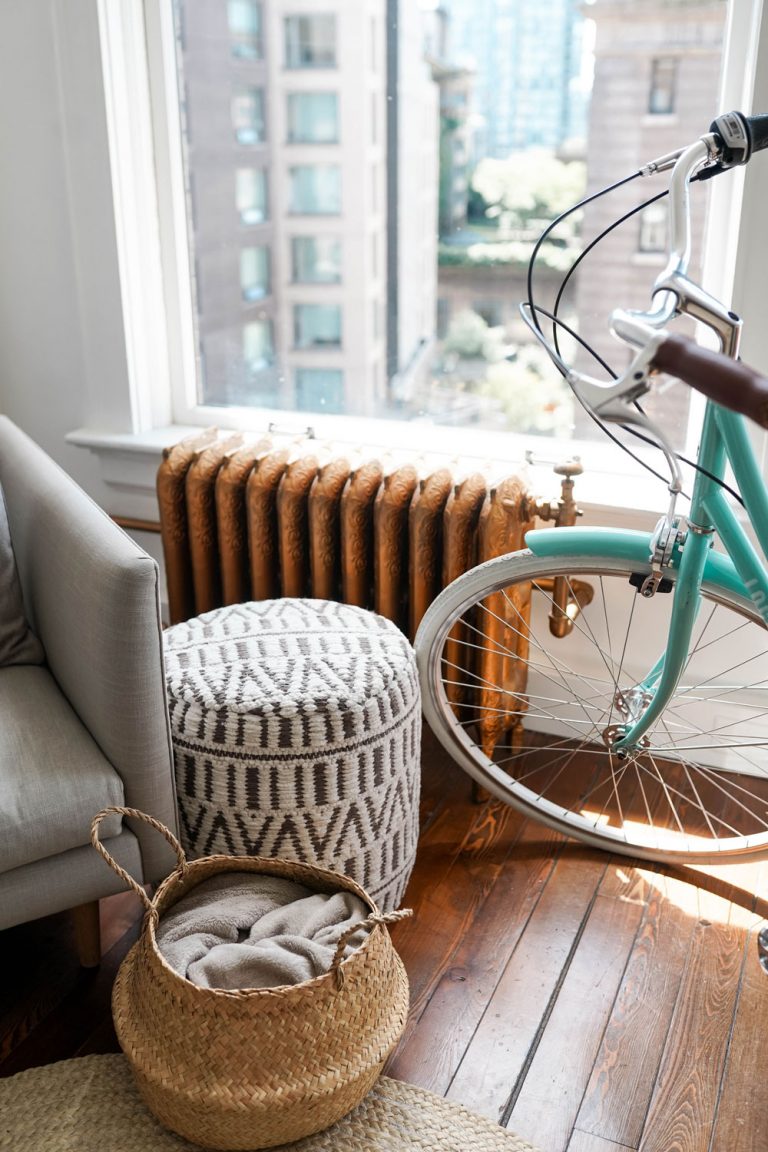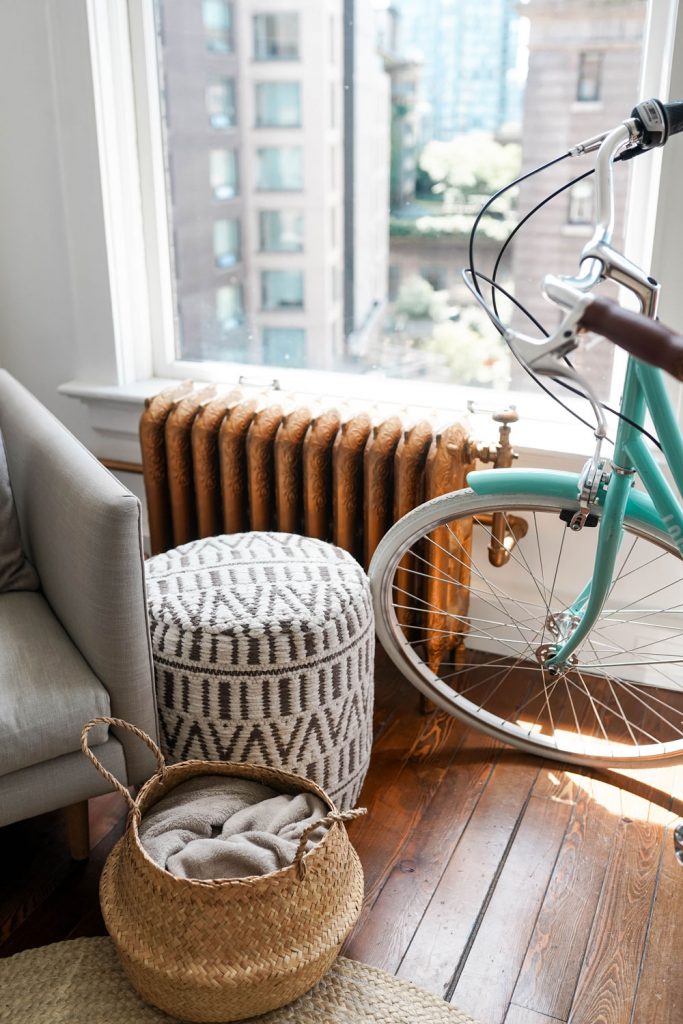 But what really drew me to the Bamba Pouf was the amazing print and texture—it's inspired by the prints seen on African mud cloth and the print really comes to life beautifully since the fabric is handwoven. I also so appreciate that this pouf is actually quite sturdy—the one deterrent I ever have with some poufs is that they sink in a lot in the centre or slip, but the Bamba is literally basically an extra little surface or seat. Even though it's one of the smaller additions (both in size and in weight) to the space, I feel like it makes such an impact and really brought in that beachy, boho, globetrotting visual element we wanted more of.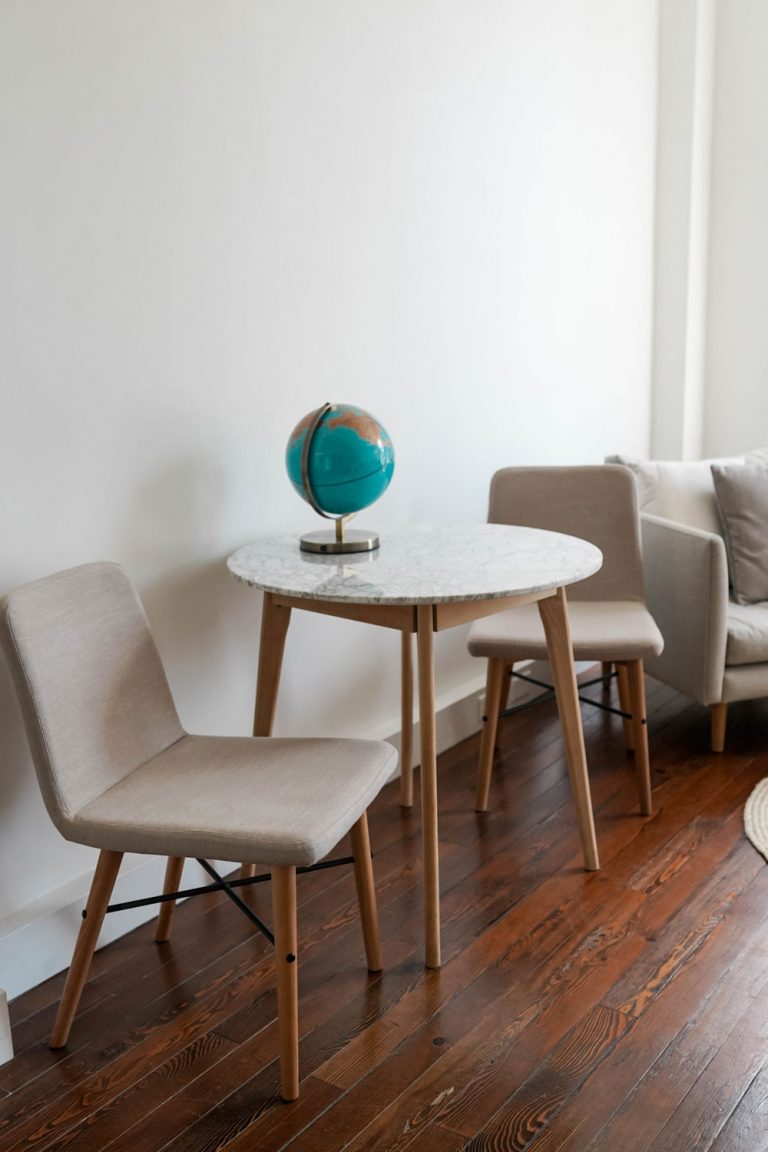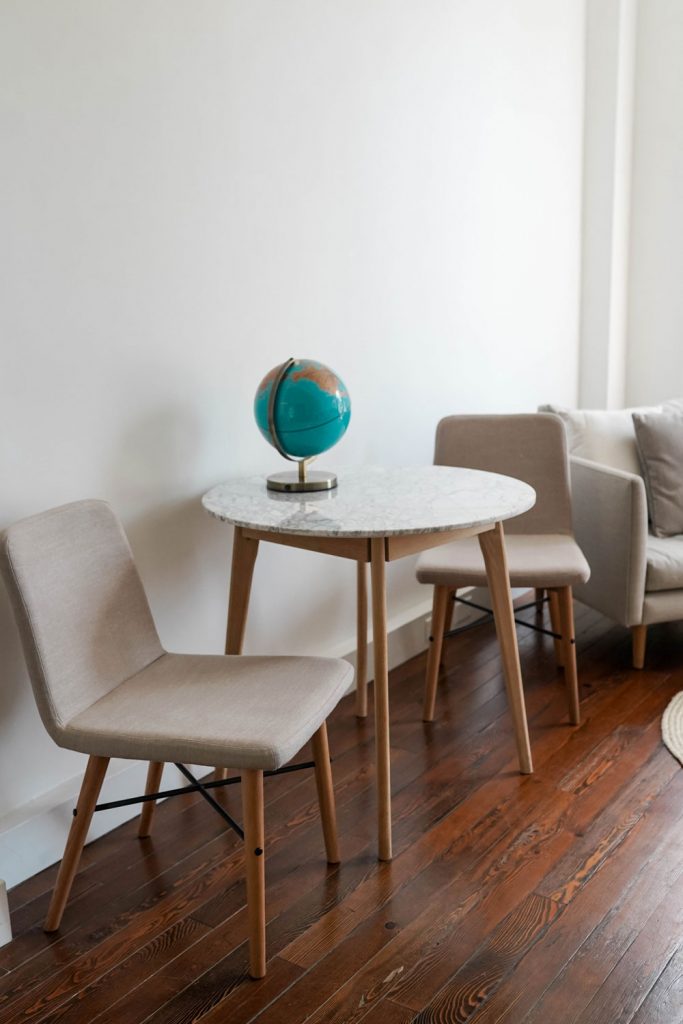 Finally, the piece that we truly needed the most—chairs! With our original workspace gone because of that aforementioned move, we wanted to find something comfortable but still really functional—more specifically, it also had to work seamlessly with our Mara coffee table because that's where the new workspace would be. The Kissa Dining Chairs in Flax Beige with the Light Oak wood finish literally matches the coffee table perfectly, and thanks to its armless design tucks right into the table (which is key for us given that while the studio looks pretty airy and spacious, it's actually quite a small space!). The airy tones are perfectly tempered with the brushed metal brace between the legs, which ties in amazingly with the darker finish of the Beau Mirror.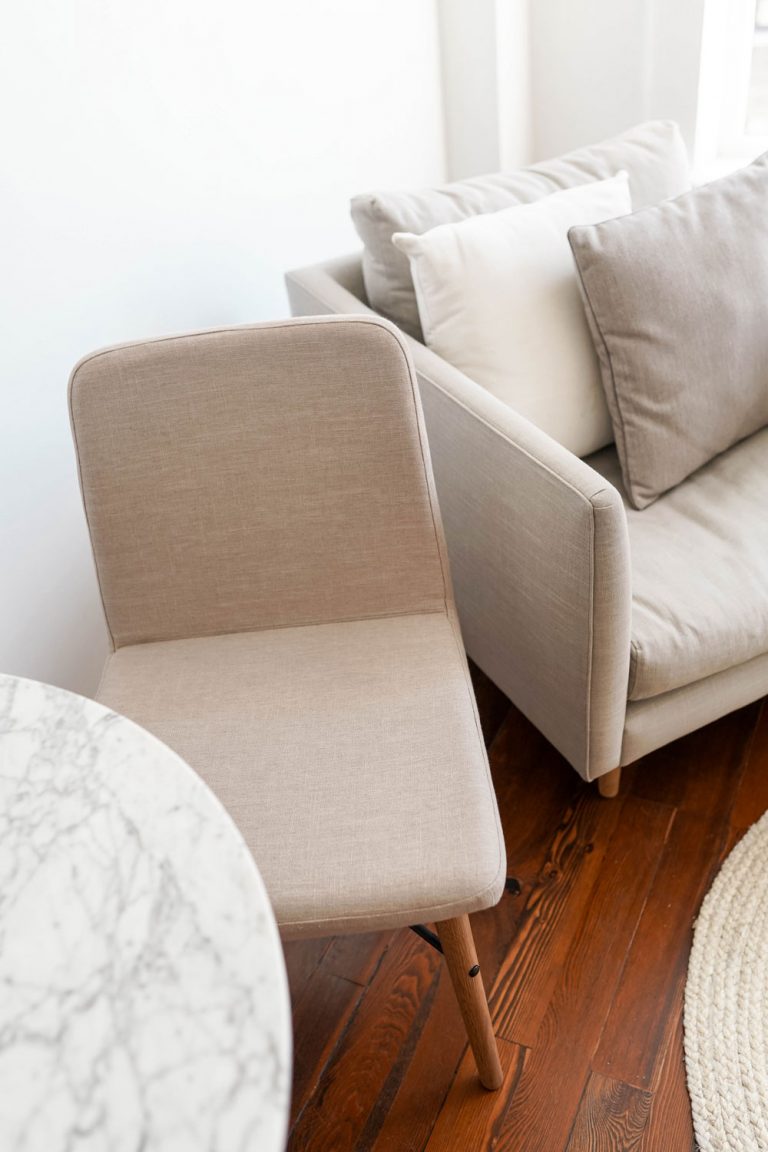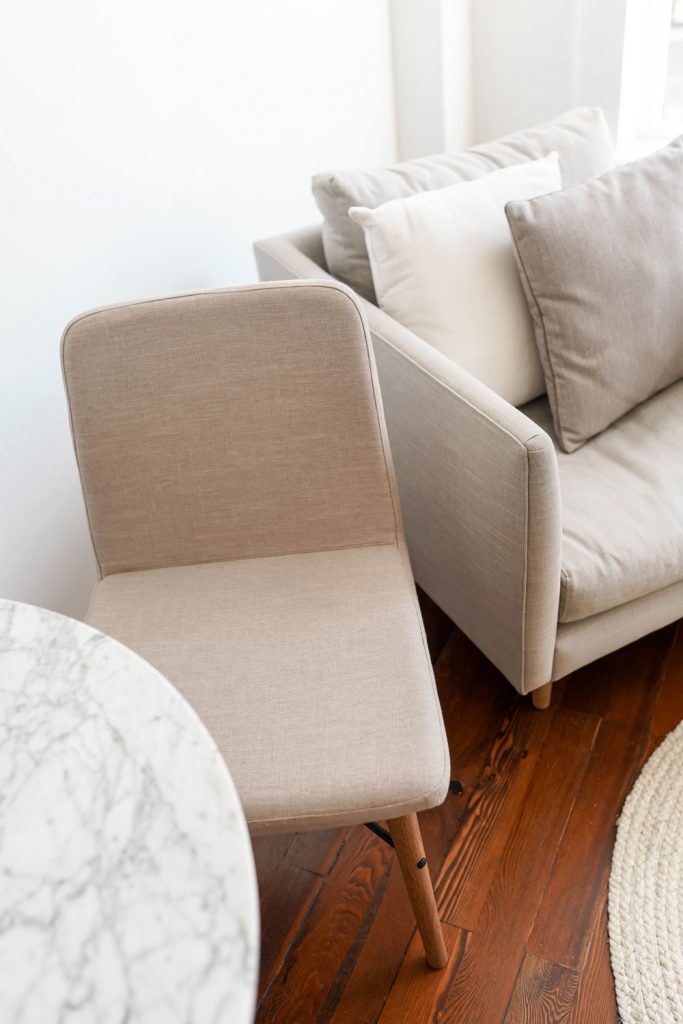 While Matt and I currently are in a smaller apartment, if and when we move, one of my dreams is to have a gorgeous wooden table handmade by my papa (in addition to being a lawyer, he's also a crazy carpenter and a competitive rower—he's a special one) and I feel like these chairs are so timeless and chic and functional, I would most likely get more of these for that space (though we currently have the Chanel dining chairs in our own apartment and we absolutely love them).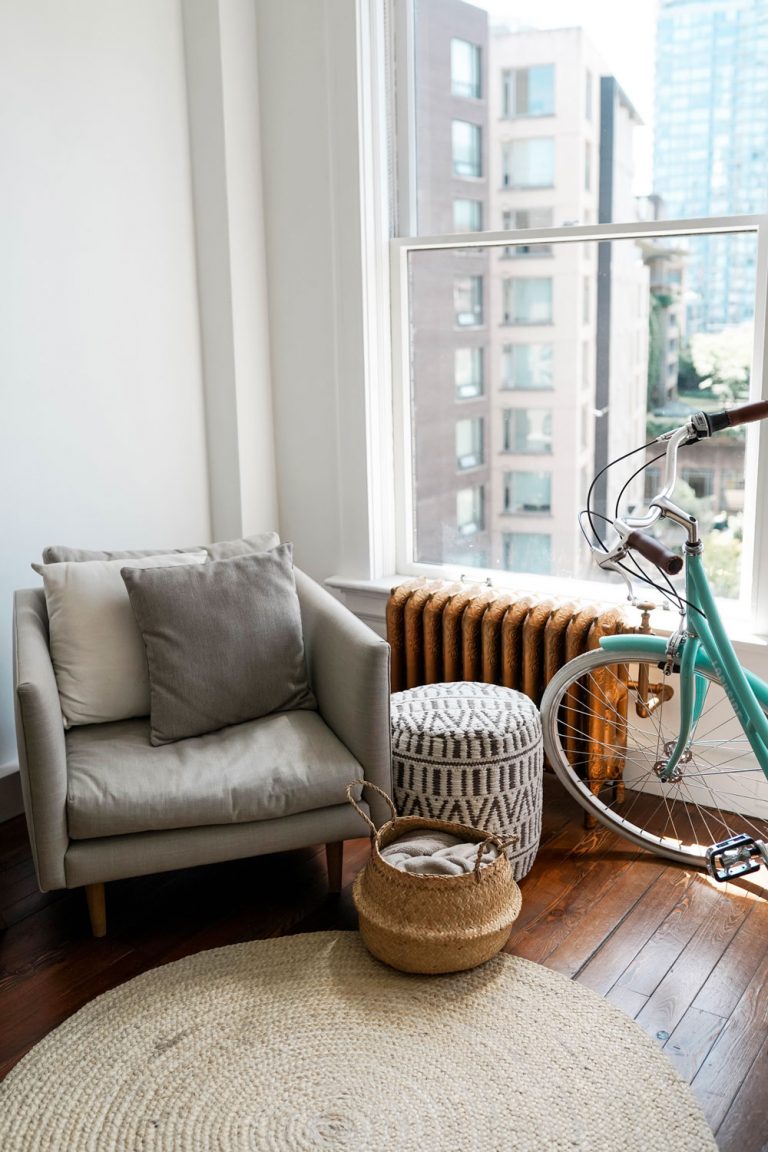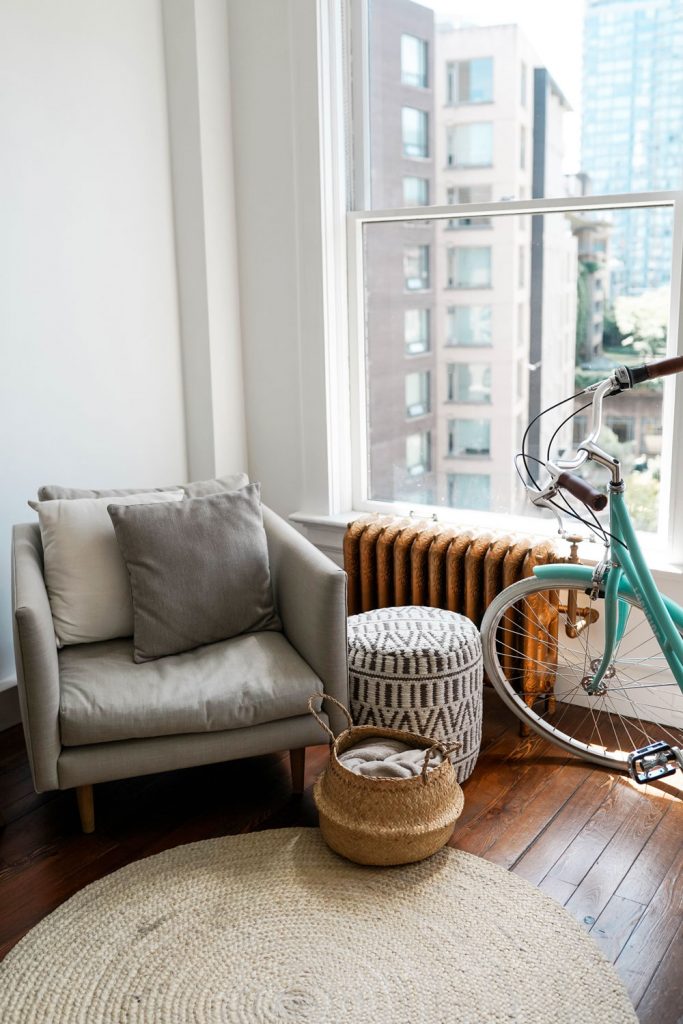 A few extra little accents and committing to a colour palette we love (blues, golds and coppers with lots and lots of wicker, soft grey and white) and our studio finally feels like it's complete! A huge thank you to Article for partnering with us for this space—it goes without saying that I'm clearly a huge fan of this Canadian brand (see my story about the couch I get DM'd about pretty much every single day, our apartment update, our dramatic side patio makeover and the original studio update here) not only because they produce consistently high-quality and gorgeous pieces, but because of their customer-first policies. Since products are shipped directly from their warehouse to your home and they've cut out the middle man of brick and mortar shops, prices are so much more reasonable. I know a few of my friends have also shopped with Article (some getting my same exact Soma Sectional Couch!) and they were all equally impressed with the speedy delivery, the value and the quality.
I also love that Article has such an amazing 30 day no questions asked return policy, so you really get the opportunity to see how it feels in your space and make a truly well-informed decision since you can actually see it and experience it in your own home. I can not recommend them enough and I'm so happy to once again bring some more Article style to my life! Shop more of Article's gorgeous offerings here.