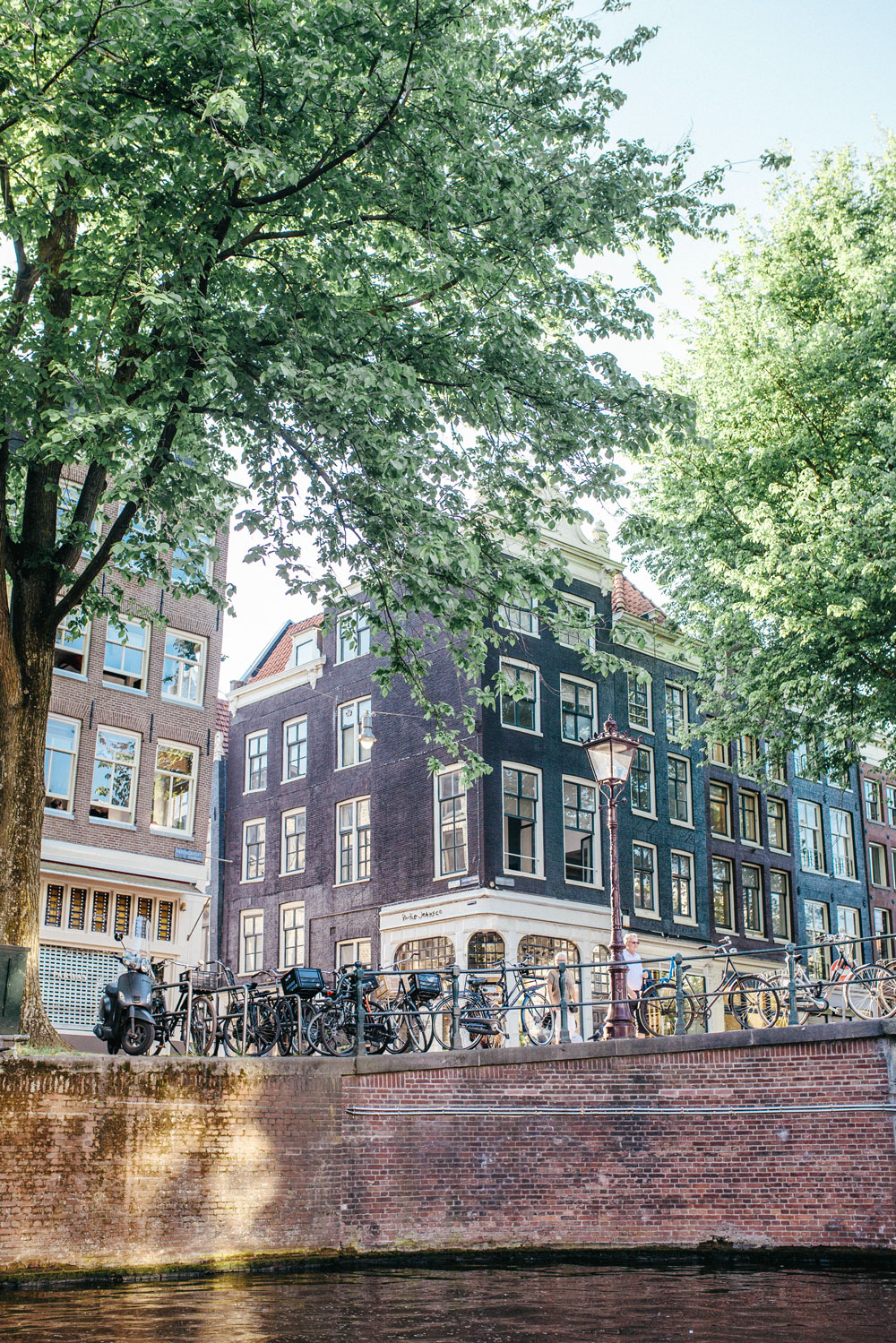 Amsterdam!!! I'm so excited to kick off my Amsterdam (and Euro in general) travel guides – if you feel like I've been a bit more quiet on the travel content front lately, it's because I've purposefully been trying to time it for later summer since I know a lot of you (including myself!) like to spend summer closer to home. So now that so many of us are gearing up for travel in later summer/early fall, you'll start to see all my guides for Amsterdam, Prague, Cesky Krumlov, New York City, the Maritimes as well as some past trips to the south of France and Greece! Stay tuned for some serious wanderlust coming your way!
But first, time to delve into all my tips for one of my fave cities, one that luckily my older sister now lives in! My sister Natasha lived in London for a few years so I spent a ton of time in the city, but had gone by Amsterdam a few years ago as part of a stop on this months-long Euro trip I was on and instantly fell in love (PS those posts here and here). When she mentioned she was moving I was ecstatic – I love, love, love London but I just felt so at home on that first trip to Amsterdam. Biking, good beer, friendly people, super interesting history and a lot of character…literally just about all my favourite things in one place! So let's dive in by kicking off with all the basic must-know details before you take off on your next AMS trip!
WHEN TO GO
The thing about Amsterdam is that you can actually go just about any time of the year and have a really cool experience – I'd say spring is probably my first natural go-to because you can go to the flower fields in nearby Lisse (not to mention the whole city of Amsterdam explodes in flowers around then as well, from wisteria to lilacs to tulips), Natasha said that summer has been her absolute fave so far and that they're having the best time there the past few months. Having said that, I went in the fall on my first trip and it was so lovely as well! It was about the same as here in Vancouver (so quite mild, not too chilly, not too warm) and layering up with a sweater was all I really needed. And finally, while I'm not a big winter person and would always usually opt to go somewhere warm in the colder months, last year the canals totally froze up and it honestly looked beyond magical. There were people selling cocoa in makeshift stands on the ice, Natasha and her partner Nick went ice skating, etc – here's a snap on travel bloggers Find Us Lost site, who are actually based in Amsterdam (PS I love their content!).
Long story short: you can honestly go just about any time of the year, but I'd have to say that if I could have picked one time, I'd go in the spring to really take in the flowers (make sure you go earlier in spring around April, around May they all start dying!). But again, you can literally go any time of the year and it will be amazing.
HOW TO GET THERE
You're in luck getting to Amsterdam – Schiphol Airport is one of the best airports in the world since it's a connection point for so many European flights. In fact, I'd be surprised if you've visited Europe and not passed through Schiphol at least once. No matter where you are, a flight should be easy peasy and there are a ton of direct options, even for West Coasters in North America like me. It also happens to be an amazing airport with lots of great food options for a nice change so I never mind having to wait a couple hours there!
I also took the train in years ago from Germany and it was the dreamiest experience – is there anything better than a lovely European train ride through towns you've never been to to reflect on your whole trip? So serene, it's my favourite way to travel. All trains will for the most part go right into Schiphol Airport which is so handy as it's super central to the city!
GETTING AROUND
Get. A. Bike. Seriously! Yes, I commute by bike here in Vancouver so it's something that I maybe feel a bit more strongly about than most, but it really is the only way to get around there because the city is built on its bike system. The canals are meant to be explored by rolling up and down their bridges on two wheels, and the parks are the most heavenly bike ride ever. My general travel philosophy is do as the locals do and never does that apply so much as here! I can promise you it is not scary, you won't crash and you'll honestly see so much more of the city and get so much more out of your Amsterdam experience!
If you're a bit of a nervous biker or just not used to Dutch-style bikes, a few tips: almost every bike rental spot will have hand brake options as opposed to the back-pedalling brakes most Euro bikes have. Also, the general Amsterdam bike is a pretty beat up, big beast that the Dutch just ride effortlessly, but I have short legs and even being a biker, really struggle with nailing the locals' effortless little hop-on and hop-off. I always request one that's a smaller frame, which will help you ride more easily even if you don't have short legs like me! Finally, if you're nervous about biking, don't go at rush hour times – yes, like Copenhagen, there are some serious rush hours in the bike lanes! If you don't feel 100% comfortable, then just cruise around during the day and have a beer in the afternoon or coffee in the morning (or sleep in) to wait out the rush hours. I hilariously went during a 5PM rush hour with literally four bags on my handlebars full of ice, wine, etc for a boat ride we were going on – it was fine but it was definitely an experience!
If you want to take the trains or the trams, they are also really great and easy to get around. There are also sightseeing tours that go by canal but I'll share in a later post why I think you should go boating on your own and just bike instead. Long story short, get a bike! It'll also save you on transit costs and make your trip so much more fun.
WHERE TO STAY
When we went years ago, we just stayed in a hostel and now I stay with my sister, so I can't unfortunately share recommendations that I've actually stayed at. Having said that, Natasha gave me the down-low on some of the options that she loves in the city!
Volkshotel is a more affordable option that was right next to Tash – she said she loves the funky vibe here (they've had a lot of work parties there) and apparently there are killer views from the rooftop! It's very much a quirky space but if you want to get some drinks, see a bit of a scene and have some great accommodation all in one, this is an awesome option and it happens to be across the street from a great bike rental property too!
I'm a huge fan of The Hoxton properties all around the world and the Amsterdam location looks amazing – I would probably be most likely to stay here if Natasha wasn't in the city!
If you really want to treat yourself and want to do some potential celebrity sighting while you're at it, the InterContinental Amstel Amsterdam is apparently the place to be. It was on our bike route and every time I'd go by, I'd get some amazing people watching, even in a quick whizz by on my bike! The rooms and whole experience are just supposed to be next level.
WHAT TO BRING
So this will kind of depend on what season you visit in, but no matter what, there are a few finite rules to Amsterdam style. First of all, if you want to blend in with the locals, there's distinct brand of cool, laid-back style – think casual options like Converse sneakers, skinny jeans, leather jackets, scarves, etc. It's kind of like Danish style but slightly less minimalist – it's got a bit more edge and a bit more of a flair.
The one thing I'd say is key is to just think of what will be comfortable to bike in. Also, keep in mind that even in the summer, wind is a big thing here since it's such a flat country so you'll want layers on hand year-round (and may want to think about having some elastic bands on hand to throw your hair up if needed, as well as sunnies to protect your eyes from dirt and bits flying around), and you should also have some options for rainy days or showers because the weather can be unpredictable. Having said that, it's usually pretty mild and lovely! I just found even in May that I'd be boiling hot in a T-shirt and then all of a sudden the wind would pick up and I'd be freezing!
Just think easy, bike-friendly options (I have some style tip for bike style here and here) and you'll be golden! Also, there's amazing shopping in Amsterdam so I'd leave some room in your suitcase to shop! Finally, I also think a cute backpack is a really good thing to bring, especially if you're going to be biking around a lot!
THINGS TO KEEP IN MIND
Obviously not to make generalizations ever but one thing I really found with Dutch people is that they're beyond nice and polite – it was part of the reason I felt so at home right off the bat there. I honestly had such great exchanges with them, especially when I was wandering around by myself when Natasha was working. I found there was a certain directness/bluntness, both in the way they talk and in a personal space kind of quality, but again always in a friendly, open and nice way! Just different than our Vancouver 6ft personal space bubbles (love Van but it is not the most gregarious, warm city at times!).
If you haven't been before, please do me a favour and book a walking tour of some kind (I'm always a fan of Sandeman's Tours) – Amsterdam has some of the coolest history ever, from the architecture of the buildings, why Dutch people have the last names they do (seriously one of the most hilarious facts ever, won't give it away though!) and even to the elements of Amsterdam culture that people often immediately think of (Red Light District, marijuana sales, etc), it's just really worth having someone walk you through it and to understand why the city is the way it is today.
On the note of the RLD or weed, I'm sure you already know this but just in case, coffeehouses are not "coffee" houses! Avoid unless you want a different kind of buzz than caffeine.
Other than that, Amsterdam is honestly such an easy trip – pack some Euros, have some layers and a European adapter, but in general it's so easy to get around and as long as you get a handle on some of the history, you can literally just bike or wander around and soak it in without much advance preparation! I'll be sharing all my what to see, where to eat etc tips in the next few stories – stay posted!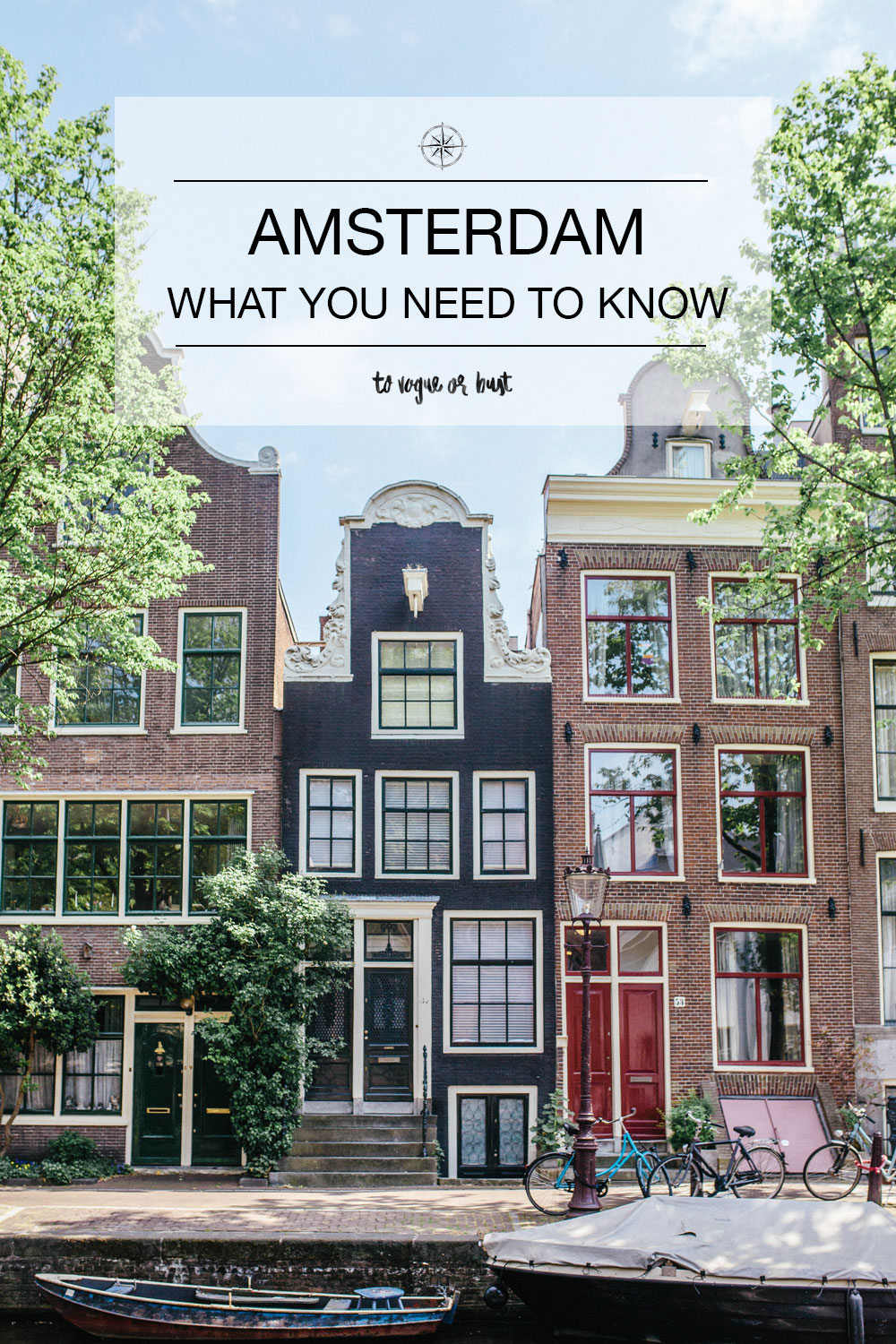 Feel free to pin the image above for future reference! Have you been to Amsterdam before? Tell me in the comments below!