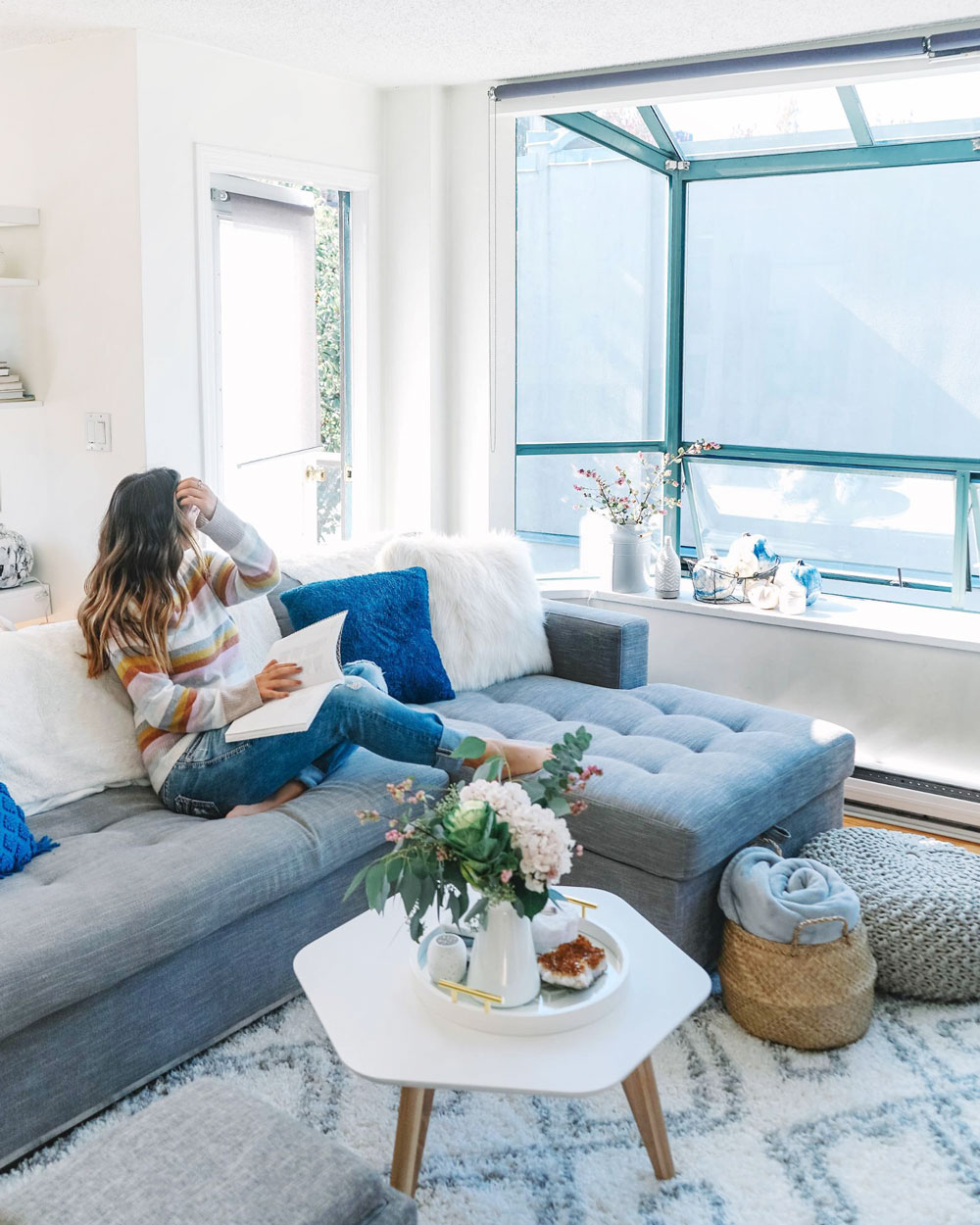 The older I get, the more I feel this natural draw to "nest" – while about 5 years ago decor was pretty low on my priority totem pole, it's now the one thing I have the most fun updating, restyling and planning. In case you're new here, a bit about the space we currently have: we're renting a two-level apartment in the Fairview area of Vancouver (so think small spaces, Vancouver real estate is one of the most insane markets in the world), with the weirdest layout on the main level and deck space on the top (the roof deck is literally the whole reason we got the space – if you follow me on Insta you know I'm up there all the time!). We never really cared for the apartment itself as far as its structure, layout and appliances (it's pretty much falling apart across the board), but we loved the light, the fact that it's right on the Sea Wall, etc so it's become a pretty happy home to us over the last few years.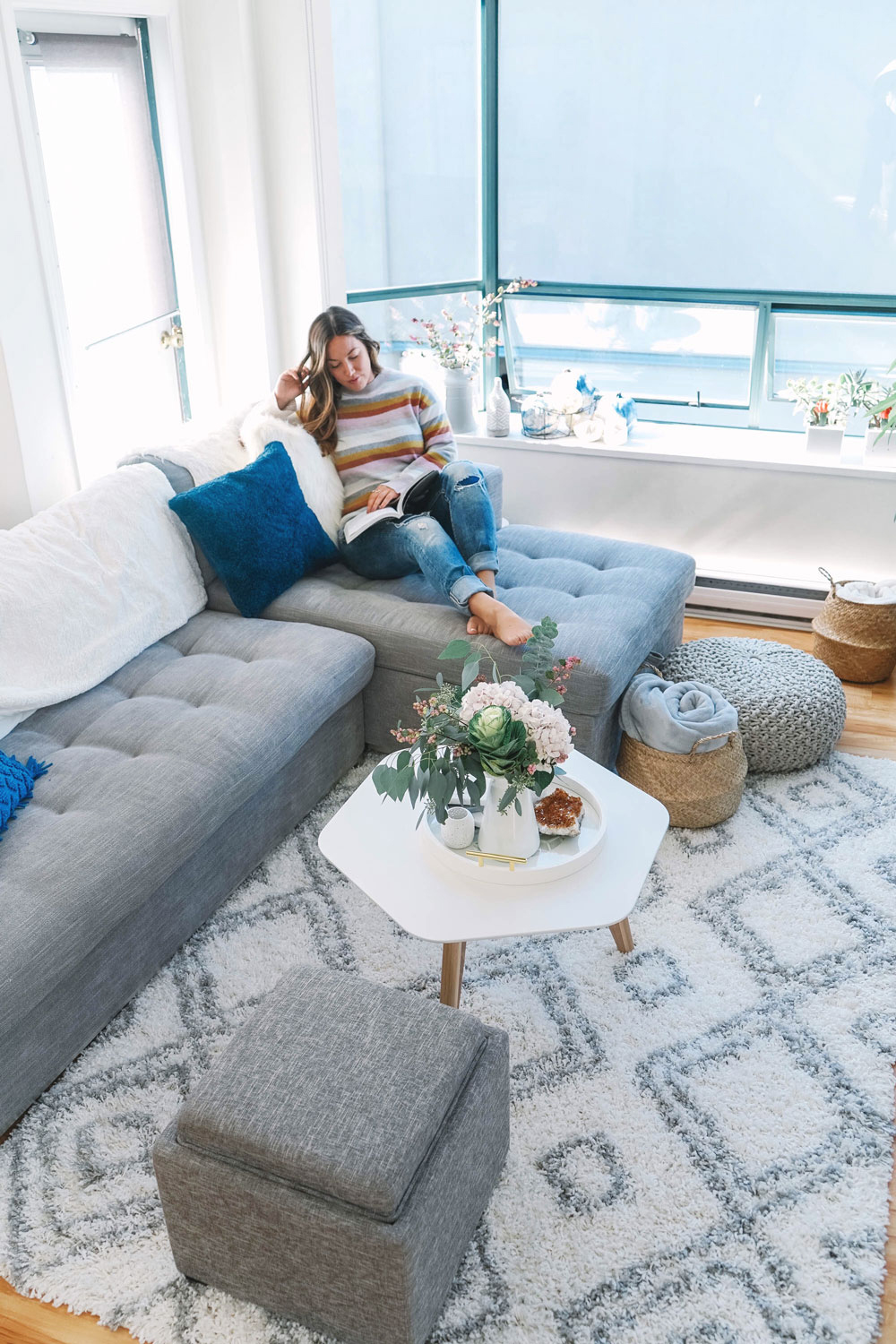 As we got more and more settled into our space though, we started making some minor updates at first followed by more major ones (allowing for the fact that we're tenants, of course, so nothing structural). We totally did over our little dining space so that we can now actually eat together, we updated our living room by finally getting a couch that made sense for our space (it's Article's Soma couch, by the way), we redid our bedroom and we also updated our little side patio, which had been left in total disrepair when we moved in. Our neighbours love us because they say even from the outside, it's like night and day since we moved in so pat on the back for us! Now that we're in the flow of things decor-wise, I honestly just get excited about updating for every season, particularly because until we get our own place (which is on the docket so if you hear of any great spaces or pre-sales especially in the Fairview area, holla!), we're limited to how much change we can make in our current rental. So while this is unintentionally a renter's guide to making updates, it's also just an easy way for anyone (homeowners included) to bring their space into the fall without any massive investment or change! So without further ado, 7 ways to update your space for fall…
1. Get gourd-geous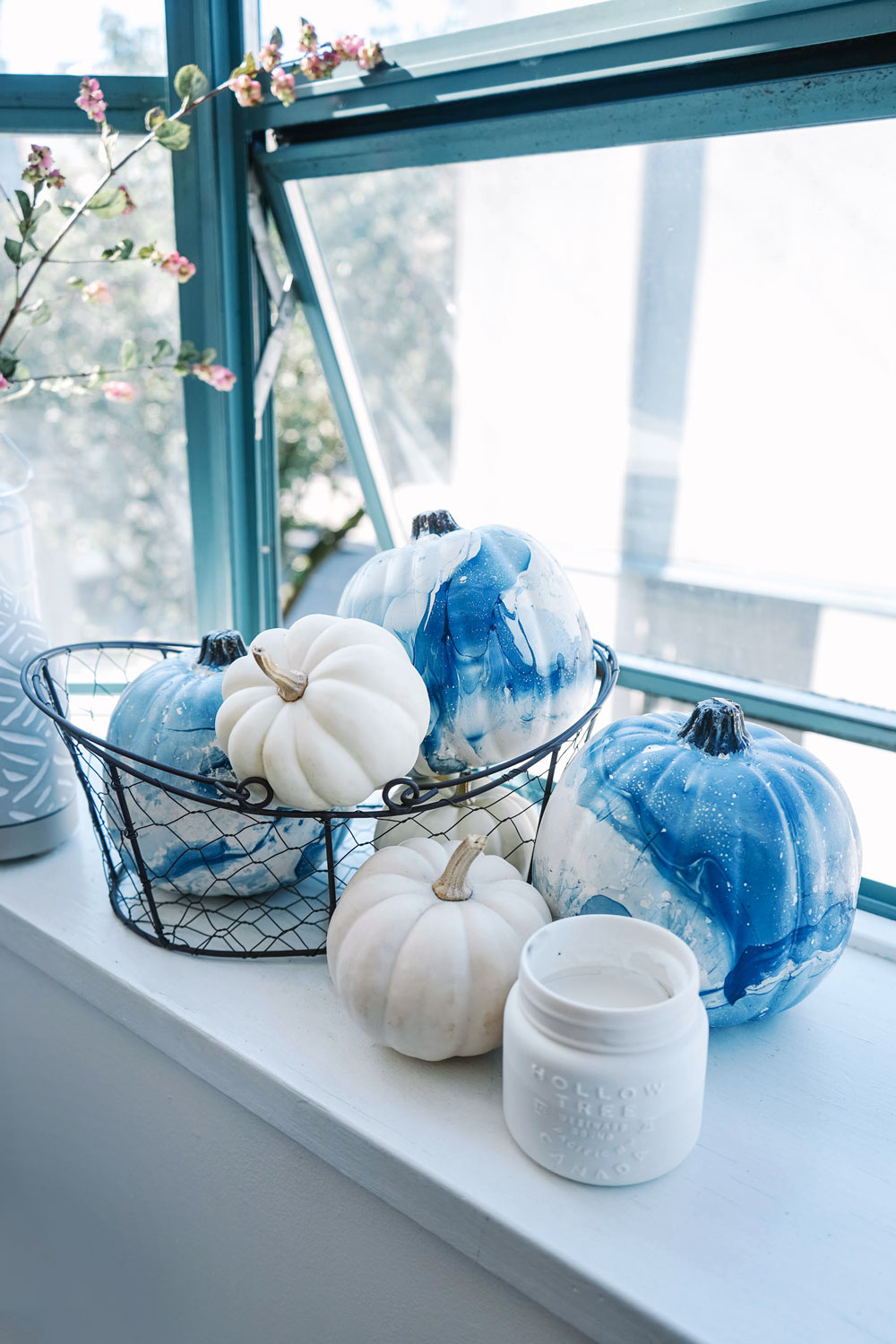 I know, you almost stopped reading this post at that awful pun. But please promise me you'll finish the rest of this post! Anyway, let's talk gourds – I, for one, am not usually drawn to the tawny oranges, bright reds etc that are so typical of fall. Ever since I was a kid I always loved more vivid blues, turquoises, aquas, greens and pops of amber and pink – it's been my forever colour palette! So I knew I wanted to bring gourds into our space in a small way (because again, our space is small), but didn't want to limit myself just to the little white ones (though how adorable are they?). There were a few options to take here, from bringing in the stunning moss green or powder pink varieties you can find all over the place right now, but I had stumbled upon this marbled indigo pumpkin tutorial and became so obsessed I promptly went to Michael's and got my supplies! It was beyond easy and I love how they turned out. If you're lost on placement and don't want a pumpkin just randomly sitting around your family space, consider grouping them together in a basket like this, using them to add some visual weight at the base of your fireplace or even adding a mini one to a pretty vignette on a tray on your coffee table or as a centrepiece at your dinner table.
2. Bring in some fall scents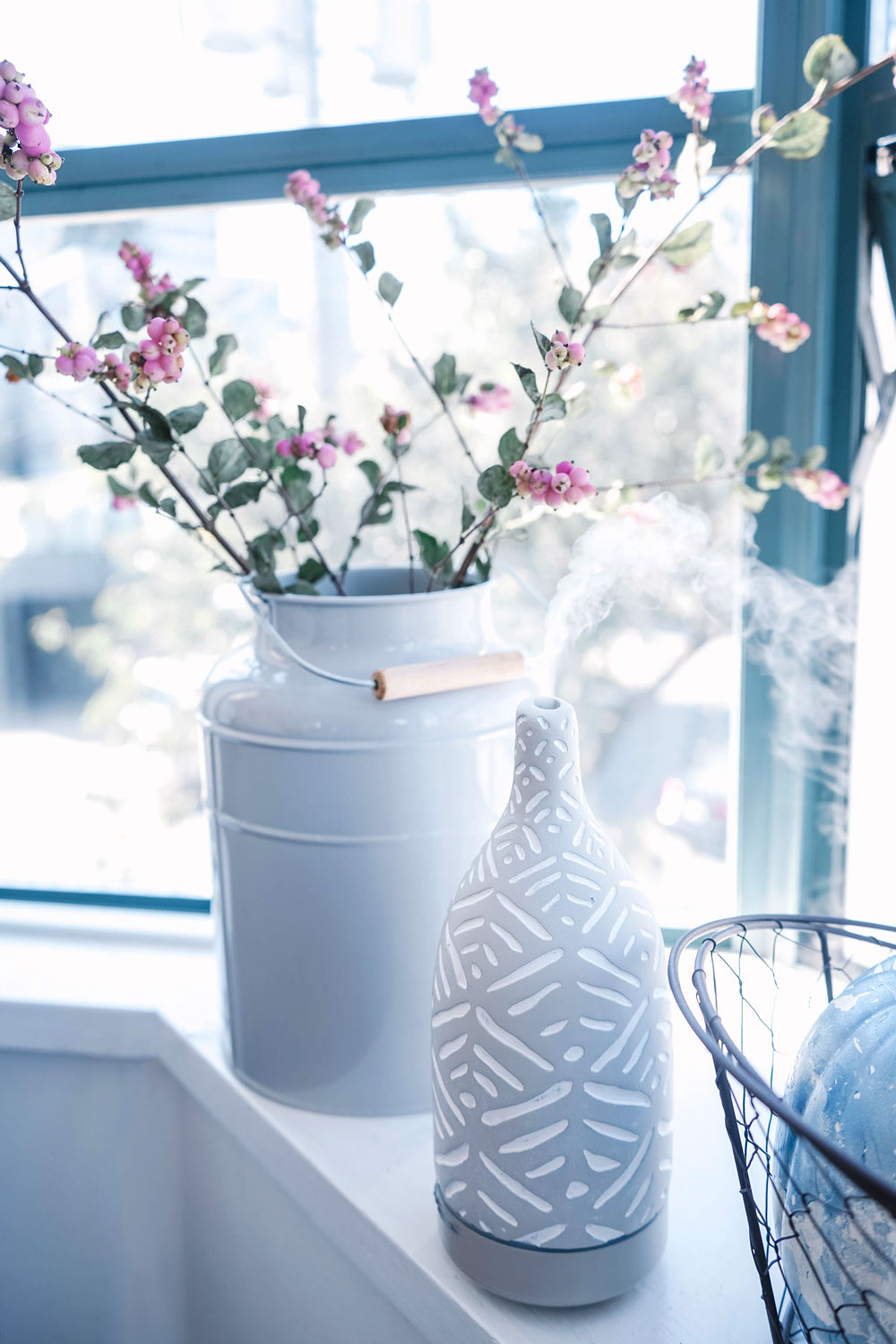 I love a good pumpkin-scented candle (though for the life of me can't find a good one anywhere this year, anyone have any recommendations?) but frankly, a good tree scent puts me more in the fall feels than anything. Saje recently sent along their Jillian Harris collaboration diffuser and I'm obsessed with the design – I've always been a huge Saje fan and they have a ton of amazing nature-based scents, so I quickly added in about 10 drops of their limited edition Tree House collection from last year (though Tree Scents is another foresty fave) and our place immediately felt 100% cozier. Whether it's a stunning votive, bringing in some warmer scents (I love burning spiced tea candles in my rose quartz votive), etc, find a way to bring in some design and a beautiful scent to make your space feel instantly cozier. PS my mum is super allergic to most fragrances so I love that diffusers are a safe bet for someone like her! So definitely add one in if you're more sensitive.
3. Play around with foliage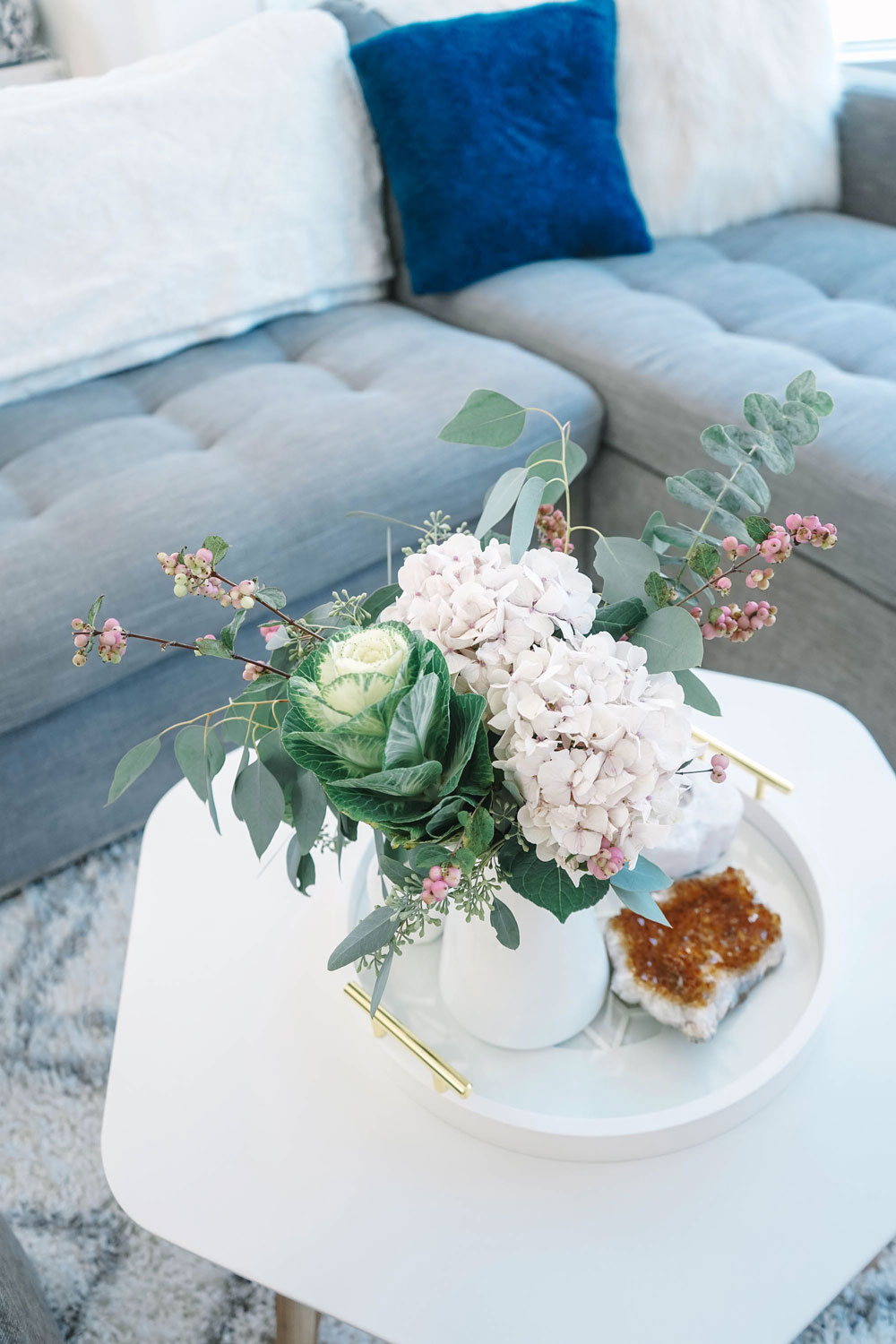 Rather than going for a typical floral bouquet, I feel like fall is really the time to bring in more greenery like ornamental cabbage or kale, which happen to be hardier and last longer as a nice added bonus! They pair beautifully with hydrangeas, roses, dahlias etc, so you can still add in some floral as well (and if you are someone who loves those burnished oranges, reds, etc, this is a great place to add them in!). As always, I crave eucalyptus in just about any bouquet I've ever gotten so there's 3 different varieties in this bouquet alone. If you're in the Vancouver area, I can't recommend Our Little Flower Company on Granville Island enough! They're the sweetest and make the most beautiful bouquets.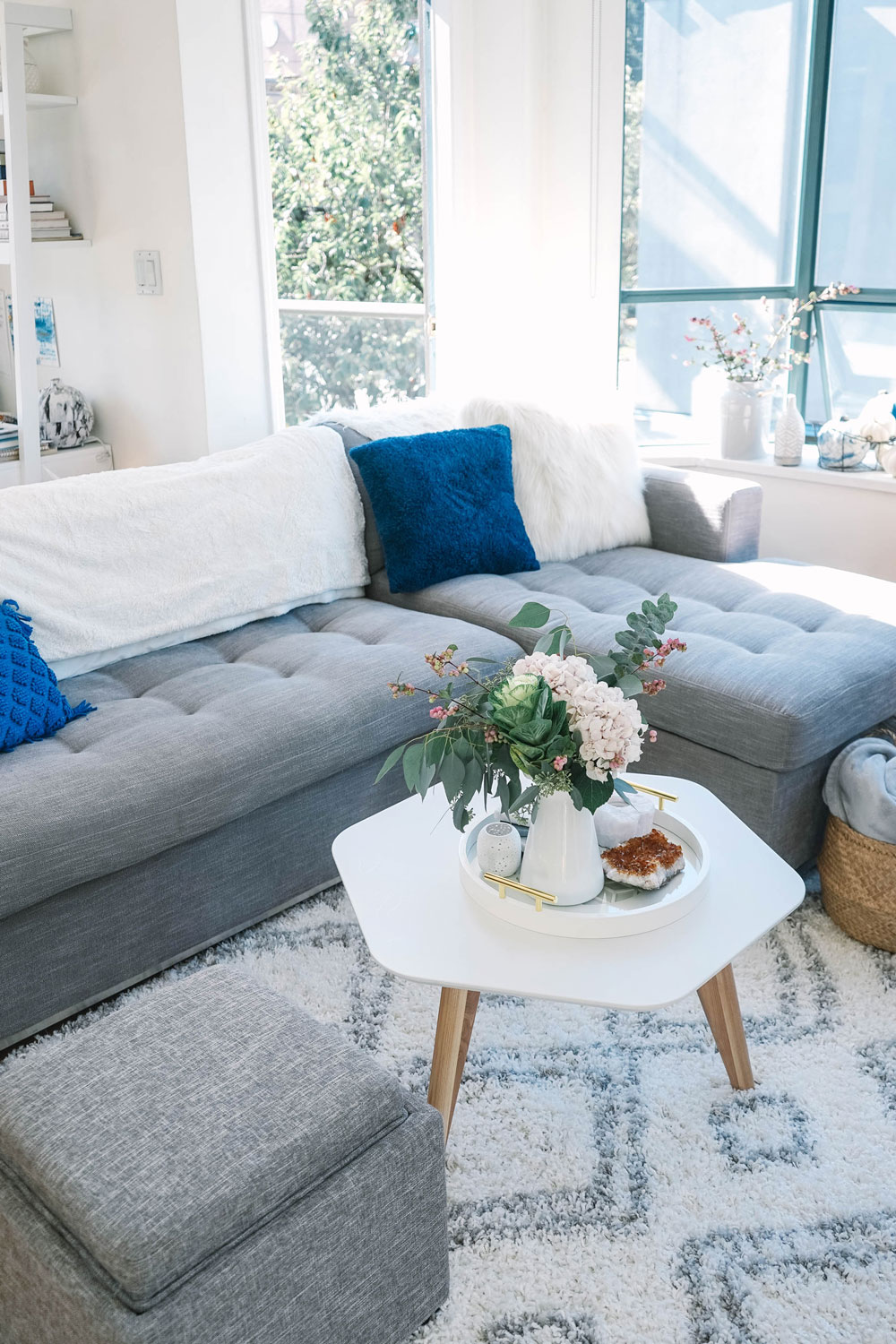 I also have been adding lots of touches of rose inspired by my favourite rose quartz candle holder, so I have touches of the aptly named winter berry throughout our whole space! I love how it still adds in the most delicate colour but has a distinctly fall/winter vibe to it. Long story short, play around with textures, greenery, etc – even bring in a potted fall arrangement! Faves for sure are eucalyptus, winter berries, ornamental kale/cabbage and wheat for a stunning autumnal look.
4. Swap out your pillow covers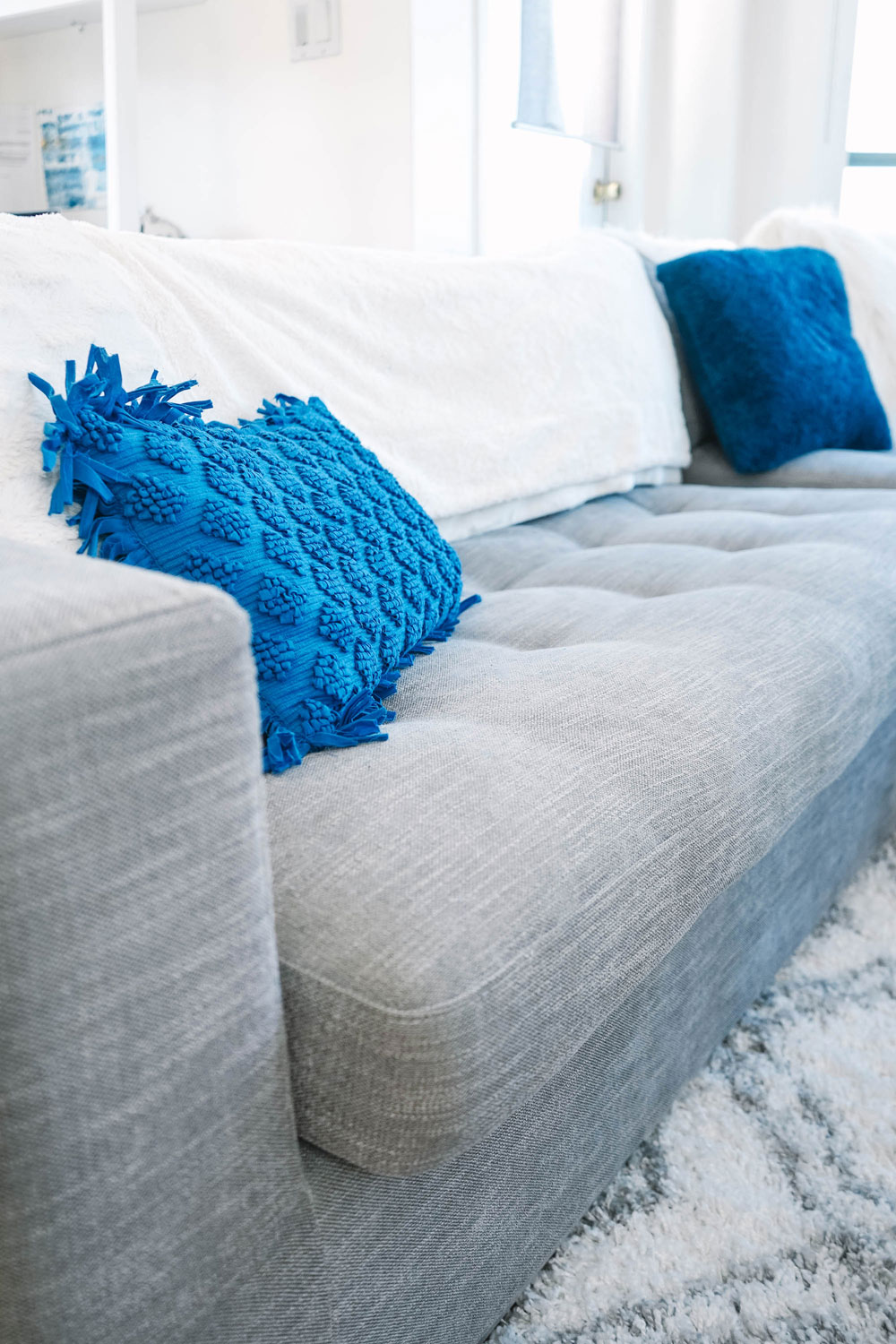 One of the easiest ways to completely change your space! I've been really vibing with a cobalt blue-amber combo ever since I started learning acrylic paint – I did this one admittedly not amazing but also not terrible painting while I was learning knife technique and I so loved the colour combo together that it actually served as my inspo for the whole space. I knew I wanted texture and warmth, but with my tonal leanings cobalt blue actually felt like such a great addition for fall since it actually has some warmth to it and pairs so well with cream, amber, rose and all the other colours I was really feeling. I added in some texture via a fleece cover and this Mexican lumbar pillow and all I had to do was swap out the old covers for the new! Instant room facelift!
5. Add a textured, luxe rug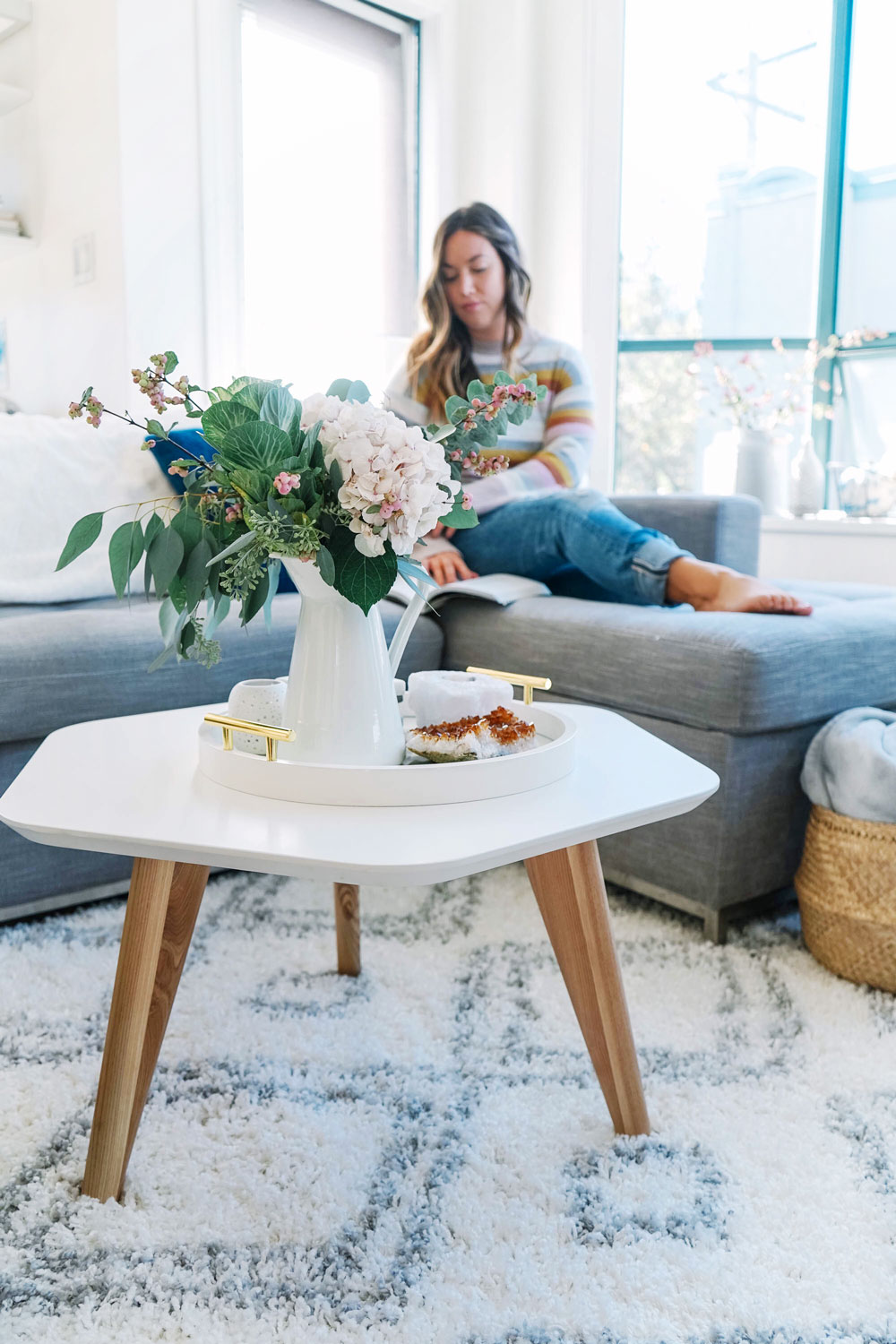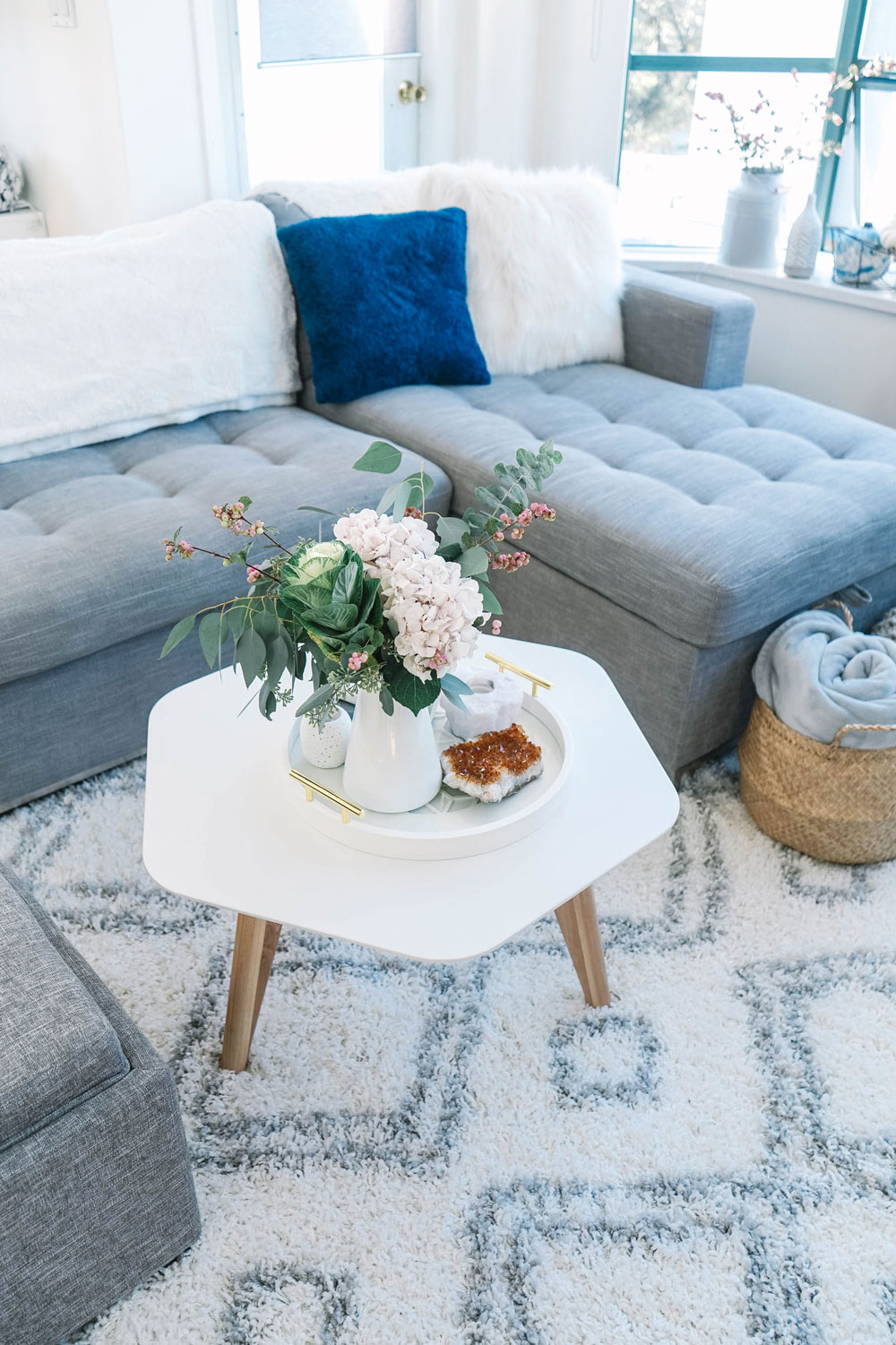 I've been a big fan of Rugs USA (despite being Canadian, I know, it's crazy) since I first updated our living and bedrooms and added in rugs from Rugs USA to both, so as much as I loved our old braided rug that was in here before (pictured here), it was starting to feel a bit tired and lacking in the texture department. They have the best sales (seriously, keep a look out for them especially over any holiday) and this stunning shag carpet was on sale so I immediately picked it up. It adds so much more texture and coziness and helps offset any of the colour we have going on in the room. It was one of the biggest changes to our space and at $70 (on sale at the time, though at regular price they're still super reasonable!), a very low-cost way to totally elevate your decor!
6. Go for gold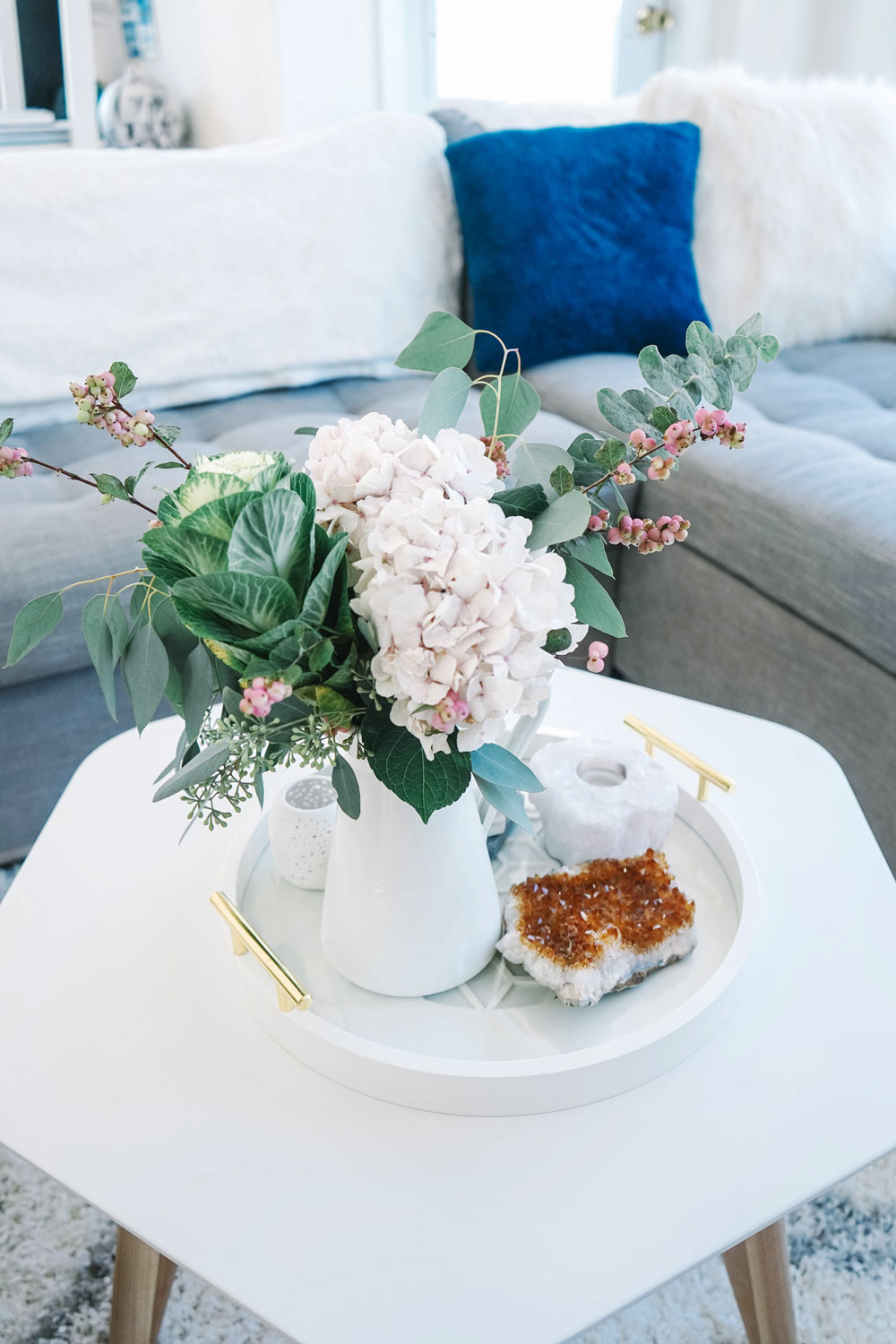 I can't promise I'll ever stop with the terrible puns but I can promise that any metallic touches you throw into your space will make it feel so much more chic! Especially feeling gold, rose gold and copper for fall/winter. I found this stunning tray on Wayfair after searching for something with some gold details to swap out this boring glass tray we had – obsessed as soon as I took it out of the box! As some of you may know, I'm also a total closet hippie and have a bazillion crystals all around our apartment (and often on my person, 'cause that's how I roll) so was more than happy to have an excuse to bring in more of this stunning golden amber tone via one of my favourite crystals, citrine.
7. Do a DIY!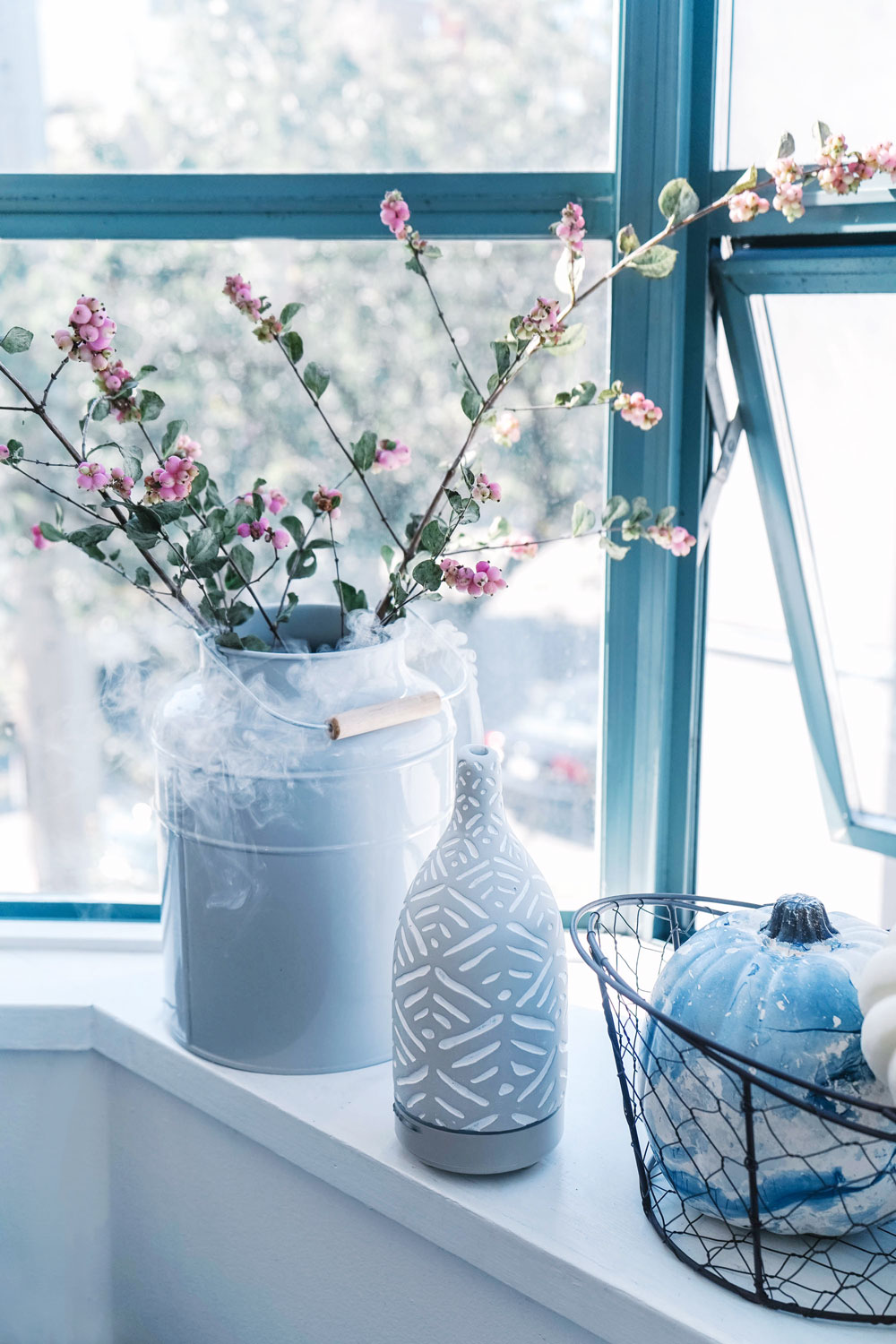 I feel like fall and winter are especially perfect seasons for DIY projects because you want to get cozy and inside as it is – I can't urge you enough to try out this marbled pumpkin tutorial (you can literally do any colour, so think gold, pink, black, etc!) but any kind of fall decor tutorial will instantly add some warmth and beauty to your space, and best of all, it'll feel personal to you! Here's a great roundup of fall decor DIY's you could choose from!
I'm currently cozied up in my space now and it's giving me aaaaall the feels. How do you guys like to update for the cooler months?
PS in case you're curious, I'm wearing White + Warren's Multi Stripe Cashmere Sweater in Pastel here (so obsessed with this brand, see how I'm styling up another sweater & wrap of theirs here) and Silver boyfriend jeans which have since gone out of stock, but I'm also loving this AG jeans pair on sale for almost 50% off!