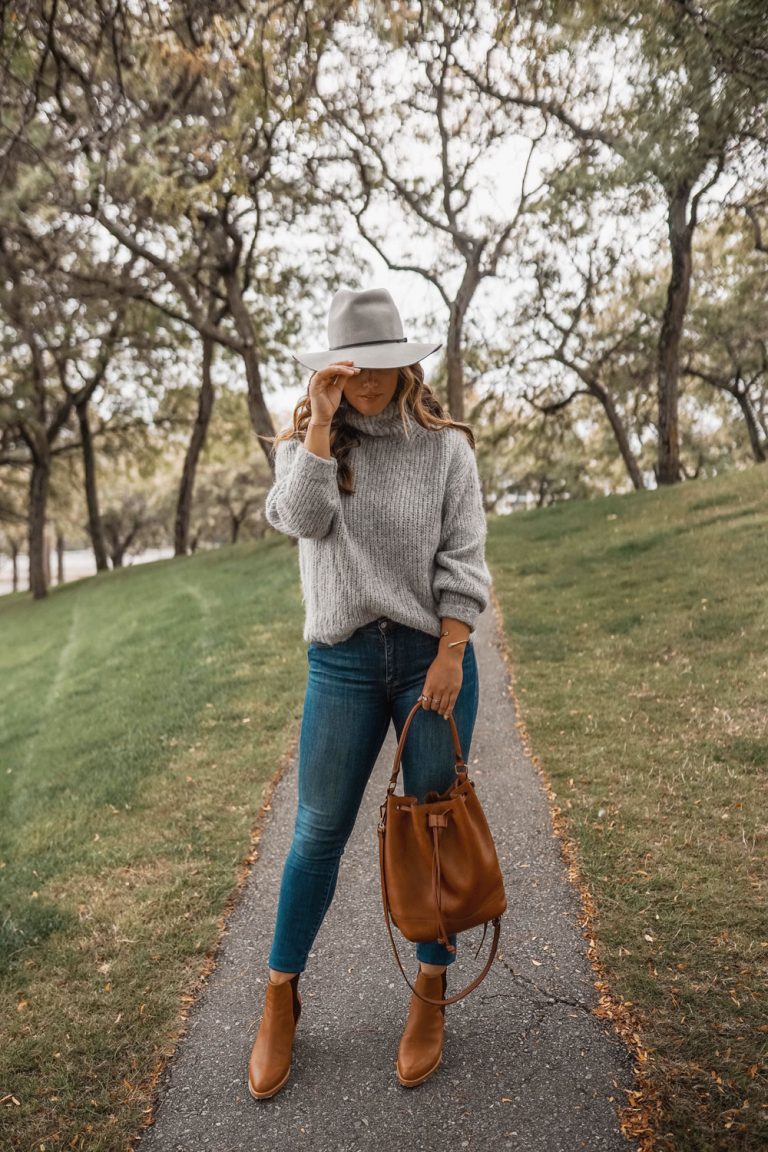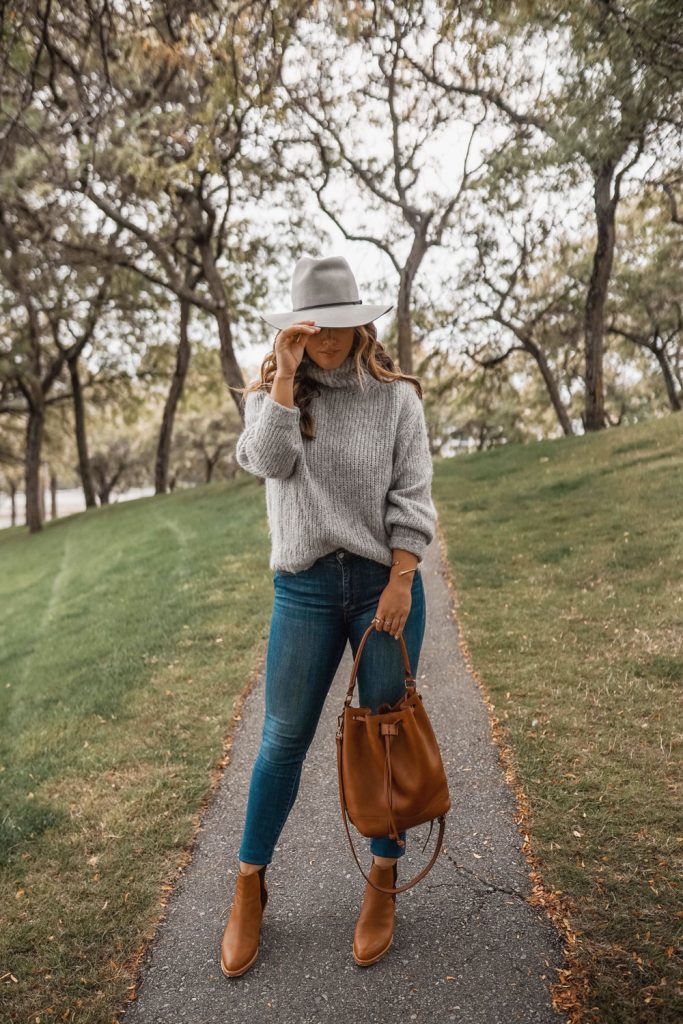 As I mentioned in my last style guide, while I generally cool it a bit on the style content over the summer now that we're officially (as of yesterday!) into fall, I'm going to be rolling out way more fall style stories since it's one season where I really can't get enough of the style! It's also the best season for the capsule-minded dresser because you can really mix and match things in so many creative and chic ways that even if you're investing in key pieces, you can get some serious mileage out of all your clothes and accessories.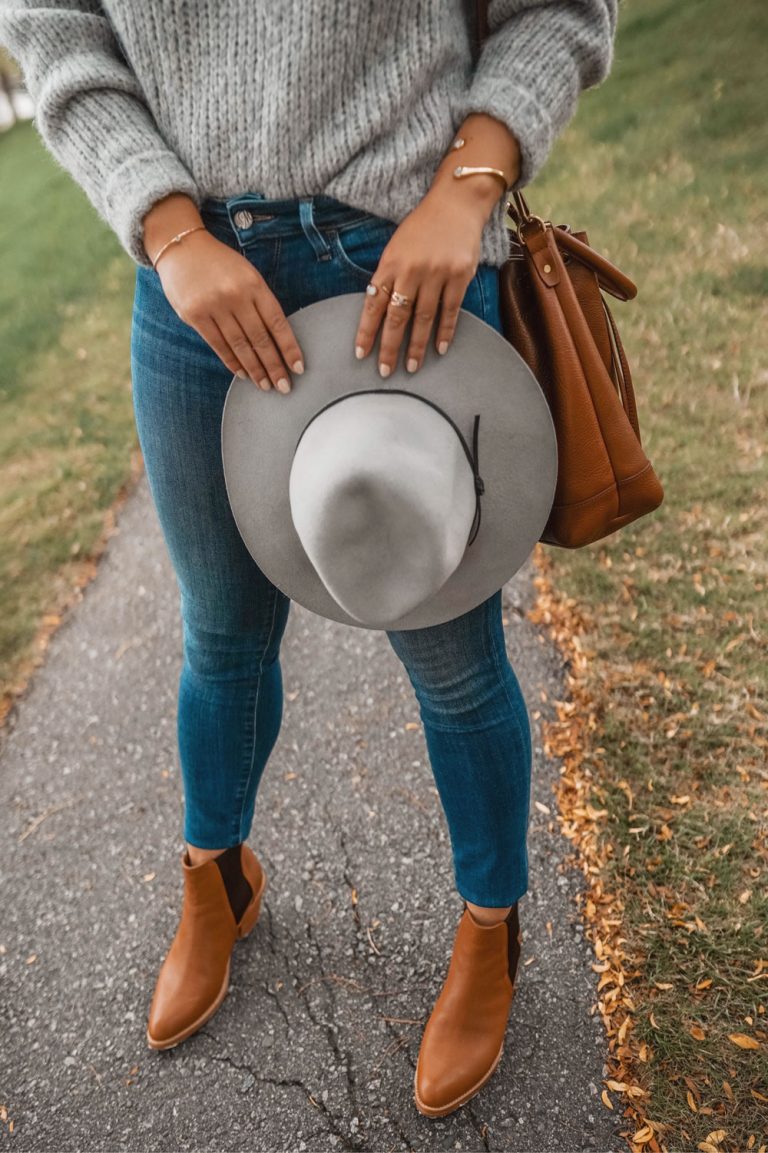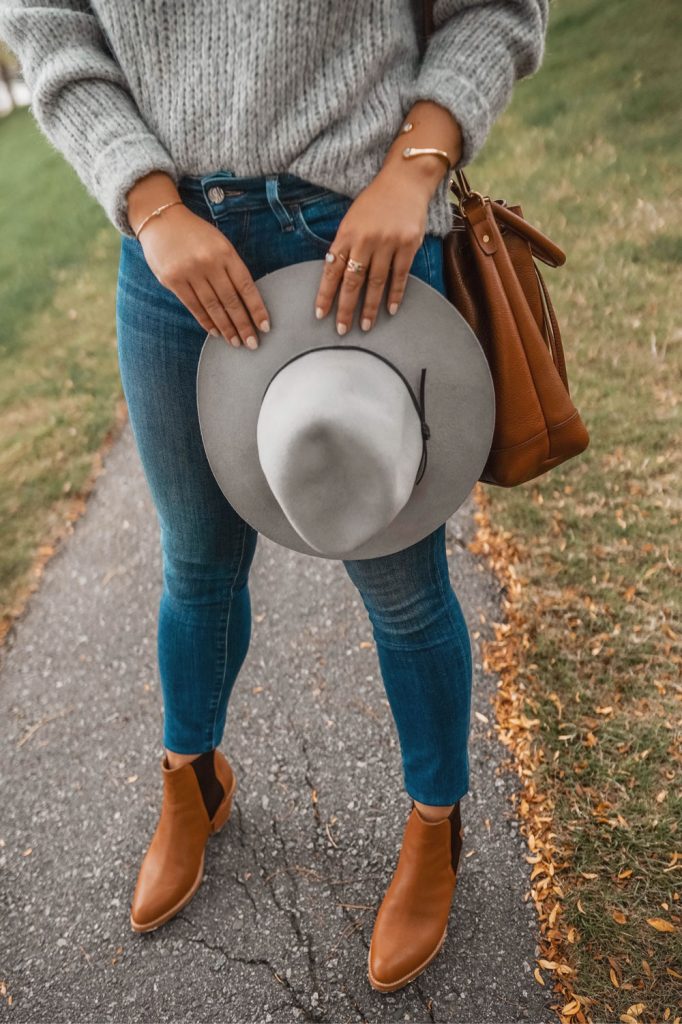 I wanted to round up the main essentials I have this fall (many worn here in this casual-chic fall look!) and how I like to mix them all up in different ways! If you guys would like to see this in video form, let me know I could definitely pull together an IGTV or YouTube video as well!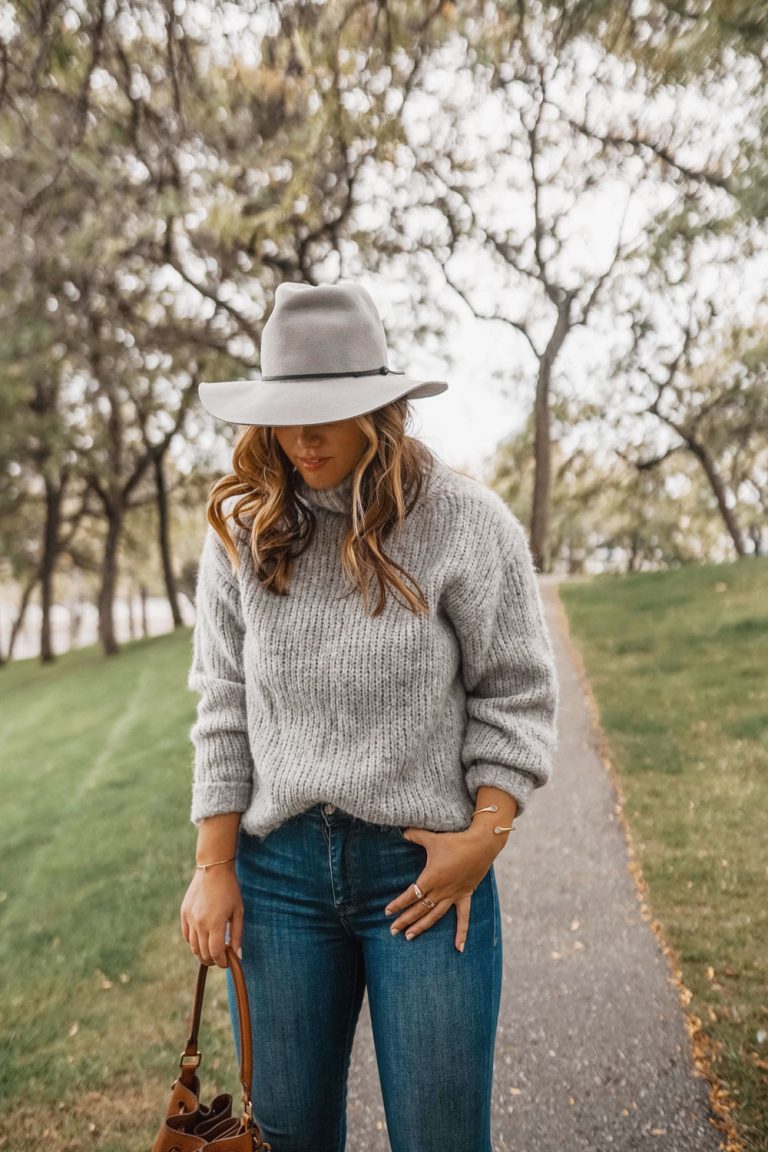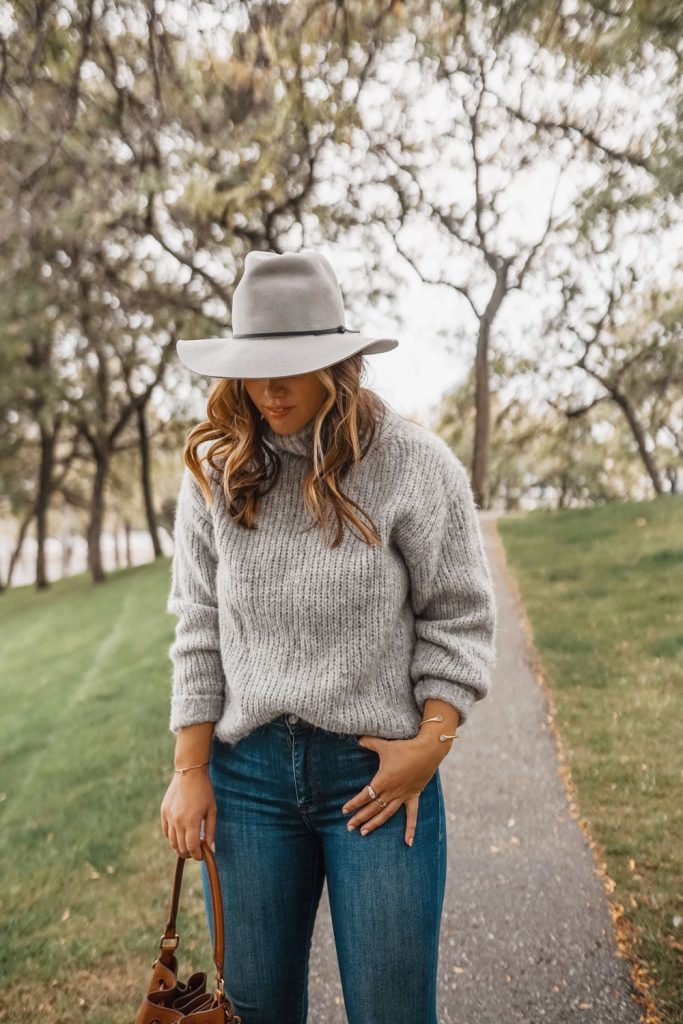 1. The Wool Fedora
I feel like literally nothing pulls together an outfit more or makes it more instantly chic than a hat. I have a bit of a problem with wool hats (I have literally 10-15 of them) but feel like as long as you have a grey hat and a tan hat, you're in business. It looks as perfect with something casual like this (or something even more casual, like swapping out the boots for sneakers) as it does with a really elegant dress and heels. I also tend to go darker with my hair under Chris Weber's expert care and do a bit more styling with it (more on my fall hair updates soon!) and I find the grey and camel tones always go so beautifully with these richer tones.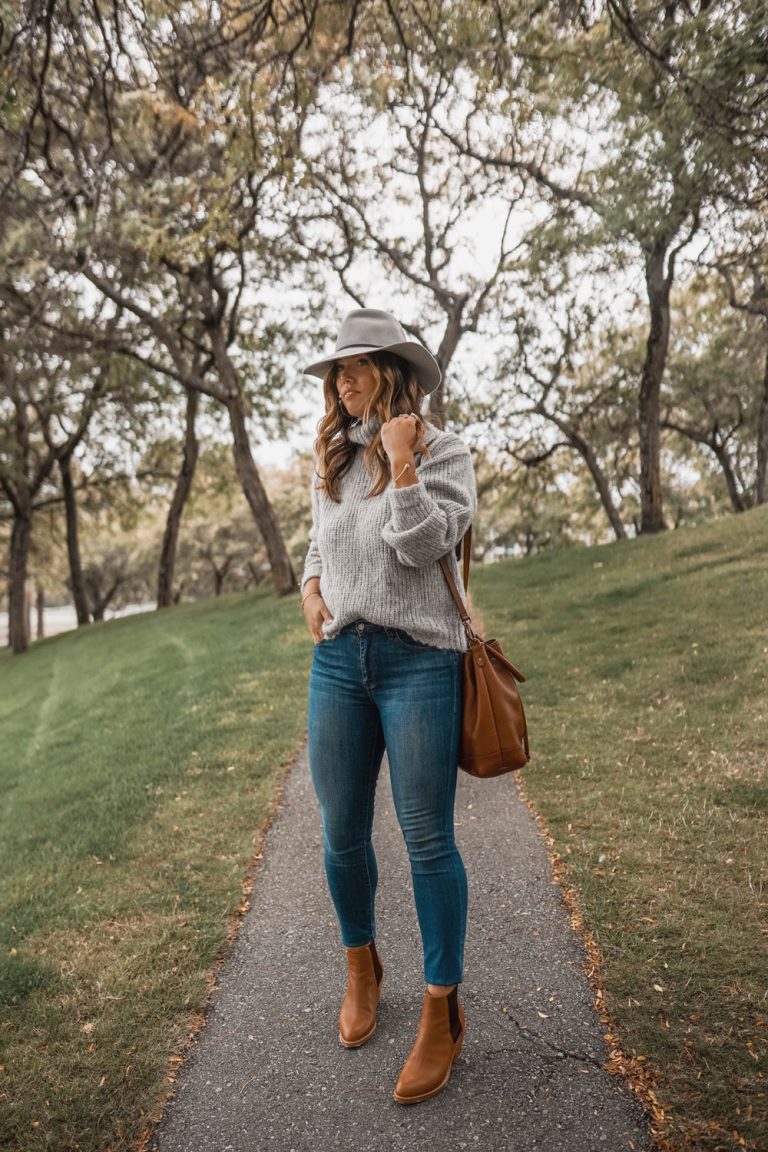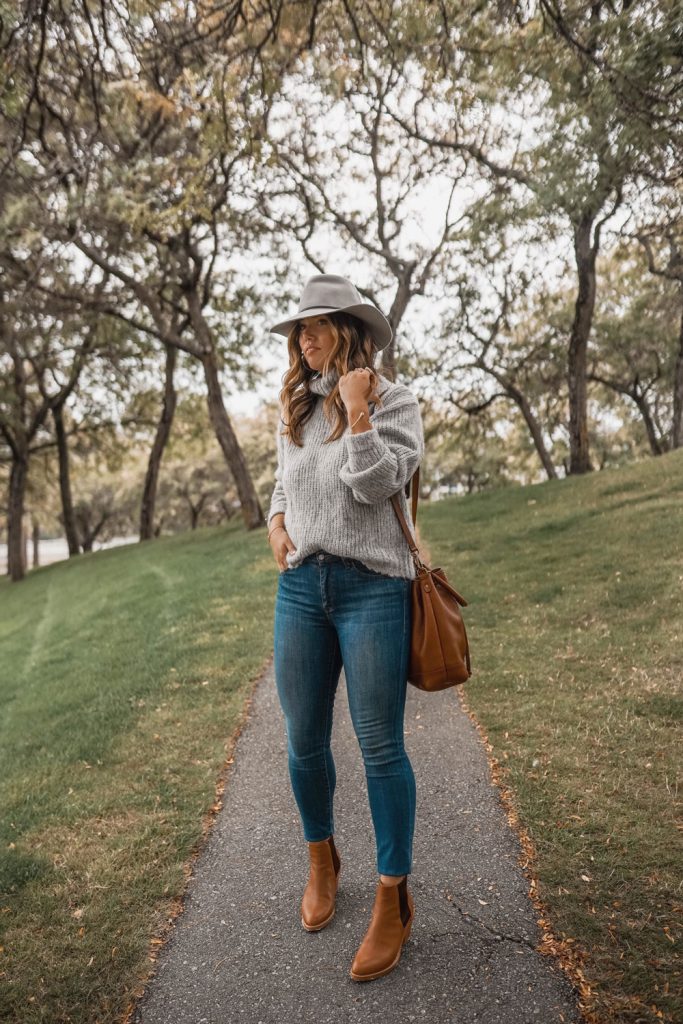 2. The Skinny Jean
In black, blue and white, with maybe a grey or print/texture (like moto, corduroy, etc). I was chatting over drinks the other day with some friends about the eternal struggle to find a good pair of skinny jeans and how you become such a brand loyalist once you do find the right pair. For me, Mavi makes jeans that just work well with my hourglass shape. Because I have a butt and muscular legs but a smaller waist, I find I'm either literally squeezing myself into jeans that fit my waist or having a big gaping waist when jeans fit comfortably in my legs/butt/hips. Mavi is in my experience very hourglass-friendly (or pear-shaped, for that matter) but I also really love Madewell (I wear this pair all the time)! From Mavi, I usually wear the Tess (worn here) or the Alissa. They're both high-rise which is my personal preference! Whether it's with a blouse, chunky knit sweater, long cardigan or even something body con on top for a night out, I'm pretty much in skinny jeans every day.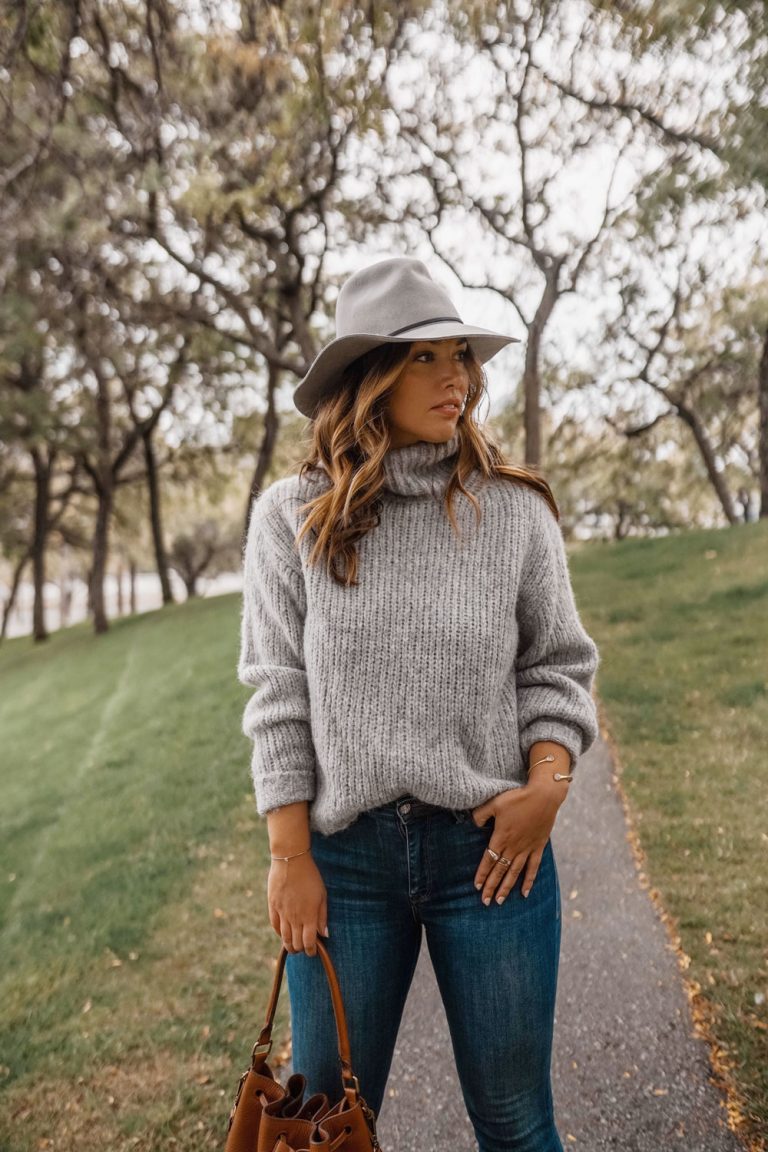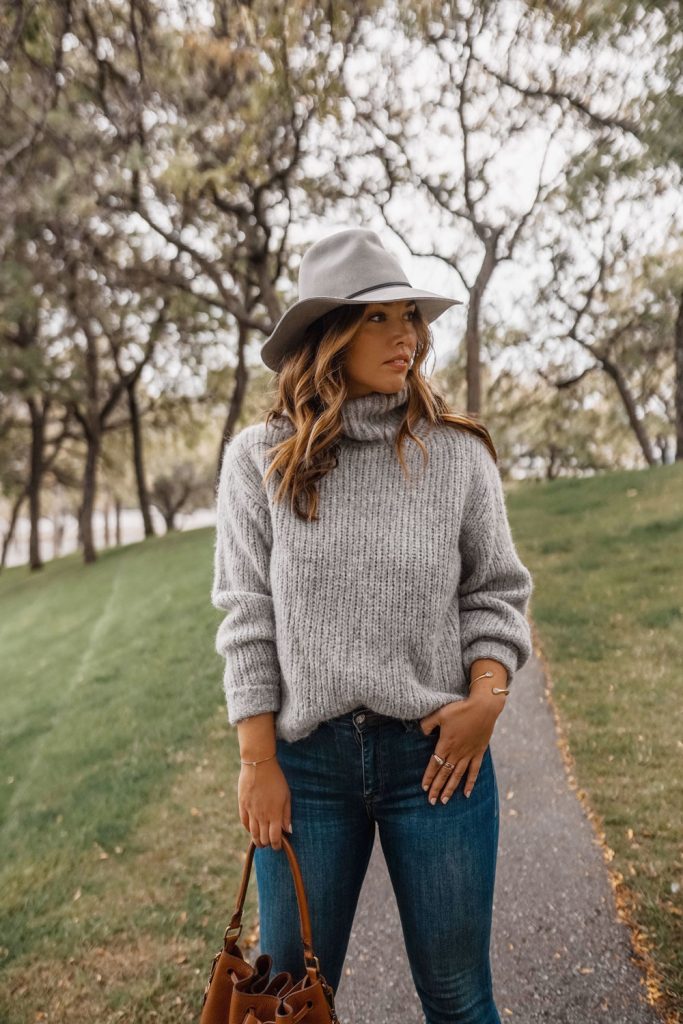 3. The Chunky Mock Turtleneck Knit
I am a sweater fanatic. I've seriously had to totally rejig our closet because I just have so many—other than pretty much always being cold come the fall equinox, I also just love the texture and cozy vibes it gives an outfit. While there are a few other go-to sweaters (a couple outlined below!) that I rely really heavily on, the chunky mock turtleneck is a must. I usually am not a big fan of anything that is oversized/high-necked since having big boobs means it can add more bulk, but this is one exception. It's just the ultimate cozy cut for fall and really chic—you literally feel like you're being cozied up by a big knit blanket and there's no better feeling when you get that classic fall nip in the air. This one I scored at the Aritzia warehouse sale but I'm loving this beauty in a cream tone (along with a cold shoulder cut) from Free People for a warmer-toned, more sleek fall look.
4. Chelsea Ankle Boots
I feel like this is just the most no-brainer option for footwear in the fall—in addition to being impossibly chic, it's really comfortable still (key for crunching through all those crispy fall leaves) and the tones these boots generally come in are really perfect for tying in a fall look. I lean more towards warm tones in my style than cool tones come autumn, so I'll always opt for a rich toffee tone like this one rather than black but it's totally just personal preference! I shared more about these ankle boots in my recent Poppy Barley post and I am really obsessed—even with a slight heel, they're all-day friendly!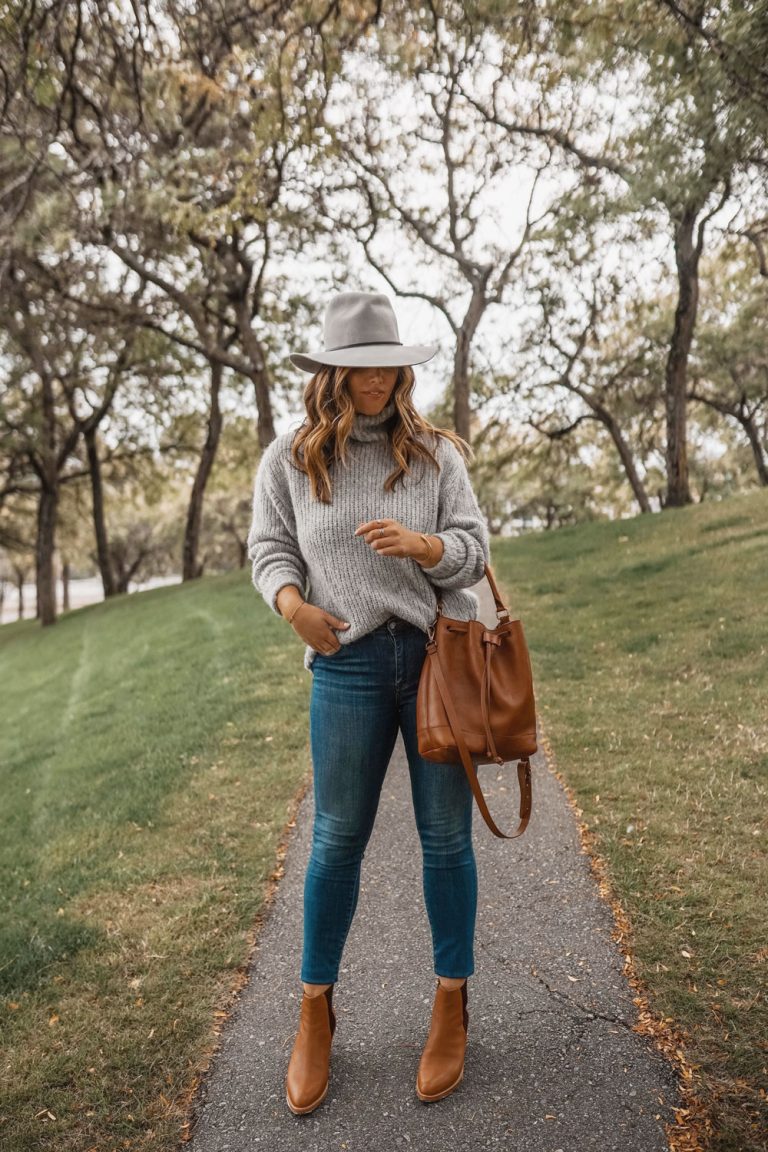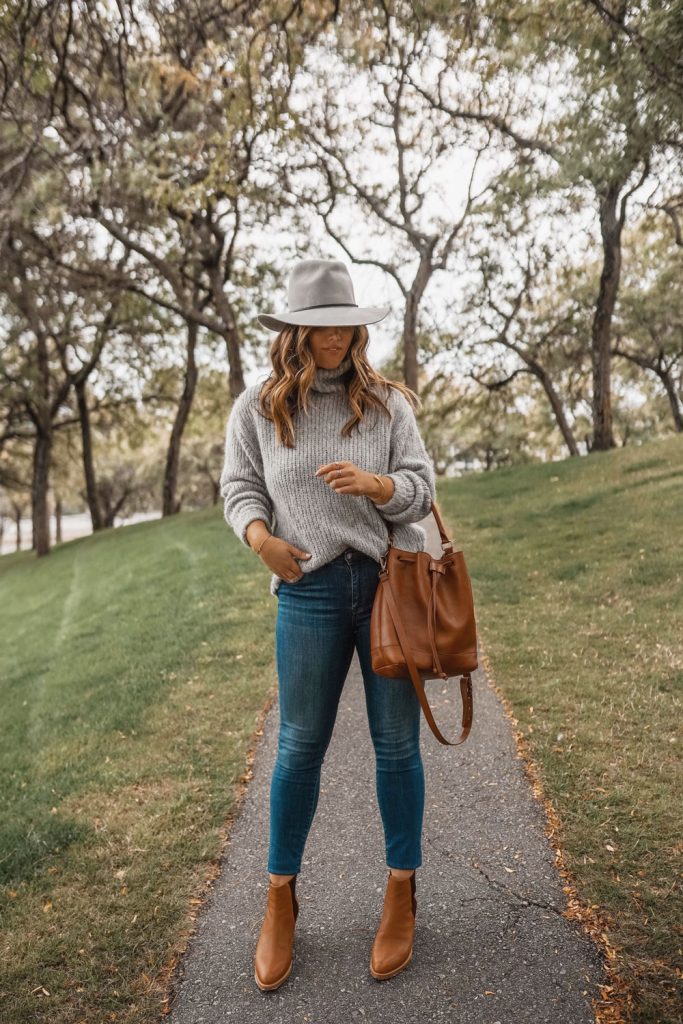 5. Slouchy Leather Bag
Fall for me is about texture, richness and warmth—not only does this come down to the cozy texture of a knit or wool coat, but accessories really come into play to bring in that warmth and add to your colour palette. I've had this Madewell leather bag for a couple years now and it's likely one of my most-used bags (if not my most used bag) because not only does it manage to carry a ton, but it's got this perfect multi-function style with a cross-body strap along with a chic upper handle. It also adds that warm toffee tone that I so love for fall, and the slouchy cut is more casual and fitting for fall. Tragically, Madewell is no longer making this specific style but their Zip Top Carry All is really similar and in that exact same rich caramel tone!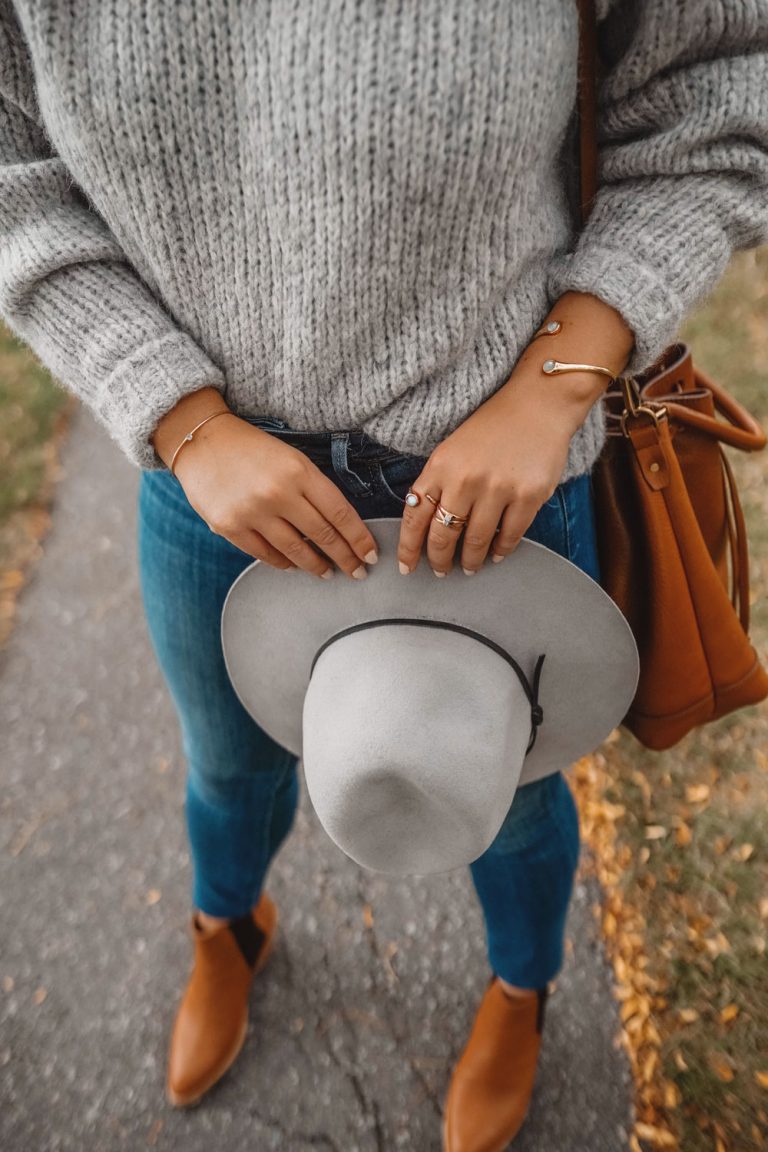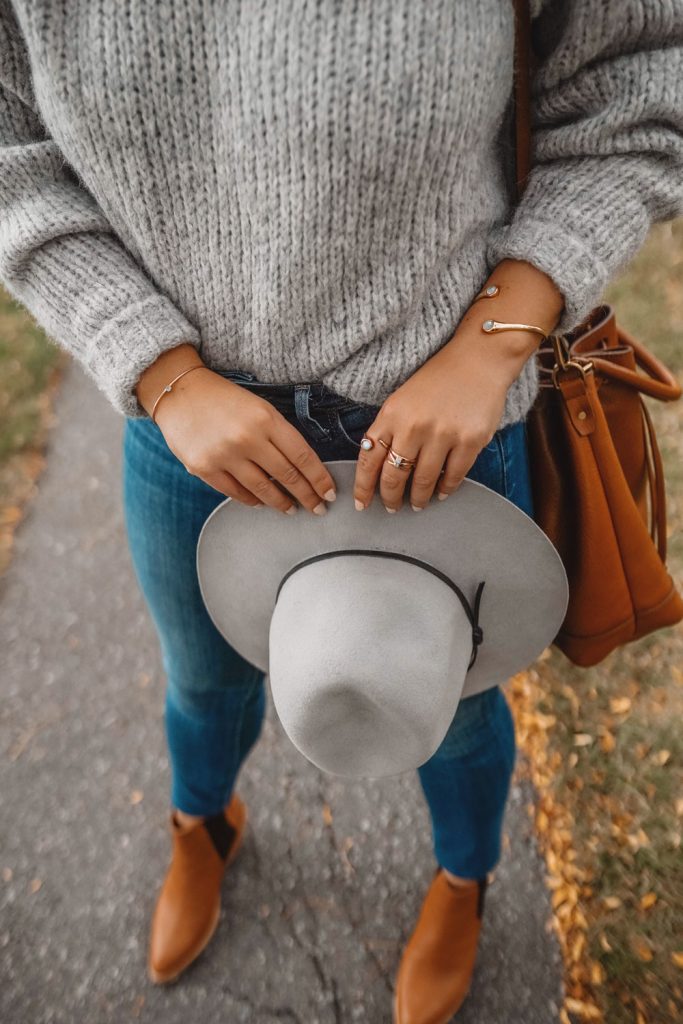 6. A Sleek Wool Coat
Now a few that aren't pictured here! I have about 5-6 wool coats in very similar cuts—it's a bit of an addiction, honestly. You can see how they're styled here, here and here just to share a quick little sampling from last year! While it's not quite time for wool coats here in Vancouver, I'll be breaking them out soon enough as the temperature continues to drop in October. As I mentioned, I'm not a big fan of a ton of bulk—I find on hourglass shapes like me or likely anyone who's chesty, it just adds bulk where you don't need it and distracts from your shape. I like a more sleek shape when it comes to outerwear, the exception being a good teddy coat come winter because I feel like the impact of the texture and silhouette outweighs any bulk it adds (and bulk is really the whole point of a teddy coat!). Anyway, long story short these wool coats are not only timeless beyond belief, but also warm, perfect for layering with lighter cashmere sweaters or T-shirts and pair perfectly with everything, from a summer-fall transition look like a flouncy summer dress to a casual jeans-and-sweater combo like this one.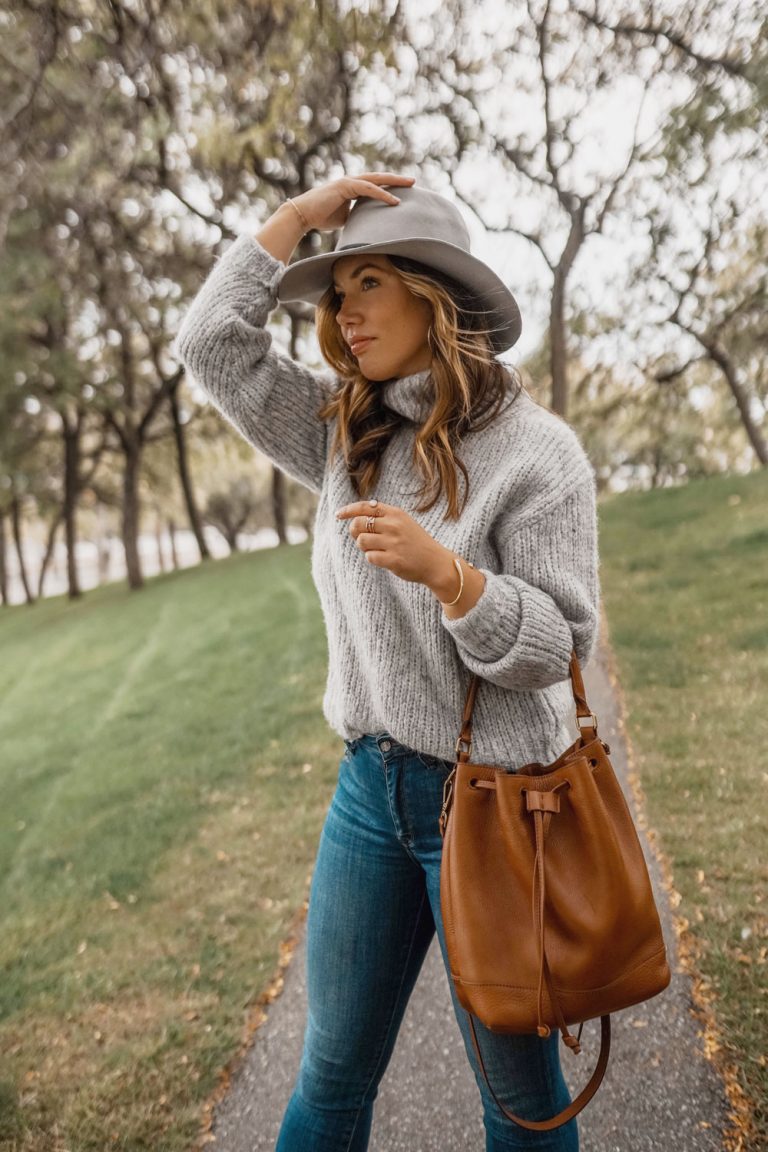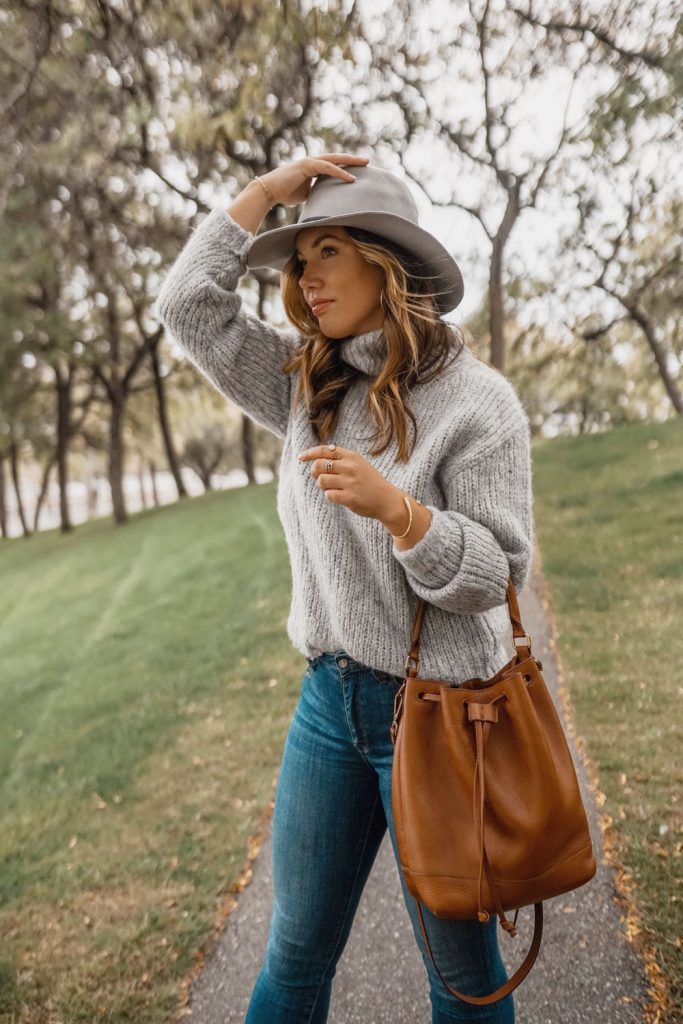 7. A Moto Leather Jacket
My Mackage leather jacket is my most-worn piece of outerwear out there. It's the perfect piece to achieve an effortless balancing act—if an outfit feels a bit too precious, I throw my jacket on to toughen it up a bit. If an outfit feels too basic, throwing this on helps add a stylish edge too. Whether you go for real leather or vegan, any type of leather adds that luxe vibe, along with suede (my second most-worn jacket is a faux suede moto jacket I got from Revolve years ago – this is another gorgeous option for around $110CAD).
8. Cashmere Crewneck
My personal fave type of sweater—as you guys likely know, White + Warren has been my go-to for cashmere for years and I'm so obsessed with their pieces. Their cashmere is still an investment but it's far more on the affordable side and I wear all of the pieces I own from them for years and years—it doesn't get more classic than a cashmere crewneck in a neutral tone. This is an absolute must—it's what I wear on the most regular basis as far as sweaters go, and they're also my fave travel pieces because they're usually fairly thin and layer-friendly.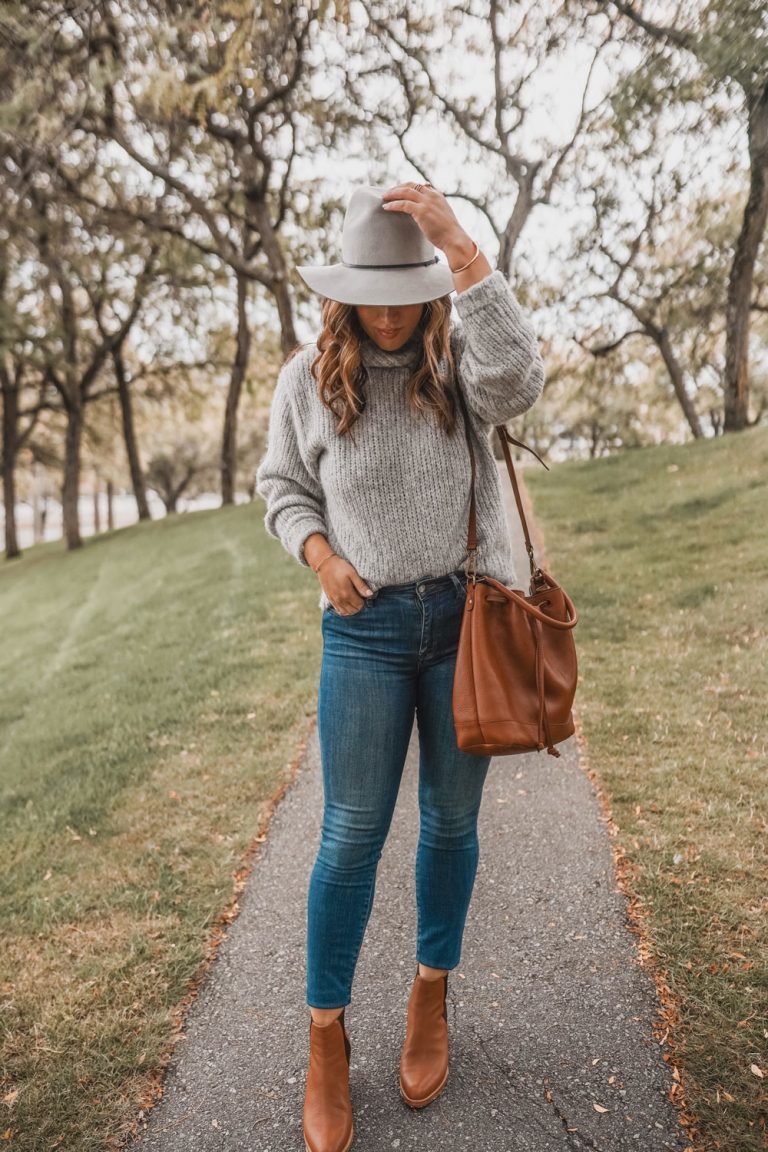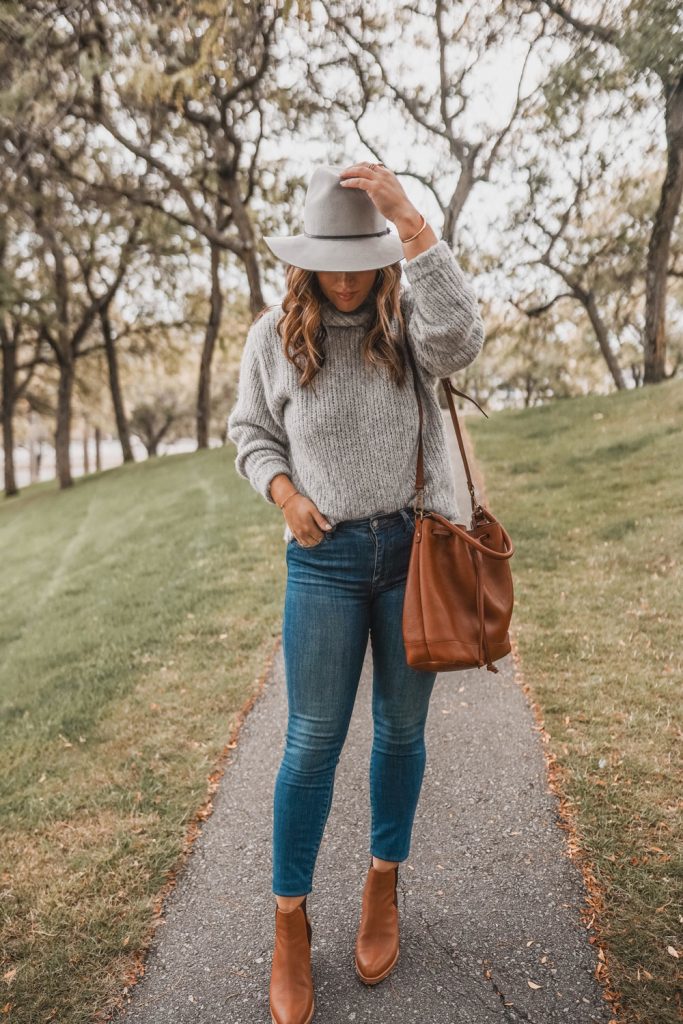 9. Coatigan
I love a good cardigan, but a coatigan for me is something that I get a lot more use out of. Especially when you're still in a period of fluctuating temperatures (I'm currently sitting with wool socks on but all our windows open as the weather still tries to decide what direction it wants to go into today), this is my usual go-to for "outerwear." What I love is that if it warms up, you can just slouch down your coatigan to do that chic off-the-shoulder look—if it cools, you just hike it back up and can even belt it if you're really needing extra protection from the chill. This is a great basic option for under $50.
10. Mini or Midi Dresses
Whether it's in neutral or a print, I love wearing dresses with my jackets, coats and sweaters as the temperature drops. This latest style post features a go-to summer dress of mine from Aritzia with a coatigan and ankle boots, two of the must-haves from this round-up. While you can still show skin without freezing, I feel like you should take full advantage and have fun with playing around with the different outerwear and footwear options!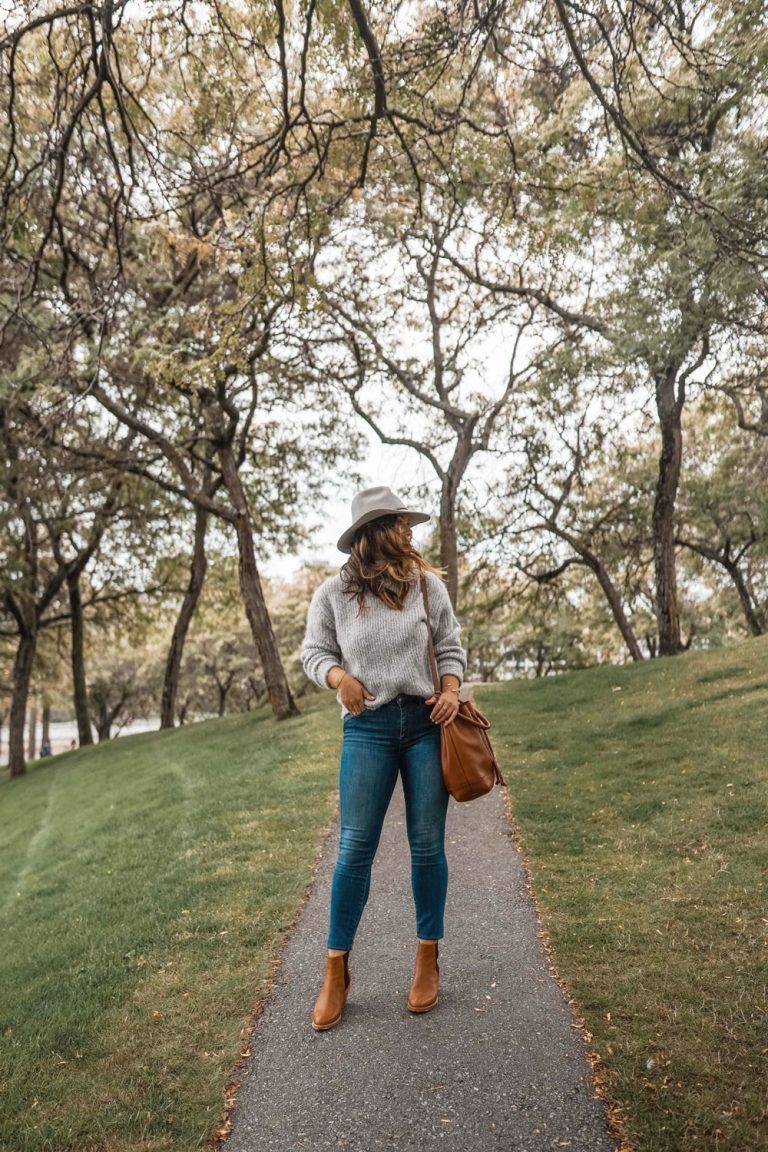 11. Tall Riding Boots
This is my other switch-up I love for footwear come fall. I have a pair of riding boots from Poppy Barley that have lasted me for years—they look so good with skinny jeans and a cropped crewneck, or with a cute mini dress and wool coat. Just a heads up that Frye boots hardly ever go on sale and this dreamy pair is currently on massive sale, and actually has a good size run left!
12. Over-the-Knee Boots
Speaking of boots, this is the ultimate boot for a more sexy, chic look—I especially love them paired with boho dresses and they really help elongate the leg (something I always need because I have short legs!), but I also love them with a basic look just like this one I'm wearing here! I wasn't sure about these for me for whatever reason when I first got them last year so while I pretty much always suggest investing particularly when it comes to accessories, if you're on the fence about these boots and haven't ventured into the over-the-knee world this Le Chateau pair is under $100 so it won't break the bank if you're not sure about them (plus they might end up being total keepers and then you just banked on a massive sale!).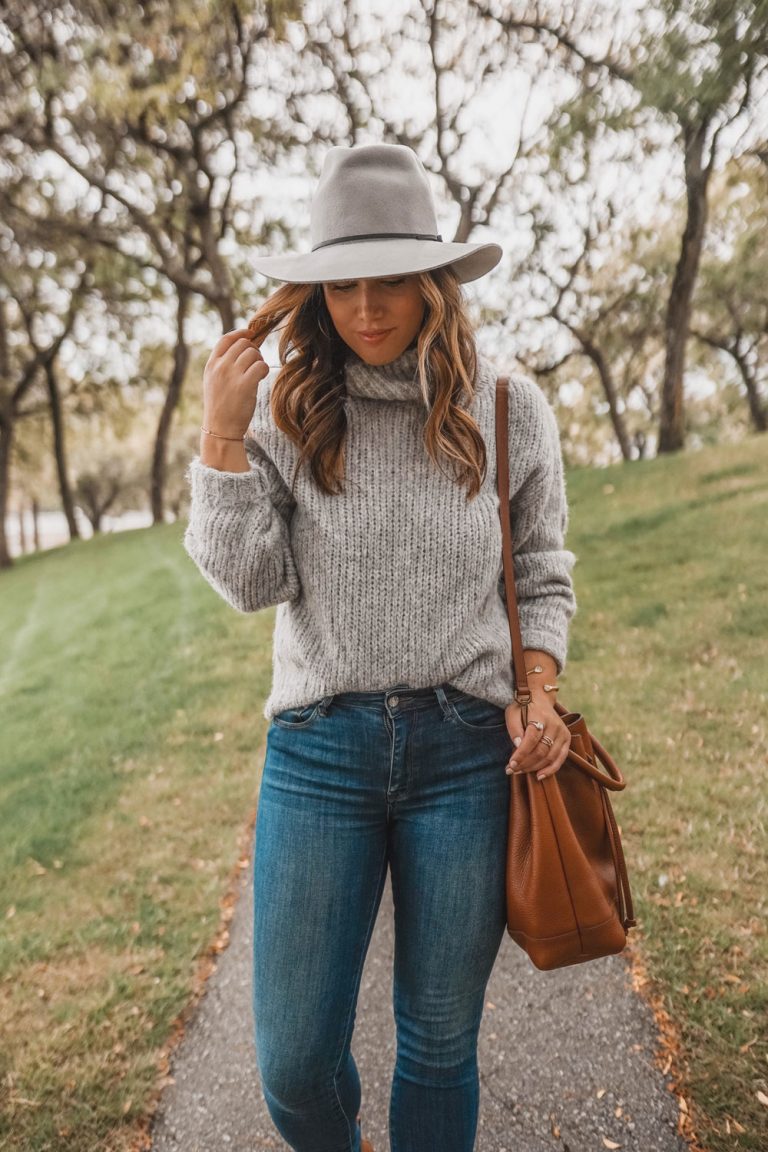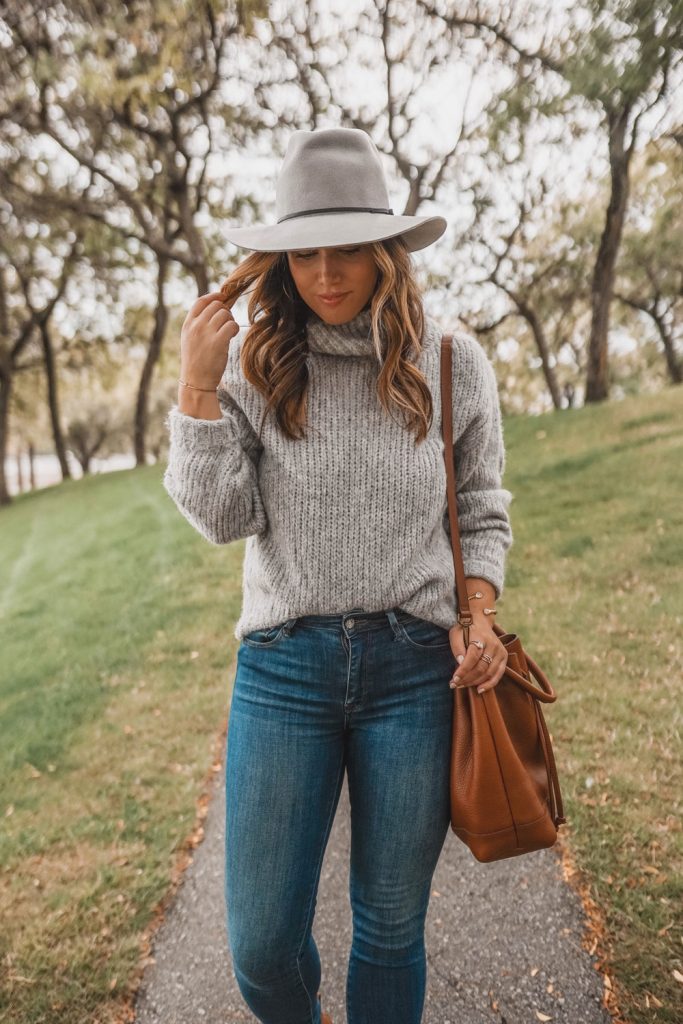 13. Cashmere Travel Wrap
Last but definitely not least, my ultimate must-have is this White + Warren cashmere travel wrap. It's in pretty much every single of one of my essentials guides, whether it's my travel essentials or a style must-have guide. It's just so cozy, so multi-functional (see all the ways you can wear it here) and adds instant style to any look. It's a piece you'll always, always have.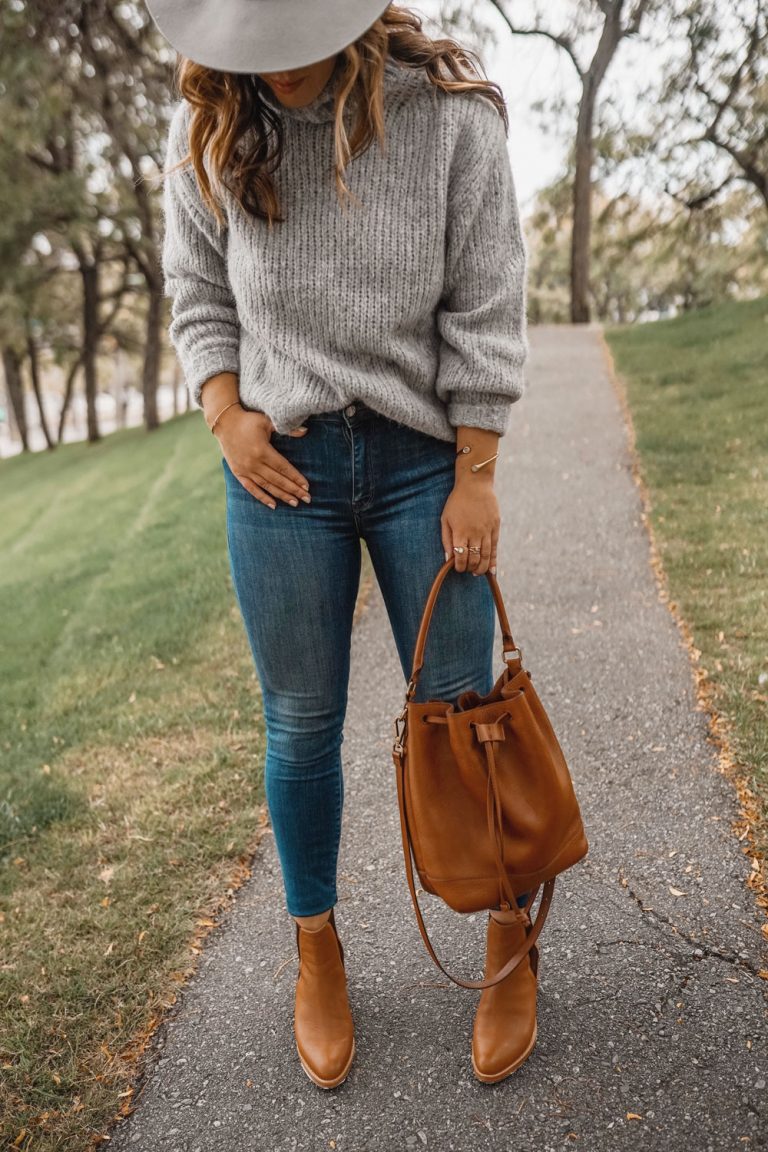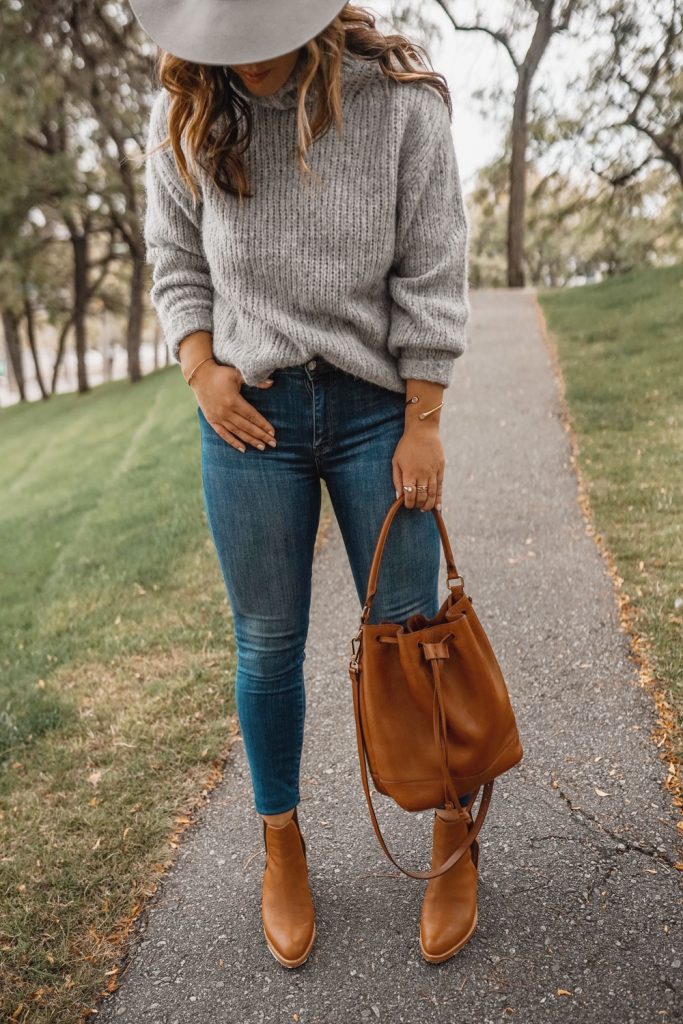 A couple other must-have's for fall are some really solid basic tops (think V-neck T-shirts, chic camisoles)—think anything for layering. I also love to switch up my jewelry and layer on more gold and just generally stack on more, just ups the luxe ante. Just a note that I'm wearing all Sarah Mulder here—such gorgeous pieces! Will be sharing all my go-to jewelry in a post coming very soon! I'm not the biggest skirt person (honestly have no idea why), but I have recently fallen for a leopard skirt—one that finally fits me well! Most leopard skirts I've found are cut very narrow throughout, which is hard if you're hourglass or pear-shaped as whatever fits your waist will be maxed out throughout your butt/hips. This beauty is still a sleek silhouette, but fits my waist perfectly and skims through everything else. Will be featuring it later this week! Finally, while I usually don't break out the toques (beanies for any non-Canadian's!) until the winter, on the tail-end of fall as it's sliding into winter, I like to start breaking out my go-to beanies.
You can shop a round-up of all my faves below! If you're trying to focus on reducing shopping, developing a more sustainable approach to your wardrobe and just to get more creative with your fall wardrobe, I really hope this gives some key tips! Can't wait to show you how I style these all up with these go-to pieces over the season.
SHOP HERE