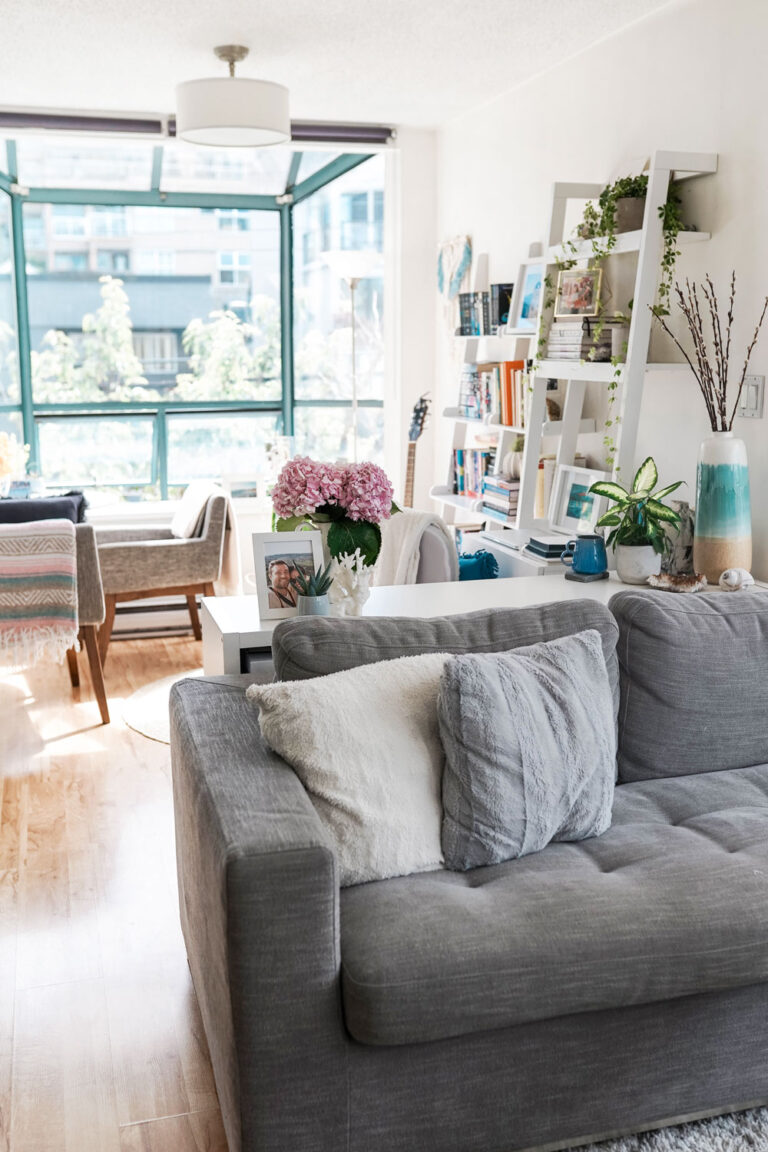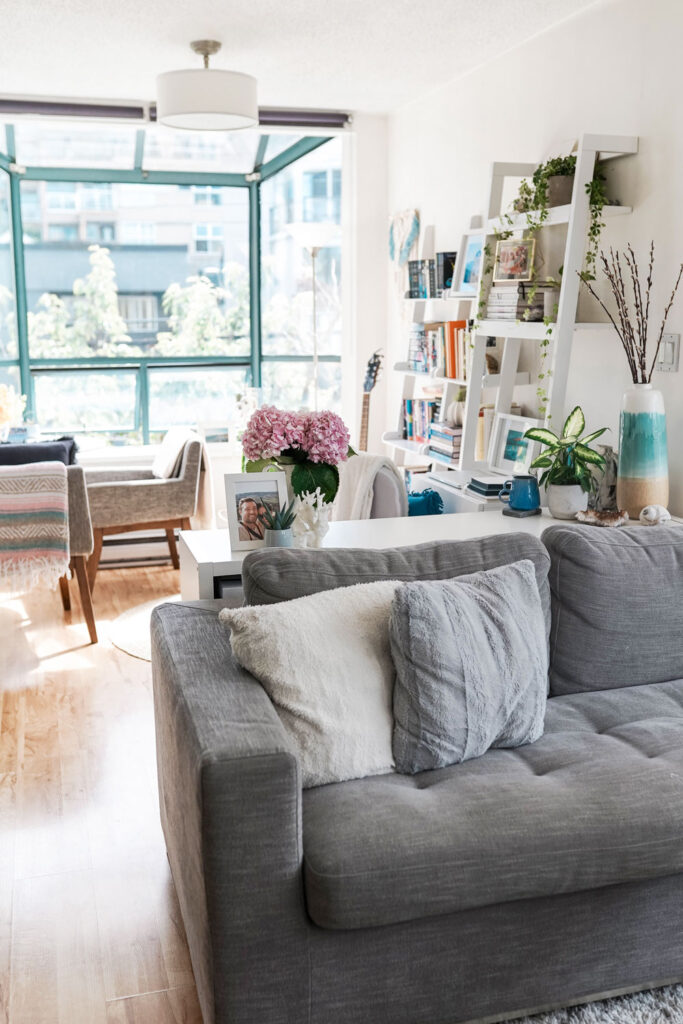 I swear, these days I feel like my content is either far-off, sweeping landscapes of Ireland or Scotland or my latest decor makeover—what can I say, if you're vibing in one area (or two), sometimes you just gotta keep going for it! I haven't been craving too much as far as style lately, mostly because at this point of the year I'm either in swimwear, activewear or cozy summer wear so it's not exactly exciting style. I do have some really exciting health-oriented posts and some other travel guides outside of the UK & Ireland coming your way soon, but just wanted to say in advance that I'm fully aware of the general theme(s) lately and I hope you guys don't mind because I'm loving covering it!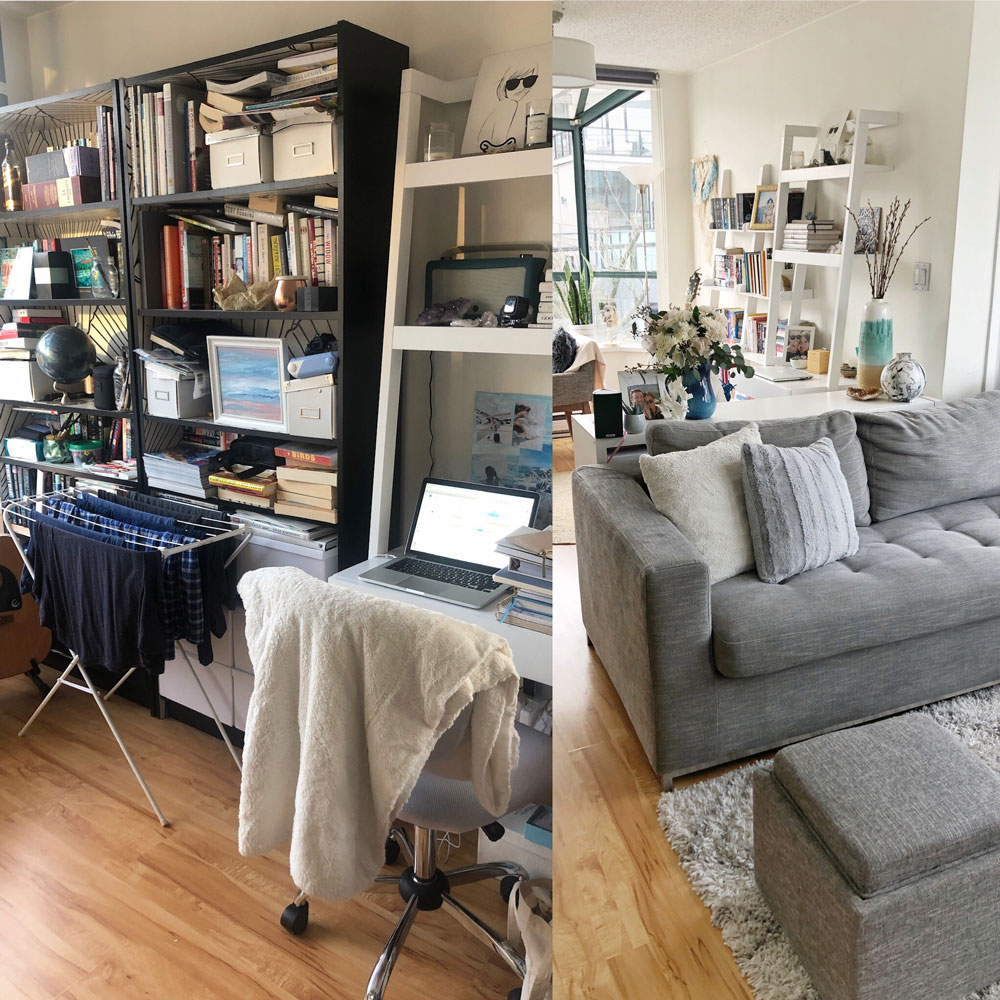 Anyway, moving on to this before-and-after reveal snapped above on my phone earlier this year because not to toot my own horn or anything, but I think it's pretty dramatic. When Matt and I first moved into our apartment together 6 years ago, we were at very different points in our lives and careers. I was working a pretty low-paying fashion job (is there any other kind?), Matt had just landed a new job (one that he's still at now, having grown massively with this company—so proud of him!) and we were pretty much two relatively fresh-out-of-uni broke kids taking all of our leftover university apartment belongings and piecing together a home with it. We're both kind of knick-knacky people with lots of various hobbies and interests too, so not only did our little 700 sq foot apartment have furniture that was pretty ill-suited for it and way too clunky (not to mention ugly), but we also just kept piling more stuff into all this ugly furniture. About 2 years ago, something just snapped in me and I became obsessed with changing our place. Turns out that undoing 4 years of piling up shit and having terrible organization can be pretty hard to do, and rather than do what Marie Kondo does and sweep out everything by category, I found that doing each room-by-room was what we needed to do to be able to comfortably overhaul our space without losing our minds in the process (because did I mention that Matt now has also been working from home for the past year too?).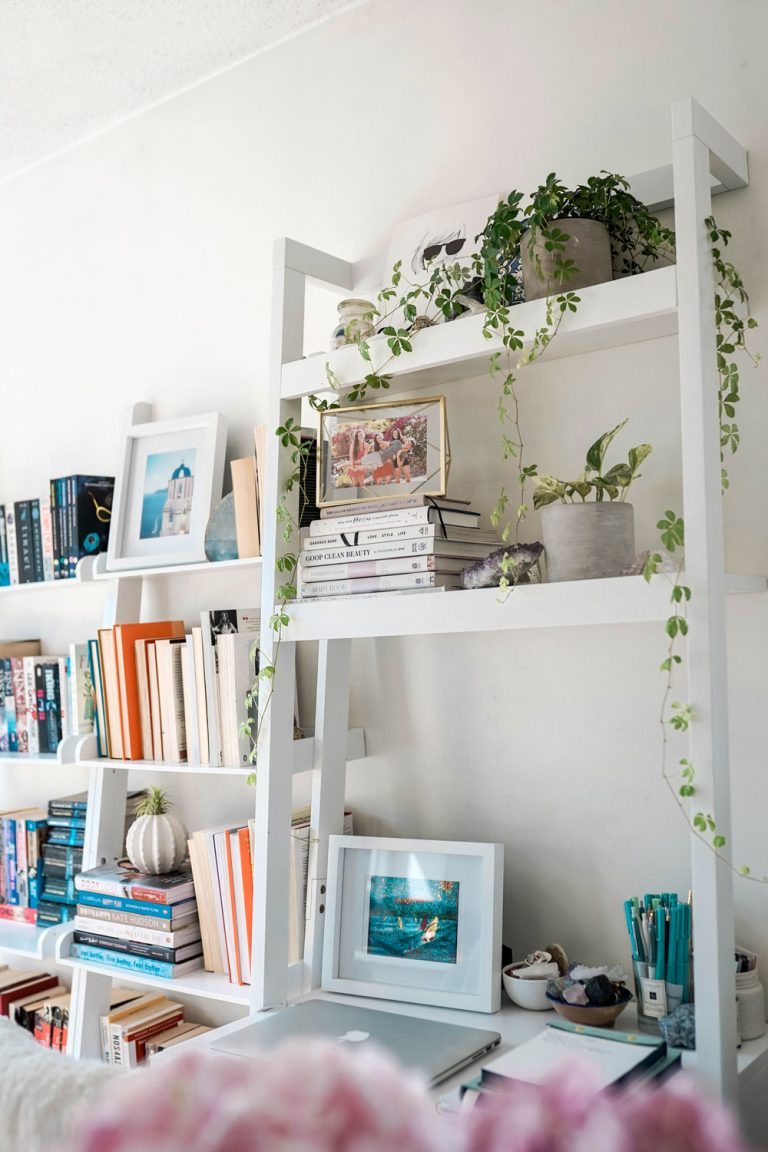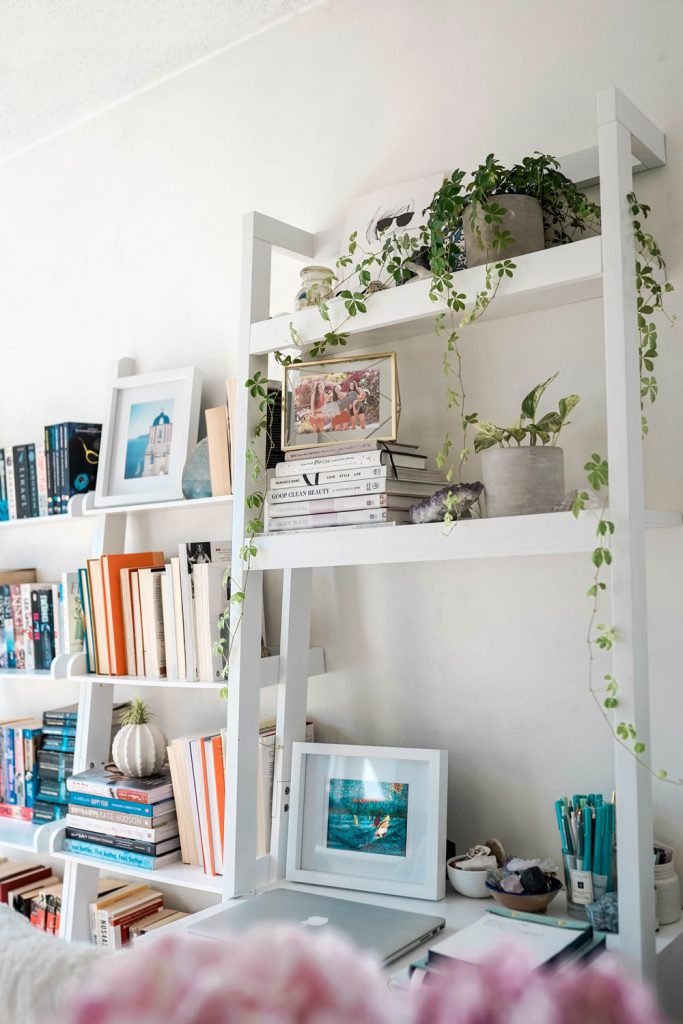 We'd done a lot already by the time we hit our dining room/my office space/living room/Matt's office (we're in a generally open concept space so pretty much, this one area serves like 5-7 functions), which was easily the most critical space to redo. We'd tackled the bedroom, we'd done the side patio, we'd done our side closet and our bathroom—this was my biggest Kondo challenge yet and it proved 100% to be the most satisfying and life changing out of all of them. To be honest, I was kinda skeptical about the whole KonMari method (which you can read more about in her book of course, but this also outlines it pretty succinctly), but as I applied it to each space, I felt this insane weight fall off my shoulders. We'd always liked our space but now we really loved it, and not only was it far more beautiful but it was way more functional and comfortable. I'm detailing below the 6 ways that specific to this big shared space we were able to totally overhaul it!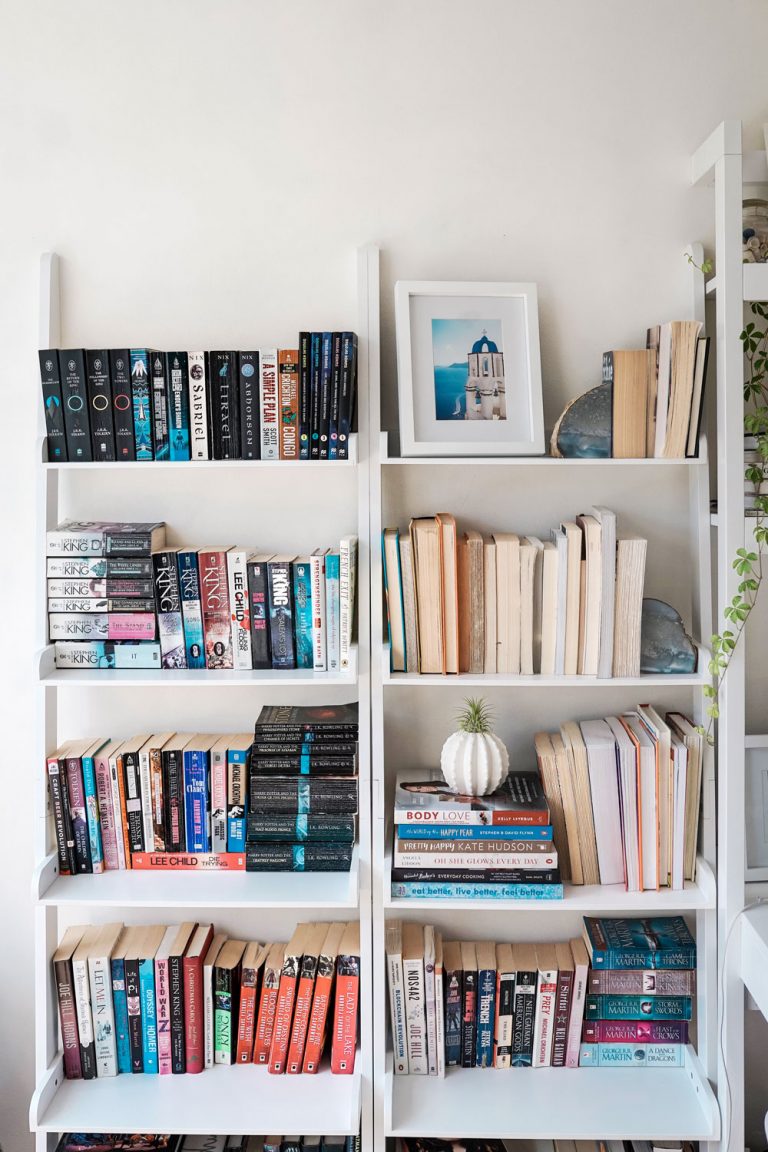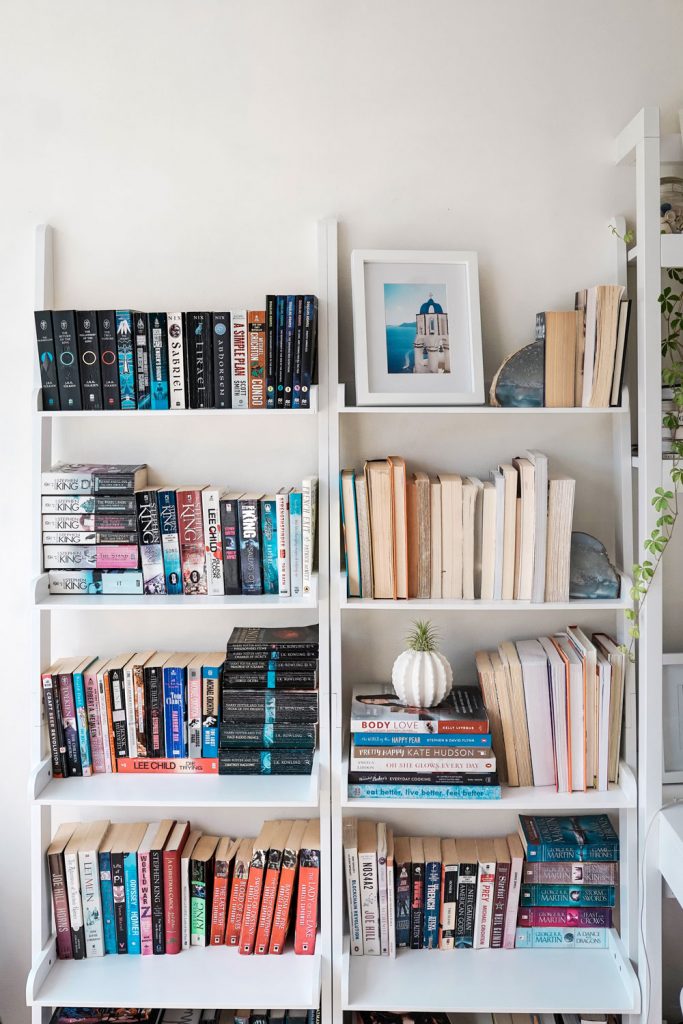 Used the KonMari Method With All Books
As you can see in that before and after shot (I have another one at the bottom of this post), we had so much stuff on these big huge bookcases and lots of the books were ones that had either been given as gifts, were read once or part-way through and then discarded, etc. I actually mostly read on my Kobo now so I was able to be pretty ruthless with what I got rid of—Matt, not so much (though he still did pretty good). We donated all the ones we could part with, and my general rule for figuring out which ones to donate was to think to myself "do I want to read this again in the next month or so?" If it was a no (i.e. not holding onto a reference book that I might want to one day read), then I got rid of it.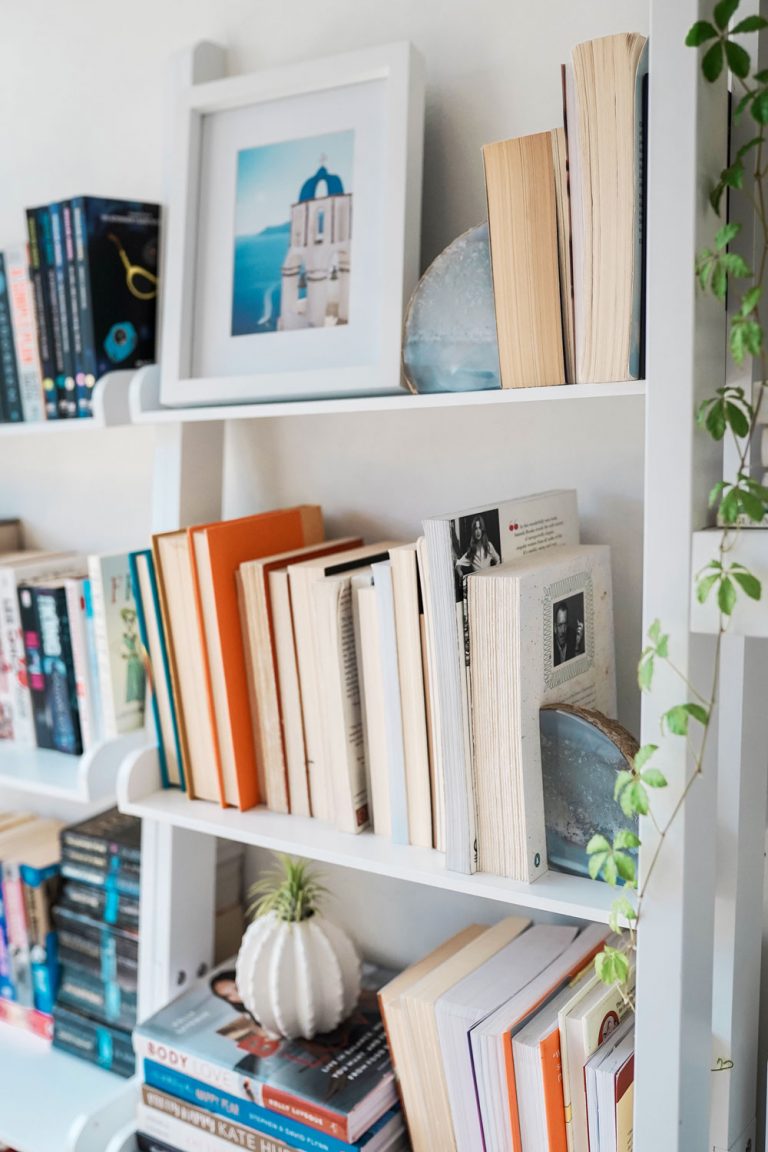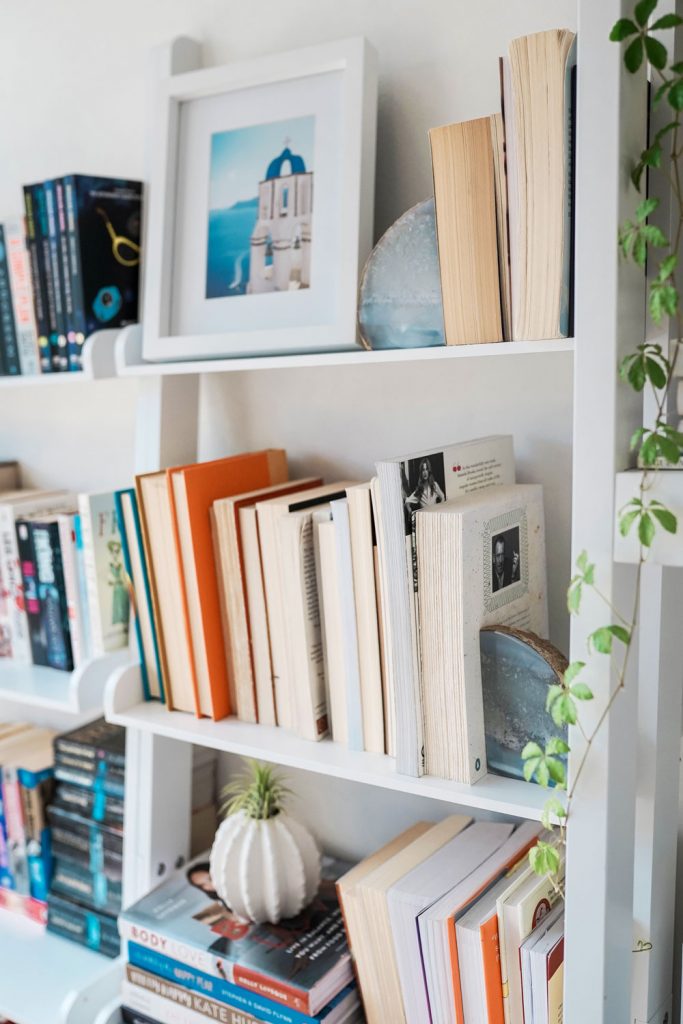 Ruthlessly Donated Knick-Knacks
As I mentioned, we're both prone to being a bit sentimental with belongings, and I had grown a shell collection in particular at this point that I could hardly part with. I couldn't remember when and where, but each shell must have been connected with a moment in time that must have been special to me…there was no way I could get rid of any of them! (That was all sarcasm by the way in case that didn't read sarcastically…basically, I was a hoarder). Matt and I poured two glasses of wine, blasted some music and both committed to ruthlessly going through everything that we had accumulated between the two of us.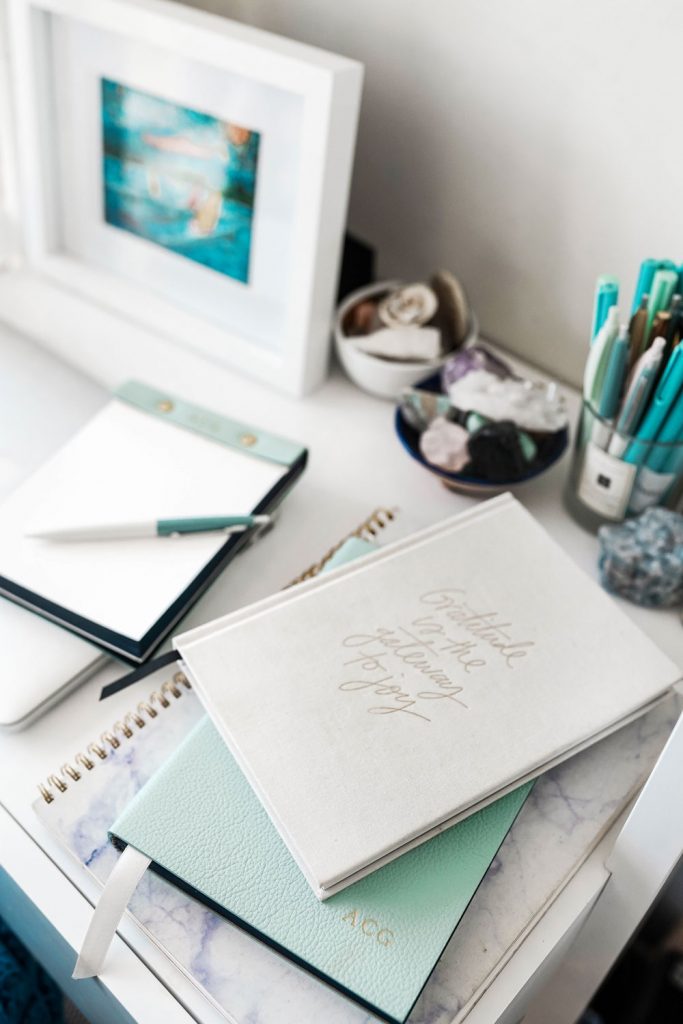 Honestly? We kept maybe 1/15th of it all (and then figured out way better storage for the belongings we kept, more on that in a second). I don't miss any of the things I was so committed to keeping in the past and feel so much lighter for it. I now try to do this right before we have a professional cleaner come in so that I get in the habit of not letting my nasty sentimentalism creep in again.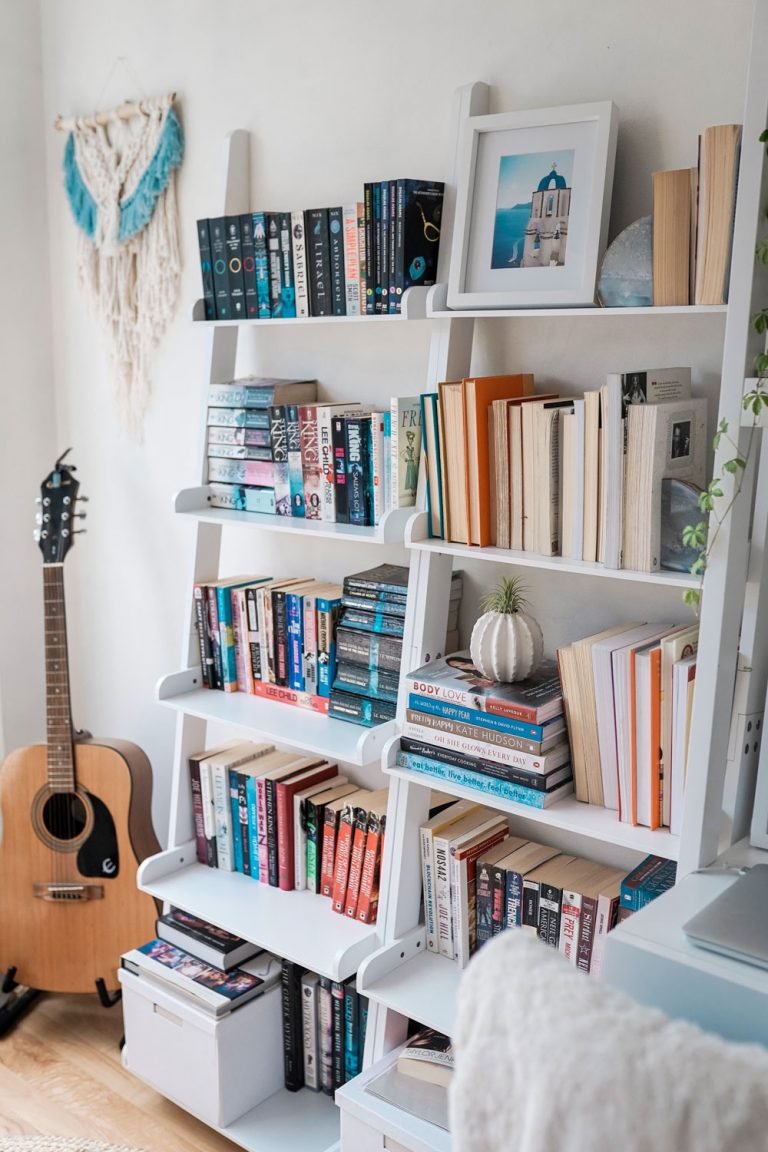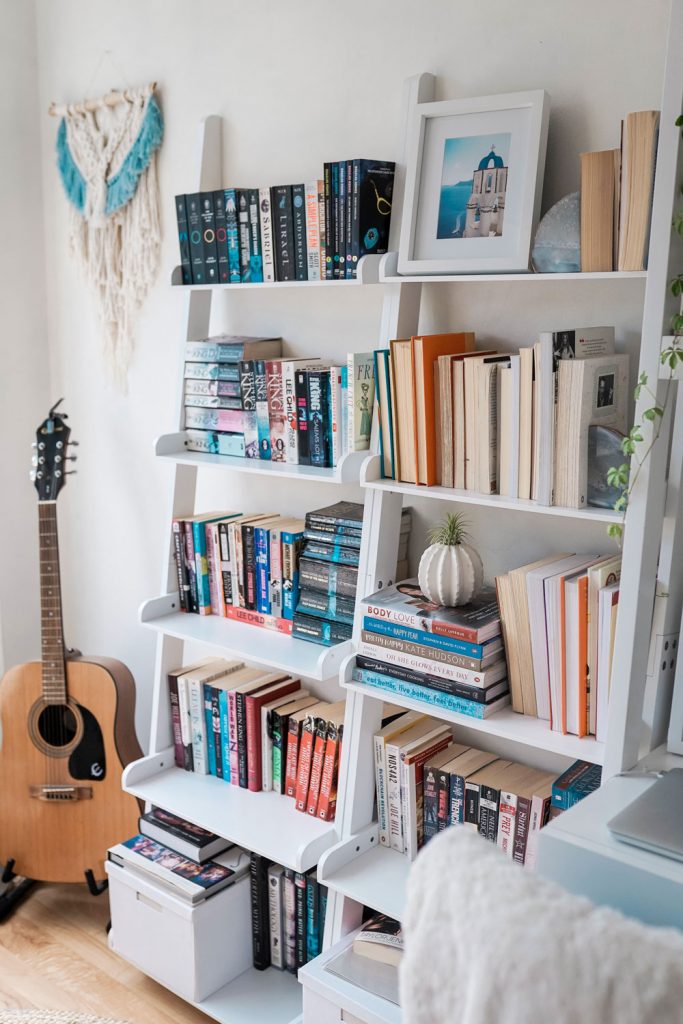 Donated Our Ill-Serving Furniture
Our bookcases were these huge IKEA ones that would maybe make sense for a family of 6, but for us, it was just an invitation to load shit on top of shit on top of shit. One big takeaway I've had from this all is that accumulating belongings is sort of similar to a plant's growth in their pot, something I've really noticed with my snake plant. When my snake plant was in a smaller pot, it stayed pretty restrained by the confines of its pot. When I repotted it to a pot twice its size, it very quickly grew to fill the pot—great for the snake plant, but it has a similar effect on "stuff" in a negative way. If your furniture isn't streamlined enough for your space, your belongings will just keep growing in size to fill it. We opted for these two very streamlined bookcases from Wayfair that worked well with my Crate & Barrel desk (one of the few things we got some time ago that was actually a great fit for our apartment, also very affordable and pairs well with other leaning furniture like these bookcases) and after culling our books and knick-knacks, everything fit perfectly.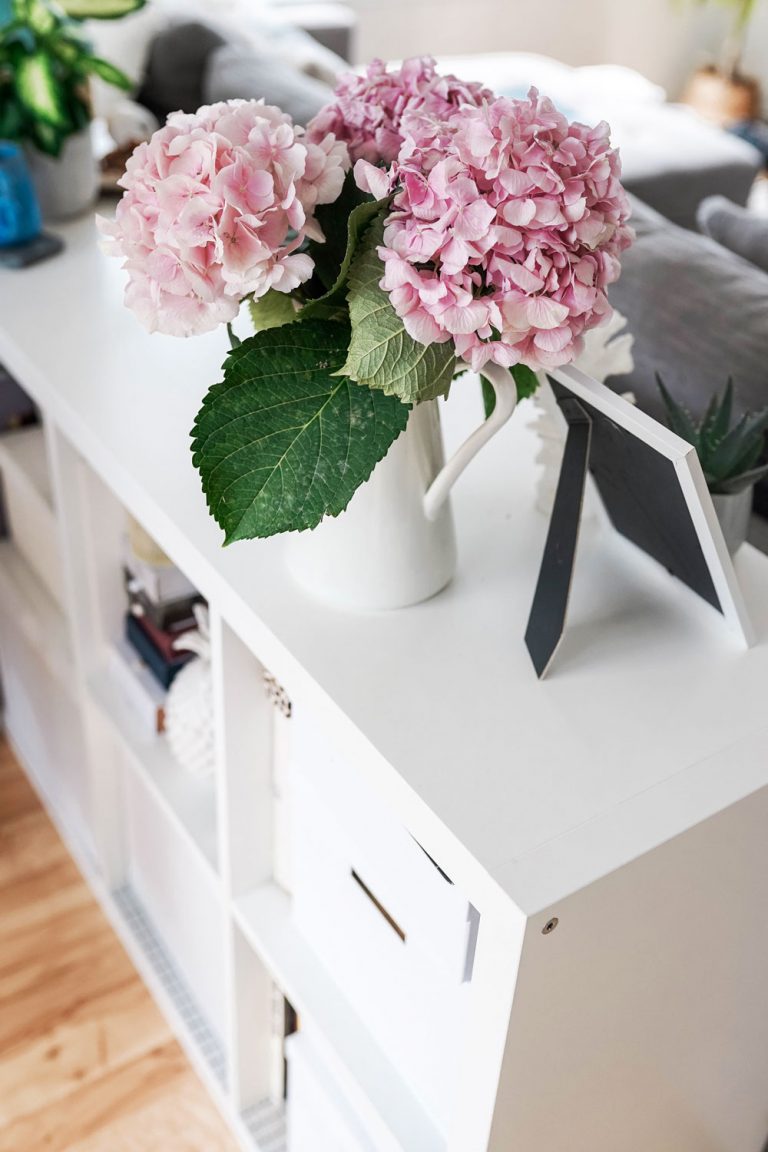 Making Use of Blocked Space
We still needed to sort out our storage problem—we initially were thinking we could add another storage unit to the side of the bookcases (where my beloved guitar is) but I really loved the way the guitar, snake plant and my custom wall hanging from Tangled Dreams looked there and felt like adding in yet another blocky piece of furniture there would be going backwards in our progress. A glance at the lovely Jess Ann Kirby's living room (she has the best decor, by the way) and I noticed they had a great bench behind their couch. Our Article couch (detailed more in this story) was just the perfect height for this awesome storage console from IKEA (which can either go on its side or go upright making it super functional)—not only would it store a ton of stuff (which was currently kind of piling on top of this little side table next to my desk) and remain mostly hidden by the couch, but it would offer a surface for a very limited amount of decor, like a Saje diffuser, potted plant, one framed picture and a little beachy element because I need something beachy in every 3 sq ft of my space apparently. It took us 20 minutes to put together and honestly, it was the best addition to our space—even though it actually is a bigger piece, it's used strategically behind something that's blocking a sight line as it is, and because it's bright and white, it's still adding to that airy element. It also allows us to highlight some of our fave decor and during parties, offers another surface for drinks and the like.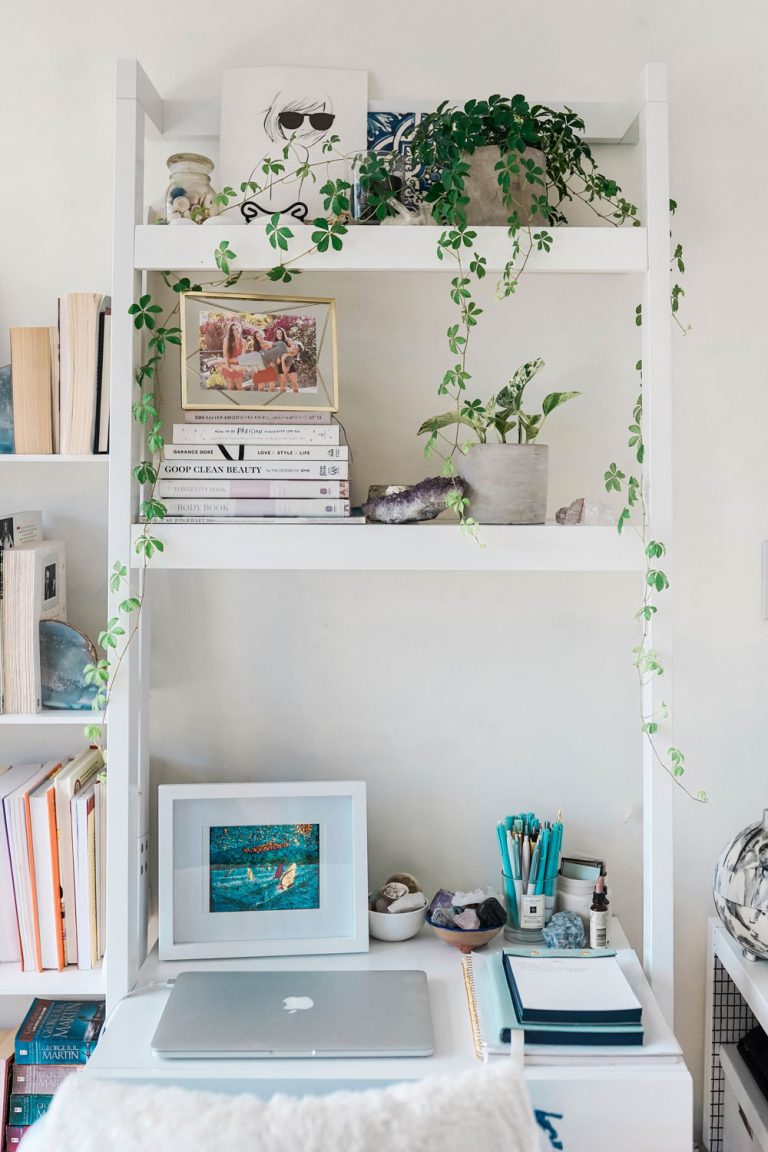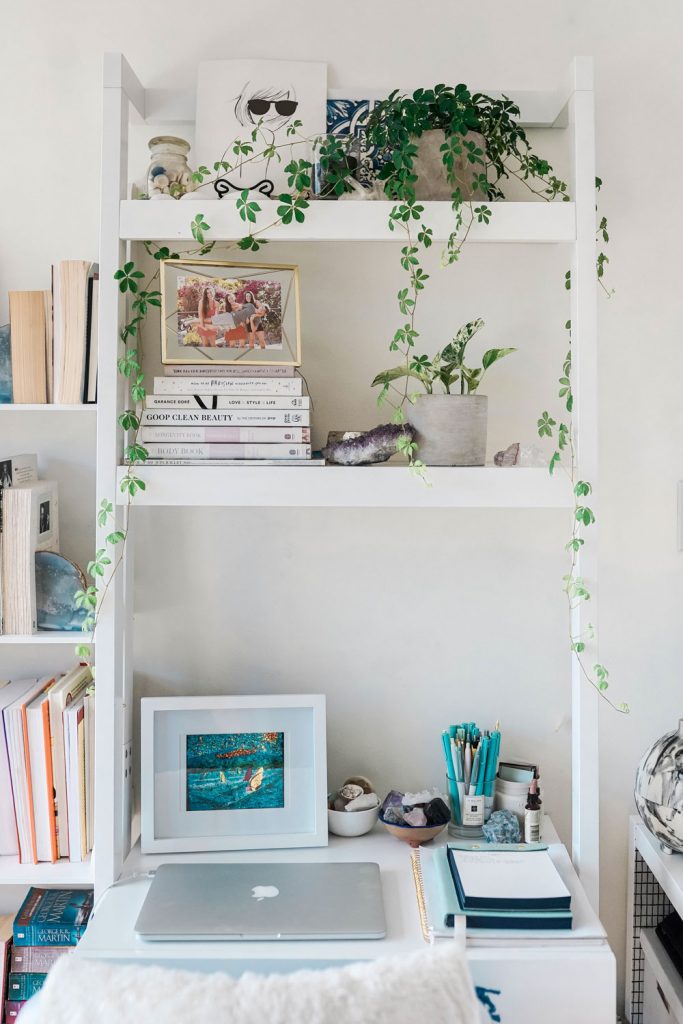 Recategorizing
As I mentioned, we'd changed a lot from mid-20ish career newbies to two people who were not only both working at home, but talking babies, dealing with busier schedules and all in all just craving space, airiness and more structure. We needed to look at how we were storing things. While Matt refused to give up all his comic books (I swear, I had no idea he was such a nerd when we first started dating), we got rid of a lot of our older storage boxes and as a couple, sorted out what we both needed to categorize. We both like to paint, so we made an art storage box—same with travel musts, and it had to be super easily accessible since I in particular travel so much. I also needed easy to grab storage for all my tech needs, my products that I like to test out for my stories, etc. Matt needed a small Dungeons & Dragons box since he's part of a group…I'm not kidding. Seriously #nerdalert but it actually kind of sounds cool. It still isn't the pinnacle of organization dreams but we've been able to commit really well to each storage box and because everything is so accessible in our unit, it's easy to take what you need and put it back instead of having to dig it out from storage every time.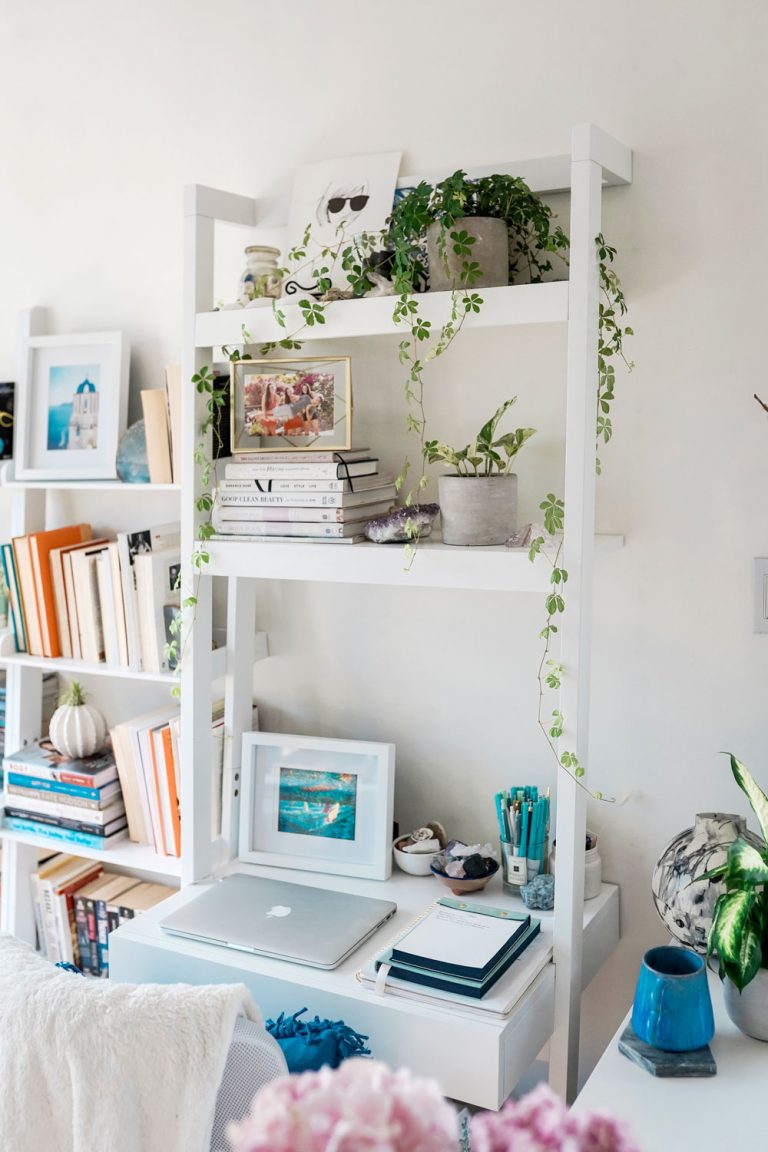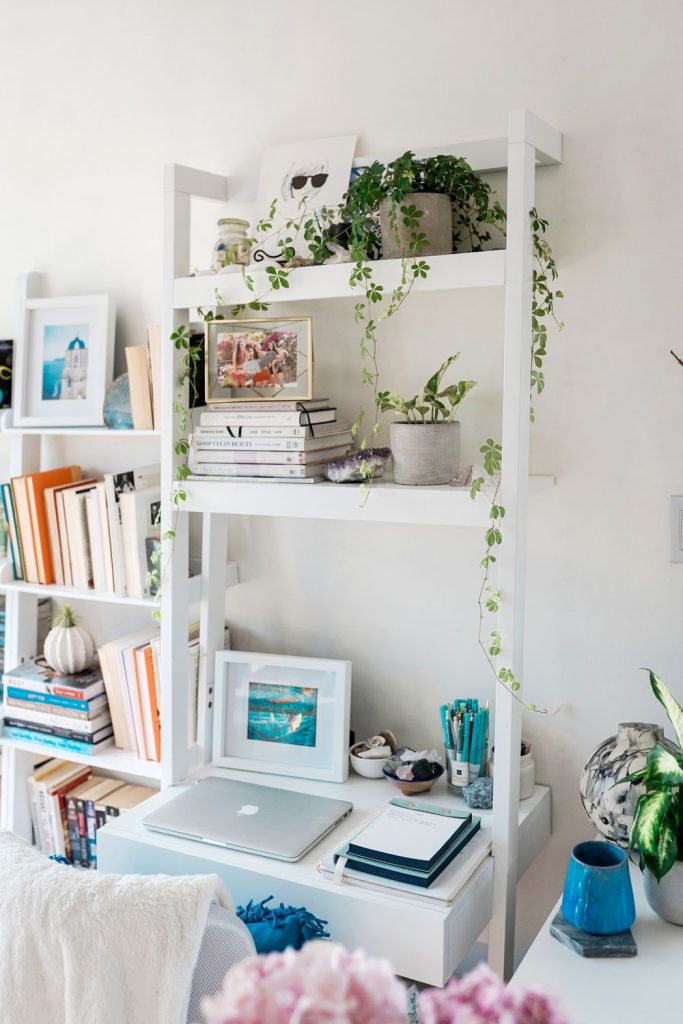 And a couple decor hacks…
Once everything was hauled out, the new furniture set up and our much more sparse belongings put in their designated places, I knew I wanted to really add a few touches so that the space was not only much more functional, but more inspiring and calming too. As you guys might already know from my gardening craze this year (a full beginner's guide to gardening here!), I am obsessed with having greenery or blooms around me as much as possible. The first thing I did was find a really lovely and easy-to-maintain vine plant—cue in sugar vine! It's beyond easy to care for (hardly ever needs water), grows so quickly and just frames my desk in a really lovely way, all while purifying my air! I added in a few other small potted plants, including a new vine (the one below the sugar vine) that will grow to fill in some of those more bare nooks on the lower shelf.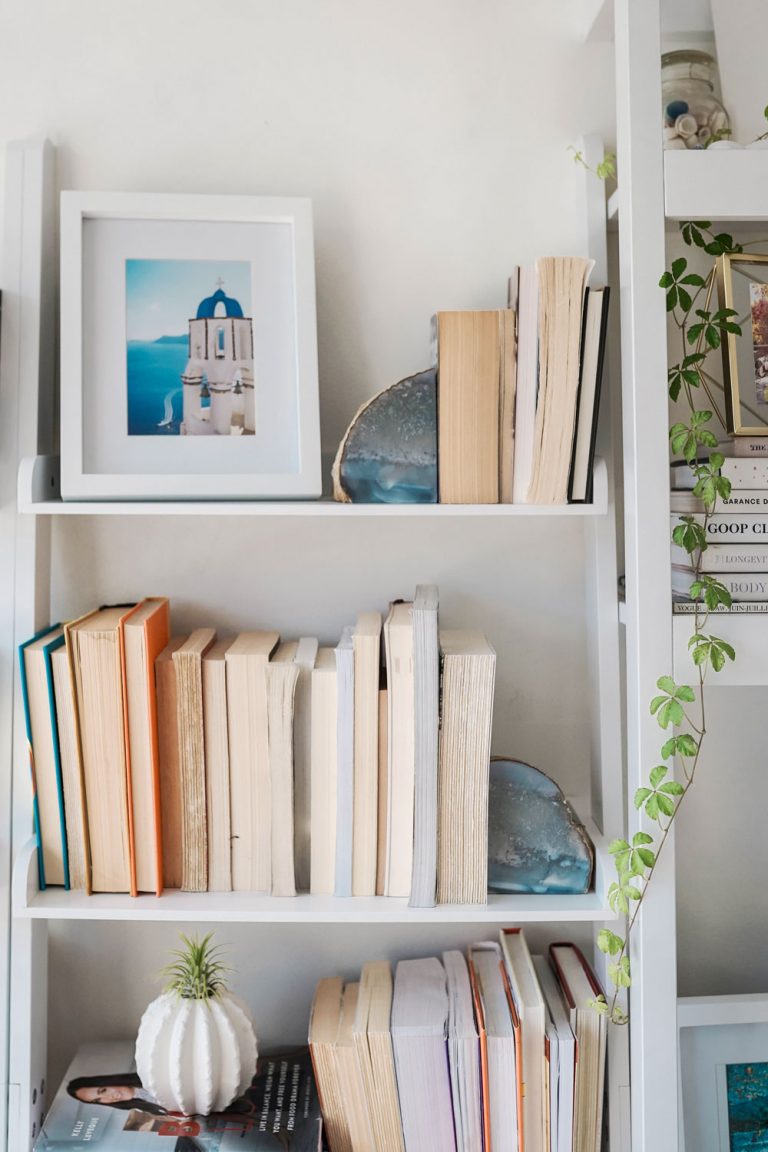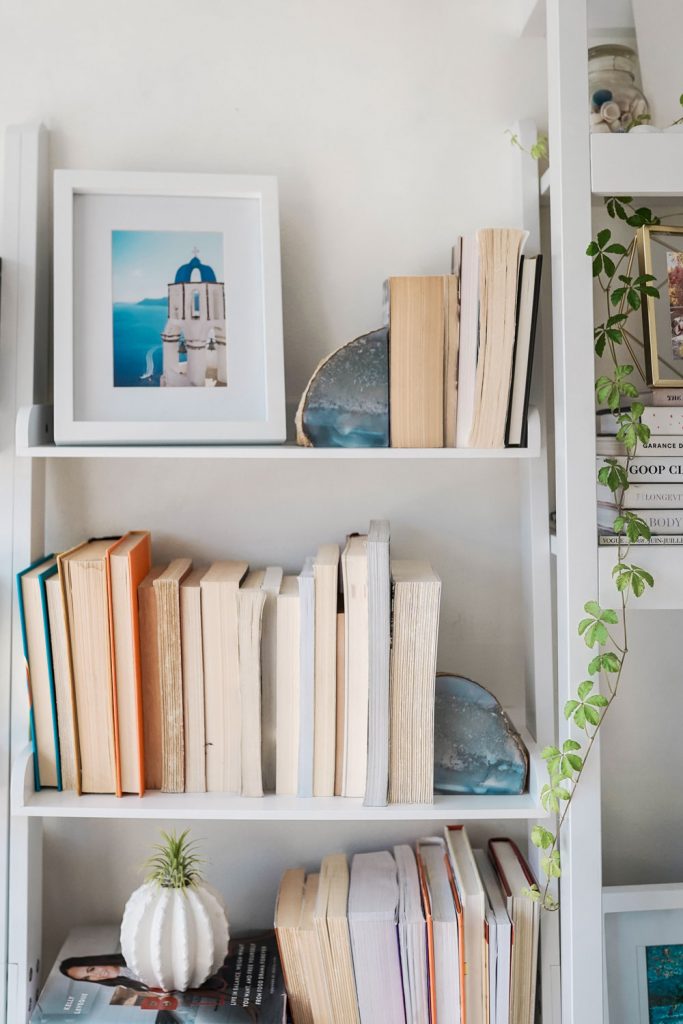 I'm all about natural accents, particularly because our apartment has this kind of outdoor-indoor vibe about it since it's covered in windows and opens up to the outside with patios all over the place (above and to the side, we have 3 total). I'm also a die-hard beach baby, so I picked the shells I truly love (most from my travels) and grouped them together so that it's easy to clean around them. I added in geode bookends that accent all the dozens of crystals this hippie lady has around her apartment, and switched up the stacking of my books to allow for a cute cactus-like little ceramic vase (this one's similar, so cute), topped with an air plant. Love air plants for minimal care while adding greenery to a bookshelf or more out-of-the-way area (like a shelf in a washroom, where it will likely get all the moisture it needs from the shower as it is!). It only needs to get submerged once a month for 30 minutes to stay healthy. I also flipped all my books so that the spine was facing the wall to add to make things more neutral (also, since this is a ladder bookcase it's really easy to see everything still so the books don't get lost). I tried to convince Matt to do the same citing sun damage as the main reason to protect his books from the harmful rays, but he insisted that all his ugly sci-fi and fantasy books still face out. Sigh.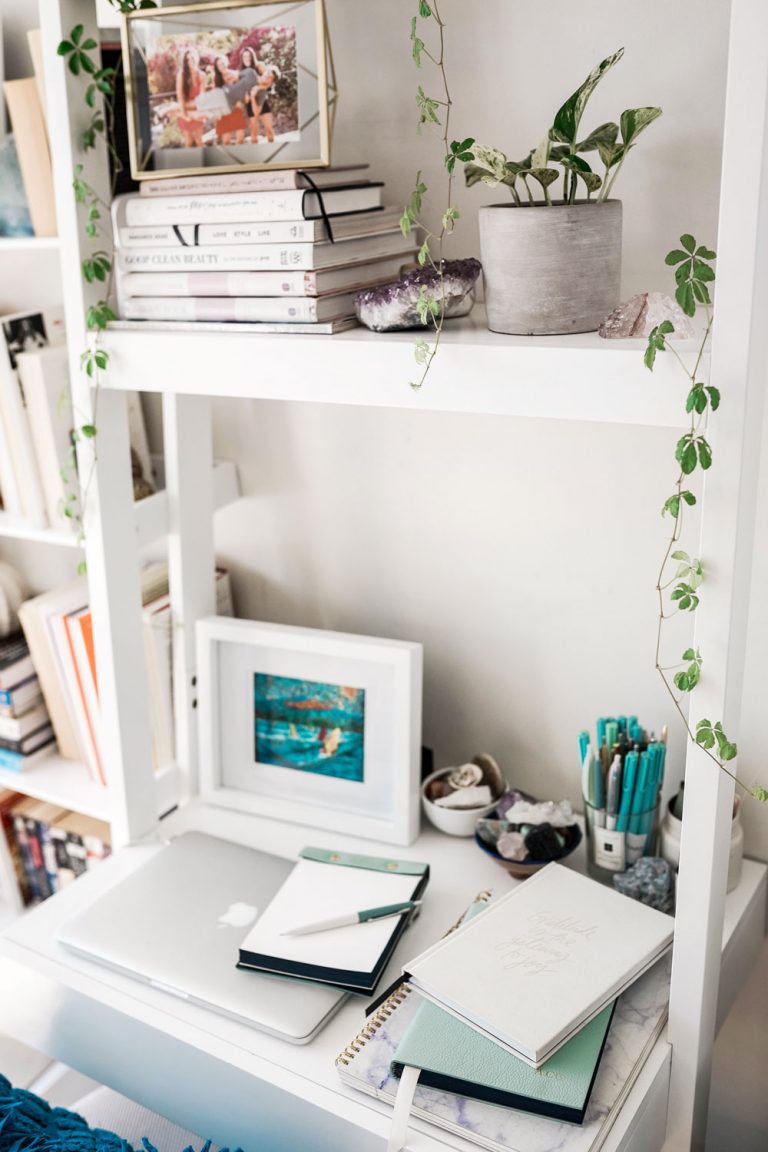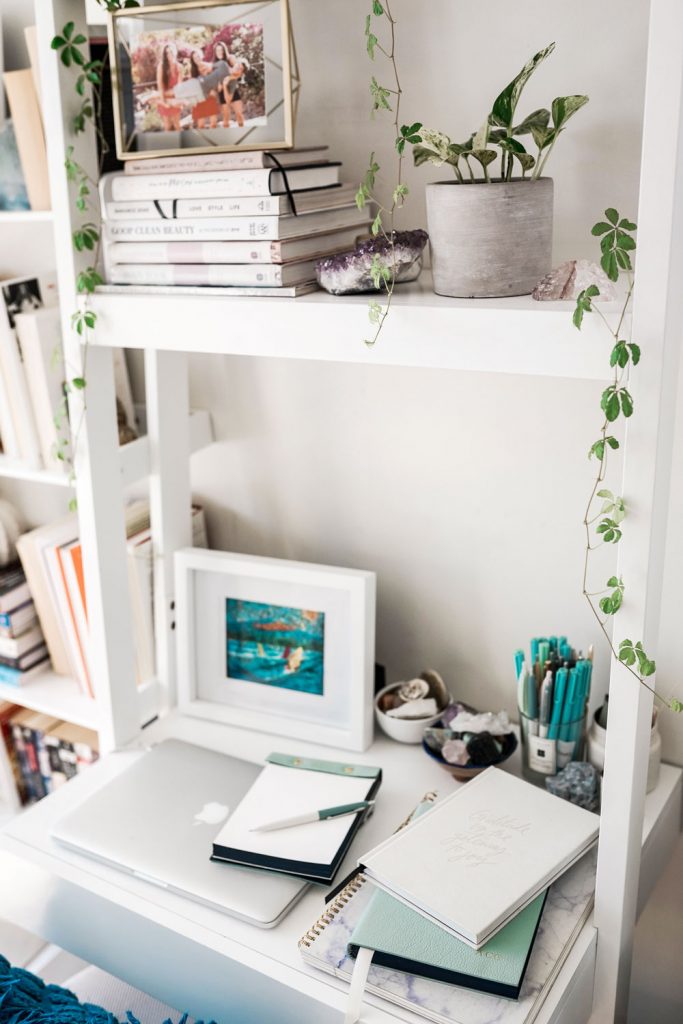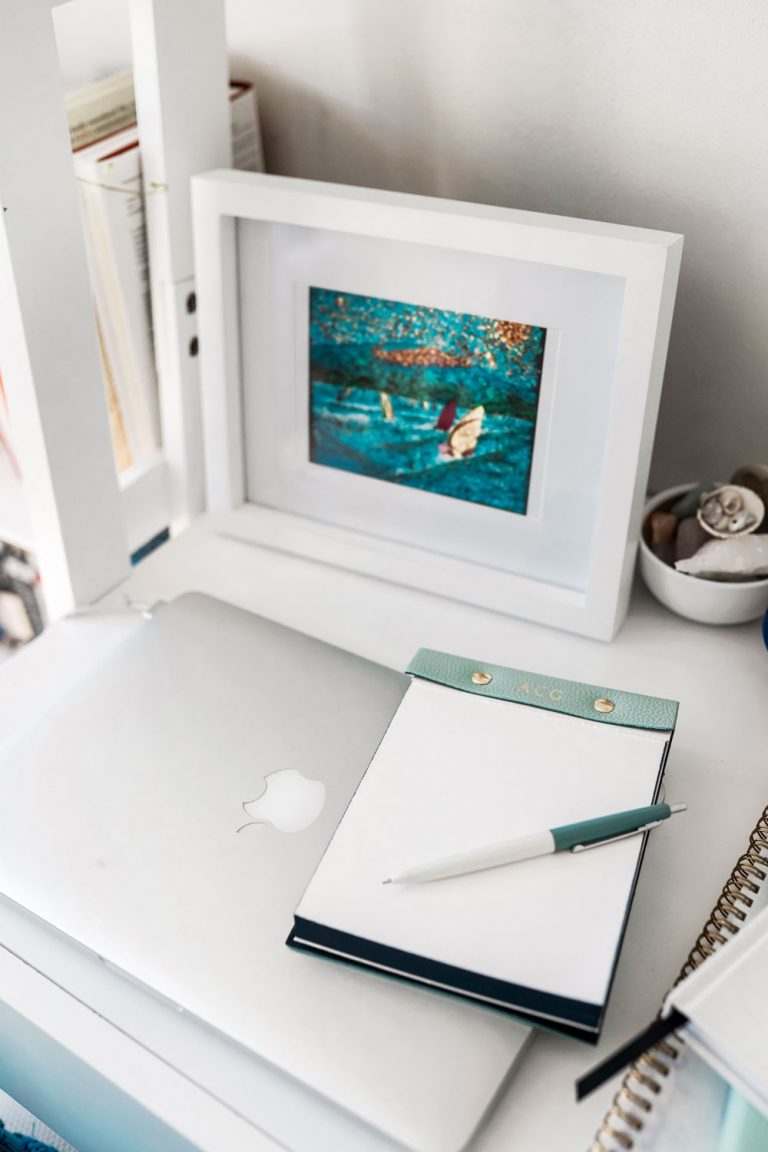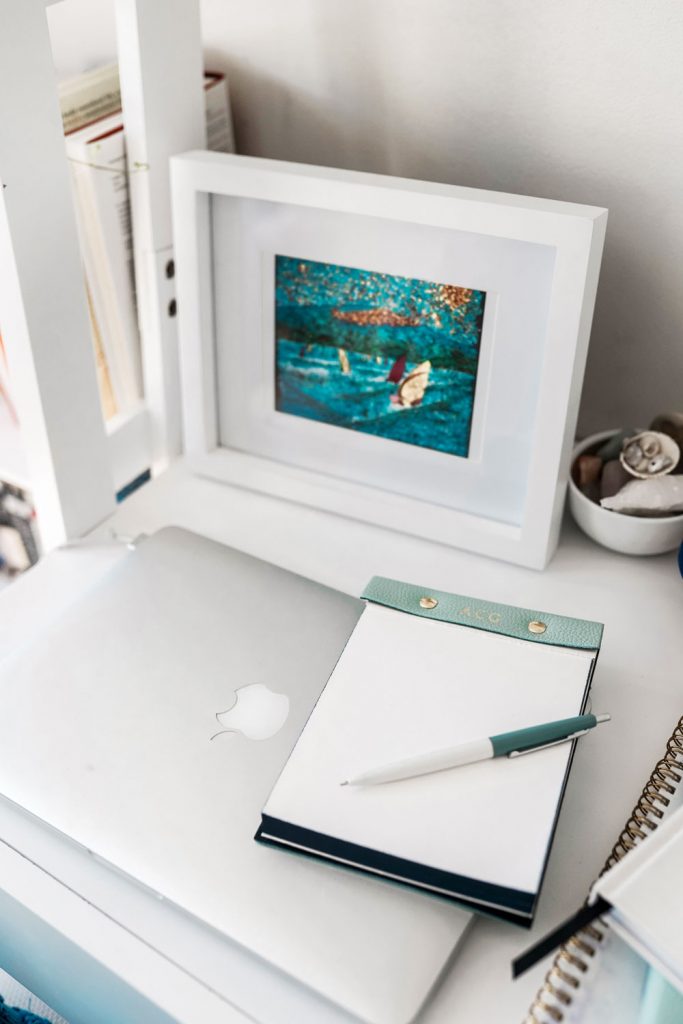 Finally, I'd had so many framed pics all over the place and decided to bring it down to just a few of my favourites: the painting I got in Maui aka my ultimate happy place years ago as a teen (it's come with me to every place I've lived, and captures the happiest scene for me of windsurfers, the volcano and the ocean), one shot of my siblings and I that I love (also snapped in Maui, clearly obsessed) and one snap from Santorini, which was one of my favourite trips of all time and that features heavily photographically in our space.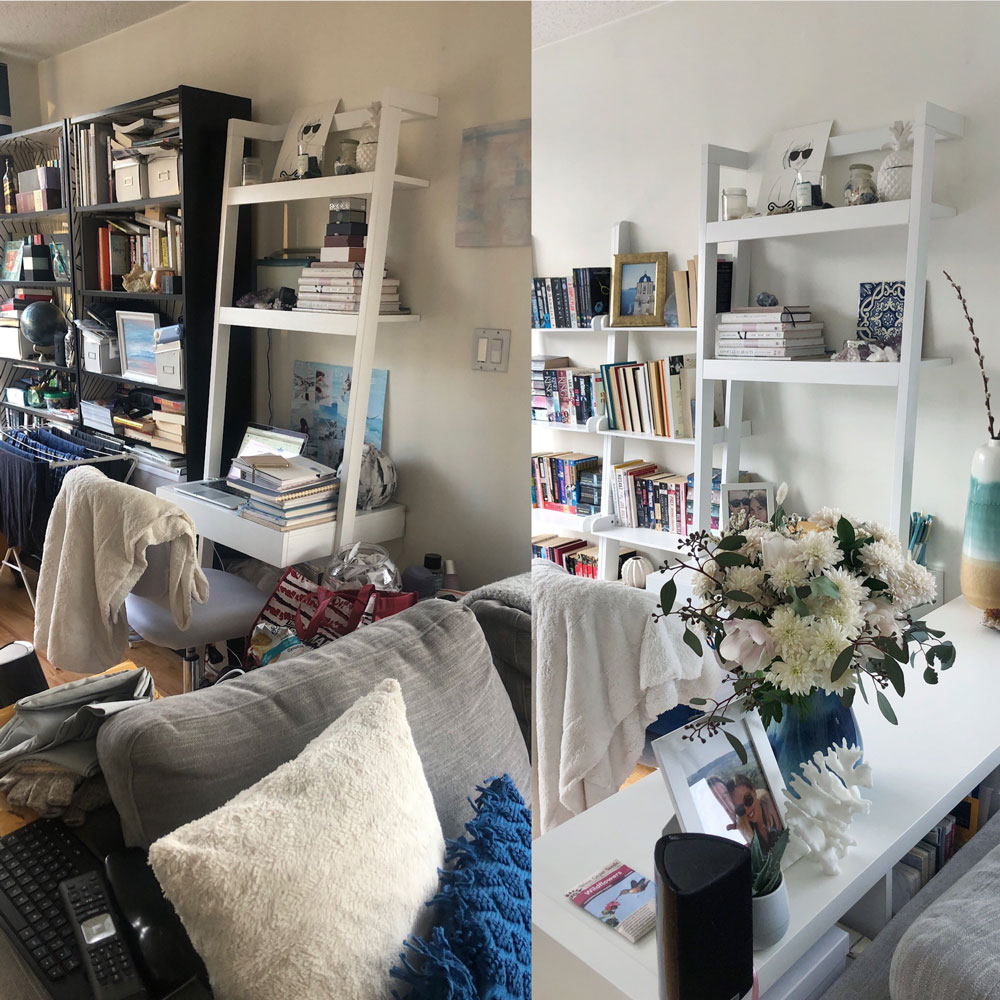 And just like that, after maybe 1 month of concerted effort our place literally feels like a completely new space! Here's another before-and-after—so crazy and mildly embarrassing, but all that matters is what our place looks like now, right? Any of our friends or family that came in after the change were pretty shocked—even with those black bookcases, our space has always been airy thanks to the crazy amount of light we get, but with this new configuration here and getting rid of so much, it looks so much bigger and really feels so spacious and airy now. Love it! Have you guys ever tried the KonMari Method? Tell me in the comments!
SHOP THE POST